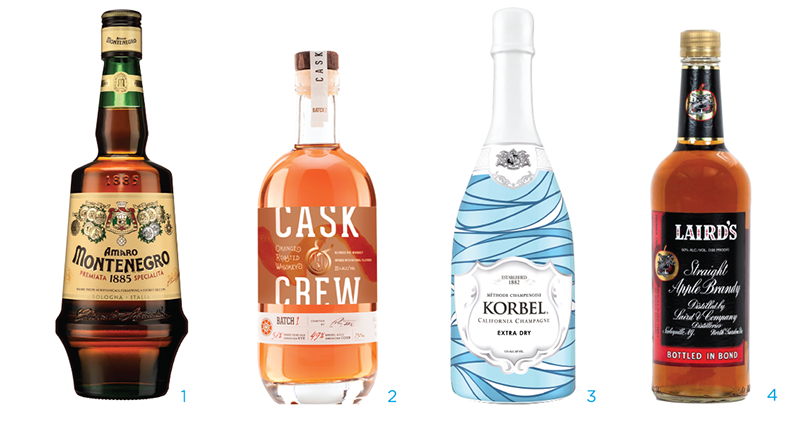 August 2018
---
1. Amaro Montenegro
Amaro Montenegro has revealed the brand's first major packaging update in decades. The new bottle features a more ergonomic design and elements that spotlight its storied recipe and legacy. To allow for an easier pour, the regulator has been removed from the tip of the bottle. The back label now tells the brand's story in three parts: the original 1885 homage to Princess Elena; the richness of its ingredients (40 botanicals); and seven tasting notes. 46 proof.
SRP: $33
2. Cask & Crew 'Orange Roasted' Whiskey
After extensive field research, Cask & Crew is adding Orange Roasted to their portfolio, joining their award-winning Walnut Toffee and Ginger Spice flavors. The combination of orange and whiskey has long enamored mixologists and patrons. Orange Roasted is born from Cask & Crew's classic base—a blend of 51% three-year Canadian Rye and 49% three-year Kentucky corn whiskey—infused with natural ingredients imparting notes of semi-sweet orange peel and roasted coffee. Will be in 24 states.
SRP: $25
3. Korbel 'Wavecatcher'
Bottle-wrap technology has advanced dramatically in recent years, and Korbel continues to keep shelves colorful with limited editions. Their latest is "Wavecatcher," featuring a lively wavelike design and the winery's California Extra Dry Champagne. As with all of Korbel's expressions, it's made using the méthode champenoise; the bubbly is fruit-forward in style, with notes of citrus and vanilla. 13,500 9L cases produced.
SRP: $13.99
4. 'Laird's Bonded' Apple Brandy
Laird & Company is bringing back their Bottled in Bond 100 Proof Straight Apple Brandy—known as Laird's Bonded and prized in the craft bartending community—after a four-year hiatus. The Bottled-in-Bond Act of 1897 aimed to guarantee that a spirit would be undiluted and unadulterated. There are four requirements for the Bottled in Bond designation: bottled at no less than 50% ABV (100 proof); aged in wood for a minimum of 4 years; distilled at one American distillery; distilled in the same season.
SRP: $31.99
5. Captain Morgan 'Apple Smash'
Hot on the heels of Watermelon Smash and LocoNut, Captain Morgan's newest addition to the shot family is Apple Smash. Arriving with scratch 'n' sniff packaging, similar to the previously released flavors, Captain Morgan Apple Smash blends Caribbean rum with crisp, juicy apple flavor. Best enjoyed as a chilled shot or over ice with club soda and a favorite garnish. 60 proof; also available in 50ml.
SRP: $15.99
6. Adobe Road 'Redline'
Packaged and promoted to appeal to men, this cross-county blend combines Napa Valley Cabernet Sauvignon, Zinfandel, Malbec and Petite Sirah with Syrah from Sonoma County to produce a concentrated yet approachable red blend. Aromas of blackberry and mocha lead into a palate rich with dark chocolate, ripe black cherry and baking spices. Suggested food pairings include steak, pizzetta, pork belly and pasta.
SRP: $35
7. Nikka Whisky 'From The Barrel'
First introduced in Japan in 1986, Nikka "From The Barrel" developed a cult-like status—and now importer Hotaling & Co. is bringing it to the U.S. A complex blended whisky, Nikka From The Barrel was created to deliver full flavors and richness from a blend of 100+ batches of malt whisky and grain whisky, aged in multiple types of bourbon barrels, Sherry butts and hogsheads. The bottle is designed to reflect "a small block of whisky." 102.8 proof.
SRP: $65
8. Cuvaison Wines
Approaching their milestone 50th anniversary, Napa Valley's Cuvaison winery redesigned the brand's visual identity, paying homage to Cuvaison's focus on estate-grown wines and historic roots in the famed Los Carneros region. The new packaging began rolling out with the release of the 2016 Estate Chardonnay, 2016 Estate Pinot Noir and 2017 Estate Sauvignon Blanc. The "Wine Glass in Arched Window" image long associated with Cuvaison has been updated to reflect a more inviting, modern aesthetic.
SRP: $24-$42
9. Jaja Tequila
Jaja Tequila, just hitting the U.S. market in July with a Blanco and Reposado (their Añejo is currently aging, for release in 2019). Pronounced "Ha-ha," the 100% Blue Weber agave tequila is triple-distilled in separate copper-lined stainless pots; and diluted to 80 proof using volcanic water. Other points of distinction include provocative bottle colors, a give-back program for Mexican communities, and a social-media-driven approach to market—co-founder Elliot Tebele is a well-known avant-garde marketer (Jerry Media).
SRP: Blanco $39.95 / Reposado $49.95
10. Copper & Kings Absinthe Alembic
Louisville-based Copper & Kings American Brandy Co. is relaunching its absinthe spirits in new packaging and adding a barrel-finished expression. The brandy-based absinthe is double-distilled in copper pot-stills, non-chill filtered with no flavor or color additives, and diluted minimally to 130 proof. The flagship Absinthe Blanche has been joined in the past by vapor-distilled absinthes (lavender, citrus, ginger); now it is joined by a barrel-aged version. An antique bottle style projects both quality and heft.
SRP: $55 (Alembic Blanche | Barrel finished)
11. Hakkaisan 'awa' sparkling saké
Hakkaisan has launched "Awa," a clear sparkling saké made by in-bottle secondary fermentation. The bubbles come only from natural fermentation, just like traditional Champagne, which is very unique for a sparkling saké. Awa is delicately effervescent with elegant sweetness; it harmonizes well not only with traditional Japanese cuisine, but also with unique dishes from outside Japan. Awa is produced in small batches, using handmade koji rice and a slow fermentation at low temperatures.
SRP: $60/720ml, $30/360ml
12. Indaba Wines In 3L Box
New York-based Cape Classics is preparing to release the popular Indaba brand in a 3L bag-in-box format. Their motivation: to meet increased consumer demand for high-quality, affordable wines but in packaging that is easier to transport and has less impact on the environment. The first three Indaba wines in the new format will be Sauvignon Blanc, Chardonnay and Mosaic (Cabernet Sauvignon-based Bordeaux blend). As a 750ml of Indaba currently retails for $8-$10.99, the 3L will offer significant savings.
SRP: $17-$19.99/3L