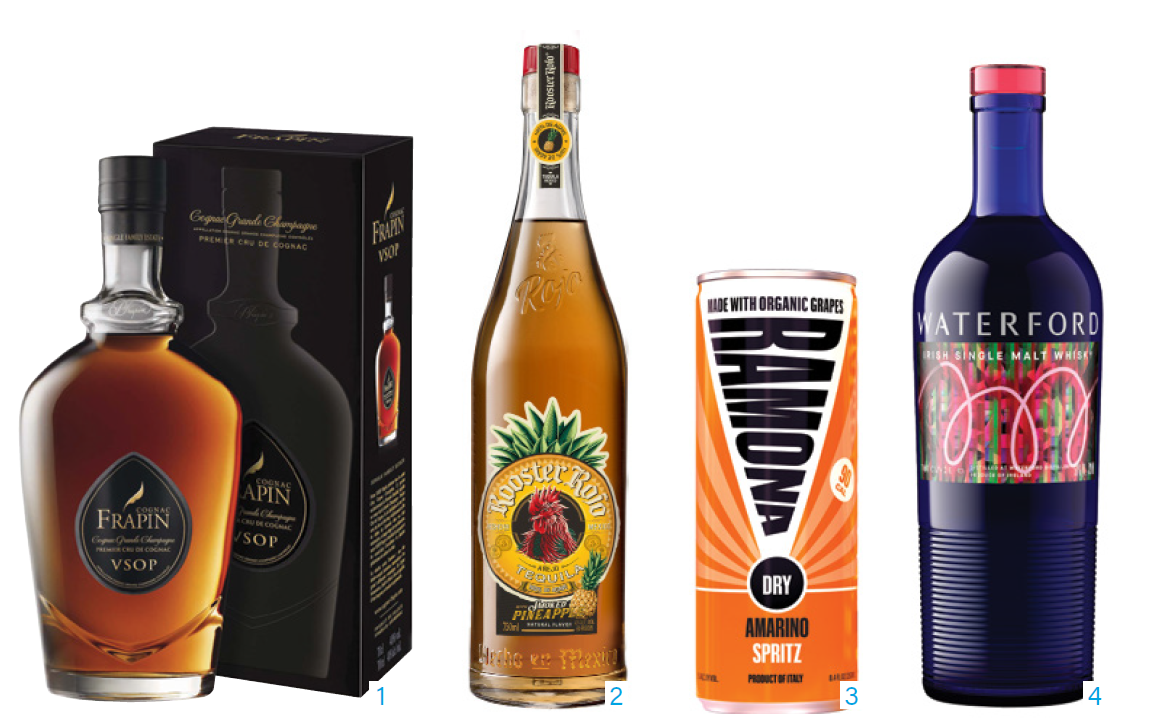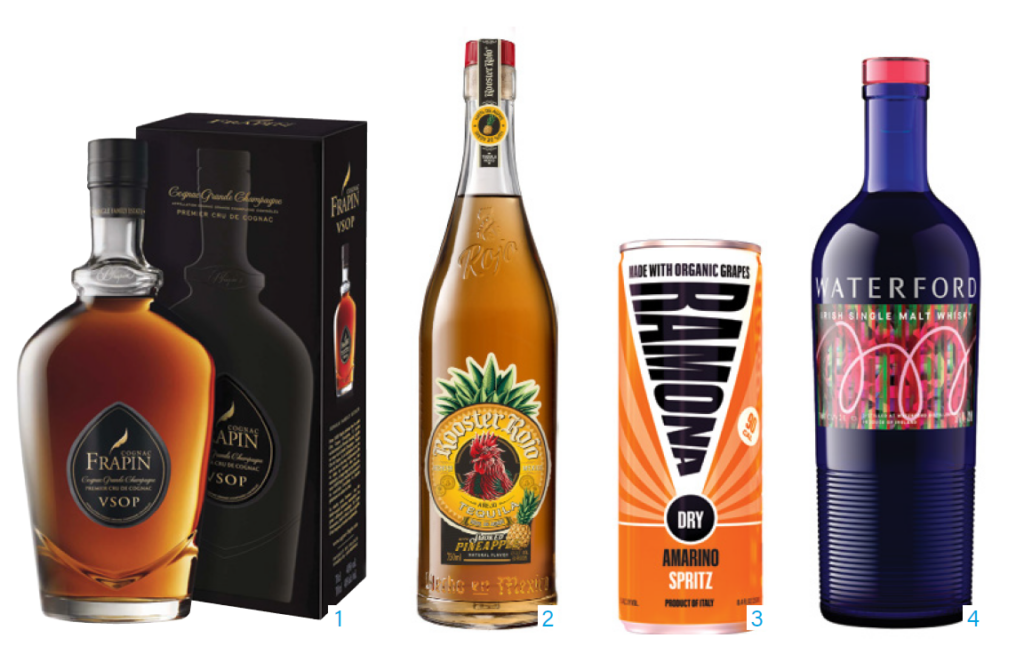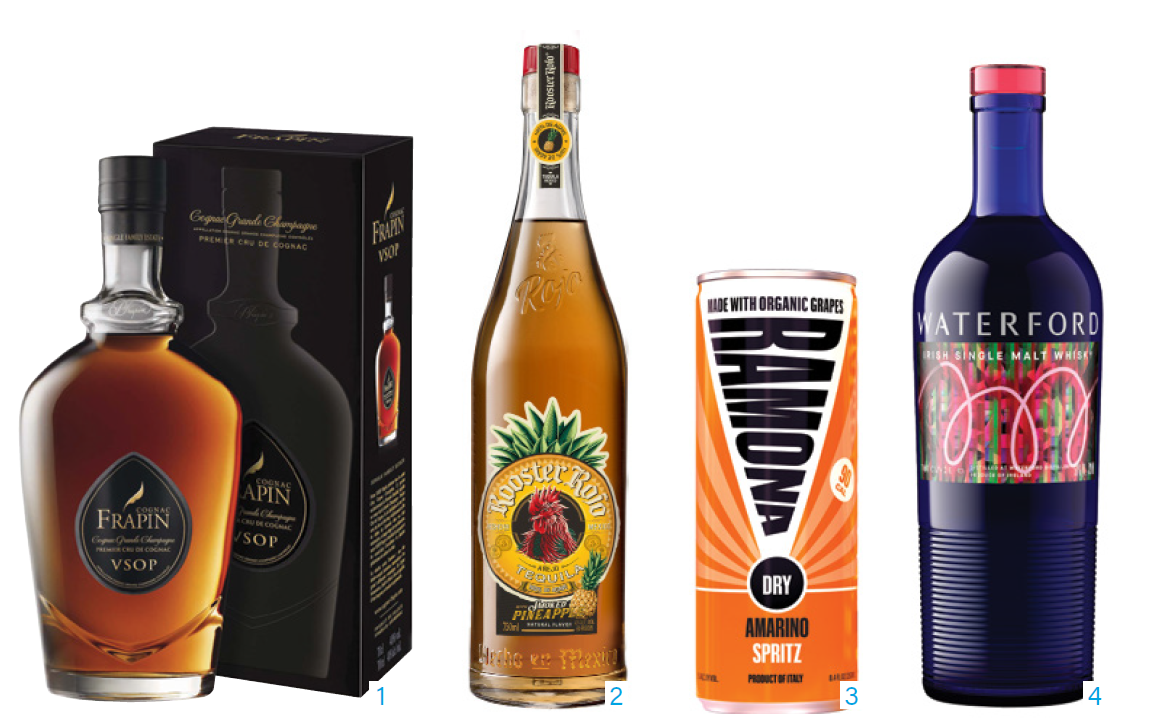 1. Cognac Frapin VSOP
Along with its luxe, bronzed VIP XO expression, Cognac Frapin has released a VSOP. Aged in Limousin oak barrels at the family's estate, the spirit has a bouquet of dried flowers and subtle vanilla notes, leading to a rush of orange on the palate and a spicy cinnamon and pepper
finish.
SRP: $69.99 per 750ml bottle
cognac-frapin.com
2. Rooster Rojo Smoked Pineapple Tequila
To create Amber Beverage Group's Rooster Rojo Smoked Pineapple Tequila, classic Rooster Rojo Añejo, aged for at least one year in former bourbon casks, is invigorated by a tropical infusion of roasted Red Spanish pineapples. Using only 100 percent Blue Weber agave, the tequila is blended with water that is filtered through Mexican silver.
SRP: $45 per 750ml bottle
roosterrojo.com
3. Drink Ramona's Amarino Spritz
The dry, orange-hued Amarino Spritz is the newest addition to the Drink RAMONA line-up of flavors. Jordan Salcito, founder of the 3E Certified Sustainable winery, spent two years developing the recipe for this low-alcohol (5% ABV), 90-calorie canned aperitivo, which melds organic grapes harvested from vineyards in Sicily and the Veneto with bitter oranges and herbs.
SRP: $20 per four-pack of 8.4 oz. cans
drinkramona.com
4. Waterford Whiskey's The Cuvée
Waterford Whisky is known for its Single Farm Origin releases. Taking cues from the châteaux of Bordeaux, The Cuvée is even more complex, composed of 25 disparate whiskies, each one sourced from a single Irish farm's single barley harvest and deftly stitched together by head distiller Ned Gahan. The Cuvée, Waterford Whisky's flagship Irish single malt, expresses notes of lemon zest, dark chocolate, and marmalade.
SRP: $95 per 750ml bottle
waterfordwhisky.com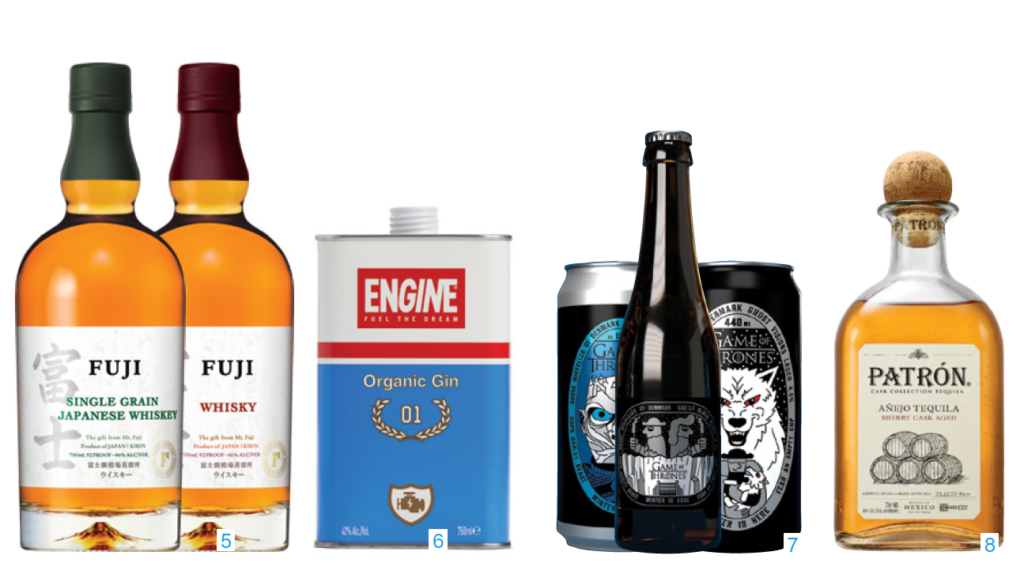 5. Fuji Whiskies
Japan's Mt. Fuji Distillery now has a presence stateside via Distinguished Vineyards & Wine Partners and Winebow. The distillery, located just a few miles from its namesake mountain, is one of the few to use snowmelt in its whisky production. In addition to the FUJI Single Grain Whiskey, a blend of three different grain whiskies (American, Canadian, and Scotch) there is the complex FUJI Whisky, which unites three Japanese and Scotch varieties.
SRP: $94.99 and $59.99 per 700ml bottle
fujiwhisky.com
6. Engine Gin
Cleverly encased in a tin oil can, EnGINe Gin plays on founder Paolo Dalla Mora's passion for motorcycles and classic cars. Part of the Disaronno International portfolio, the 100 percent organic gin is made inthe Langhe, in Italy's Piedmont region—appropriately the country's epicenter of automobile production—with such botanicals as Ligurian sage, lemon, licorice root, and damask rose.
SRP: $29.99 per 750ml bottle
engine.land
7. Mikkeller's Game of Thrones Inspired Beer
Danish brewery Mikkeller and Warner Bros. Consumer Products, collaborators on last spring's rollout of the Iron Anniversary IPA commemorating 10 years of Game of Thrones, have teamed up again. This time it's for a trio of wintry beers that pay tribute to the HBO series: the fruit-forward
Night King Double IPA ($13.99 per four-pack of 16 oz. cans), easy-drinking Ghost Visions Lager ($20 per four-pack of 16 oz. cans), and bourbon barrel-aged Castle Black Stout ($22 per 500ml bottle.)
SRP: $13.99 to $22
mikkeller.com
8. Patrón Sherry Cask Aged Añejo Tequila
Former master distiller Francisco Alcaraz hatched the idea for Patrón Sherry Cask Aged Añejo, the brand's first release in two years. The tequila, which rests in Spanish oak barrels that once held Oloroso sherry for over two years, is blended from different casks by current master distiller David Rodriguez to elicit a spirit that is rife with caramel, toasted walnuts, and coconut.
SRP: $79 per 750ml bottle
patrontequila.com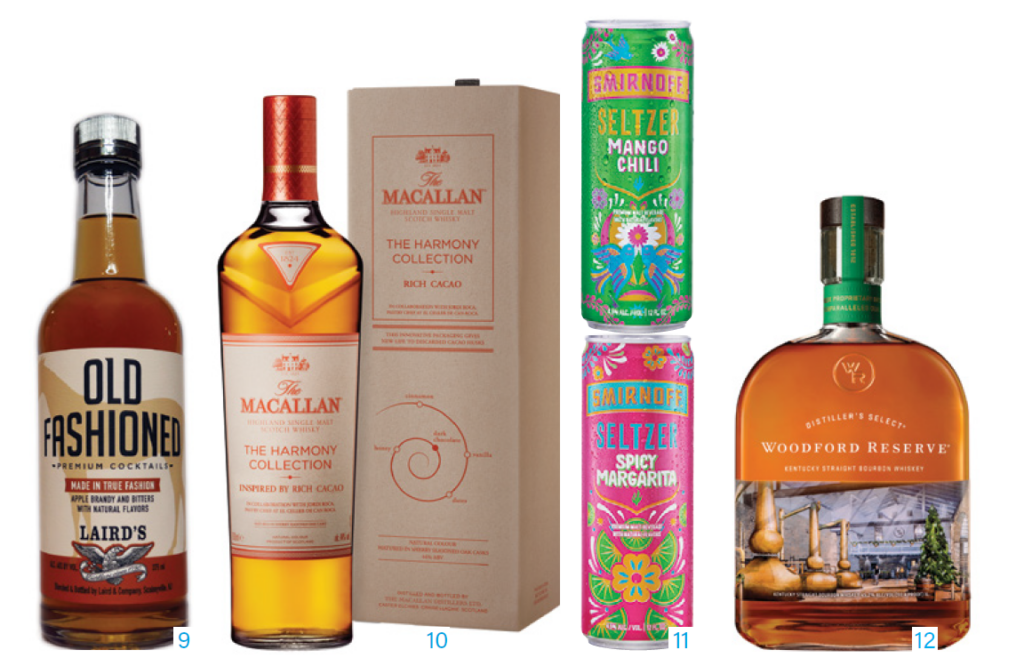 9. Laird's Old Fashioned
Laird & Company has entered the ready-to-drink (RTD) market with a cold weatherperfect Laird's Old Fashioned. Based on a recipe from bartenders Chad Solomon and Christy Pope, the cocktail stars Laird's Apple Brandy, bolstered by bitters and natural flavors.
SRP: $14.99 per 375ml bottle
lairdandcompany.com
10. The Macallan Harmony Collection Rich Cacao
For the Macallan Harmony Collection Rich Cacao, the first limited-edition whisky in a series of single malts highlighting innovative sustainable packaging, the Macallan whisky maker Polly Logan headed to Girona, Spain, and took a deep dive into chocolate with celebrated pastry chef Jordi Roca and chocolatier Damian Allsop. Housed in a recyclable and biodegradable box made with natural by-products from the chocolate-making process, the whisky fittingly culminates in a rich chocolate finish.
SRP: $160 per 750ml bottle
themacallan.com
11. Smirnoff Poco Pico Seltzer Packs
Smirnoff's seltzer line expands with a Poco Pico pack of four bold varieties: Mango Chili, Pineapple Jalapeño, Spicy Tamarind, and Spicy Margarita are served in colorful cans reminiscent of Día de los Muertos. In tandem with the release, the seltzers will make appearances in the vodka brand's "Sabor for the People" campaign, a partnership with Colombian superstar Karol G. promoting Latin culture.
SRP: $15.99 per 12-pack of 12 oz. cans
smirnoff.com
12. Woodford Reserve Annual Holiday Bottle
Woodford Reserve's Annual Holiday Bottle, filled with Kentucky Straight Bourbon, is decked out with a festive watercolor label designed by British architect Nick Hirst that delineates the distillery's sky-lit three copper pot stills.
SRP: $50 per 1L bottle
woodfordreserve.com