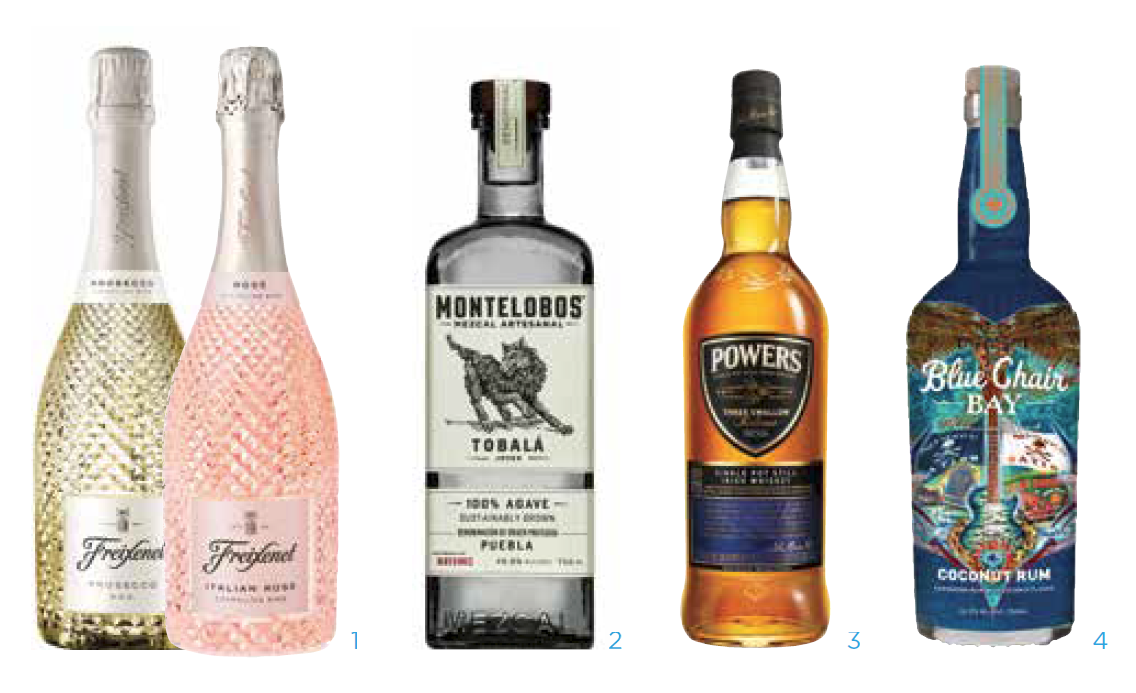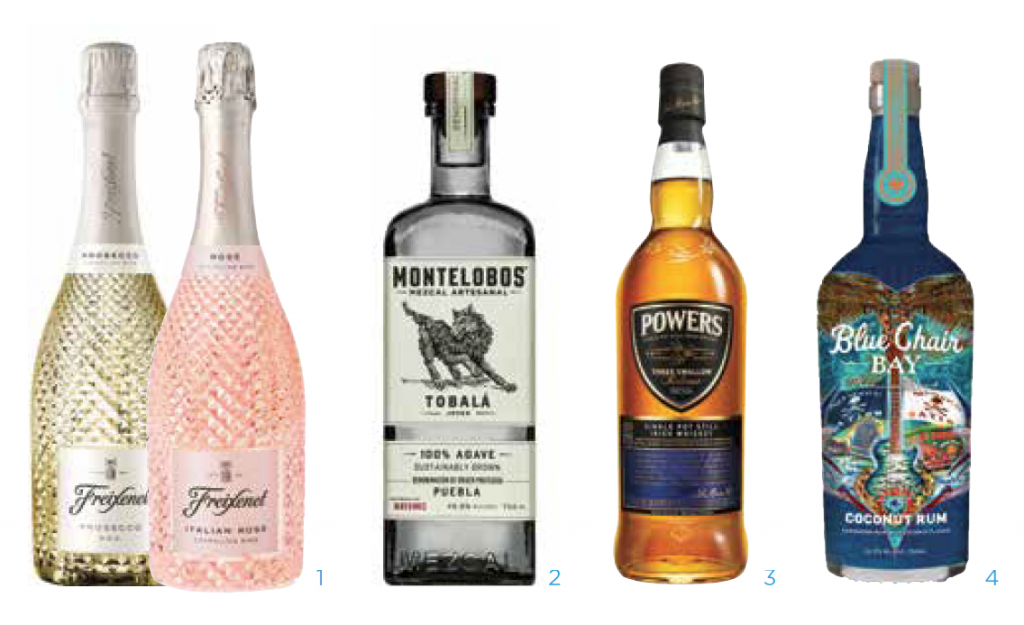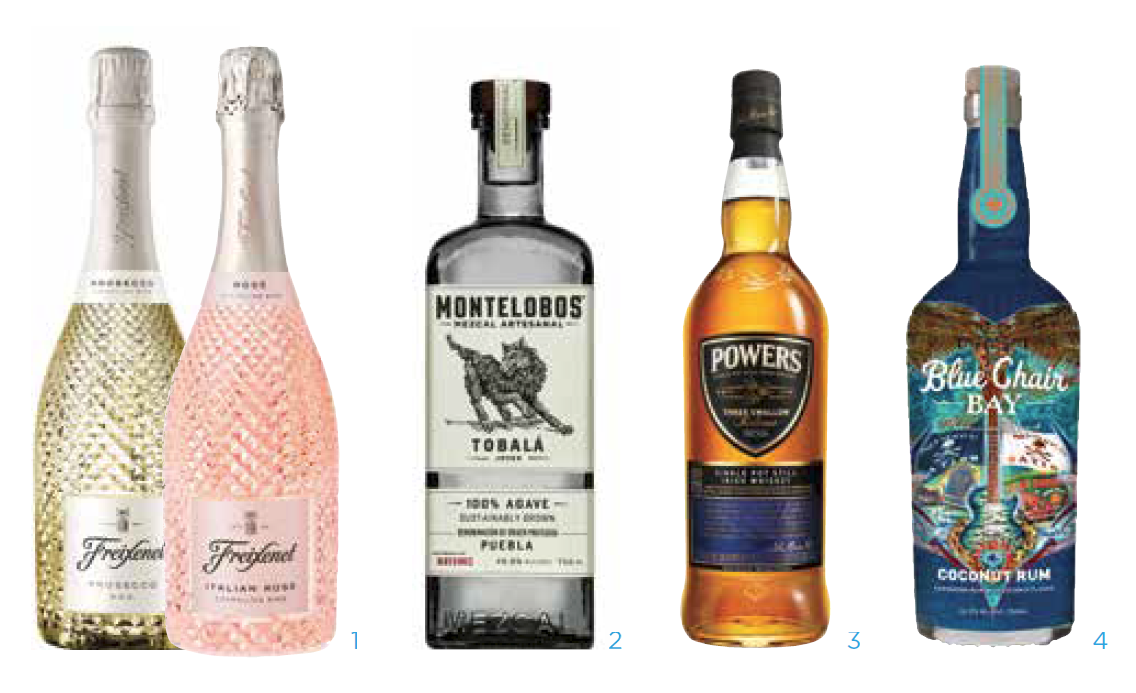 1. Freixnet Prosecco & Italian Rose Sparkling Wine
Extending their long-running success with Cava, the renowned Spanish bubbly producer Freixenet has released a Prosecco and Italian Rosé sparkling wine. The D.O.C. Prosecco is made from 100% Glera grapes in the Veneto region. The sparkling rosé is made from Glera and Pinot Noir, gently pressed and given a slow, cool fermentation to preserve the grapes' aromatics and freshness. Both are packaged in an eye-catching, textured bottle.
SRP: $21.99 each type
freixenetusa.com
2. Montelobos Tobalá Mezcal
Montelobos Espadín has a partner mezcal: Montelobos Tobalá. Unlike tequila, which can only be made from blue agave, mezcal can use many varieties. This one,made from the Tobalá variety, debuts in December. While the Espadín is balanced with notes of wood, smoke, green agave and cooked agave, Montelobos Tobalá has a more prominent green agave profile, giving way to a milder smoke, wood and cooked agave flavors.
SRP: $99
montelobos.com
3. Powers 'Three Swallow' Irish Whiskey
Powers Irish Whiskey announces the U.S. debut of Powers "Three Swallow," a robust Irish whiskey with the brand's signature fullbodied and bold flavor. Distilled at the famed Midleton Distillery in County Cork, Three Swallow is made in the traditional Single Pot Still style. Crafted from a mash of malted and unmalted barley, then triple distilled in copper pot stills, Three Swallow is matured in American bourbon barrels before finishing in Sherry casks.
SRP: $47.99
powerswhiskey.com
4. Blue Chair Bay Rum Commemorative Bottle
With a fan base as broad and devoted as Kenny Chesney's, a commemorative bottle connecting the musical artist's rum to his music made perfect sense. Vividly silkscreened, the bottle features colorful artwork from Chesney's Spread the Love Tour; inside is the brand's best-selling Coconut Rum expression. Together they represent a timely new product sure to appeal to "No Shoes Nation" fans this holiday season. In most major markets; 52 proof.
SRP: $18.99
bluechairbayrum.com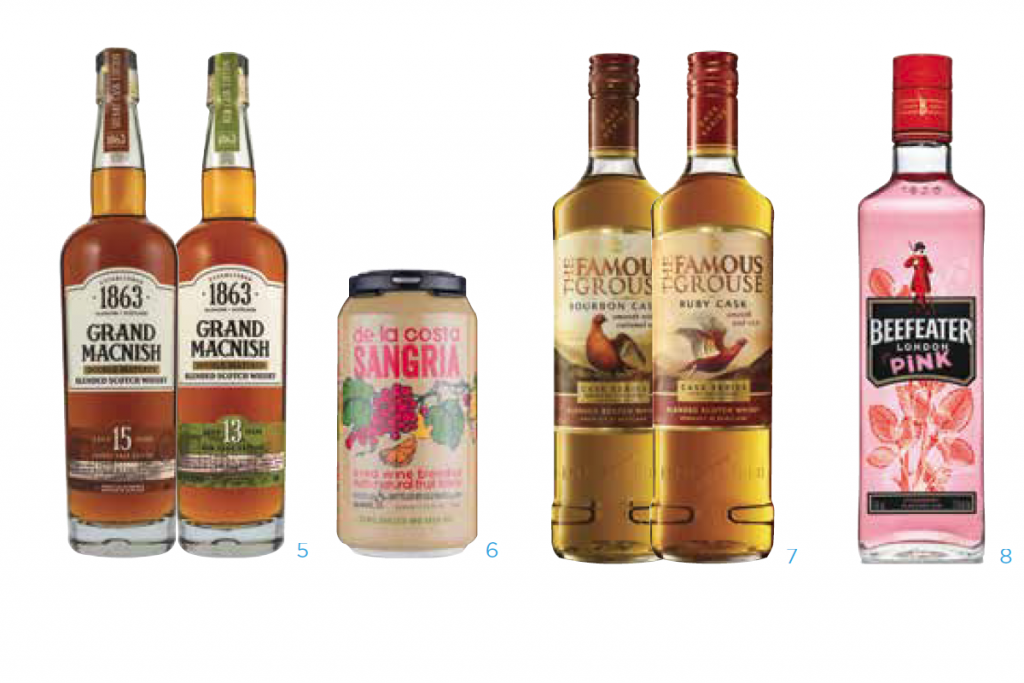 5. Grand MacNish Double Matured Cask Series
M.S. Walker has launched two new expressions of Grand MacNish. The Double Matured Series features a 13-Year Rum Cask Finished Blended Scotch; and a 15-Year Sherry Cask Finished Blended Scotch. First created by Glasgow merchant Robert MacNish in 1863, the proud blending tradition of Grand MacNish continues with this range. Each whisky has first matured in bourbon barrels before being finished in Sherry or Rum barrels for one year; 86 proof.
SRP: Sherry Cask $54.99 | Rum Cask $44.99
mswalker.com
6. De La Costa Sangria in Cans
Based on California Zinfandel and Merlot, De La Costa Red Sangria surrounds a core of dark fruit with bright citrus (lemon, lime, grapefruit) and balancing sweetness. Best poured over ice and garnished with fresh fruit; its 13% ABV helps keep flavors vivid. De La Costa is produced by fifth-generation Glunz Family Winery & Cellars. Now the Red, White and Rosé Sangrias are available in convenient 375ml cans as well as 1L fliptop bottles. Marketed by Bronco Wine Co.
SRP $24.99/four pack of 375ml cans
broncowine.com
7. The Famous Grouse Bourbon Cask & Ruby Cask
The Famous Grouse Cask Series is a new range of blended whiskies inspired by the impact of oak casks. Designed to showcase a variety of flavors and have wide appeal, Bourbon Cask and Ruby Cask are the first two expressions in the U.S., created by Master Blender Kirsteen Campbell and Master of Wood Stuart
MacPherson. American oak lends caramel and vanilla notes to the Bourbon Cask. For the Ruby Cask, the Port casks add a layer of fruitcake sweetness. 80 proof.
SRP: $34.99
thefamousgrouse.com
8. Beefeater Pink
Beginning with the traditionally distilled Beefeater dry gin base, Beefeater Pink is fused with natural strawberry, citrus and classic juniper botanicals. Beefeater Pink's statement-making color is showcased in a bottle that evokes the spirit of London, with a graffiti-style logo. Master Distiller Desmond Payne was inspired by Beefeater's founder, James Borrough, whose inventions included raspberry gin. Beefeater Pink is best served with tonic, lemonade or on the rocks with chopped fresh strawberries. 75 proof.
SRP: $19.99
beefeatergin.com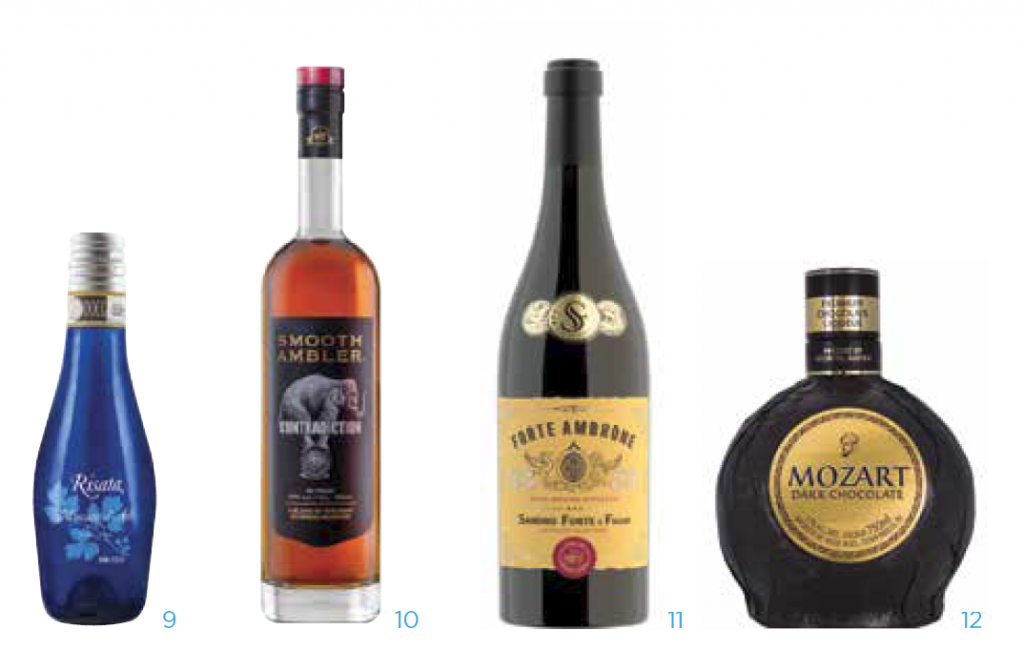 9. Risata Moscato D'Asti Single-Serve
Less is more with Prestige Beverage Group's release of their popular Risata brand Moscato d'Asti in 187ml single-serve bottles. Stylish and convenient, the new size launched in select markets in October and goes national December 1st, delivering sweet and juicy flavors of peach and apricot. Initially offered in 750ml and limited edition 1.5L packaging, the minis aim to add Risata Moscato to holiday celebrations as party favors and stocking stuffers.
SRP: $5.99/187ml
prestigebevgroup.com
10. Smooth Ambler 'Contradiction' Blended Bourbon
A new rendition of Contradiction from Smooth Ambler is here. This unusual, intriguing blend combines the West Virginia distillery's own young wheated bourbon with two straight bourbons they have sourced, one from Tennessee and one from Indiana (the original Contradiction was part WV, part IN, and 100 proof). The new at 92 proof is non-chill-filtered; its full-bodied four-grain bourbon character has notes of dried fruit and butter rum.
SRP: $39.99
smoothambler.com
11. Forte Ambrone Ross
Since 1956 the Forte family has specialized in selecting Italian wines. Forte Ambrone Rosso is an example of how the best Italian classic wines can meet the taste of an international audience, telling a story of family, tradition and art of winemaking. Very deep red with purple edges, this full-bodied blend of native Italian varieties shows an intense bouquet of black cherries and berries, gentle acidity, high-toned ripe fruit and mouthfilling texture. Marketed by Bronco Wine Co.
SRP: $19.99
broncowine.com
12. Mozart Dark Chocolate Liqueur
Niche Import Co. is bringing Mozart Dark Chocolate Liqueur to the United States. This Austrian specialty is created by combining bitter dark chocolate, vanilla and caramel with the smoky, bitter notes of noble cacao plants. Beautifully blended, the bittersweet liqueur can be enjoyed neat, chilled or over ice, in coffee or cocktails, or even in dessert recipes. Gluten-free, vegan and made with all-natural ingredients. 34 proof.
$27.99
ourniche.com