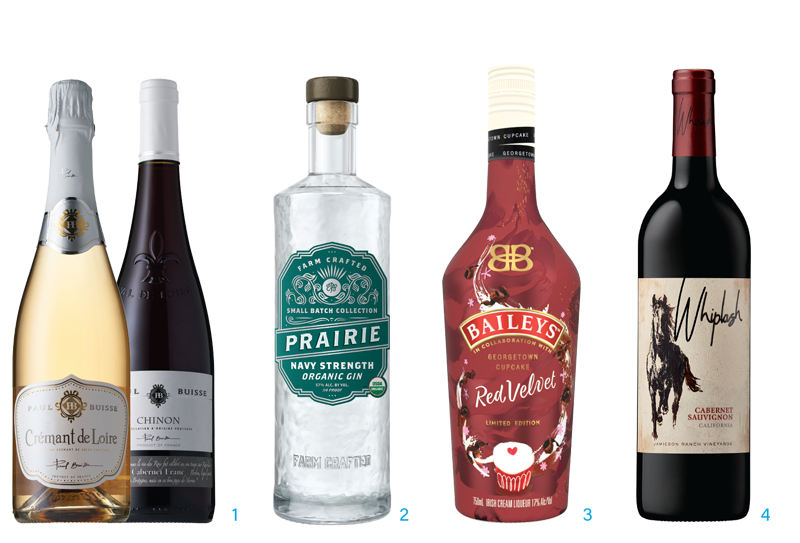 1. Domaine Paul Buisse 
Cape Classics is introducing two new items to the Domaine Paul Buisse line: Crémant de Loire Rosé and Chinon. These wines are line-priced with the existing portfolio—Crémant Rosé with the Crémant at $14.99 suggested retail, and the Chinon with the Touraine Sauvignon at $12.99 suggested retail. The Sauvignon (Blanc), launched in the U.S. in 2013, has seen double-digit growth; Crémant de Loire joined the portfolio in 2017 and was similarly embraced.
SRP: Chinon $12.99    | Crémant Rosé $14.99
2. Prairie Navy Strength Organic Gin
As gin continues to show robust growth, Prairie Organic is adding a Navy Strength Gin. This is the brand's first small batch collection release and the first U.S. organic navy strength gin. With 57% ABV, the bold gin includes lemon zest, floral notes of angelica root and proprietary spices with a peppery finish. Like all Prairie expressions, the gin is gluten-free, made from non-GMO, USDA certified organic corn. 114 proof.
SRP: $34.99
3. Baileys Red Velvet
Baileys Irish Cream Liqueur is rolling out the red carpet for a limited-edition collaboration the "cupcake queens" of Georgetown Cupcake, sisters Katherine Berman and Sophie LaMontagne. Baileys Red Velvet features the flavor of the shop's number one selling cupcake (think fresh chocolate cake, topped with a dollop of cream cheese frosting and just a hint of cocoa powder). Georgetown Cupcake will also be serving up non-alcoholic Baileys Red Velvet cupcakes at locations nationwide.
SRP: $23.99
4. Whiplash California Wines
The Jamieson Ranch Vineyard's tier of Whiplash Wines is debuting a new label along with the addition of three new wines. Whiplash Cabernet Sauvignon, Pinot Noir and Chardonnay join Whiplash Red Blend, Zinfandel and Malbec. The package update reflects the brand's inspiration: the unbridled spirt of the West and the horses that helped establish California. Sourced from California wine-growing regions, Whiplash wines aim to express true varietal character.
SRP: $12.99
5. Maison Ferrand '10 Generations' Cognac
In tribute to 10 generations for whom Cognac was the fruit of patient work on a great terroir, Alexandre Gabriel and Maison Ferrand introduce 10 Generations Cognac. Made from 100%, Ugni Blanc, it is fresh and opulent, with delicate floral notes; distilled slowly on its lees, enabling a richer aromatic palette. The Ferrands have been in Charente since the 15th century; note the images of profiles in the label graphic's roots. 92 proof.
SRP: $60
6. Bodega San Valero 'Celebrities,' Cariñena, Spain
The Cooperativa Vinícola San Valero, a leader in Spain's Cariñena D.O., celebrates 75 years of winemaking with a new corporate structure and the release of new proprietary wines from flagship brand Bodega San Valero. BSV is launching "Celebrities," a collection of single-varietal wines based on the region's indigenous and international grapes: Garnacha, Cariñena, Cabernet Sauvignon, Merlot and Syrah.
SRP: $10-$15
7. Boissiere Vermouth
Boissiere Vermouth is rolling out new packaging, retaining its central elements while modernizing with softer lines and high-shouldered dark glass. The updated look includes the signature crest, denoting the bi-cultural French and Italian heritage; and the "Perfect Recipe" is still guarded by angelic cherubs. With roots on both sides of Mount Blanc, Boissiere uses a 150-year-old recipe for a wine-based distillate infused with select herbs and florals. Extra Dry and Sweet are both 18% ABV.
SRP: $10.99/750ml    | $12.99/1L  
8. Handpicked Wines
Handpicked Wines' portfolio is like a lesson in Down Under wine, with each bottle emblematic of a grape variety grown in its ideal setting. For example, Handpicked has four cool-region Pinot Noirs (New Zealand's Central Otago, and Australia's Mornington Peninsula, Yarra Valley and Tasmania)—all made by one small winemaking team. Handpicked's range also showcases Shiraz, Cabernet Sauvignon and Grenache; international projects are in the works.
SRP: $18.99 'Regional' | $49.99 'HP Collection'
9. Kim Crawford New Zealand Sauvignon Blanc in Cans
New Zealand producers—historic leaders when it came to screwcaps—are taking to aluminum now as well, led by Sauv Blanc all-star Kim Crawford. With the introduction of the 2019 vintage this fall, Kim Crawford is also debuting a slim can (250ml) format. Sold in a stylish two-pack, the Kim Crawford cans are arriving in limited quantity now, with plans to expand in January 2020.
SRP: $12.99/two-pack (250ml cans)
10. Benham's Vodka
Purple Wine + Spirits announced the launch of their Benham's Vodka label, joining a pair of gins. Head distiller Jeff Duckhorn sought to produce "a vodka with complexity" in the growing category of domestic artisan $20-$30. Benham's Vodka starts with California wine grapes, crushed and separated from the skin, stems, and seeds to remove any bitterness. From there, both grapes and grains are individually distilled and blended before being charcoal-filtered.
SRP: $24.99
11. 'Tenshen'  2017 Cabernet Sauvignon, Paso Robles
Guarachi Wine Partners is celebrating the fifth anniversary of Tenshen by launching the brand's first single-varietal wine. Tenshen Cabernet Sauvignon, sourced from Paso Robles and aged 10 months in French oak, follows a red, white and rosé. The red blend has been the biggest growth driver, and the white blend has consistently been a top-seller in its category. The bottle showcases the signature labyrinth design.
SRP: $25
12. 'Stolen X' Rum Cocktail
New Zealand-based Stolen Spirits, after launching Stolen X in 1L and 750ml bottles earlier this year, is now extending the line with 100ml cans. Based on a pre-Prohibition spirit known as "Rock & Rye," Stolen X is made with straight American rye whiskey, blended with organic raw honey and real orange peel. The aged rye whiskey and all-natural ingredients create a robust but smooth and balanced 80-proof cocktail.
SRP: $2.99/100ml