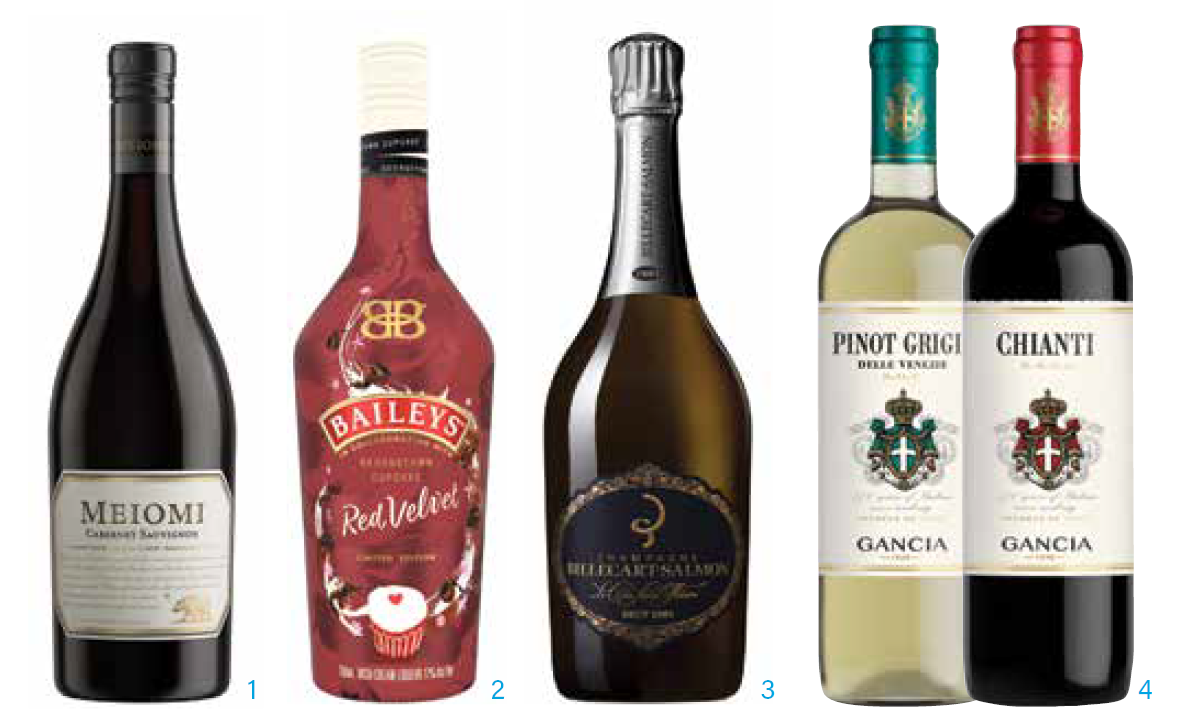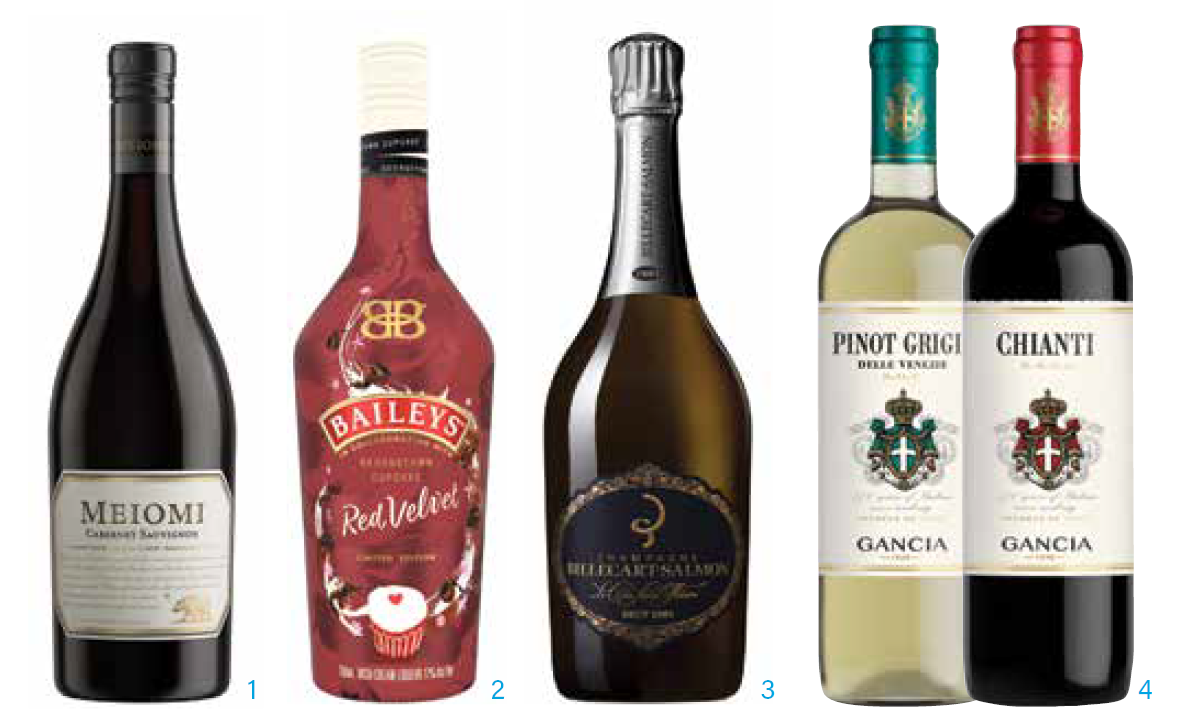 1. Meomi Cabernet Sauvignon
Meomi—best known for Pinot Noir—is adding a Cabernet Sauvignon. Sourced from Meiomi's signature tri-appellation regions (Sonoma, Monterey, and Santa Barbara), the Cabernet Sauvignon is aiming to catch the Pinot Noir's mojo—quite unusual for a Cabernet, it shares the same slope-shoulder bottle shape as its popular varietal sibling. The 2019 offers a deep ruby color; aromas of blackberry, boysenberry, and toasty vanilla; and juicy flavors highlighted by a velvety mouthfeel.
SRP: $24.99
meomi.com
2. Baileys 'Red Velvet'
Back by popular demand, Baileys is reintroducing a limited-edition Baileys Red Velvet, first released last year in collaboration with Georgetown Cupcake founders and sisters Katherine Berman and Sophie LaMontagne. The indulgent cream liqueur's flavors include fresh chocolate cake, cream cheese frosting and just a hint of cocoa powder. To celebrate the return, Georgetown Cupcake will be offering nonalcoholic Baileys-infused red velvet cupcakes online through December.
SRP: $24.99
baileys.com
3. Champagne Billecart-Salmon 2003 'Clos Saint-Hilaire'
Champagne Billecart-Salmon is releasing the 2003 vintage of Clos Saint-Hilaire, a unique blanc de noirs cuvée that bears the name of the patron saint of the village of Mareuil-sur-Aÿ. It is made from a single parcel from one enclosed hectare of old Pinot Noir vines planted in 1964, and is 100% vinified in oak, resting on the lees for 14 years before release. This cuvée has a cult following in the U.S.
SRP: $499
champagne-billecart.fr | tedwardwines.com
4. Gancia Chianti & Pinot Grigio
Gancia, maker of Italy's first Italian sparkling wine, is sidestepping into still wines with the launch of Pinot Grigio Delle Venezie DOC and Chianti DOCG. Importer Roust Americas is targeting increased consumer demand for high-value comfort wines. Gancia Chianti is a fruit-forward blend of primarily Sangiovese grapes that pairs well with red-sauced pastas and grilled meats. The Gancia Pinot Grigio offers citrus fruit and floral notes; ideal as an aperitif or with seafood.
SRP: $14.99
gancia.com | roust.com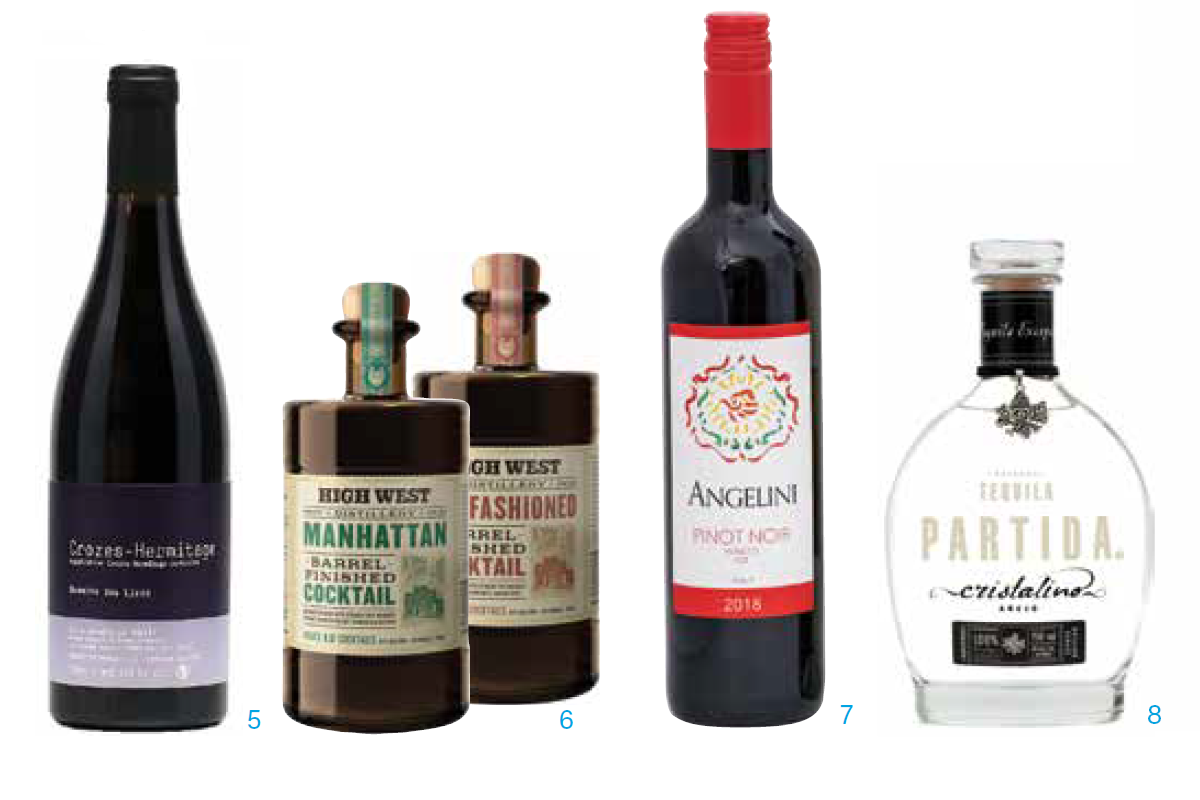 5. (Equis) Domaine Des Lises 2018 Crozes-Hermitage
Equis is the niche project of Maxime Graillot (eldest son of Alain Graillot) and his winemaking partner, Thomas Schmittel. In 2003 Graillot purchased Domaine des Lises in the warmer, dryer southeast sector of Crozes Hermitage. Planted throughout the 1980s, the vines are now managed organically. Imported by Europvin, the 2018 shows notes of spice, blackcurrant, and red berries with a touch of classic Syrah pepper.
SRP: $36
europvin.com
6. High West Bottled Cocktails
High West Distillery has launched its first bottled cocktails: a Manhattan and an Old Fashioned, both barrel-finished. Each cocktail is formulated using time-tested recipes, high-quality ingredients, and a blend of bourbon and rye for added complexity. Finishing in used rye barrels allows the flavors to marry. The Old Fashioned (86 proof) features a demerara simple syrup while the Manhattan (74 proof) includes two types of vermouth.
SRP: $49.99/750ml | $29.99/375ml
highwest.com
7. The Angelini Wine Collection
Julius Angelini has updated his portfolio. The Angelini Wine Collection includes five wines: Prosecco (SRP $14.99), Pinot Grigio ($10.99), Pinot Noir ($10.99), and the newly added Brachetto d'Acqui ($14.99) and Moscato d'Asti ($14.99). Angelini collaborates with regional growers in the respective DOC and DOCG regions in Piedmont and the Veneto to create authentic Italian wines with high quality-to-price ratios.The Angelini Collection will add two more wines this year: Prosecco Rosé DOC and a Sangiovese.
SRP: $10.99-$14.99
angeliniwine.com
8. Partida Añejo Cristalino
Tequila Añejo Cristalino is aged a minimum of 18 months before being naturally filtered through activated carbon, leaving it transparent while still maintaining the aromas and flavors gained through aging. The clear añejo is then diluted to 80 proof using demineralized volcanic spring water. Particda Añejo Cristalino follows the launch of Partida Roble Fino luxury sipping tequilas made in partnership with Edrington's best in cask management. Cristalino is the fastest growing tequila category in Mexico.
SRP: $59.99
edrington.com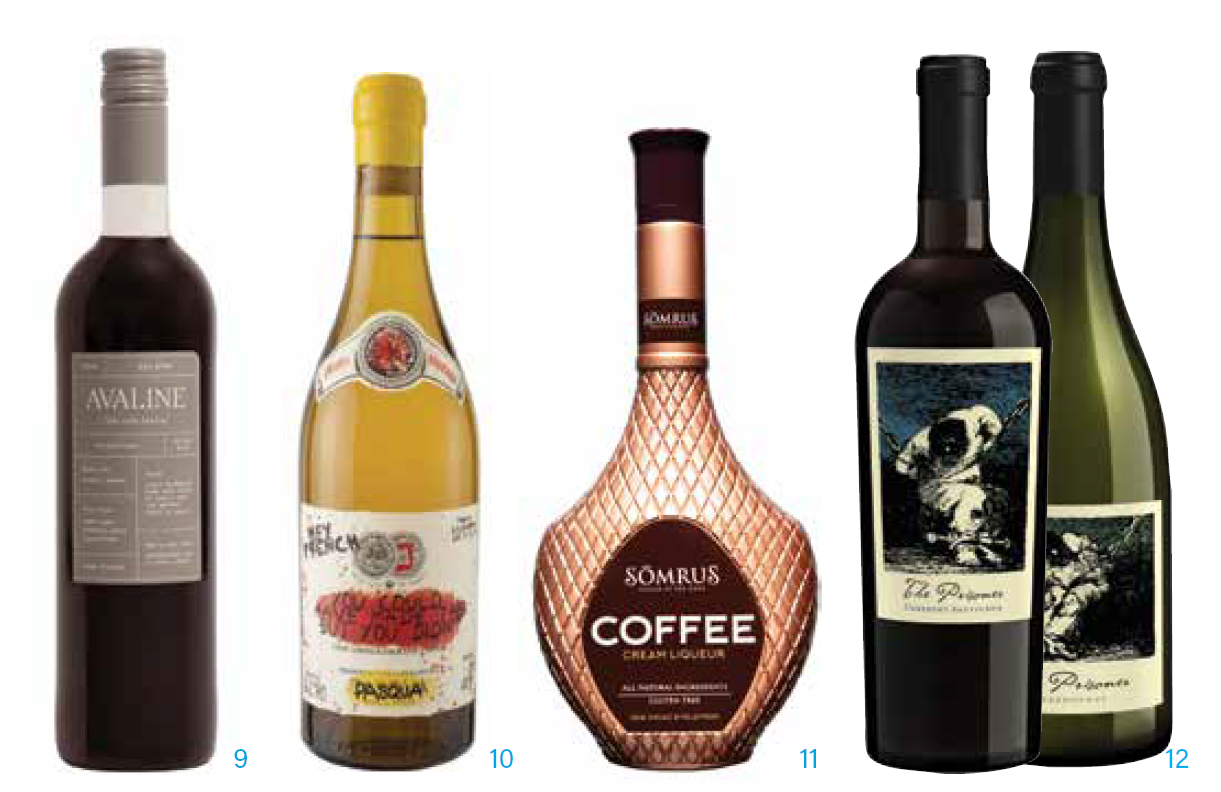 9. Avaline Red
Founders Cameron Diaz and Katherine Power have added a red blend to their upstart Avaline line of "clean," vegan-friendly wines made with organic grapes and "without unnecessary extras." The release of Avaline Red comes in response to popular demand after Avaline White and Rosé sold in the first 90 days earlier this year. Made in the Rhône Valley, Avaline Red is a blend of Grenache and Syrah with bright red fruit and a touch of spice.
SRP: $24
drinkavaline.com
10. Pasqua 'Hey French…' Bianco
Famiglia Pasqua, a leading producer in Northeast Italy's Veneto region, has released a tongue-in-cheek yet very serious white wine: "Hey French: you could have done this, but you didn't." This rule-breaking "first edition" Bianco Veneto IGT is a blend of four vintages (2013, '15, '16, '17) and three grapes: 60% Garganega plus Pinot Bianco and Sauvignon Blanc. Fruit was sourced from easternmost Soave Classico, where volcanic soil yields structured, long-lived, minerally wines.
SRP: $40
pasqua.com
11. Sōmrus Coffee Cream Liqueur
Sōmrus Coffee Cream Liqueur joins Sōmrus Mango and Sōmrus Chai. Based on India's kaapi, Sōmrus Coffee Cream is made from coffee and chicory, real dairy cream from Wisconsin, and Caribbean rum. The end result is silky and creamy, with roasted coffee notes, a hint of sweetness, and notable depth. Made in the U.S. with all-natural ingredients, no refrigeration is required and it is best enjoyed over ice or ice cream, in coffee or tea, or in cocktails.
SRP: $24.99
somrus.com
12. 'The Prisoner' Cabernet Sauvignon & Chardonnay
A new 2018 Napa Valley Cabernet Sauvignon and 2019 Carneros Chardonnay now accompany The Prisoner's flagship Napa Valley Red Blend. While the brand has a following for its boundary-breaking luxury blends, the varietal offerings aim to attract even more fans. And, in fact, the new Cabernet includes small amounts of Merlot, Syrah, Malbec, Petite Sirah, and Charbono; and the Chardonnay has touches of Roussanne and Gewürztraminer.
SRP: Chardonnay $39.99 | Cabernet $54.99
theprisonerwinecompany.com