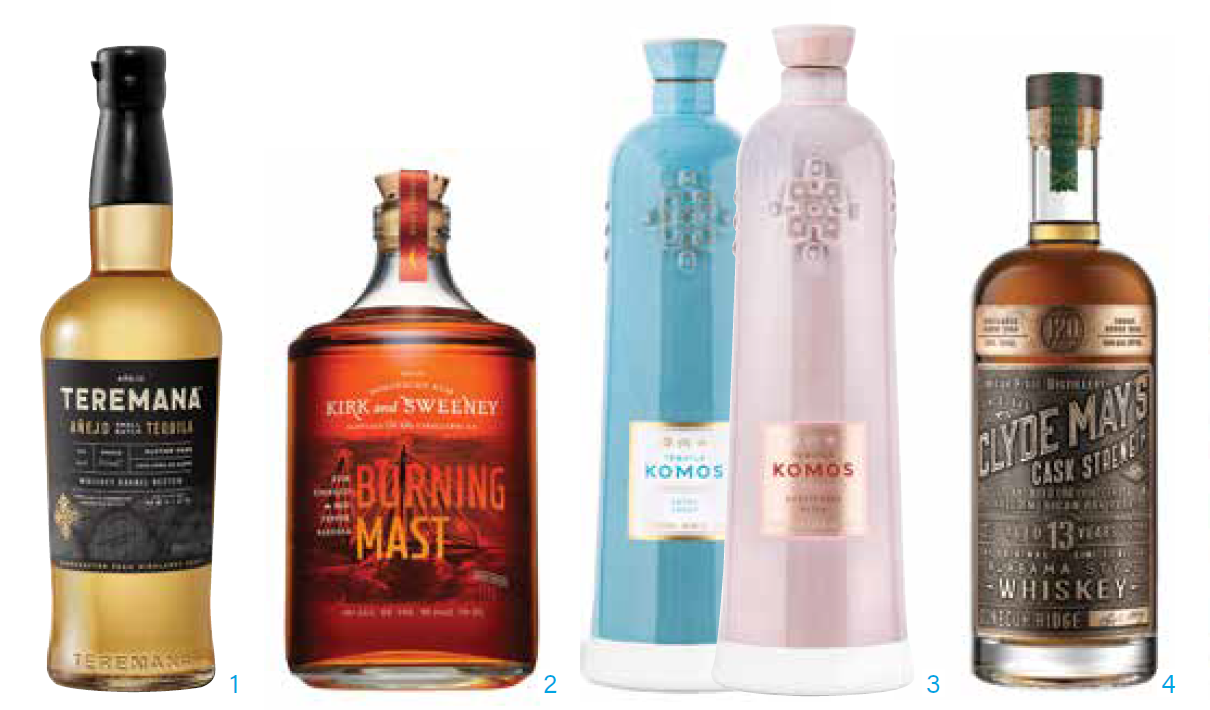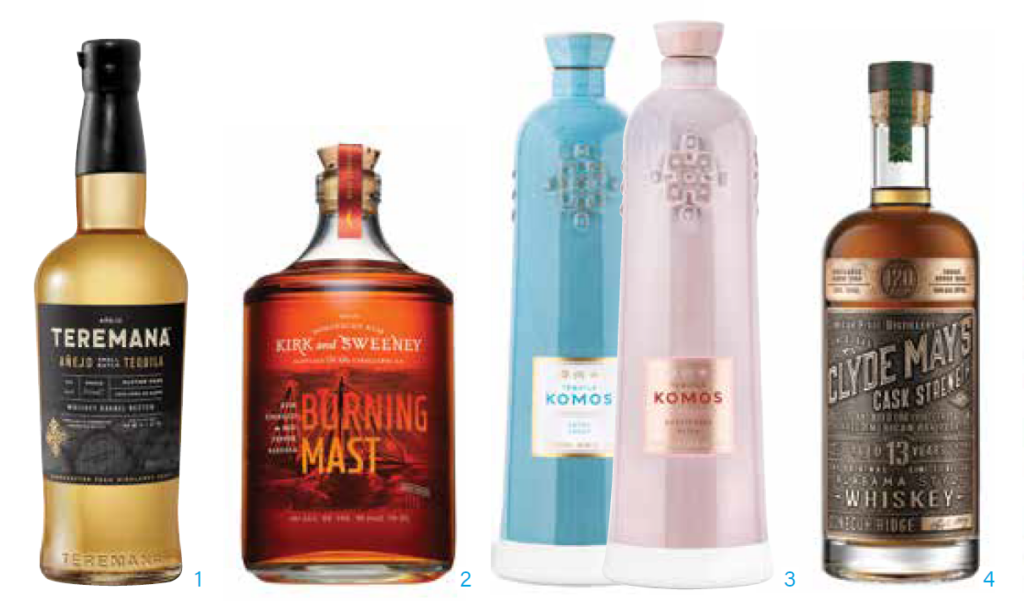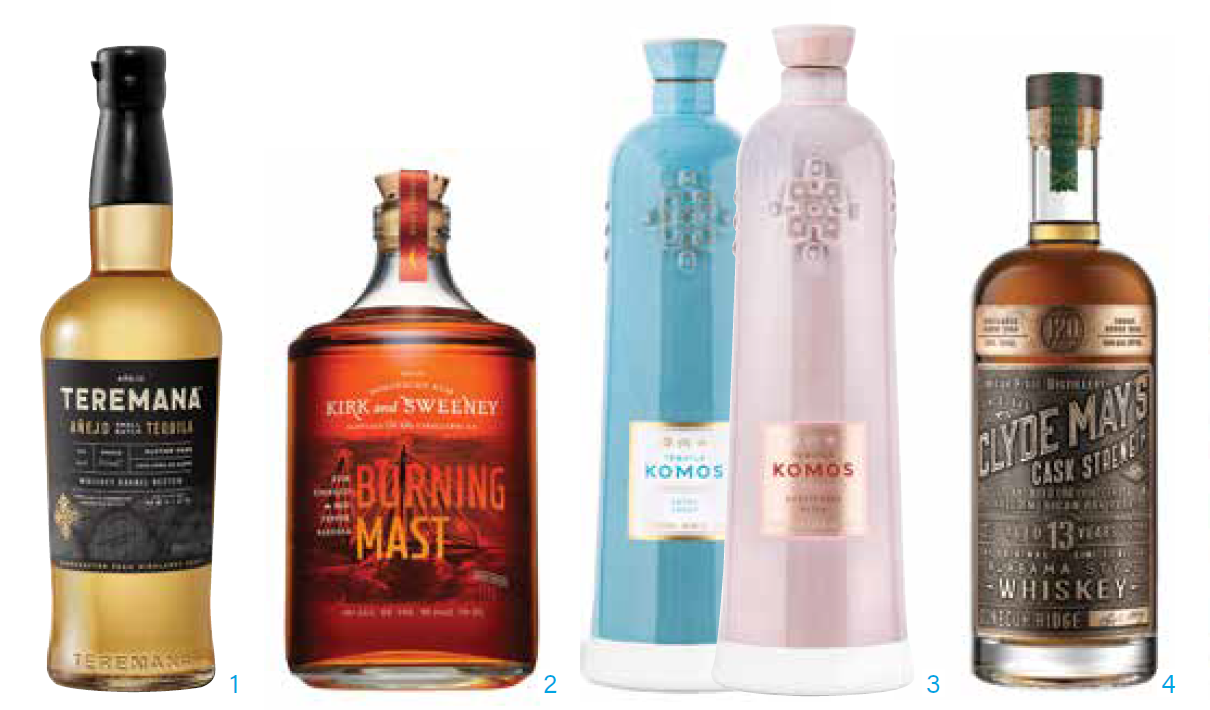 1. Teremana Añejo
Nearly two years after launching the smallbatch, accessibly priced Teremana Tequila, Dwayne "The Rock" Johnson and his partners have rolled out the vanilla- and oak-forward Teremana Añejo alongside the blanco and reposado. Once the blue Weber agave is slowroasted in traditional brick ovens and distilled in copper pot stills at Destileria Teremana de Agave in Jalisco, the añejo is aged in American whiskey barrels. Finally, each bottle is handdipped in black wax prior to packaging.
SRP: $39.99 per 750ml bottle
teremana.com
2. Burning Mast Rum
Burning Mast, Kirk and Sweeney's limited release Dominican rum available through 3 Badge Beverage Corporation, begins with hand-harvested sugarcane that is processed into blackstrap molasses for fermentation and distillation and aged in American and French oak casks. It combines 81 percent Kirk and Sweeney Reserva rum with 19 percent Kirk and Sweeney Reserva rum
that was finished in red pepper barrels for between 11 and 19 days.
SRP: $49 per 750ml bottle
kirkandsweeneyrum.com
3. Tequila Komos
On the heels of Tequila Komos Añejo Cristalino's 2020 debut, Casa Komos Brands Group has rolled out the high-end Tequila Komos Reposado Rosa (SRP: $109.99) and Tequila Komos Extra Añejo (SRP: $399.99). Upon aging in French oak, red wine barrels from Napa, the former, with chocolate and dark fruit notes, is stored in handmade, porcelain-glazed amphorae; the latter is aged for a minimum of three years in one-time French white wine and American oak whiskey casks, eliciting undertones of candied ginger and toasted pecans.
SRP: $109.99 and $399.99 per 750ml bottle
komos.com
4. Clyde May's
A slew of new offerings from Clyde May's, part of the Conecuh Brands portfolio, includes the Clyde May's Single Barrel Straight Bourbon 5-year-old, Clyde May's Special Reserve Straight Bourbon 6-year-old, Clyde May's Cask Strength Alabama Style Whiskey, and Clyde May's Kentucky Straight Bourbon 15-yearold. The 120-proof Alabama edition, aged for 13 years, is the most recent release in Clyde May's Cask Whiskey Continuity Program, which started in 2016 with an 8-year-old.
SRP: $49.99 to $199.99 per 750ml bottle
clydemays.com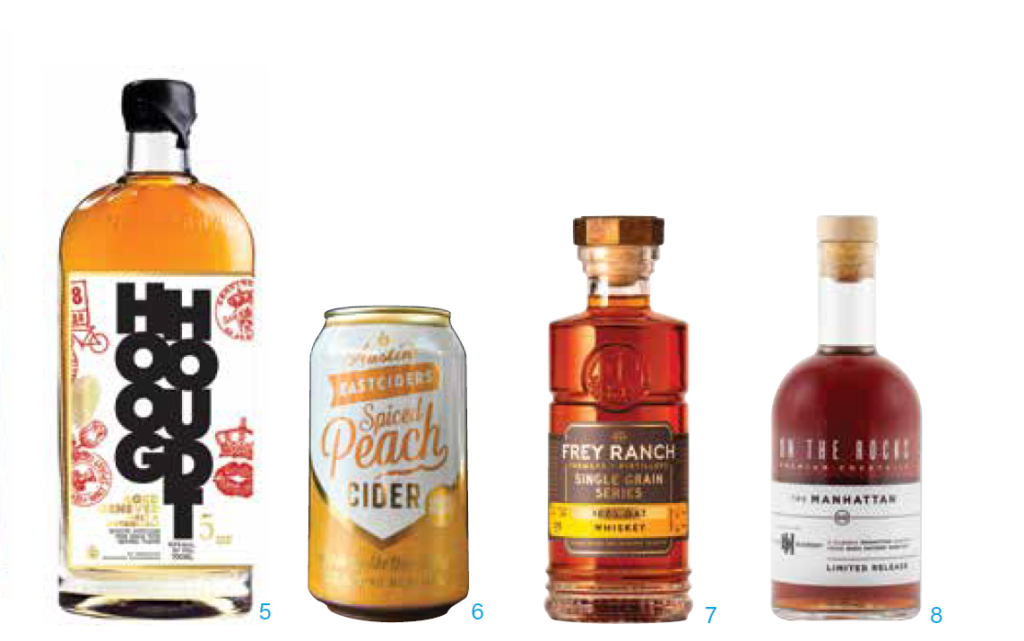 5. Hooghoudt Genever
The genever collection from Family Distillery Hooghoudt, in the Netherlands, has arrived stateside via the Sazerac Company's 375 Park Avenue Spirits division. Hooghoudt, established in Groningen in 1888, has an export portfolio comprising a "Holland Gin," the five-year-old Aged Genever, the new-style Sweet-Spiced Genever bringing together ingredients like mace and apricot, and the non-alcoholic Zero Zero 24, a mix of floral distillates and extracts.
SRP: $19.99 to $39.99 per 700ml bottle
hooghoudt.com
6. Austin Eastciders Spiced Peach
Spiced Peach is the newest limited-release creation from Austin Eastciders. Melding fresh peaches with crisp, bittersweet apples and such mulling spices as orange, cinnamon, and nutmeg, it, like all products from the Austin, Texas, cidery, stars real fruit and shuns artificial sweeteners.
SRP: $$9.99 per 12-pack of 12oz cans
austineastciders.com
7. Frey Ranch Single Grain
Colby and Ashley Frey, founders of Frey Ranch Distillery, are showcasing the individual grains grown on their 1,500-acre Fallon, Nevada, farm in the couple's new Single Grain series of whiskeys. Both bottled at 100-proof, the limited-run Frey Ranch Single Grain 100% Oat Whiskey (SRP: $59) and Frey Ranch Single Grain 100% Wheat Whiskey (SRP: $49) are spawned entirely from grains that were planted and malted onsite and aged for 6.5 years. Twelve additional varieties for the collection are currently maturing in casks.
SRP: $49 and $59 per 375ml bottle
freyranch.com
8. On the Rocks Manhattan
On the Rocks, the range of premium, barquality ready-to-drink cocktails developed in partnership with Beam Suntory, now features a Manhattan. Prepared with Basil Hayden Dark Rye, vermouth, and bitters, it marries spice and fruit notes and joins an open-and-serve lineup already known for the Aviation, Cosmopolitan, Mai Tai, Margarita, and Jalapeño Pineapple Margarita.
SRP: $12.99 per 375ml bottle
ontherockscocktails.com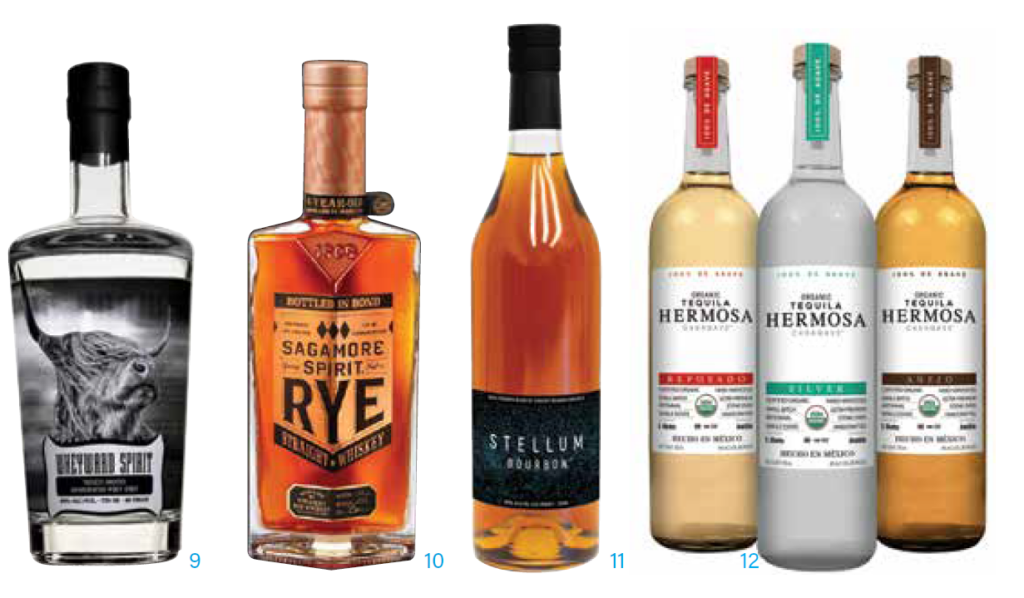 9. Wheyward Spirit
Mildly sweet and creamy whey, a byproduct of cheese, is the backbone of Wheyward Spirit, sustainably made in collaboration with domestic dairies to help combat food waste. The first distilled specialty spirit of its kind, Wheyward is a choice stand-in for vodka, gin, and rum in classic cocktails like the White Russian, Martini, and Daiquiri because of its vanilla cream and spice flavors.
SRP: $57 to $59 per 750ml bottle
wheywardspirit.com
10. Sagamore Spirit Bottled in Bond
For nearly a decade, Sagamore Spirit has been on a mission to revive Maryland's centuries-old tradition of making rye whiskey. Now there's the 100-proof Bottled in Bond, a limited-edition blend of two straight whiskies (one a highrye mash bill, the other low) that is produced entirely at Sagamore Spirit's Baltimore distillery before barrel-aging for four years at a nearby rickhouse. Just like it did during the country's colonial era, the versatile spirit exhibits rye spice and toasted caramel on the palate.
SRP: $59.99 per 750ml bottle
sagamorespirit.com
11. Stellum Black Bourbon and Black Rye
Following the release of its flagship bourbon and rye, Stellum Spirits, produced by Barrell Craft Spirits, has unveiled the elevated, limited-release, 109.22-proof Stellum Black Bourbon and 114.26-proof Stellum Black Rye. These cask-strength Stellum Black spirits, distilled and aged in Indiana, Kentucky, and Tennessee, highlight a distinctive layering technique that blends older reserve barrels from the stocks into the original whiskeys.
SRP: $99 per 750ml bottle
stellum.com
12. Hermosa Organic Tequila
Newcomer Hermosa Organic Tequila, available in silver, reposado, and añejo expressions, was founded by Mexico native Will Elger. Inspired by a 1939 bottle of homemade tequila gifted to Elger's father, the USDA and EU organic-certified Hermosa, which uses 100 percent blue Weber agave, is crafted the old-fashioned way, by the family-run Tequilas Las Americas NOM 1480 in Jalisco. To minimize waste, every part of the harvested agave plant is embraced at the distillery.
SRP: $44.99 to $59.99 per 750ml bottle
hermosatequila.com