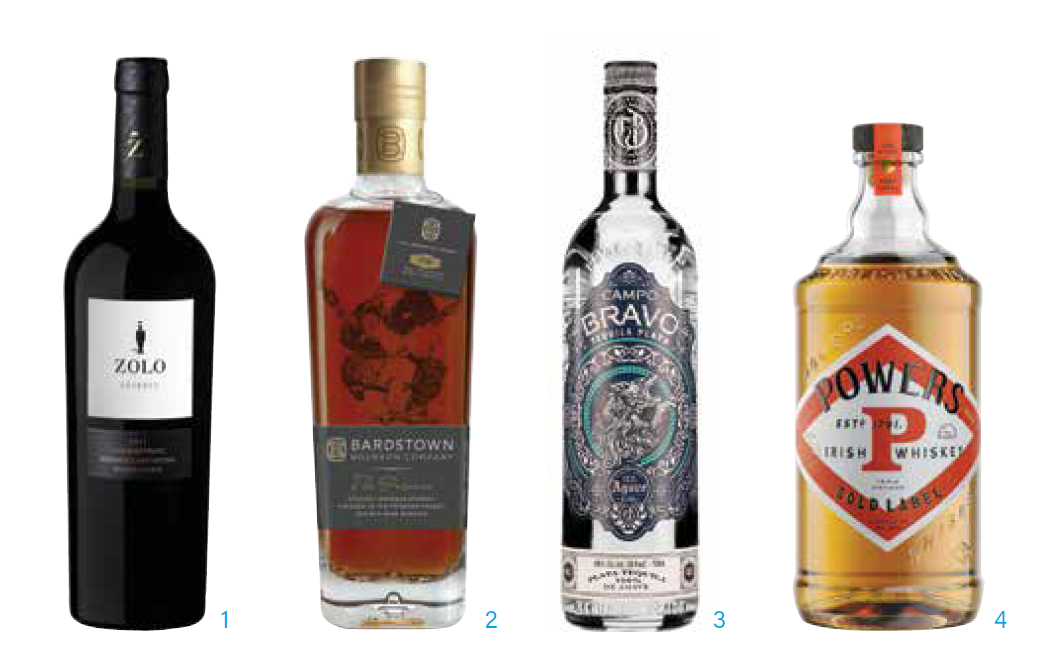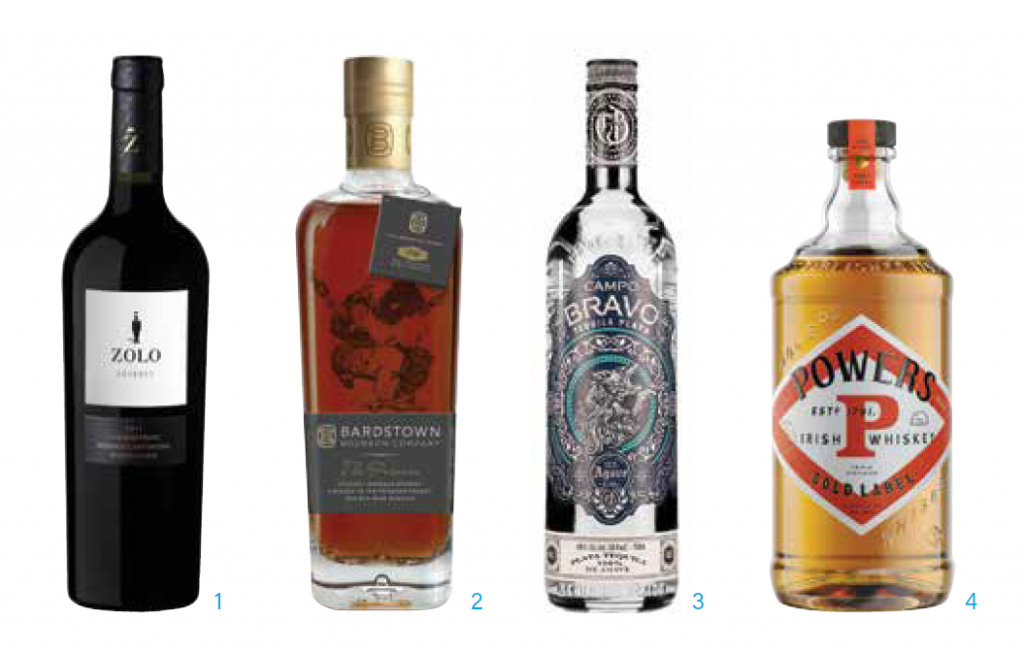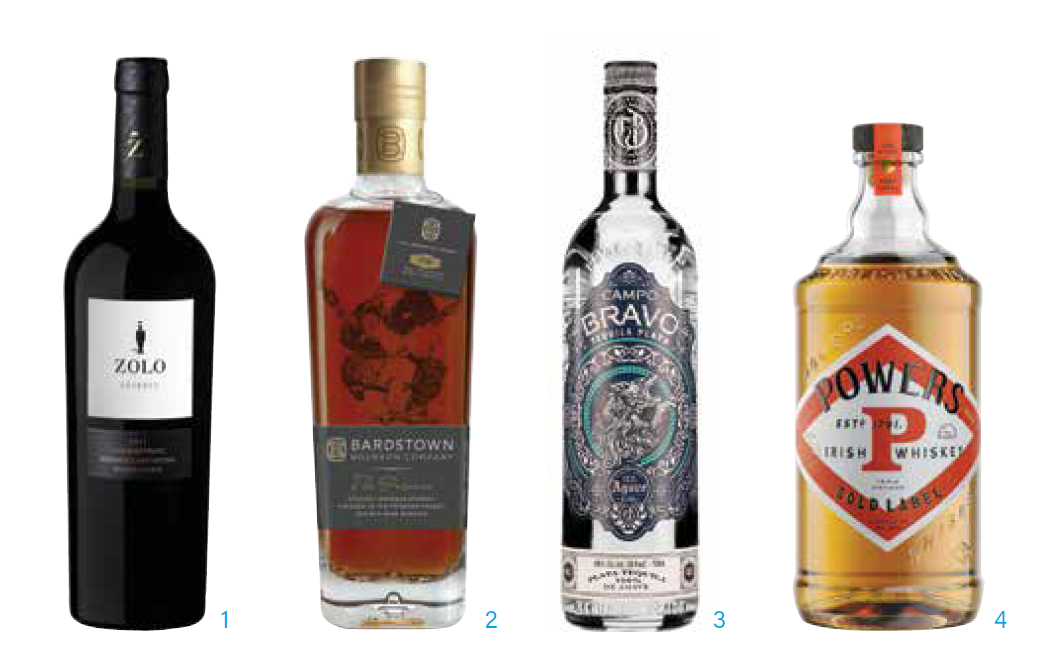 1. Zolo Cabernet Franc Reserve
Argentine winery Zolo has released a 2017 Cabernet Franc Reserve, made under winemakers Jean Claude Berrouet (formerly of Pétrus) and Fabian Valenzuela. In Zolo's Alto Agrelo and Agrelo estate vineyards, whose 14-and 19-year-old vines' fruit was previously being blended with Malbec and Cabernet Sauvignon, Berrouet saw conditions to achieve perfect ripeness in Cabernet Franc, which is crucial for the fruit and tannins to balance the floral and mineral aspects often found in the grape.
SRP: $19
vinodelsol.com
2. Bardstown Bourbon 'The Prisoner' Finish
Bardstown Bourbon Company kicked o‹ff 2020 with a new bourbon aged in The Prisoner Wine Company barrels. Bardstown Bourbon's latest collaboration is a nine-year-old Tennessee bourbon aged for 18 months in the same French oak barrels used to age the cultish red blend The Prisoner. This is the latest addition to the firm's Collaborative Series, which used brandy and Muscat Mistelle barrels in 2019. 100 proof.
SRP: $124.99
bardstownbourbon.com
3. Campo Brava Tequila
Milestone Brands has entered a joint venture with Grupo PSA of Mexico, bringing Campo Bravo, a 100% agave tequila, to the United States. Campo Bravo, meaning "Brave Field," was created by fifth-generation agave growers who control production from agave fields to the bottle. Campo Bravo Plata (silver) shows vanilla aromas and on the palate herbal, spice, and citrus notes. The bottle incorporates modern Mexican design with a label featuring a howling wolf.
SRP: $21.99
milestone-brands.com
4. Powers Gold Label Irish Whiskey
New for 2020, Powers Gold Label Irish Whiskey, produced by Irish Distillers of Midleton Distillery, has a bold new bottle. The label's vintage pot still silhouette pays tribute to the distillation method for which this historic Irish whiskey is renowned, and the highlighted red Powers diamond "P" is one of the first trademarks ever registered in Ireland. The updated design will start with Gold Label in March and then extend across the Powers line.
SRP: $31.99
powerswhiskey.com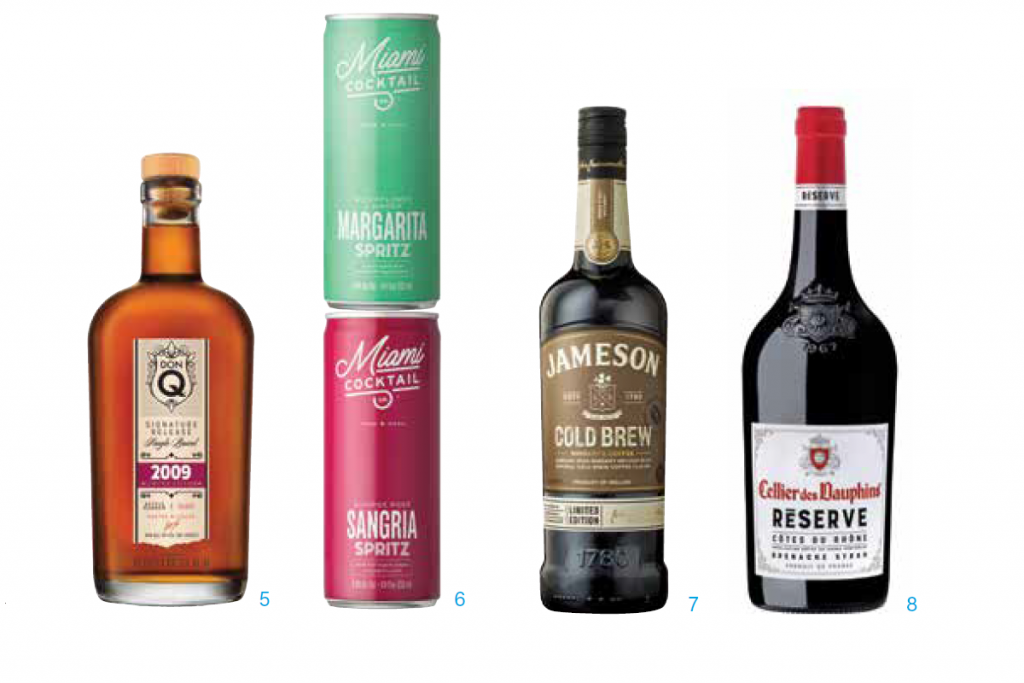 5. Don Q 2009 Signature Release, Single Barrel Rum
Destilería Serrallés, producer of Don Q Puerto Rican rum, has released the third edition of Don Q's Signature Release, Single Barrel series. As with the 2005 and 2007, the 2009 rum was chosen from a limited selection of the Serrallés family's finest rum stocks. Selected in 2009 and aged in charred American oak barrels until being bottled straight from the barrel with no blending in 2019, the rum is rich and full-bodied. Enjoy neat. 80 proof.
SRP: $39.99
donq.com
6. Miami Cocktail Co. 'Organic Spritz'
Another young hard seltzer is poised to go national. Miami Cocktail Co. is launching single-serve "Organic Spritz" canned ready-to-drink cocktails, complementing their existing "Small Batch Originals" bottled cocktails. Di‹ erentiated by its organic certification, low (4.2%) ABV percentage, and 110 calories per can with no added sugar or preservatives, the lines comes in five pastel 250ml cans: Organic Bellini, Margarita, Mimosa, Paloma, and Sangria.
SRP: $12.99/four-pack of 8.4oz (250ml) cans
miamicocktail.com
7. Jameson Cold Brew
Conjuring up notions of Irish Coffee, this new combination of triple-distilled Jameson Irish Whiskey and natural cold brew coffee flavor is a natural fit, and makes its way stateside after limited-edition success abroad. Jameson Cold Brew offers rich coffee aroma and a mellow finish, with notes of toasted oak and dark chocolate. Made with 100% Arabica Beans from Brazil and Colombia; line-priced with original Jameson. Enjoy on ice or in creative and classic cocktails. 60 proof.
SRP: $24.99
jamesonwhiskey.com
8. Cellier Des Dauphins Rhône Wines
Cellier des Dauphins, the Rhône Valley's largest grower-owned winery, has new branding plus a portfolio expansion. The brand now has three tiers: Côtes du Rhône wines under the "Reserve" label (SRP $14.95; pictured) in red, white and rosé; a Côtes du Rhône Villages range ($16.99-$18.99); and at the top, a limited "Crus des Côtes du Rhône" range ($20-$60), focusing on the terroirs of Vinsobres, Cairanne, Vacqueyras, and Châteauneuf-du-Pape.
SRP: $14.95 / $18.99 / $20-$60 (see above)
cellier-des-dauphins.com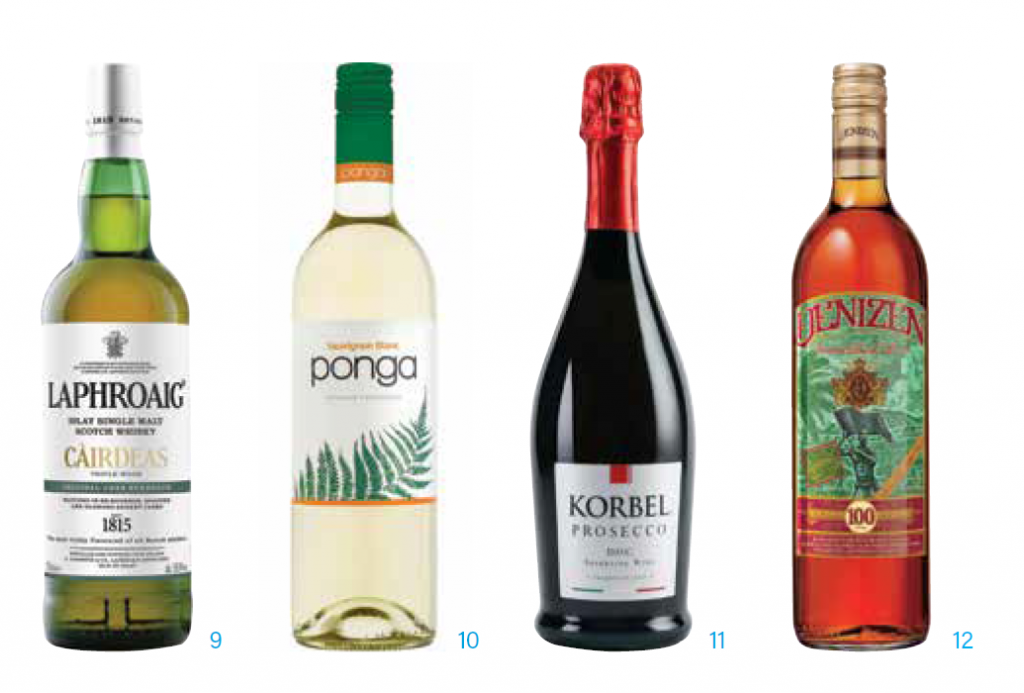 9. Laphroaig 'Càirdeas' Triple Wood Single Malt Scotch
Laphroaig's annual release of their "Càirdeas" single malt Scotch whisky is always greatly anticipated. (Càirdeas means friendship in Gaelic.) This year's edition, Triple Wood Cask Strength, was first matured in ex-bourbon barrels, then in smaller quarter casks, and finally finished in oak casks that previously held Oloroso Sherry, giving the expression a sweet and smooth finish on top of Laphroaig's signature rich, smoky taste. 119 proof.
SRP: $79.99
laphroaig.com
10. Ponga Sauvignon Blanc
With the 2019 vintage, Winebow Imports is introducing a new label for their Ponga Sauvignon Blanc from Marlborough, New Zealand. The look is fresher and brighter, with the native Ponga fern featured more prominently. Known for the silvery underside of its fronds that appear to reflect moonlight, the fern was named "Ponga" by the Māori people who tell stories of how the leaves helped guide their way through the dark.
SRP: $13
pongawine.com
11. Korbel Prosecco
Korbel, the American sparkling wine powerhouse, has extended into Italy's most popular bubbly. Produced entirely in the Prosecco DOC, Korbel Prosecco uses 100% Glera grapes and the traditional Charmat (tank-fermented) method, yielding a light, fruit-forward bubbly. The package features the same block lettering for the Korbel brand name, but a red capsule sets it apart from its méthode champenoise California siblings.
SRP: $14.99
korbel.com
12. Denizen Vatted Dark Rum
Hotaling & Co. has introduced Denizen Vatted Dark Rum; it is dark rum blended with rhum agricole from Martinique, in the "vatted" style originally formulated for the British Navy in the mid-18th century. The fresh, unaged rhum agricole provides a backbone of vegetal aromas, yielding a balanced spirit ideal for cocktails. The label honors the Guyanese slaves who rose up against British colonists in 1823, in what is known as the Demerara Rebellion. 100 proof.
SRP: $29.99
hotalingandco.com