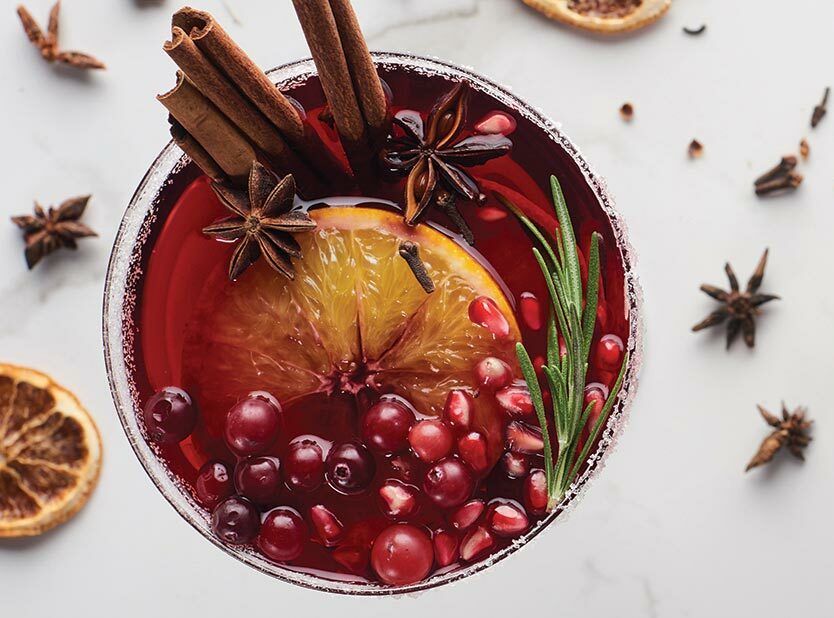 By Len Panaggio
We've flipped the page into a new year, and with that comes the hope of a return to normal times. There are still many lingering issues, but, quite frankly, we all need to be optimistic and move forward in that spirit; it's the only way we'll be successful in 2022.
As I write this, we are smack in the middle of winter cocktail season, and winter warmers have never been more popular. Concurrently, there has also been a demand for the return of classic cocktails reminiscent of a bygone era. Think Negroni, Sazerac, Manhattan, Sidecar, Bellini and so many others. Recently, I was sitting at a restaurant bar perusing the cocktail list, and to my surprise and glee, they listed some winter drinks that I remember making back in the day at The Mooring.
Hot apple cider with spice and a cinnamon stick fit right in with the no-alcohol, low-alcohol movement. For those who want something with a bite, this classic beverage can be turned into a winter warmer with the addition of rum or vanilla-flavored vodka. I was equally as delighted to see hot buttered rum on the drink menu. We used to make the original Trader Vic's paste in bulk; the recipe is readily available and can be stored in the beer cooler. When ordered, a tablespoon or two with hot water added, stir, cinnamon stick and voilà!
These drinks are easy to make and should be readily offered throughout the season. Beyond ciders, there are some great apple brandies available. Laird's Applejack Brandy is the standard, and Laird's has many line extensions now created over the years. Hot cider and Laird's Applejack is a real throwback, again, delicious and easy. If you want to step it up, use Calvados, the famous French apple brandy.
Everyone loves hot chocolate, and offering a spiked cocktail is very easy – add Peppermint Schnapps or Vandermint, which is a minted chocolate liqueur from Holland. Top with whipped cream and add sprinkles or shaved chocolate and you have a winter drink at its best. The hardest part of hot chocolate drinks is whether you buy a packaged product, like Swiss Miss, or actually make your own, which will wow anyone trying it. A little extra work, but well worth it.
Warm, spiced wine drinks like Glühwein are popular in Europe and are gaining ground here. Many of us have seen the rise in the demand for sangria, which is considered a great summer drink, but it is becoming more and more popular in the winter served as a warm, spiced sangria. By the way, this is a great way to utilize pour wines that are open on slow winter days.
There are many winter beers available; most tend to be ales, on the heavier side to match with our heavier winter foods. Sam Adams seems to dominate the seasonal beer category around here, producing their winter lager, but in addition, there are several other offerings with a winter theme like Harpoon's Winter Warmer, a spiced ale that is not overly hoppy, yet refreshing. Two of my other favorite domestic winter brews are Sierra Nevada Celebration, an IPA and Anchor Christmas Ale, a spiced ale. As for an imported beer, Samuel Smith's Winter Welcome, a basic English ale brewed for the colder days of winter, but nothing basic about the flavors.
As we move through winter, there are many ways of making the short, cold days more enjoyable for your guests with winter cocktails. Embrace the season and embrace the trend. Enjoy!
Len Panaggio's career in food and wine spans more than three decades as an owner and as a beverage director at some of the top restaurants in Rhode Island. Currently a hospitality consultant, Len is a graduate of the University of Rhode Island and has attended the Culinary Institute of America Master Sommelier program and the Sterling School of Service and Hospitality.