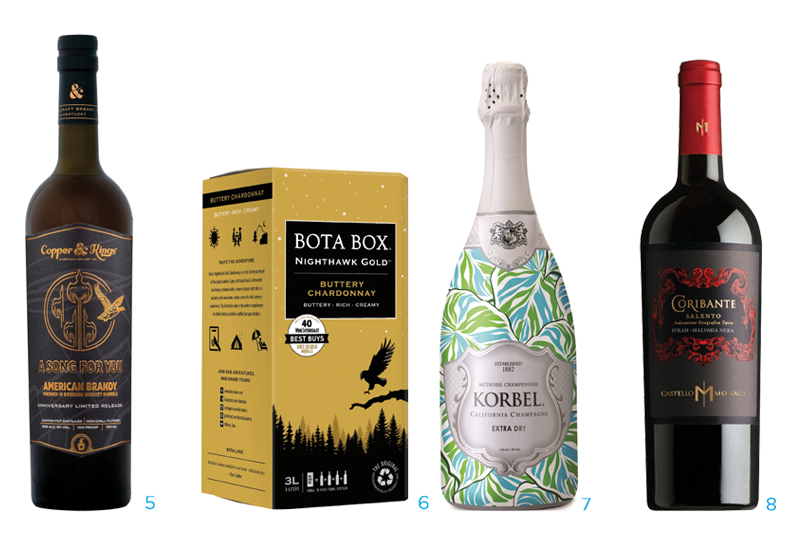 1. Sailor Jerry 'Savage Apple'
The introduction of Savage Apple, a 70 proof apple-flavored spiced rum, marks the brand's first new liquid introduction since the launch of the original Sailor Jerry Spiced Rum 19 years ago. Appearing initially in New York and Florida before rolling out across the country, Savage Apple is true to the traditional notes of vanilla and cinnamon in Sailor Jerry Spiced Rum, adding a bold snap of lively apple and cinnamon. Best served chilled.
SRP: $15.99
2. LaLuca Prosecco Superiore Valdobbiadene DOCG
The upscaling of Prosecco continues apace as Opici Wines is bringing in LaLuca Prosecco Superiore Valdobbiadene DOCG. The 100% Glera grapes for this Prosecco come from a densely-planted, southeastern-facing sloped vineyard within the smaller, DOCG zone. The bright straw yellow wine with persistent bubbles includes elegant scents of wild roses and jasmine and fruity notes of golden apple and tropical fruits.
SRP: $22.99
3. Ménage à Trois 'Bourbon Barrel' Cabernet Sauvignon
Ménage à Trois, trend-setter of the California Red Blend category, is jumping on another hot trend, releasing a Bourbon Barrel Cabernet Sauvignon. The spirit barrel-aged wine category is now valued at $95 million and is growing even faster than rosé. Breaking into bourbon-barrel aged wine was logical for Ménage à Trois, fresh off success with spin-offs Decadence Cabernet Sauvignon, Luscious Pinot Noir and Lavish Merlot.
SRP: $15
4. George Dickel Bottled in Bond Tennessee Whisky
The Bottled in Bond sub-category continues to grow with George Dickel entering at a competitive price point. By law, to be "bottled in bond," a product must be from one distillation season by one distillery (in this case at Cascade Hollow Distillery, DSP-TN-2, during fall of 2005), unaltered and stored in oak barrels at a federally bonded warehouse and bottled at 100 proof. Enjoy neat, on the rocks or in cocktails.
SRP: $35.99
5. Copper & Kings 'A Song For You' American Brandy
Louisville-based Copper & Kings is celebrating its fifth anniversary with "A Song For You," a limited release American brandy matured in bourbon barrels for five years. Bottled at 100 proof, the youngest eau de vie in the blend is 8 years old, and the oldest is 18, with most being 12 and 13. The varietal blend is predominantly Muscat, Chenin Blanc and Colombard. At the time, the brandies were sourced from seven states.
SRP: $50
6. Bota Box 'Nighthawk Gold' Buttery Chardonnay
Bota Box's "Nighthawk Gold" taps into the momentum of buttery Chardonnays, which are currently trending in the 750ml category, up +48%, and driving total growth for the variety. The new Chardonnay joins Nighthawk Black Red Blend and Nighthawk Black Cabernet, along with the complete Bota Box portfolio. Available in 3L & 1.5L bag-in-boxes, 500ml Tetra Pak.
SRP: $22.99/3L
7. Korbel 'Aloha' Limited Edition
Taking full advantage of modern bottle-wrap technology, Korbel continues to keep shelves colorful with limited editions. Their latest is "Aloha," featuring a lively a lively design of multi-colored palm leaves and the winery's California Extra Dry Champagne. As with all of Korbel's expressions, it's made using the méthode champenoise; the bubbly is fruit-forward in style, with notes of citrus and vanilla. Just over 11,000 9L cases produced. SRP: $13.99
8. Coribante Red Blend
Frederick Wildman & Sons has launched Coribante—"the perfect go-to wine when entertaining friends." Coribante hails from Salice Salentino but is an unusual blend of Syrah (kept in stainless steel) and Malvasia (matured in barriques for 12 months), so it is technically Salento IGT. Its fruity aromas with hints of cherries, raspberries and elderflowers lead into more fruit on the palate with light mineral notes. Recommended with red meats, pastas and mature cheeses.
SRP: $14.99
9. Knappogue Castle 12yo Marsala Cask Finish
Knappogue Castle Irish Whiskey is releasing the second of their Cask Finish Series, this one featuring Marsala casks. The whiskey first matured in bourbon barrels for a minimum of 12 years and then was finished in Marco De Bartoli Marsala casks from Sicily. With a nose of dried fruit, mocha and vanilla, the whiskey is light and fruity on the palate with a subtle finish that includes fruit and dry oak. 92 proof.
SRP: $80
knappoguewhiskey.com   |   castlebrandsinc.com
10. Don Ciccio & Figli 'Ambrosia' Aperitivo
Don Ciccio & Figli, an Italian herbal liqueur producer based in Washington, DC, has launched Ambrosia, a bittersweet aperitivo. Distilled using a centuries-old family recipe, the liqueur is made with nine botanicals and will be supported with a campaign entitled "Old World, New Charm," a nod to 135 years of family history that began in Italy. Ambrosia's complex character offers notes of melon, turmeric, blood orange, carrots and more. Spritz-friendly at just 15% ABV (30 proof).
SRP: $30.99
11. Camarena Añejo Tequila
Camarena has their newest expression this month: Camarena Añejo Tequila. Best served neat rather than in cocktails, the Añejo offers notes of cooked sweet potato, toasted oak and vanilla. Camarena's award-winning portfolio also includes Silver and Reposado, all harvested by hand from 100% blue weber agave in Jalisco's Arandas Highlands and distilled through a proprietary method that blends traditional ovens and modern techniques. 80 proof.
SRP: $29.99
12. Smoking Loon Rosé & 20th Anniversary Cabernet
Celebrating the 20th vintage of their popular Smoking Loon brand, Don Sebastiani & Sons has released a commemorative Cabernet label as well as a new California Rosé. Always refusing to take itself too seriously, over two decades Smoking Loon has developed a cult-like fan base and expanded the portfolio from the original Cabernet Sauvignon and Chardonnay to over a dozen bottlings—now including the 2018 "Steelbird" Rosé.
SRP: $6.99