1. Seagram's Watermelon Twisted Gin
This new flavored gin starts with the original Seagram's Extra Dry Gin and is infused with juicy watermelon flavors that balance the botanical essences of the hero expression. Inspired by consumer demand, this new expression is one of the first watermelon flavored gins widely distributed within the U.S.Seagram's Watermelon Twisted Gin can be enjoyed on the rocks, with soda water or tonic, or with a favorite juice or mixer.
SRP: $10.99
seagramsgin.com
2. Verdi & Sparkletini in Cans
One of America's favorite Italian bubblies is now available in four-packs of sleek 250ml cans. The available flavors are: Verdi Spumante, Raspberry Sparkletini, and Watermelon Sparkletini. Verdi's signature light and fruity sparkling flavor has been enjoyed for over 25 years and is expected to
appeal to consumers of both canned wine and canned RTD cocktails. The affordable cans also are perfect for consumers looking for a chilled alternative to a full-size bottle.
SRP: $7.99/four-pack (250ml)
chibrands.com
3. Fratelli 2017 Red Blend
Kreps-family-owned Quintessential is launching an Italian-inspired Napa Valley red wine under the Fratelli label—with the bold declaration that it is an "American Super Tuscan Blend." The rich, aromatic combination of Sangiovese and Cabernet Sauvignon was made by Napa Valley winemaker Robert Pepi, who was among the first to grow Sangiovese in California in the 1980s. He believes the Sangiovese adds brightness and a roundness, softening the "big tannins" of the Cabernet.
SRP: $29.99
quintessentialwines.com
4. Pure 'Zero Sugar' Wines
Positioned innovatively as "a blend of time- honored winemaking tradition and modern thinking," the new line of Pure Wines boasts zero sugar and only 10.5% ABV on the front of the bottles. The Pure line comprises: a light floral and fruity White made from Chardonnay and Sauvignon Blanc; a Red blend of Barbera and Merlot, highlighted by cherry notes; and a Sparkling White and Sparkling Rosé, each made from Pinot Noir and Chardonnay.
SRP: Still Wines $16.99 | Sparkling $19.99
rivieraimports.com | purethewinery.com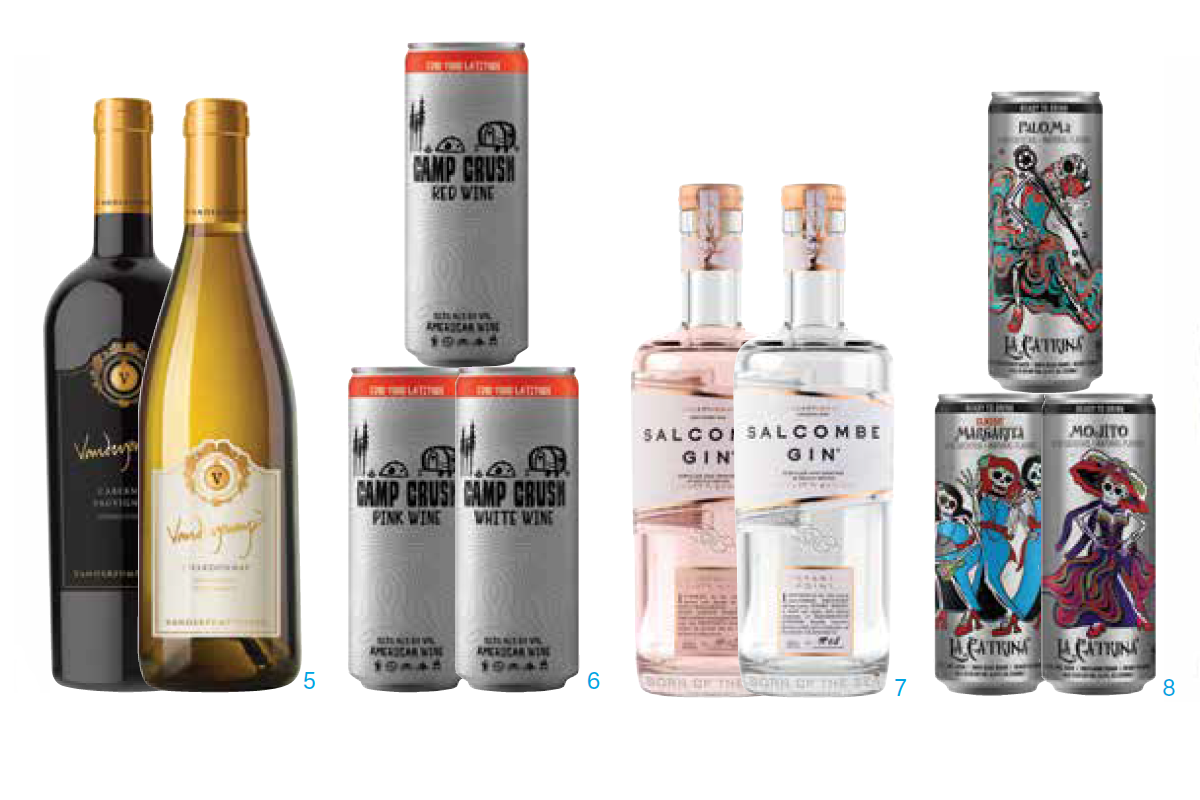 5. Vanderpump Varietal Wines
The Vanderpump family and Palm Bay International are adding two Sonoma County wines to the red-hot Vanderpump Côtes de Provence Rosé, which launched in 2017. Vanderpump Chardonnay is a 100% estate grown wine from Sonoma Coast; the Bordeaux-inspired Cabernet Sauvignon uses grapes from the Sonoma Valley and Alexander Valley AVAs. Packaging features the family crest with its rose detail and the Vanderpump signature in raised-gold print.
SRP: Chardonnay $21.99 | Cabernet $26.99
palmbay.com
6. Camp Crush Wine in Cans
The ultimate camping wine just got even handier, in new 250ml cans. Topographic-map lines and a hand-drawn campsite
scene set the tone for outdoor fun; the lightweight recyclable aluminum cans go practically anywhere and chill super fast. Three Camp Crush expressions are: Pink, with ripe stone fruit and honeysuckle; Red, with dark cherry, plum and vanilla notes; and White, highlight by melon and gentle sweetness. Marketed by Bronco Wine Co.
SRP: $15.99
broncowine.com
7. Salcombe Gins
The UK's Salcombe Gin is launching in the U.S. with two critically acclaimed signature gins: "Start Point" and Salcombe Gin "Rosé Sainte Marie"—both recent Double Gold winners at the San Francisco World Spirits Competition.
Start Point (88 proof) is a classic citrus-led London Dry Gin; and Rosé Sainte Marie (82.8 proof) is an all-natural pink gin with notes of fresh strawberries, lemon thyme, and orange blossom, and contains no added sugar or artificial colors.
SRP: $39.99
salcombedistilling.com
8. La Catrina Wine Cocktails
The success of La Catrina bottled wine cocktails led the way for these canned spin-offs, available in best-selling Margarita, Mojito, Paloma, and Strawberry Margarita. Made with agave wine and natural flavors, La Catrina blends heritage with a contemporary approach in an authentic wine cocktail taste. Inspired by Mexico City and its culture of reinvention, the RTD cocktails are made with real juice, real sugar, and real agave. 250ml; 13.9% ABV. Marketed by Bronco Wine Co.
SRP: $15.99/four-pack (250ml)
broncowine.com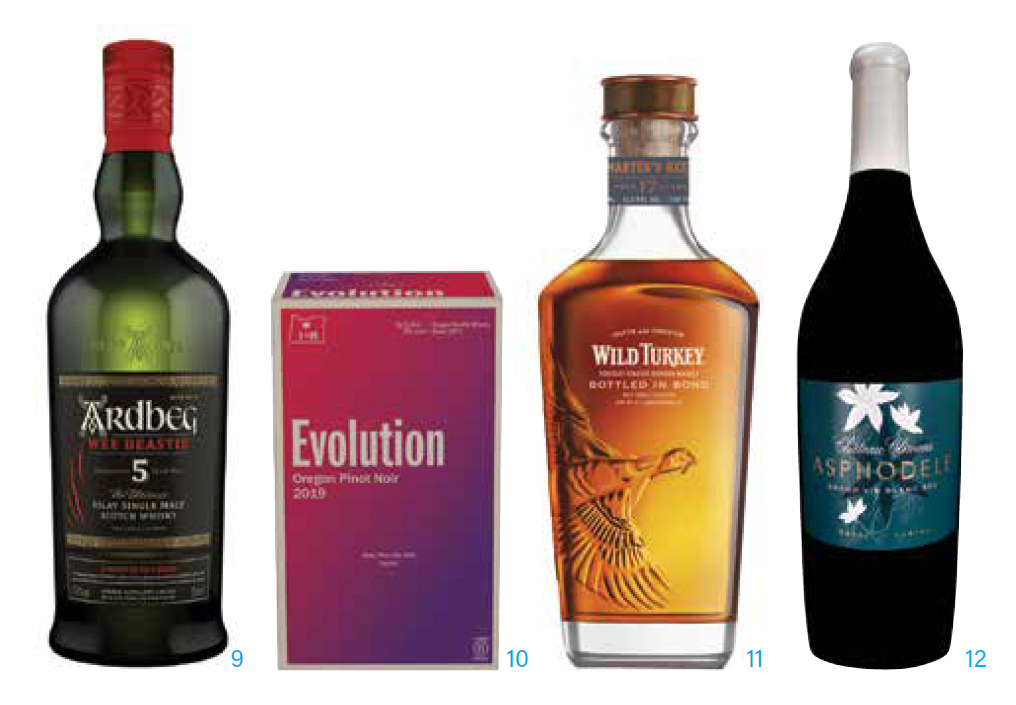 9. Ardbeg 'Wee Beastie' Single Malt Scotch
From elusive sea creatures to eerie half-breeds, the Ardbeg Distillery has a history of exploring odd legends in their bottlings. The latest permanent expression to join the core range—Ardbeg Wee Beastie, at just five years old—is an intensely powerful smoky whisky that will fit right in with the famously smoky portfolio. Matured in ex-bourbon and Oloroso sherry casks, Wee Beastie is described as a "monster of a dram," with a formidable bite.
SRP: $46.99
ardbeg.com
10. 'Evolution' Bag-in-Box Wines
Sokol Blosser Winery, one of the Willamette Valley's pioneering wineries founded nearly 50 years ago, is leading again—with the creation of Evolution boxed wines. Evolution 2019 Oregon Pinot Noir and Evolution 2019 Lucky No. 9 White Blend will be packaged in 1.5L boxes that also feature a new look. Sokol Blosser turned to a partner in California for packaging, so while both wines include fruit from the Willamette Valley, neither can legally include that AVA name.
SRP: $25 Pinot Noir | $18 White Blend
evolutionwine.com | sokolblosser.com
11. Wild Turkey 'Master's Keep' Bottled in Bond
Wild Turkey has released the latest (fifth) in the brand's Master's Keep series: Master's Keep Bottled in Bond. This 17-year-old Kentucky straight bourbon whiskey recalls the brand's American Spirit release of 2007, one of the first Bottled in Bond whiskeys by a bourbon distiller. That one was 15 years of age; for this one, says Master Distiller Eddie Russell, "we took the historic process and protocol of aging for four years to the next level."
SRP: $175
wildturkey.com
12. Château Climens 2018 'Asphodèle'
Breaking fresh ground in Bordeaux, Château Climens—known for making sweet white wines in the region of Barsac—is making a dry Semillon. Proprietor Berenice Lurton collaborated with Pascal Jolivet from Sancerre. From a vineyard that converted to biodynamic methods in 2010, the 100% Semillon grapes were fermented with natural yeasts and aged for eight months on the lees in stainless steel, not oak. Asphodèle is the French name for a wild lily.
SRP: $41.99
vineyardbrands.com