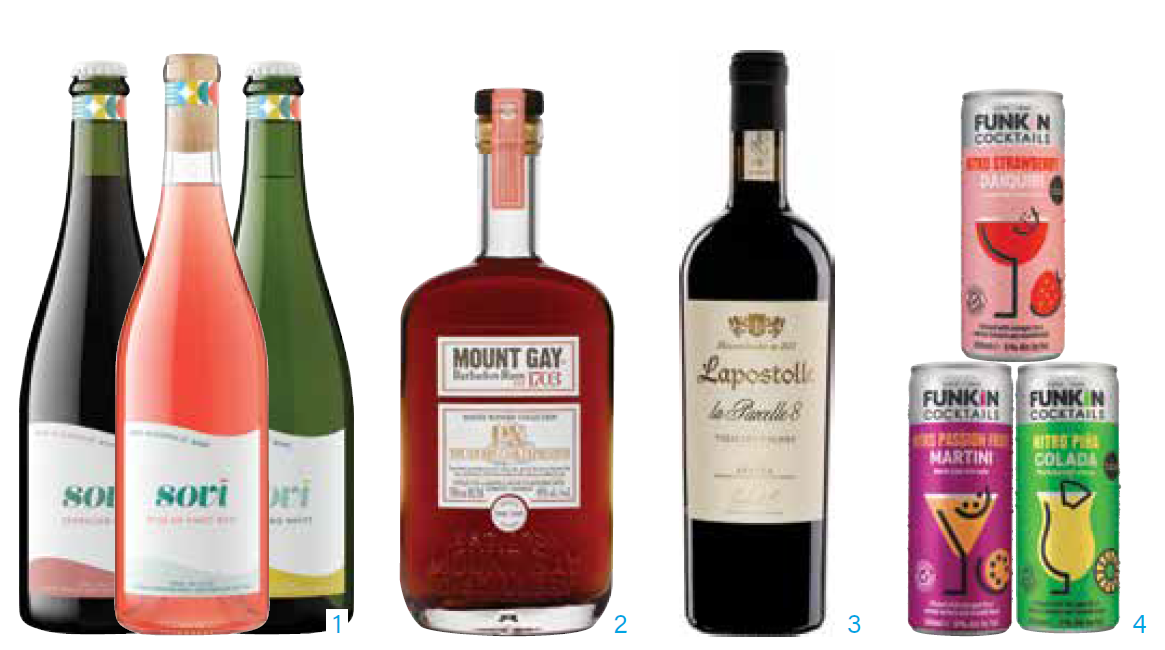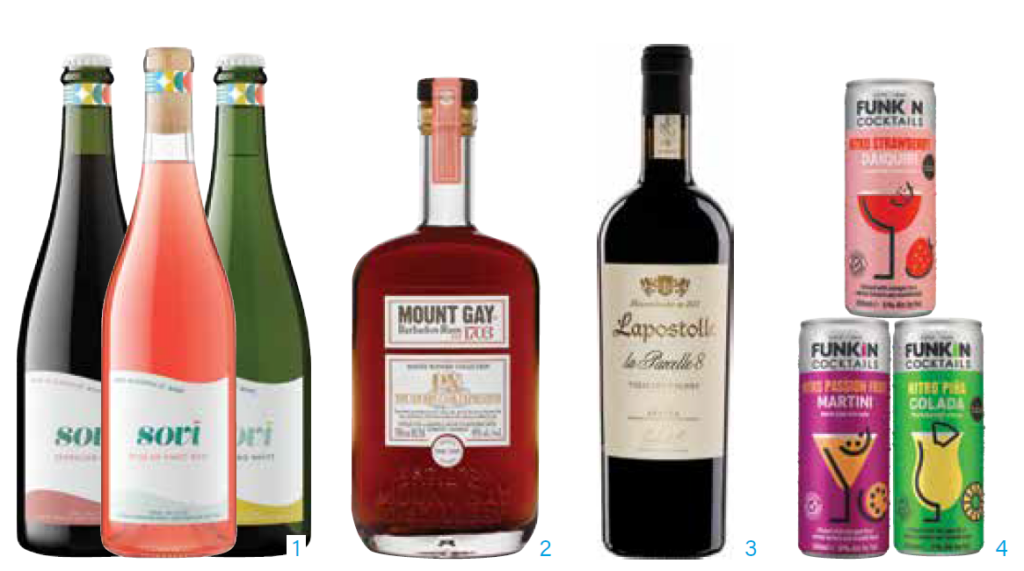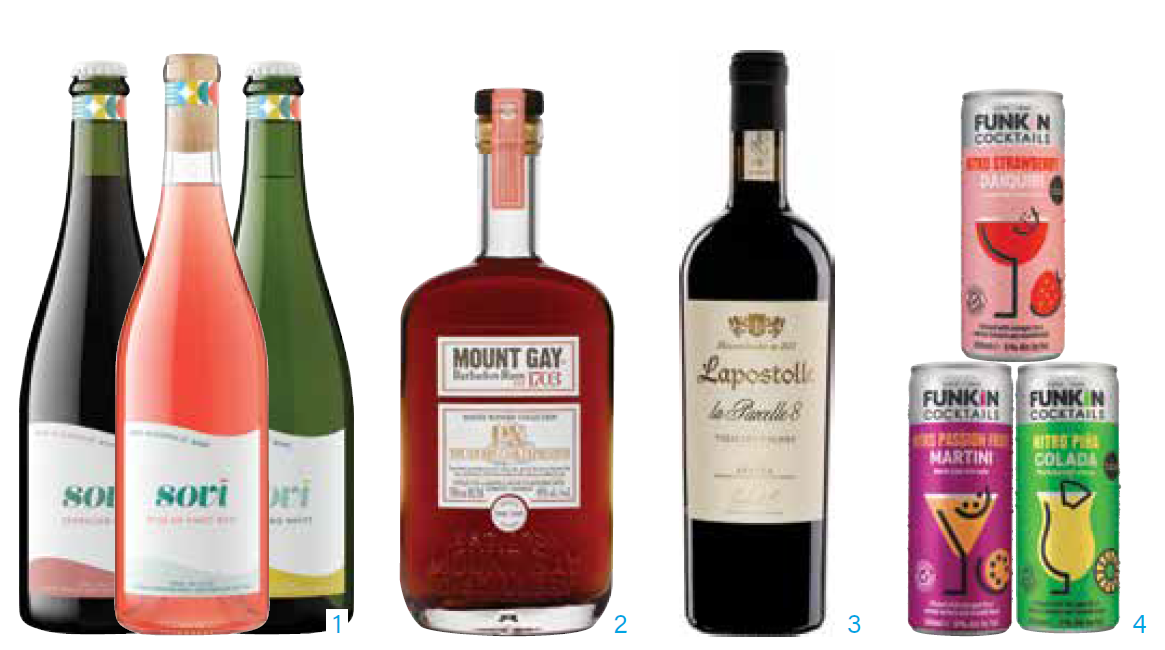 1. Sovi Wine Co.
Already known for its lineup of canned nonalcoholic varieties, Sovi Wine Co. has now ventured into bottled territory. The alcohol removed wines, made with grapes sourced from sustainable growers, include the 2022 dry Rosé of Pinot Noir, sparkling rosé blend of Pinot Noir and Tempranillo, and the sparkling white featuring Chenin Blanc, Pinot Gris, and Gewürztraminer.
SRP: $30 per 750-ml bottle
drinksovi.com
2. Mount Gay Rum
The sixth installment in Mount Gay Rum's Master Blender collection is the limited edition PX Sherry Cask. This fusion of pot and column still rums was matured in one-time American whiskey barrels for a minimum of 20 years in tropical Barbados, then finished for an additional year in Pedro Ximénez casks. Flavors of red fruit, salted caramel, and banana make it a choice one
for sipping.
SRP: $270 per 700-ml bottle
mountgayrum.com
3. Lapostolle
Crafted from a single block of Cabernet Sauvignon at the Clos Apalta estate in Chile's Apalta Valley, Lapostolle's La Parcelle 8 2018 (the second edition) was aged for 29 months in 100 percent new French oak casks. Its classic notes of red fruit and spice especially pair well with red meats and mushrooms.
SRP: $180 per 750-ml bottle
lapostollewines.com
4. Funkin Cocktails
Long a fixture on U.K. retail shelves, Funkin Cocktails is now making a splash in the U.S. with its velvety, nitro-infused ready-to-drink libations (5% ABV). The initial range—Piña Colada, Strawberry Daiquiri, and Passion Fruit Martini—all pair real fruit with quality rum or vodka.
SRP: $13.99 per four-pack of 200-ml cans
funkincocktails.co.uk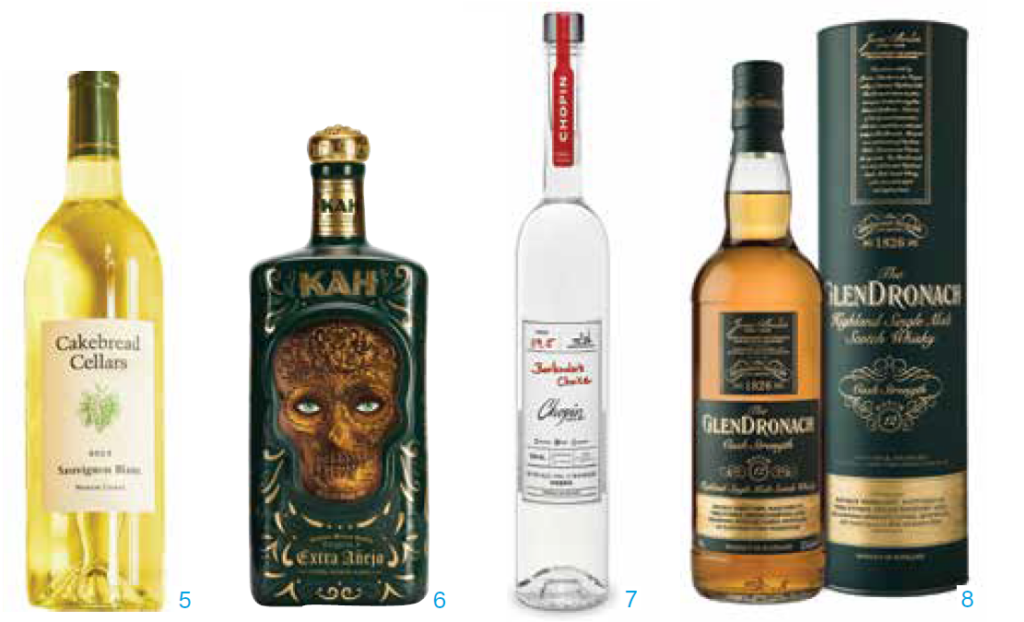 5. Cakebread Cellars
Sauvignon Blanc was the first varietal Cakebread Cellars ever planted, and decades later, it remains a favorite. The citrusy 2022 release, sourced from grapes grown throughout the Napa Valley and North Coast of California, expresses layers of ripe melon, grapefruit, and citrus zest.
SRP: $30 per 750-ml bottle
cakebread.com
6. Kah Tequila
Amber Beverage Group has expanded its 100 percent Blue Weber agave Kah Tequila portfolio with a peppery and smoky extra añejo expression. Aged for at least three years in American Oak barrels, it is housed in a striking bottle slicked with phosphorus ink so that it glows in the dark for dramatic effect.
SRP: $129.99 per 750-ml bottle
kahtequila.com
7. Chopin Vodka
Chopin's potato, rye, and wheat vodkas have always mixed well in cocktails. Elevating these drinks, either at home or on-premise, was the impetus behind the family-owned Polish brand's new 119.6-proof, rye-based Bartender's Choice. The vodka has an herbaceous nose with nuances of crushed black pepper, mountain ash, and sloe berries.
SRP: $35 per 700-ml bottle
chopinvodka.com
8. The Glendronach
Master blender Rachel Barrie's heavily sherried 12th batch of The GlenDronach Cask Strength has arrived. After mellowing in Pedro Ximénez and Oloroso casks from Andalucía, the 116.4-proof Highland single malt Scotch whisky elicits notes of raisin cake, Seville orange peel-topped tiramisu, and toasted almond.
SRP: $104.99 per 700-ml bottle
glendronachdistillery.com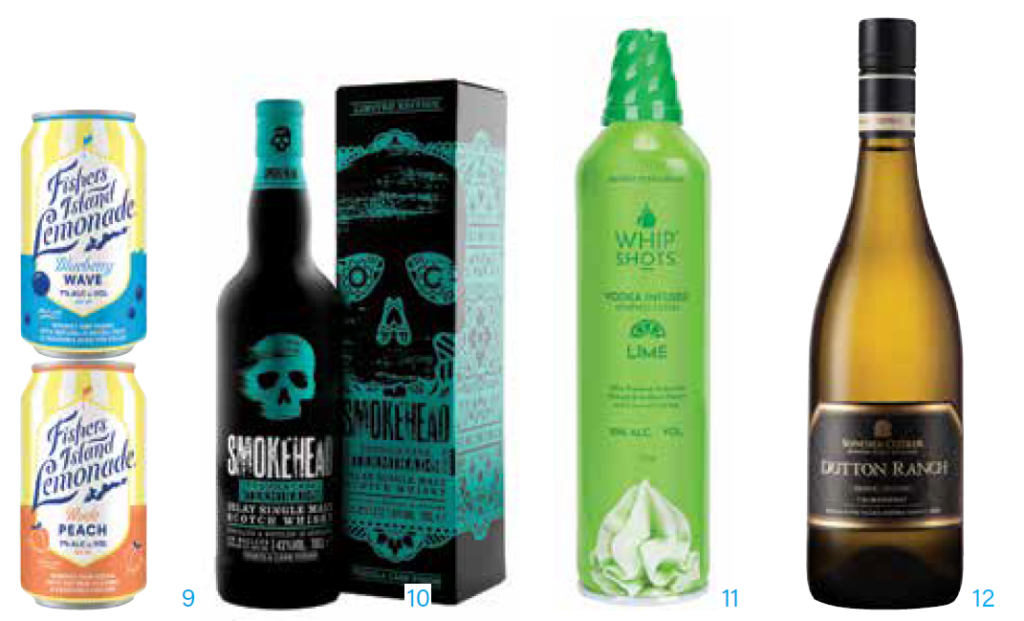 9. Fishers Island Lemonade
Two summery additions, sweet-tart Blueberry Wave and juicy Nude Peach, join the Fishers Island Lemonade collection of cocktails spiked with barrel-aged whiskey and vodka. Made with real blueberry and peach, the 7% ABV beverages also sport brand-wide packaging updates, including paperboard wrapping and breezy ocean wave imagery.
SRP: $15.99 per four-pack of 12-oz. cans
filemonade.com
10. Smokehead
Smokehead, the Islay single malt Scotch whisky from Ian Macleod Distillers, continues to blaze an innovative path with the 86-proof Tequila Cask Terminado. Upon its release from maturing in former bourbon barrels, the whisky is then finished in tequila oak casks, conjuring bursts of blood orange, meringue, and barbecued pineapple.
SRP: $79.99 per 700-ml bottle
smokehead.com
11. Whipshots
Along with vanilla, caramel, and mocha, and last winter's limited-edition peppermint, there is now a tangy lime rendition of Whipshots. The seasonal vodka-infused whipped cream, which plays a starring role in the "Whip It, Beaches" summer campaign with brand partner Cardi B, can be heaped upon margaritas and slices of key lime pie alike.
SRP: $14.99 per 200-ml can
whipshots.com
12. Sonoma-Cutrer
Dutton Ranch Chardonnay, part of Sonoma-Cutrer's annual Winemaker's Release series, is an ode to the Dutton family, growers who farm some 1,200 acres of sustainable grapes in the Russian River Valley, Green Valley, and Sonoma Coast. Fruit from Gerboth and Alpers, two Dutton Russian River Valley vineyards, form the backbone of this wine, which was aged sur lie in French oak from the Orleans region of France and reveals notes of toasted sourdough bread with butter and oak spice.
SRP: $39.99 per 750-ml bottle
sonomacutrer.com