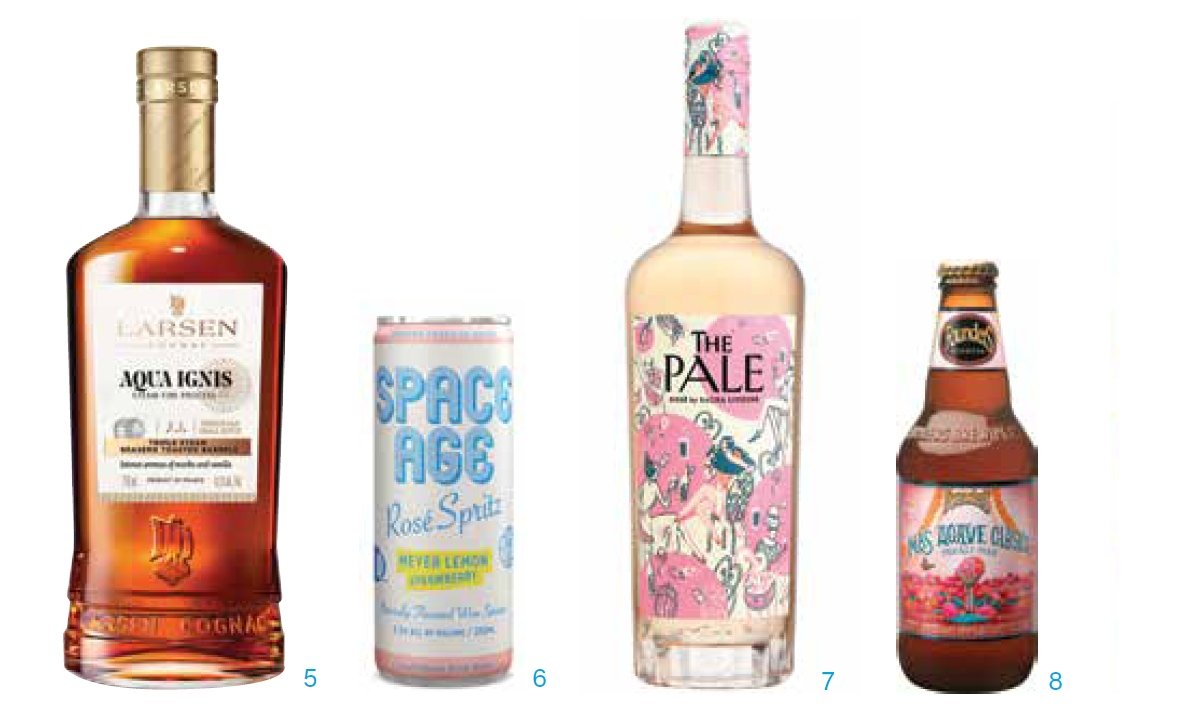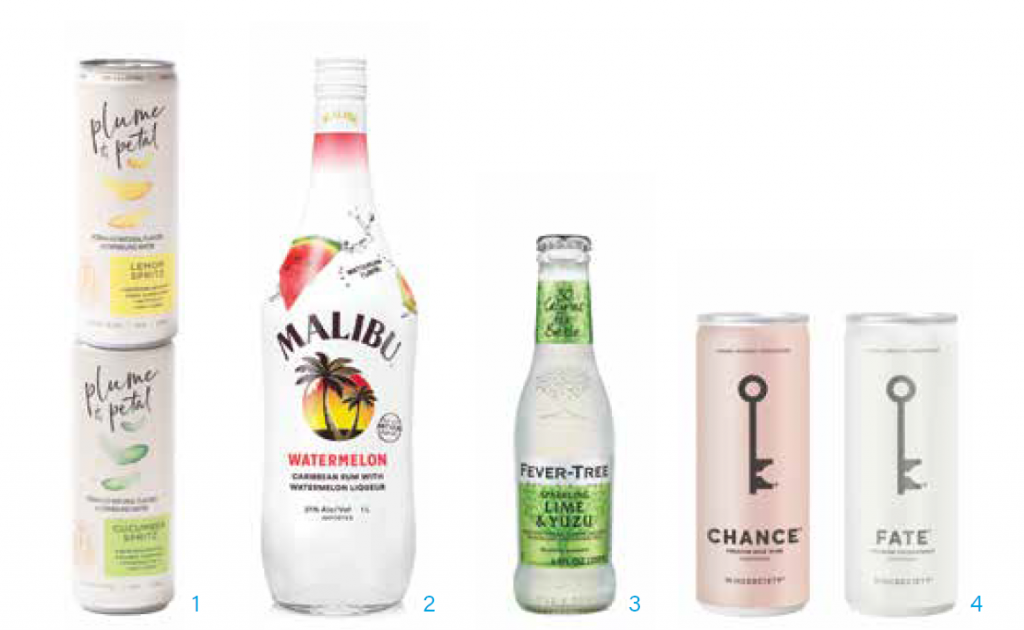 1. Plume & Petal RTD
Plume & Petal unveiled its Spritz Ready To Drink cans – a collection of canned cocktails made from vodka infused with natural flavors and sparkling water. Bacardi's first vodka-based RTD in the US, each 100-calorie Plume & Petal Spritz has no artificial sweeteners, is gluten free, and is 4.5 percent ABV. The RTDs come in three flavors: Peach Spritz (white peach, lavender and black tea), Cucumber Spritz (lemongrass and chamomile tea), and Lemon Spritz (elderflower and white tea).
SRP: $17.99 variety 6-pk, $12.99 single flavor 4-pk
plumeandpetal.com
2. Malibu Watermelon
Malibu Watermelon is the latest addition to the brand's portfolio, which also features Malibu Original, Malibu Pineapple, Lime, Mango, Passionfruit, Tropical Banana, Strawberry, Red, and Black. Made with the natural flavor of watermelon, Malibu Watermelon blends the fresh taste of summer with Caribbean rum at 21 percent ABV. The new flavor follows last year's most successful flavor launch from the brand after releasing Malibu Strawberry.
SRP: $14.99 for 750ml; $21.99 for 1.75L
maliburumdrinks.com
3. Fever-Tree Sparkling Lime & Yuzu
Fever-Tree has launched Fever-Tree Sparkling Lime & Yuzu, adding to its expanding line of mixers. Marrying Tahitian limes from Mexico and hand-picked Japanese yuzus, Fever-Tree Sparkling Lime & Yuzu rolls out nationwide at bars and restaurants, including the Fever-Tree Porch at Bryant Park and key retailers. Fever-Tree Sparkling Lime & Yuzu expands the brand's growing sparkling range following the debut of Fever-Tree Sparkling Pink Grapefruit, the company's most successful launch to date.
SRP: $4.99/6.8 oz 4-pk
fever-tree.com
4. WineSociety Canned Wines
WineSociety has launched a 250ml grab-and-go size on the heels of a successful debut of its flagship 500ml canned wines, Tempt, Fate, Chance and Chance Bubbles. The new size offers the same premium wines – Tempt is a blend of syrah (65 percent) with petite syrah, petit verdot, merlot and cabernet sauvignon; Fate is a blend of chardonnay (75 percent) with albariño; Chance is a rosé made from an equal blend of zinfandel, syrah, and barbera; and Chance Bubbles is its bubbly version of the same blend.
SRP: $4.99 per 250ml can, $19.99 per 4-pk
winesociety.com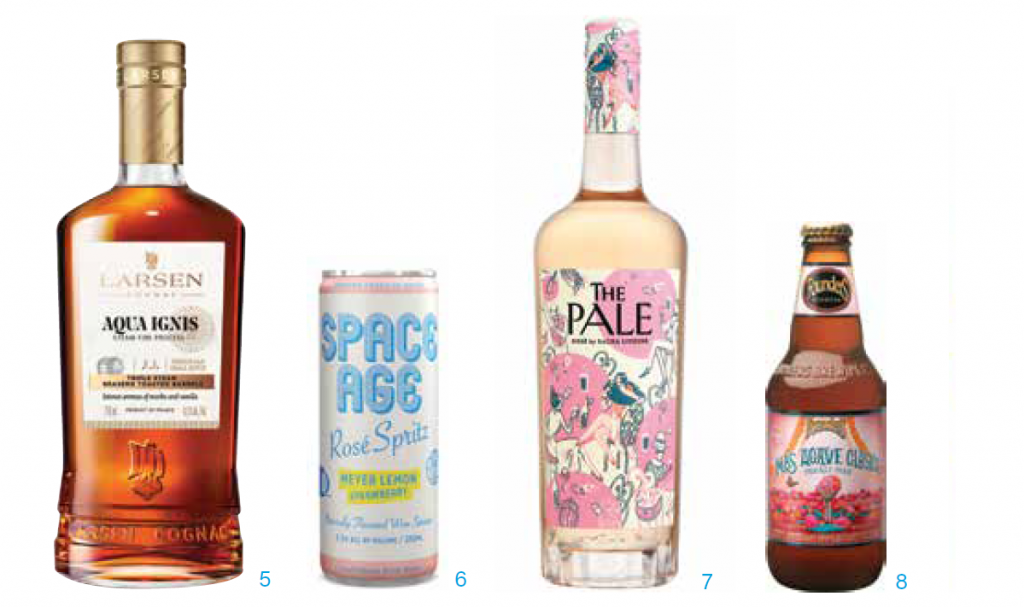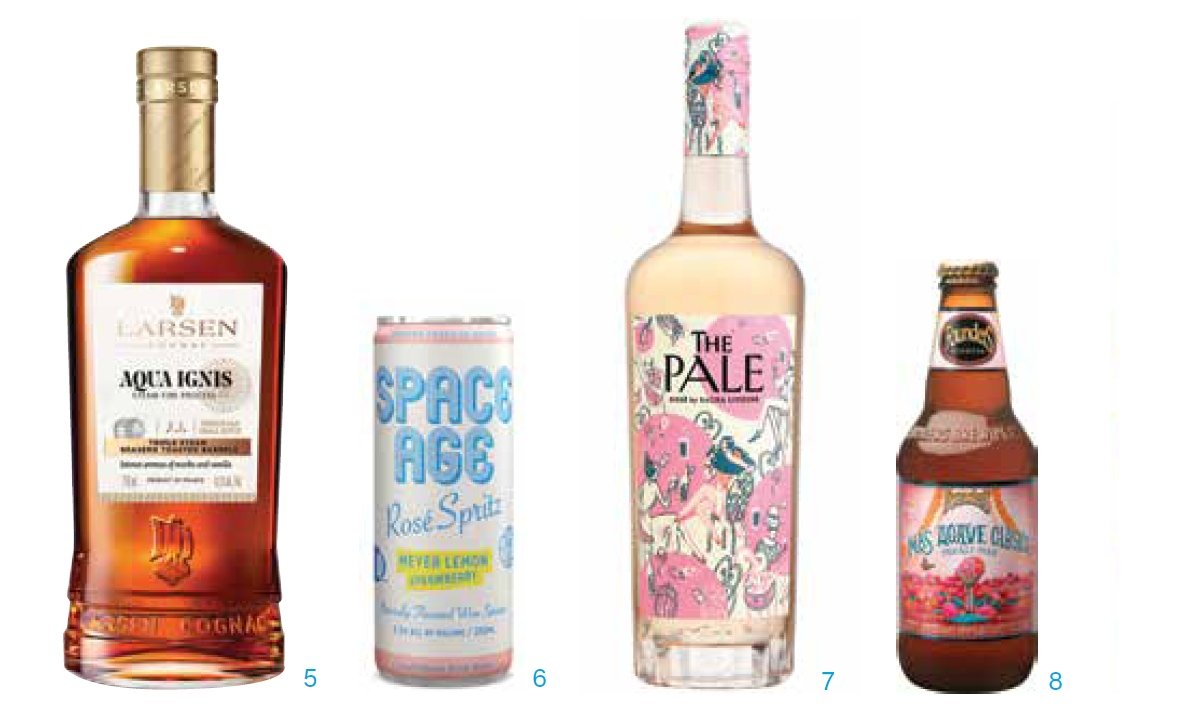 5. Larsen Cognac Aqua Ignis III
Larsen Cognac introduces Aqua Ignis III, a cognac aged in French oak barrels with a capacity of 225 liters that have been first plunged into hot water then toasted over hot fire, a process repeated three times. The water treatment prevents the barrel from burning, keeps out undesired smoky notes and creates more vanilla and mocha oak tannins. Eaux-de-vie from the Fins Bois and Bons Bois vineyards go through a two-step ageing process: first aged in traditional oak barrels, then blended and put in Aqua Ignis III barrels. Bottled at 42.3 percent ABV.
SRP: $49.99
cognac-larsen.fr
6. Space Age Rosé Spritz
Winemaker Josh Phelps, owner of Grounded Wine Co., introduces Space Age Rosé Spritz, a naturally flavored wine spritzer. The base is Space Age Rosé, a still wine made from Central Coast fruit by Phelps and his veteran winemaking father, Chris Phelps. Inspired by craft mixologists, they have enhanced Space Age Rosé Spritz with Meyer lemon and strawberry flavors. At 90 calories and 5.5 percent ABV, Space Age Rosé Spritz is sold in individual 250 ml cans or in 4-packs.
SRP: $3.49 per can | $13.99 per 4-pk
spaceagerose.com
7. The Pale
Named after its transparent, pink color, The Pale by Sacha Lichine is a new creation for the U.S. market by the rosé pioneer, made in Provence from a blend of Grenache, Cinsault, Syrah, and Rolle varietals. It's the newest rosé launched by Lichine, and with less than one gram of residual sugar, is meant for the sophisticated rosé drinker at an entry level price. Made by winemaker Bertrand Léon, the IGP Var wine is said to have aromatic freshness on the nose followed by subtle fruity notes on the palate. 12.5 ABV.
SRP: $16.99
instagram @thepale
8. Founders Brewing Más Agave Clásica Prickly Pear
Founders Brewing Co. has announced the latest release in their barrel-aged series with Más Agave Clásica Prickly Pear. The cocktailinspired imperial gose is brewed with agave and sea salt aged in tequila barrels and receives prickly pear extract before bottling. Más Agave Clásica Prickly Pear has an ABV of 9.7 percent and was made available nationally in May. The new brew will ship simultaneously with Más Agave Clásica Lime and Más Agave Clásica Grapefruit.
SRP: $15 / 4-pk
foundersbrewing.com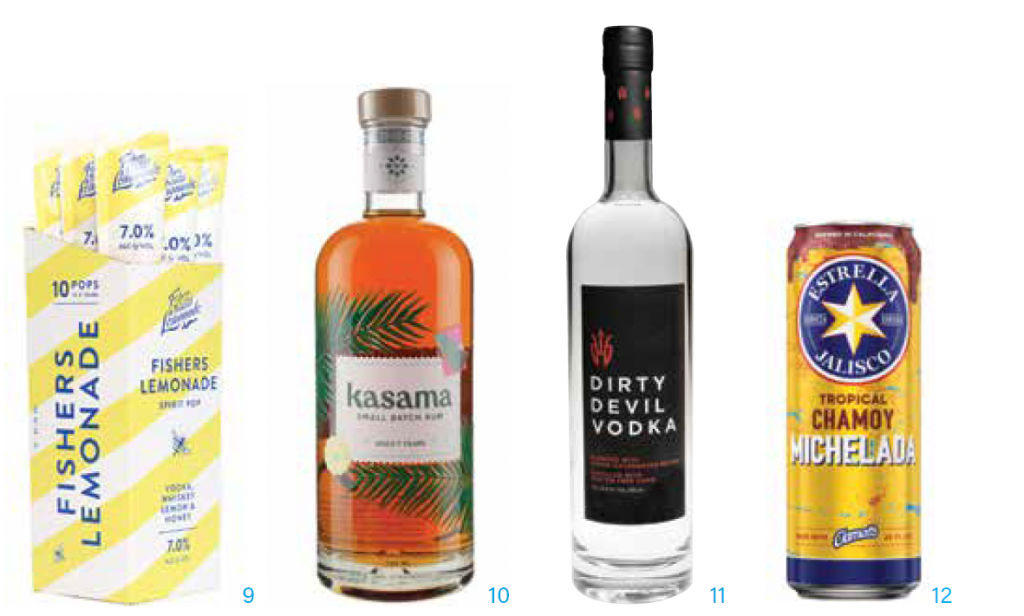 9. Fishers Island Pops
Fishers Island Lemonade Frozen Spirit Pops are a new frozen alcohol treat joining the growing category, with the taste and flavor of RTD Fishers Island Lemonade in a frozen treat. Made with premium vodka, barrel-aged whiskey, honey and lemon, the pops employ the same recipe used in the range of Fisher Island RTDs. Packaged at 7% ABV with 10 pops per carton.
SRP: $27.99 for carton of 10
filemonade.com
10. Kasama Rum
Kasama, named after the Filipino term for "together," is a new rum that pays homage to founder Alexandra Dorda's Filipino-Polish heritage, produced and distilled in the Philippines, and blended, bottled, and packaged in Poland. The golden rum is aged 7 years in ex-bourbon American oak barrels with dominant notes of sweet pineapple, a hint of vanilla, and a pinch of sea salt. Founder Dorda is the scion of the Polish family that created Belvedere Vodka and Chopin Vodka.
SRP: $27.99
kasamarum.com
11. Dirty Devil Vodka
Dirty Devil Vodka, produced in Canada from non-GMO corn and hyper-oxygenated water, is expanding to the United States. Created and launched in Quebec in 2019 by St. Lucifer Spirits (SLS), Dirty Devil Vodka uses a patented process that yields water with five times the oxygen of ordinary water. The result is a vodka with a distinctively smooth and sumptuous finish at 84 proof.
SRP: $27.99
us.dirtydevilvodka.com
12. Estrella Jalisco Chamoy Michelada
Estrella Jalisco announced the latest addition to its Michelada portfolio with the new Tropical Chamoy Michelada, joining its fruit flavored line of brunch beers. The flavored lager is 3.5 percent ABV, with the sweet and tart taste of pineapple with a kick of heat from Clamato and chamoy (Chamoy is a popular Mexican condiment typically served as a dip for fresh fruit, made with fruits like apricot, mango or plum, chilies and lime juice and is bottled in varying degrees of spiciness).
SRP: $3.49 per 25 oz can
estrellajalisco.com