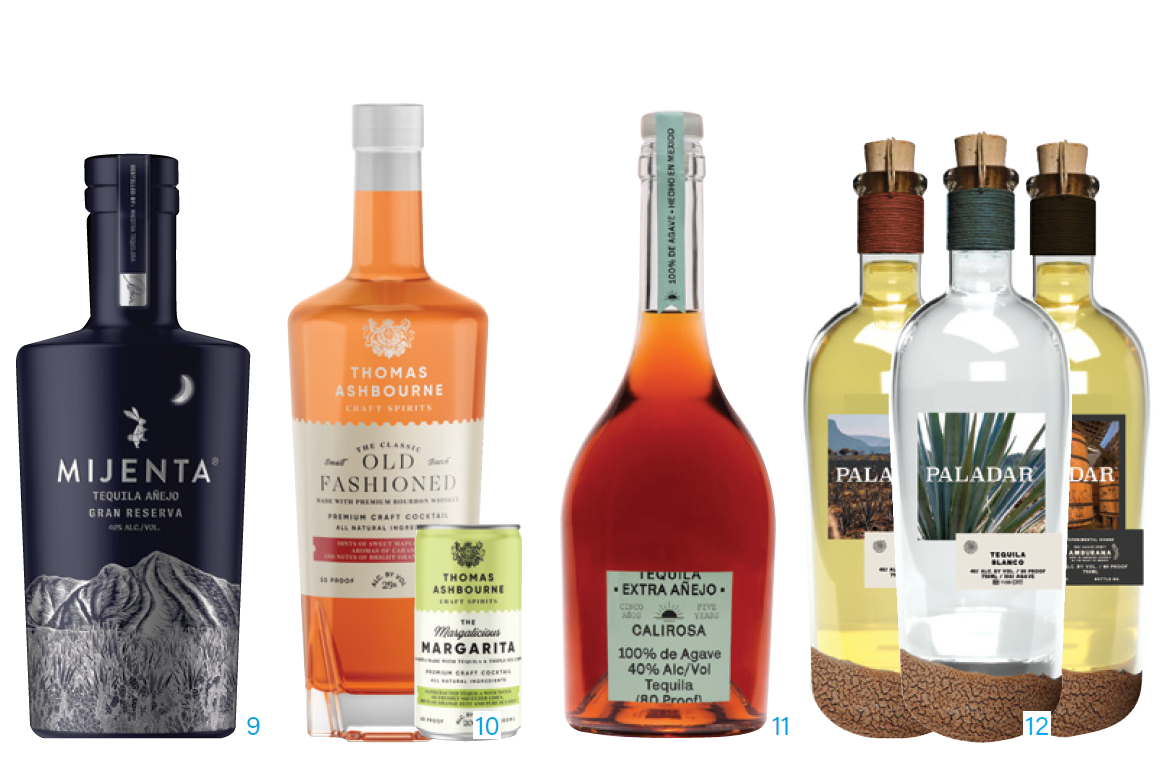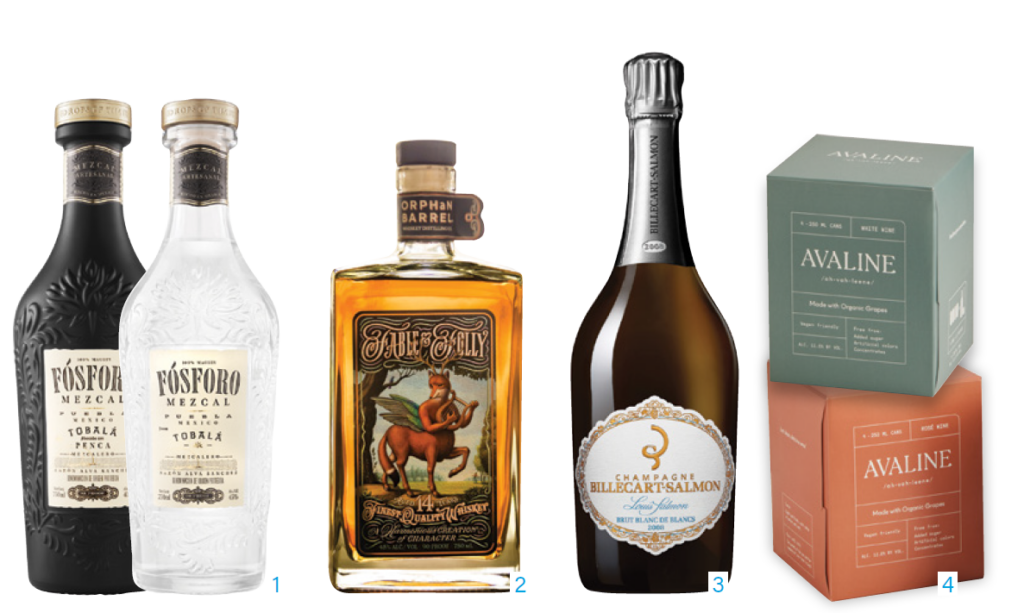 1. Fósforo Mezcal
CNBC personality Jim Cramer and his wife Lisa Detwiler are the visionaries behind Fósforo, a mezcal made with agave grown in the small village of Huehuetlán el Grande, outside of Puebla, by master mezcalero Aarón Alva Sánchez. The two inaugural varieties are an unaged crystalline Tobalá and a rare Tobalá Penca that combines a roasting session in underground pits with a double distillation and several months of aging in glass vessels with penca leaf.
SRP: $95 (Tobalá) and $125 (Penca)
fosforomezcal.com
2. Fable & Folly 14
Rife with flavors of spiced rye and pepper, Fable & Folly Finest Quality Whiskey 14-year-old is the latest venture from Orphan Barrel Whiskey Distilling Co., the brand that successfully revives casks of long-lost American whiskey. This one showcases a proprietary blend spawned from the last remaining stocks of Kentucky made Barterhouse, Forged Oak, and Rhetoric whiskeys.
per 750-ml bottle SRP: $149.99 per 750-ml bottle
orphanbarrel.com
3. Champagne Billecart-Salmon Louis Salmon 2008
For the 2008 vintage of the Louis Salmon, Champagne Billecart-Salmon's 100 percent Chardonnay cuvée, grapes were sourced from the Grand Crus of the Côte des Blancs: Cramant, Chouilly, Avize, and Mesnilsur-Oger. Partially aged in oak barrels, it balances notes of yellow fruit and citrus.
SRP: $199 per 750-ml bottle
champagne-billecart.com
4. Avaline Cans
Cameron Diaz and Katherine Power, founders of Avaline, are now showcasing their popular white and rosé wines in an alternative portable format. The wines, made with organic grapes and containing less than one gram of sugar per serving, are packaged in convenient cans that clearly highlight all ingredients.
SRP: $21.99 per four-pack of 250-ml cans
drinkavaline.com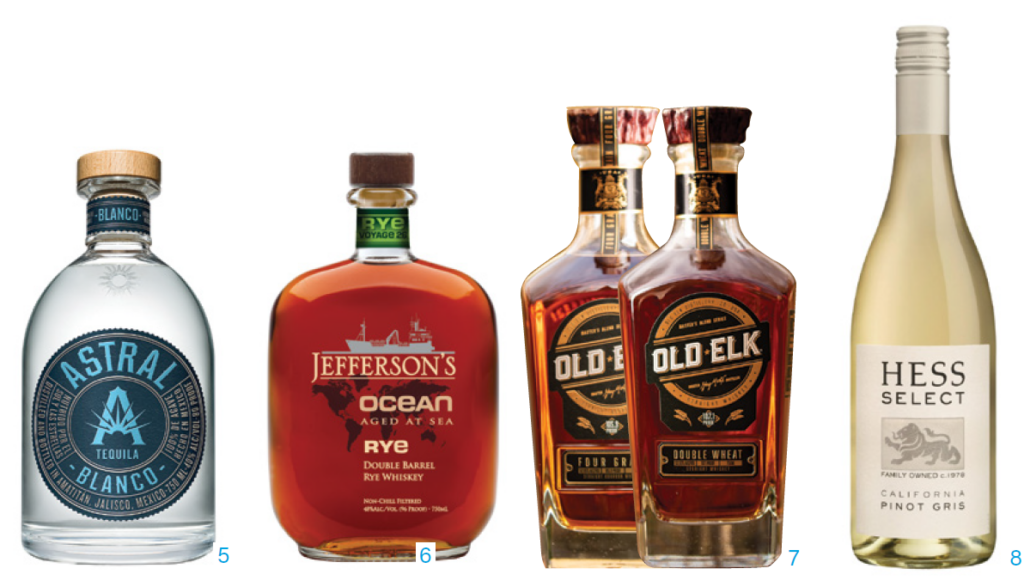 5. Astral Tequila
The classic tahona is instrumental to producing Diageo's 100 percent Blue Weber agave Astral Tequila. After the stone wheel crushes the agave fibers to extract juice, those same fibers are used in the fermentation process and are eventually upcycled into adobe bricks used to construct buildings in Mexican communities. Astral Tequila Blanco, the inaugural offering, is laden with notes of white pepper and clover honey.
SRP: $34.99 per 750-ml bottle
astraltequila.com
6. Jefferson's Ocean Aged At Sea Rye
Joining the Jefferson's Bourbon Ocean family is the non-chill filtered Ocean Aged at Sea Rye, a whiskey that was double barreled in new char and toasted casks and then placed on ships that navigated ports throughout the world as it matured. This distinctive finishing technique has resulted in layers of toffee and marshmallow bolstered by leather and tobacco.
SRP: $79.99 per 750-ml bottle
jeffersonbourbon.com
7. Old Elk Distillery Master's Blend Series
Old Elk Distillery in Fort Collins, Colorado, has plumped up master distiller Greg Metze's Master's Blend series with two new expressions. The 107.1-proof Old Elk Double Wheat Straight Whiskey melds two wheater whiskeys, Old Elk Straight Wheat Whiskey and Old Elk Wheated Bourbon, while the 105.9-proof Old Elk Four Grain Straight Bourbon Whiskey illuminates a mash bill of 51 percent corn, 22.5 percent wheat, 19 percent barley, and 7.5 percent rye.
SRP: $99.99 per 750-ml bottle
oldelk.com
8. Hess Select Pinot Gris 2021
Balancing pear and nectarine aromatics with subtle lemon zest notes and acidity, the Hess Select Pinot Gris 2021 is an ideal summer sipper. Like all Hess Select wines, the Pinot Gris embraces grapes from grower families throughout California.
SRP: $13 per 750-ml bottle
hessperssonestates.com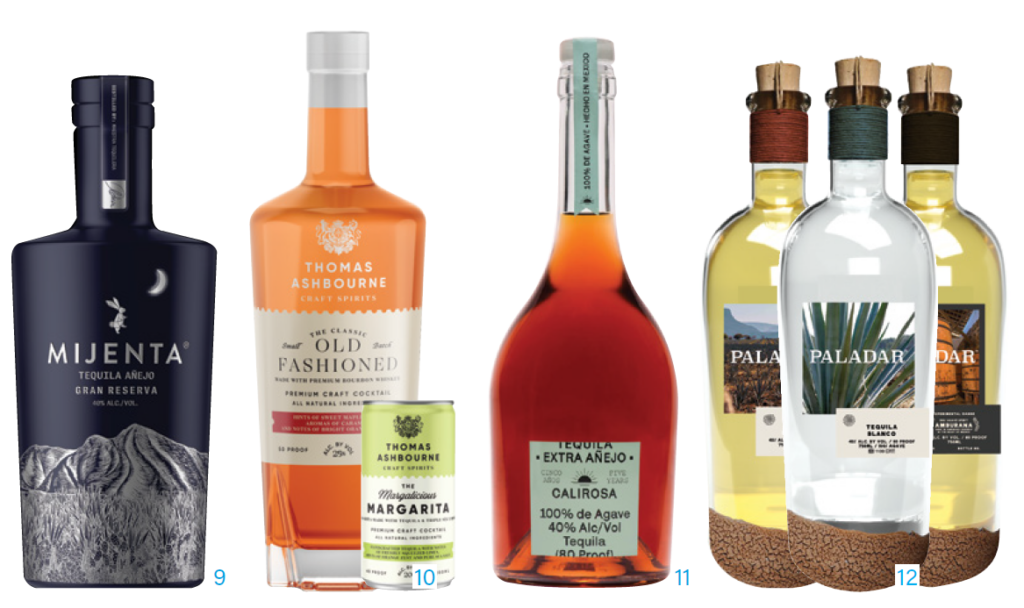 9. Mijenta Añejo Gran Reserva
Aged for 18 months in a quartet of handpicked casks—American white oak, French oak, acacia, and cherry oak—the Mijenta Añejo Gran Reserva is the newest release from the sustainable tequila brand Mijenta. This small-batch spirit, produced in the Highlands of Jalisco by Ana Maria Romero Mena, follows the blanco and reposado expressions. Fragrant cacao, butterscotch, and tobacco notes morph into mace, anise, and saffron.
SRP: $199 per 750-ml bottle
mijenta-tequila.com
10. Thomas Ashbourne Craft Spirits
Buoyed by a roster of founding celebrity partners including Sarah Jessica Parker, John Cena, Ashley Benson, Rosario Dawson, Vanessa Hudgens, and Playboi Carti, Thomas Ashbourne Craft Spirits is a range of high-proof, ready-to-drink cocktails made with all-natural ingredients. The Perfect Cosmo, The Classic Old Fashionted, The Margalicious Margarita, and Muscat Blanc-inspired The Hardscatto, are available in both bottled and canned forms.
SRP: 15.99 per 750-ml bottle and $25.99 per four-pack of 200-ml cans
thomasashbourne.com
11. Calirosa Cinco Años Extra Añejo
Cinco Años Extra Añejo, the first-ever limited release from the sipping tequila brand Calirosa, is made with 100 percent Blue Weber agave and aged for five years in California red wine barrels, giving way to chocolate aromatics and hints of vanilla. Along with the Rosa Blanco, añejo, and extra añejo, the Cinco Años Extra Añejo is produced by the Real family in Amatitán, Jalisco.
SRP: $299 per 750-ml bottle
calirosatequila.com
12. Paladar Tequila
Drifter Spirits has added Paladar Tequila to its portfolio. Produced by the Orendains, one of the last remaining independent founding families of tequila, Paladar's blanco ($50), reposado ($60), and Destillado de Agave ($70) expressions are an ode to Mexico's volcanic soil. Flaunting a backbone of Blue Weber agave grown for seven years on family fields in the shadow of an inactive volcano, Paladar stands out for a custom pine-box fermentation process.
SRP: $50 to $70 per 750-ml bottle
paladartequila.com