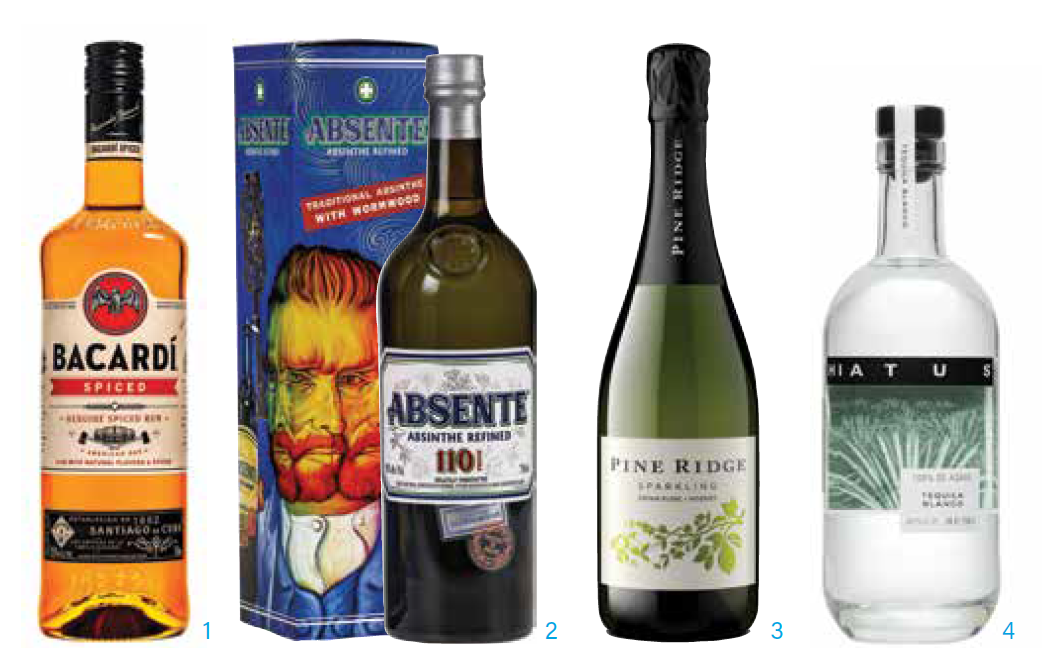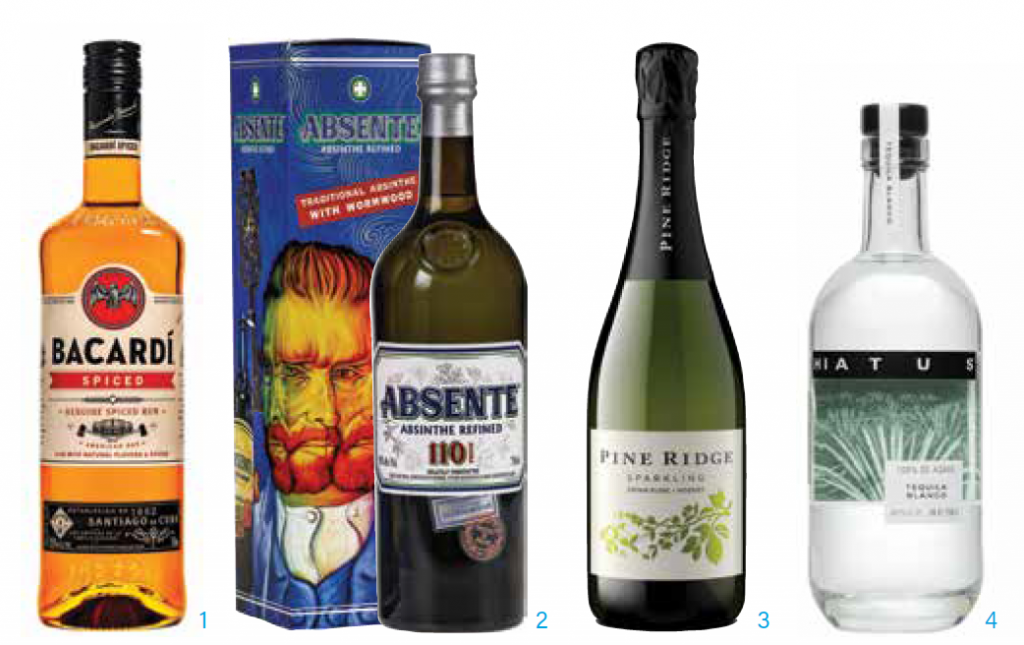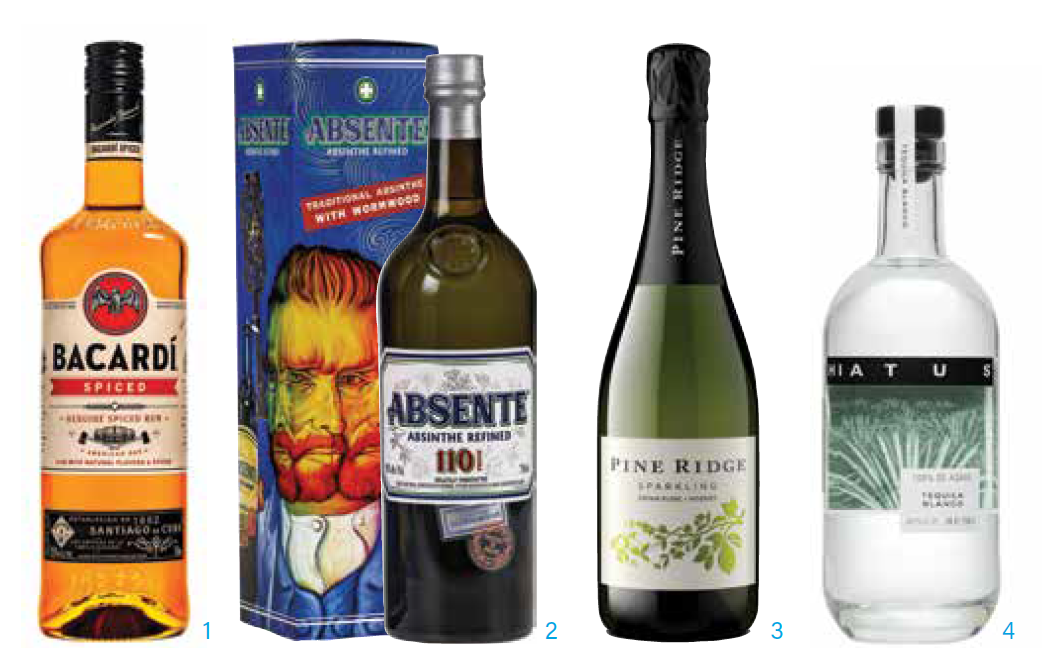 1. Bacardí Spiced Rum
On the heels of the brand's leap into canned cocktails, Bacardí is (re)joining the spiced rum sector. The liquid that launched in 2011 as Oakheart is returning as Bacardí Spiced. Barrel-aged to impart a hint of smokiness, the rum is then charcoal filtered and infused with a proprietary blend of spices. The 80-proof variant is promoted as the ideal base for "Rum 2, 3" cocktail building—one-part rum, two parts classic mixer, and a garnish. 70 proof.
SRP: $12.99
bacardi.com
2. Absente Absinthe Refined
After 21 years as the first legal absinthe in the U.S. since 1999, Distilleries et Domaines de Provence has launched new packaging for two key brands: Absente Absinthe Refined and Grande Absente. Designed by a top agency in Paris, Absente keeps the iconic image of Van Gogh, while Grande Absente opts for a more graphic, decorated and elegant look. In both cases, the pairing of packaging with the typical absinthe spoon remains a key component.
SRP: $45 Absente $75 Grande Absente
crillonimportersltd.com
3. Pine Ridge Sparkling Chenin Blanc + Viognier
Pine Ridge Vineyards, based in Napa Valley's Stags Leap District, is releasing a bubbly extension of its popular still-wine blend of Chenin Blanc and Viognier. Pine Ridge's first new label in 25 years, it is made in a dry, brut style, with a delicate mousse and notes of ginger, citrus, and apple, with a slightly lower ABV than the still version. The Chenin Blanc grapes are sourced from the Clarksburg AVA; the Viognier is from Lodi.
SRP: $18
pineridge.com
4. Hiatus Tequila
Hiatus Tequila has partnered with Massanois to expand its U.A. distribution. The tequilas are produced in collaboration with a third-generation tequila family at La Cofradía, located just outside of the town of Tequila. Hiatus is made from 100% agave azul; after a slow roast in masonry ovens, the agave is crushed with custom screw press extractors, squeezing rather than pulverizing the agave,
allowing for sweeter, rounder flavors. Available in Blanco, Reposado, and Añejo. 80 proof.
SRP: $43.99 | $48.99 | $59.99
hiatustequila.com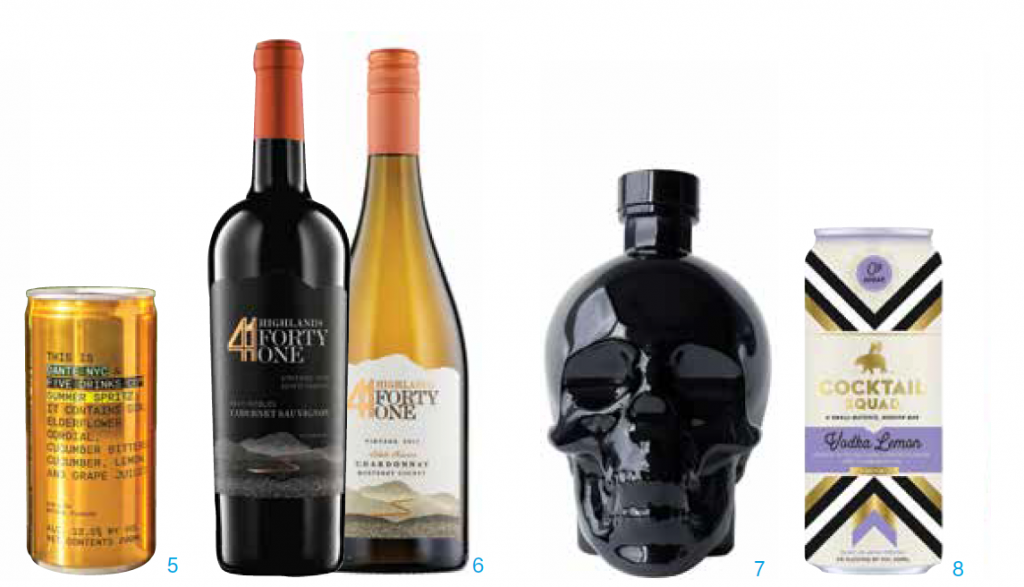 5. Dante X F!ve Drinks Co. Canned Cocktails
Acclaimed NYC bar institution Caffe Dante has teamed up with with F!VE Drinks Co. for their first ever venture into off-premise retail. The Dante-designed cocktails kick off with a Summer Spritz (12.5% ABV), is made with gin, elderflower cordial, cucumber, lemon and grape juice. The Spritz will be followed by an Americano 2.0 and a classic Gin + Tonic. Starting in NY, CA, FL.
SRP: $13.99/four-pack (200ml)
buyfivedrinks.com
6. Highlands 41 Wines
Highlands 41 (aka H41) is the latest addition to the Riboli Estates Group portfolio. Proudly rooted in Paso Robles and named after a combination of the historic Highway 41 and the rugged Creston Highlands, the wines aim to embody the spirit of adventure. Launching with a Cabernet Sauvignon, Red Blend, and Chardonnay, the line is crafted by fourth-generation winemaker Anthony Riboli from sustainably farmed estate vineyards in Paso Robles and Monterey.
SRP: $13-$15
highlands41.com
7. Crystal Head 'Onyx' Vodka
Crystal Head Vodka, known for its skull bottle and being owned by Dan Aykroyd, continues to innovate with Onyx, a vodka based on agave. Bottled in glossy jet-black glass, mimicking onyx itself, Crystal Head Onyx is made from 100% agave sourced from a single farm in Mexico. It joins Crystal Head. Original, made from Canadian corn, and Aurora, made from English wheat. All Crystal Head vodkas are blended with the water from Newfoundland, Canada, and filtered through over 10,000 Herkimer diamonds. 80 proof.
SRP: $55
crystalheadvodka.com
8. Cocktail Squad 'Classy Casuals'
Colorado-based Cocktail Squad is expanding its line of eight canned cocktails with a pair of new zero sugar Classy
Casuals: Whiskey Ginger Soda and Vodka Lemon Soda. Both check in at 5% ABV and only 90 calories, to compete with hard seltzers (original Cocktail Squad cocktails—Greyhound, Margarita, and others—run 10% ABV). All Cocktail Squad RTDs are gluten-free or gluten-removed, in 12oz slim cans.
SRP: $3.49/can or $13.99/four-pack (12oz)
cocktailsquad.com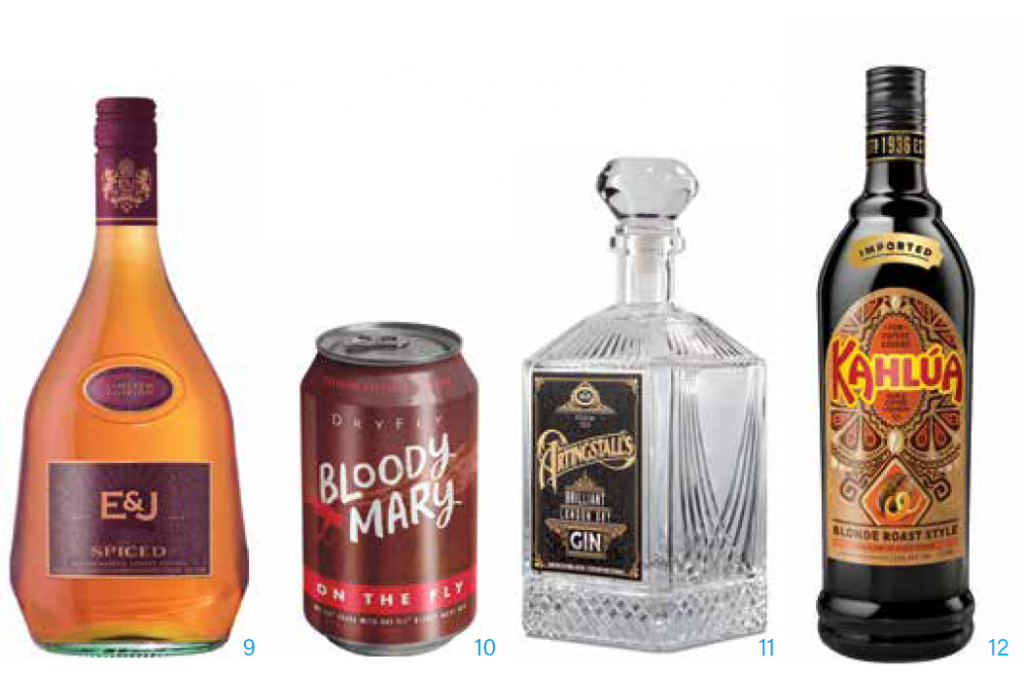 9. E&J Spiced Brandy
E&J Brandy has taken a natural step in adding a spiced expression, and is promoting it with popular television host, actor and comedian Spice Adams. A consumer sweepstakes offering E&J Brandy gear "straight from Spice's style playbook" helped launch E&J Spiced. The brandy includes a mix of warm spice and sweet cherry. Rated 90 points in the 2020 Ultimate Spirits Challenge. 60 proof.
SRP: $14.99
ejbrandy.com
10. Dry Fly Bloody Mary Can
Washington-based distiller Dry Fly has partnered with the famous Spokane spice company Spiceology on a new canned Bloody Mary. The cocktail combines a unique blend of spices with Dry Fly Vodka at 8% ABV for a concoction that is savory, bold, and slightly smoky to the palate. The Bloody Mary follows an earlier 2020 release, Huckleberry Lemonade, and joins other Dry Fly canned cocktail options Moscow Mule, Gin and Tonic, and Spicy Lemonade.
SRP: $12.99/four-pack (355ml)
dryflydistilling.com
11. Artingstall's Gin
Artingstall's—self-dubbed "Brilliant London Dry Gin"—was created by noted Hollywood director Paul Feig (Bridesmaids, Ghostbusters, Freaks & Geeks and The Office). Its blend of eleven botanicals includes orris root, cassia, elderberries and citrus, with a measured amount of juniper. The gin is packaged in a cut glass decanter, also designed by Feig, who also has been sharing his favorite cocktail recipes on Instagram Live since the pandemic. 84 proof.
SRP: $49.99
artingstallsgin.com
12. Kahlúa Blonde Roast
Debuting on International Coffee Day, October 1, Kahlúa is launching Kahlúa Blonde Roast Style. Made with medium roast coffee and hints of caramel, toffee, and citrus flavors, the new expression taps into consumer demand for lighter and more refreshing coffee cocktails. The inclusion of citrus in the recipe opens up new angles for mixing; examples from the brand include Blonde Roast (2:4 parts) with coconut water, and 2:5 parts Blonde Roast with tonic. 40 proof.
SRP: $18.99
kahlua.com