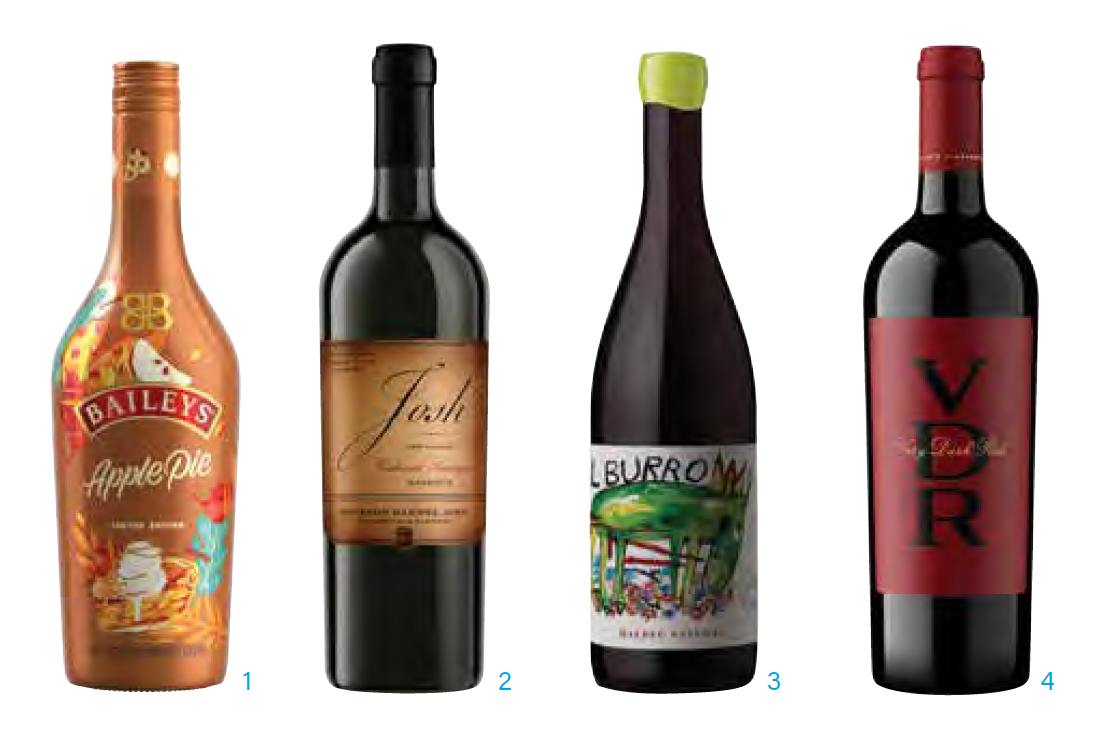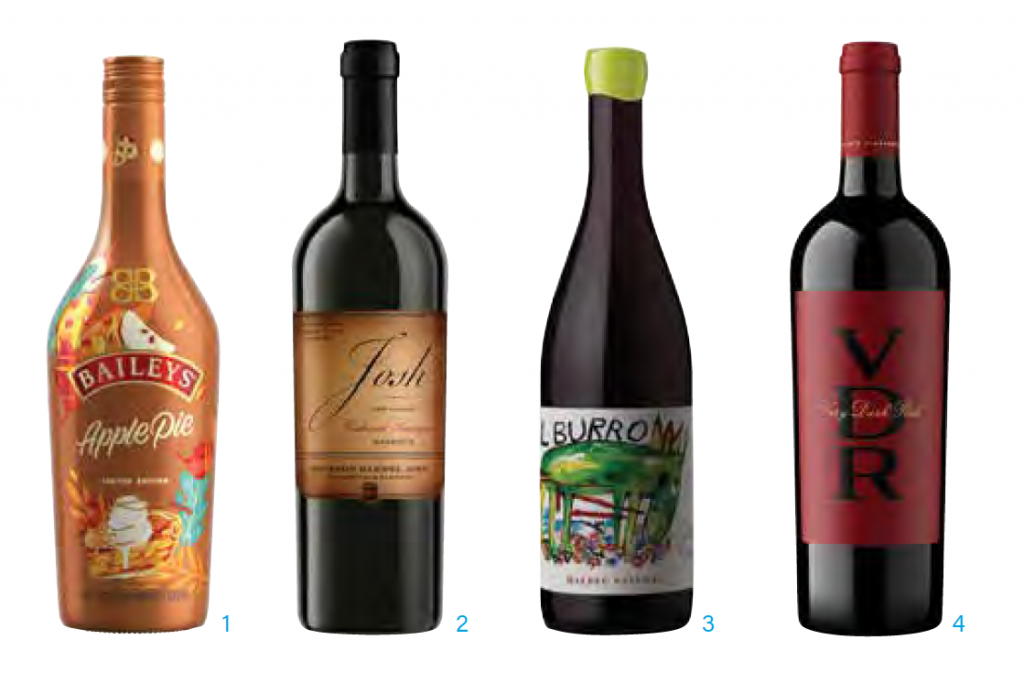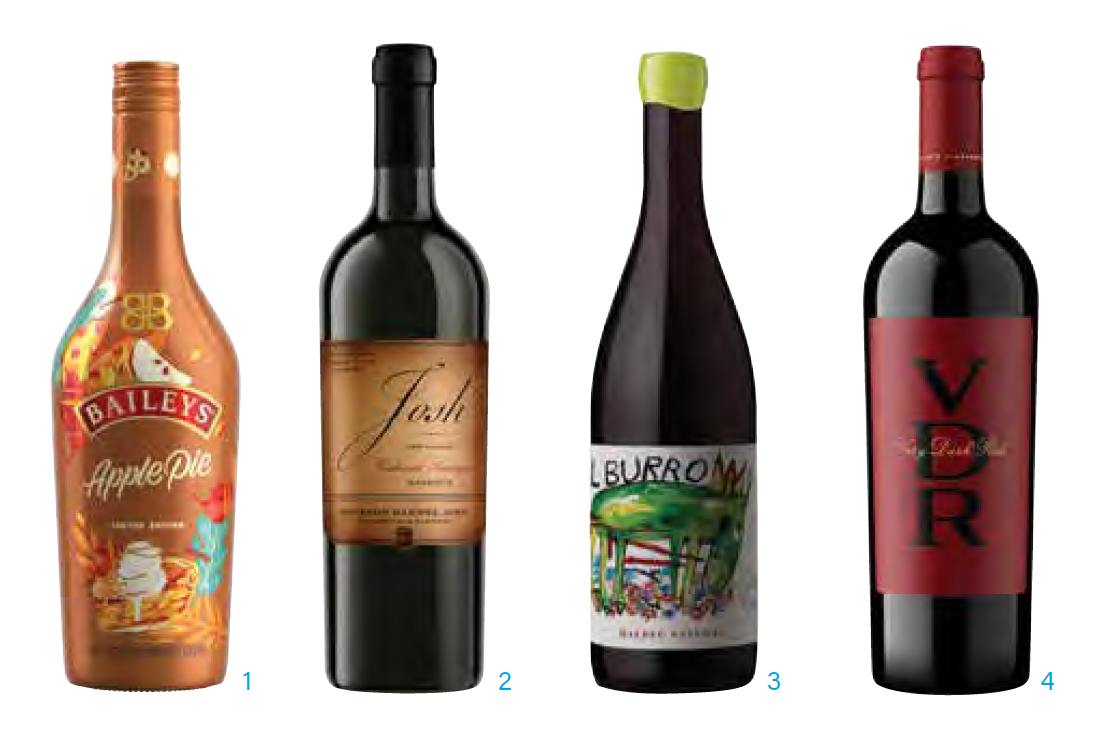 1. Baileys Apple Pie
Why wait for fall for a delicious apple-y treat? Baileys hit the ground running with the new, limited-edition Baileys Apple Pie Irish Cream Liqueur, in time for "Friendsgiving" in August. (In 2011, the brand was one of the pioneers in introducing Friendsgiving celebrations.) Baileys Apple Pie blends flavors of freshly baked apple pie and creamy vanilla ice cream with hints of cinnamon and spice. 34% proof.
SRP: $24.99
baileys.com
2. Josh Cellars 'Bourbon Barrel Aged' Cabernet Sauvignon
Working with top growers to build a superior wine blend, Josh Cellars' latest line extension jumps into the whiskey-barreled sub-category with a full-bodied entry. Josh Cellars 2017 Bourbon Barrel Cabernet Sauvignon delivers the signature Josh Cellars style—fruit forward and rich, with approachable tannins and a long finish— with the bourbon barrel aging imparting notes of vanilla, brown spice and caramel.
SRP: $19.99
joshcellars.com
3. Santa Julia 'El Burro' Malbec, Mendoza, Argentina
Winesellers, Ltd. has introduced a new natural wine from Bodega Santa Julia, Argentina's leading organic wine producer. El Burro is a Malbec from Mendoza, produced from certified organic estate vineyards without the addition of sulfites. It is also fair trade certified and suitable for vegans. The wine has fresh aromas of plum and cherry with a full-bodied palate.
SRP: $18
winesellersltd.com
4. Scheid Family 'VDR' Red Blend
Scheid Family Wines of Monterey County is releasing VDR (Very Dark Red), a red blend leading with a rare combination of Petite Sirah and Petit Verdot—varieties known for saturated hues, concentration, and full body. The dark burgundy front label focuses on full-scale VDR initials; the back label highlights a commitment to environmental stewardship including a 100% Powered by Wind designation. VDR is sourced predominantly from the Hames Valley AVA in southernmost Monterey.
SRP: $24.99
scheidfamilywines.com | vdrwines.com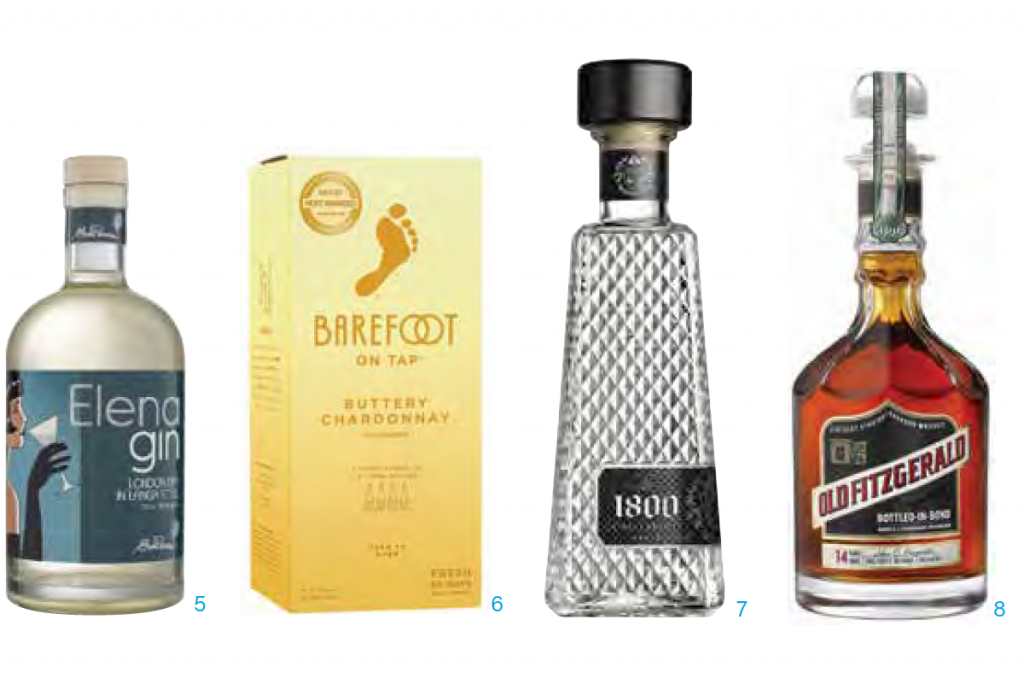 5. Elena Gin
Dalla Terra Winery Direct is launching a specialty Italian spirits division with Elena Gin, a London Dry Gin developed by Elena Penna Currado and Luca Currado Vietti of the Piedmont-based Vietti winery. Elena Gin features native botanicals from the Italian Alps of Piedmont including juniper, almonds, thyme, coriander, black elderflower, Angelica, mint, cassia bark, and citrus peel. Made in small batches using two wood-fired pot stills from the 18th century. 84 proof.
SRP: $35
dallaterra.com
6. Barefoot Buttery Chardonnay 'On Tap' 3L Box
Chardonnay continues to be a many-fangled wine, and the recent trend of descriptive front labels is clearly at work in Barefoot's new Buttery Chardonnay. Accented with tropical (pineapple) aromatics and "layers of toasty oak to complement the smooth vanilla finish," it makes no pretensions as to crispness, and that should help fans find it. The wine even feels buttery outside—the stylish golden 3-liter bag-in-box emulates a big stick of butter.
SRP: $18.99
barefootwine.com
7. 1800 Cristalino Tequila
1800 Tequila is introducing a new ultra-premium expression. Starting with 1800 Añejo, 1800 Cristalino is first aged for 16 months in new American and French oak barrels. The liquid is then married and finished in Port casks for six more months (a first in the tequila category, according to the producer). A careful filtering process leaves a smoother, colorless, and more complex tequila. Packaged in an eye-catching, cut-glass bottle. 80 proof.
SRP: $65
1800tequila.com
8. Old Fitzgerald Bottled-in-Bond Fall 2020 Edition
Heaven Hill Distillery has released the Fall 2020 edition of Old Fitzgerald Bottled-in-Bond Kentucky Straight Bourbon Whiskey at 14 years old. Bottled in an ornate decanter and black label as with past editions, it also features a tax strip detailing when the bourbon was produced and bottled. This is the sixth release in the series, and of course meets the strict rules of bottled-in-bond. 100 proof.
SRP: $140
heavenhilldistillery.com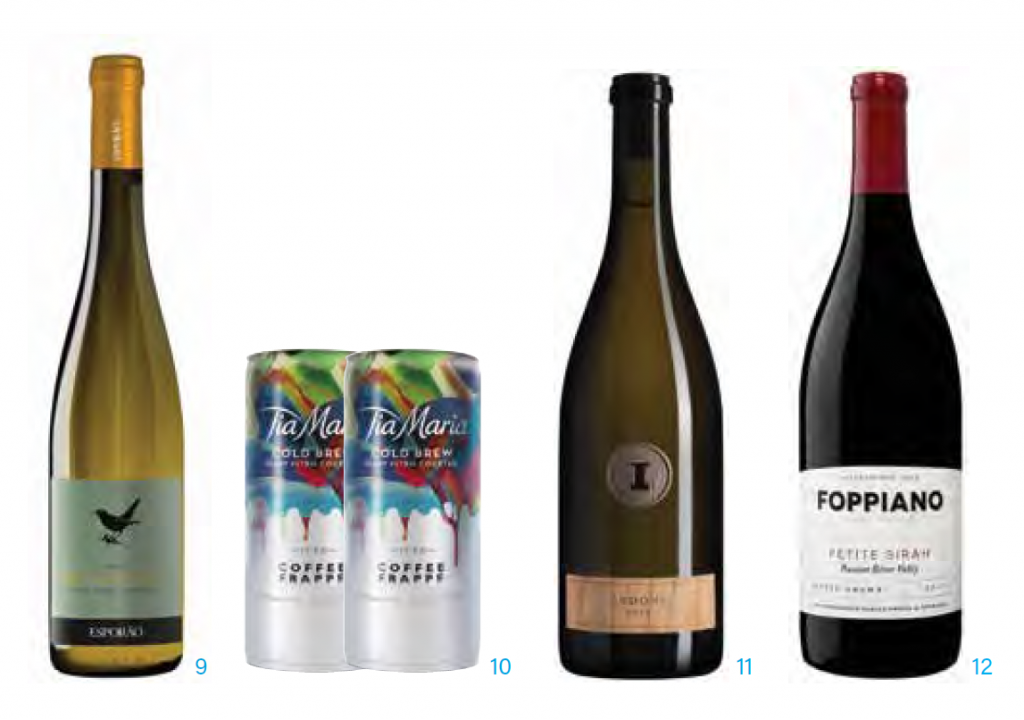 9. Esporão 'Bico Amarelo' Vinho Verde
Quinta do Ameal, founded 1710, helped put Loureiro-based Vinho Verde on the map. Having been acquired by fellow Portuguese producer Esporão, Quinta do Ameal's U.S. arrival via Esporão's NOW Wine Imports coincides with the debut of a new wine: Bico Amarelo ("Yellow Beak"). The debut 2019 is a blend of 40% Loureiro from Quinta do Ameal, rounded out by Alvarinho and Avesso. Bico Amarelo joins three estate-grown, 100%-Loureiro offerings.
SRP: $12 (Quinta do Ameal wines $18-$40)
esporao.com
10. Tia Maria 'Iced Coffee Frappé
Tia Maria, known worldwide for its coffee liqueur, is entering the ready-to-drink category with its Iced Coffee Frappé. The brand-new 200ml RTD is 4% ABV and made with 100% Arabica coffee, cream, and original Tia Maria. Key to the Iced Coffee Frappé is its nitro technology, which instantly creates the frappé foam for a velvety texture. Brand owner Disaranno International collaborated on the colorful, abstract package with street artist Karski from the Netherlands.
SRP: $10.99/four-pack (200ml)
tiamaria.com | disaranno.com
11. Iron Side Cellars Reserve Chardonnay
Iron Side Cellars, a collection of California wines from Latitude Beverage, has launched its first white wine: a Reserve Chardonnay sourced from the Russian River Valley and blended under the direction of 25-year Sonoma veteran Ed Killian. The 2019 Reserve Chardonnay is full-bodied, with an elegant freshness and an abundance of orchard and tropical fruit alongside toasty oak. It joins the brand's Reserve Pinot Noir, one of the fastest-growing wines in the Latitude portfolio.
SRP: $18.99
ninetypluscellars.com
12. Foppiano Vineyards Russian River Valley Wines
Foppiano Vineyards, one the Russian River Valley's oldest family-owned wineries, is commemorating its upcoming 125th anniversary with a retro-inspired look for its estate wines. The new label will first appear on the 2018 Chardonnay and 2019 Sauvignon Blanc; the rest of the range, including the winery's iconic Petite Sirah and "1896" red blend will follow.
SRP: $19.99-$24.99
foppiano.com | quintessentialwines.com