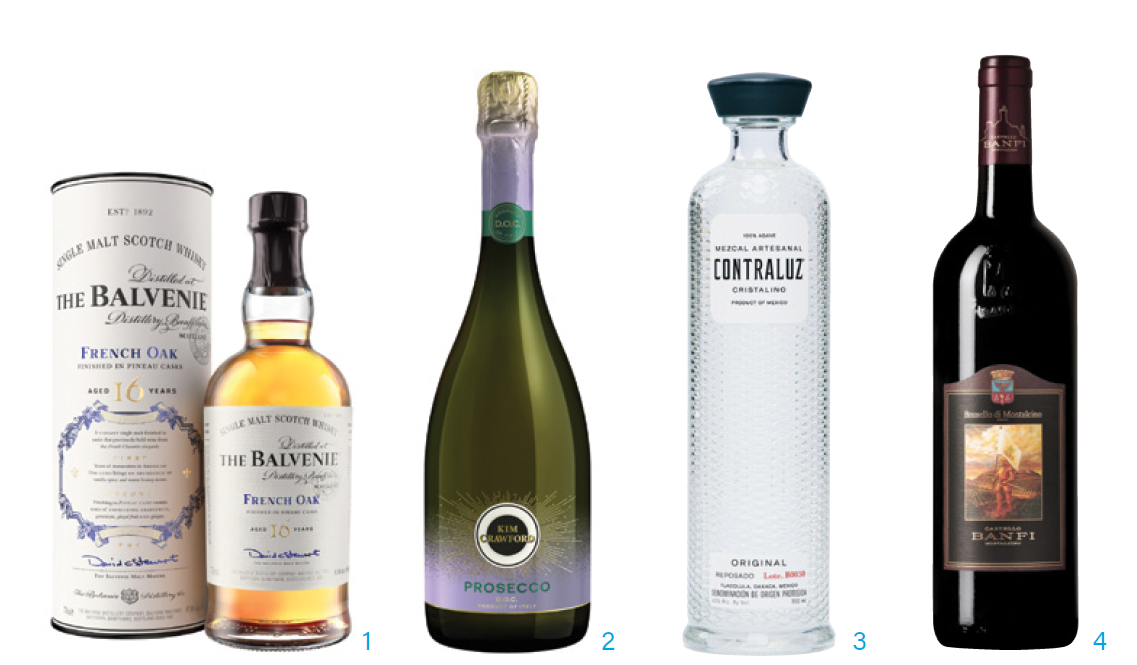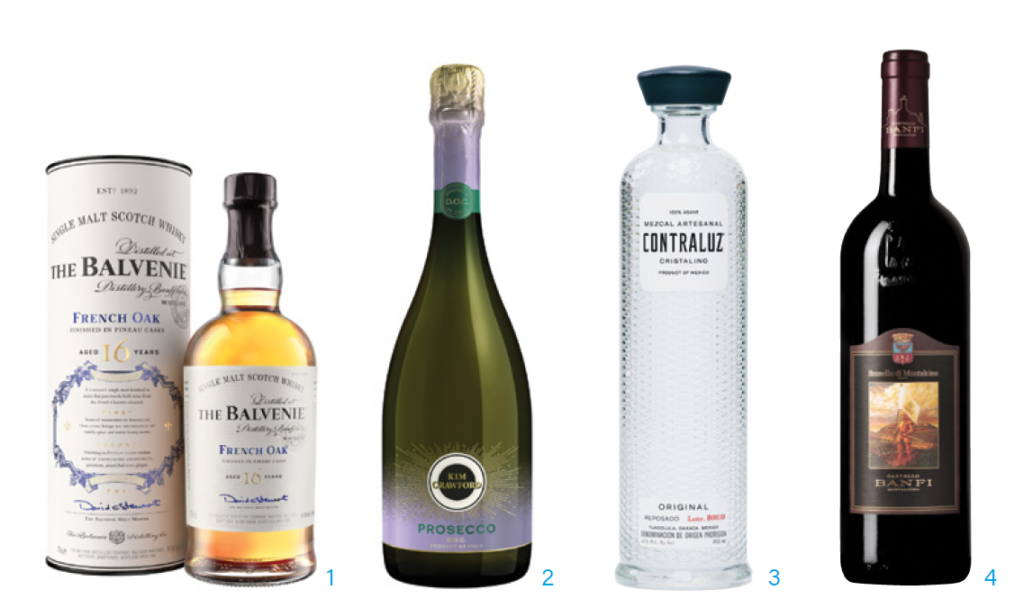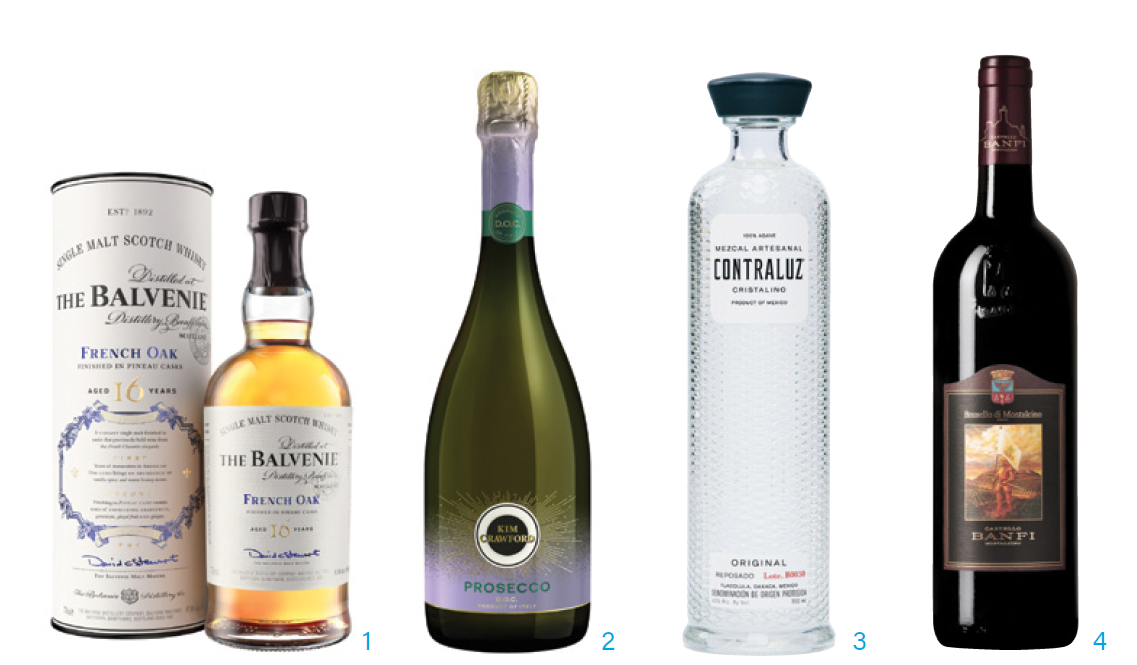 1. The Balvenie
The Balvenie's Cask Finishes range—including DoubleWood 12, Caribbean Cask 14, and Portwood 21—expands with the French Oak 16, a 95.2-proof single malt aged 16 years that melds lemon, grapefruit, and ginger notes. After maturing in American oak barrels, it is then finished in casks that previously held France's Pineau des Charentes wine.
SRP: $174.99 per 750-ml bottle
thebalvenie.com
2. Kim Crawford Wines
The New Zealand winery Kim Crawford turns its attention to Europe with the release of an everyday, extra dry Italian Prosecco. Starring largely Glera grapes harvested from vineyards throughout the Veneto region, the sparkling wine was produced using the charmat method and beckons with fruity and floral aromatics.
SRP: $14.99 per 750-ml bottle
kimcrawfordwines.com
3. Contraluz
Taking cues from tequila, Casa Lumbre's new mezcal, Contraluz, illuminates an innovative small-batch filtration process using activated charcoal. The result is the category's first-ever clear cristallino spirit abundant with clove, cacao, and restrained smoke.
SRP: $59.99 per 750-ml bottle
casalumbre.com
4. Castello Banfi
Sangiovese grapes grown in stony, calcareous soil at Castello Banfi in Tuscany have birthed the 2017 vintage of Castello Banfi Brunello di Montalcino DOCG. Rife with fruit on the nose, it evolves into licorice, red berry jam, and pipe tobacco.
SRP: $80 per 750-ml bottle
banfiwines.com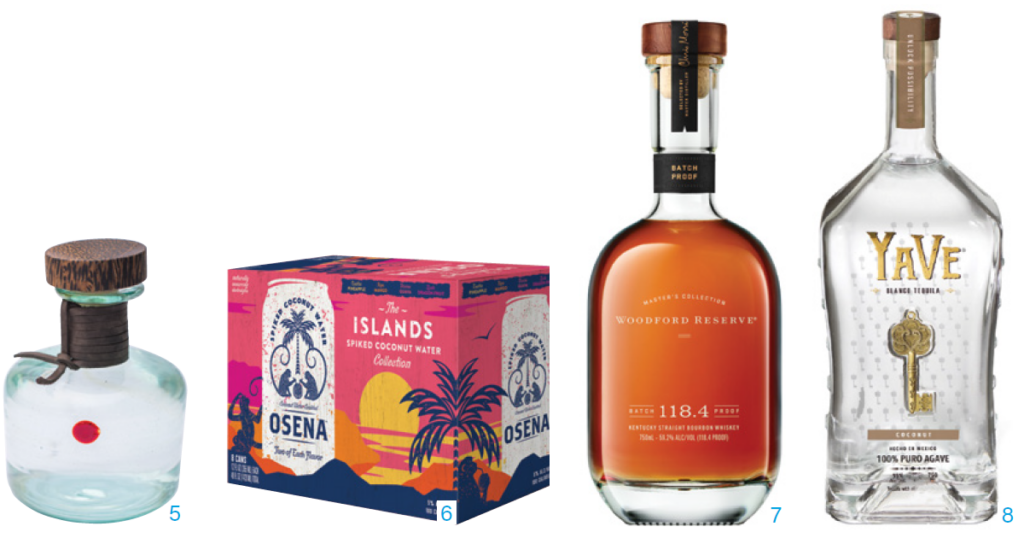 5. Procera Gin
Procera Gin, distilled in Nairobi from sugar cane and fresh Juniperus procera, a type of juniper grown in the Kenyan highlands, has added two new expressions to its flagship Blu Dot. Cocktail-friendly Red Dot (SRP:$99.50) is buoyed by Nigerian locust bean, alligator pepper, and ashanti pepper, as well as elephant pepper, oyster shells, myrrh, and seaweed from Kenya, while Green Dot (SRP: $119.50) solely embraces berries, foliage, and toasted wood from the juniper tree.
SRP: $99.50 to $119.50 per 750-ml bottle
proceragin.com
6. Osena
Sugar-free Osena spiked coconut water, fueled by naturally occurring electrolytes, first entered the ready-to-drink market with its Pure Original and Exotic Pineapple flavors. Now Osena Beverage has introduced a tropical-inspired multi-pack of the 100-calorie canned libation. The Islands Collection (5% ABV) pairs the classic pineapple with Ripe Mango, Divine Guava, and Lush Dragon Fruit.
SRP: $21.99 per eight-pack of 12-oz cans
drinkosena.com
7. Woodford Reserve
This year's limited edition of Woodford Reserve Batch Proof, the annual high-proof expression that is part of the bourbon brand's Master's Collection, comes in at 118.4 proof. Using the same grain bill and process as Woodford Reserve's Kentucky Straight Bourbon, the liquid was drawn from barrels located on the first levels of the heat-cycled warehouses, resulting in a lower proof than previous releases given that floor's effect on the angel's share.
SRP: $129.99 per 750-ml bottle
woodfordreserve.com
8. YaVe Tequila
An alternative to tropical rums and vodkas, YaVe Tequila's subtly sweet coconut-infused version is ripe for riffs on the Piña Colada and Mojito. Like YaVe's blanco, reposado, jalapeño, and mango offerings, the coconut highlights agave sourced from both the highlands and lowlands of Jalisco, volcanic water filtered through thousands of feet of porous lava rock, and a proprietary yeast.
SRP: $39.99 to $49.99 per 750-ml bottle
yavetequila.com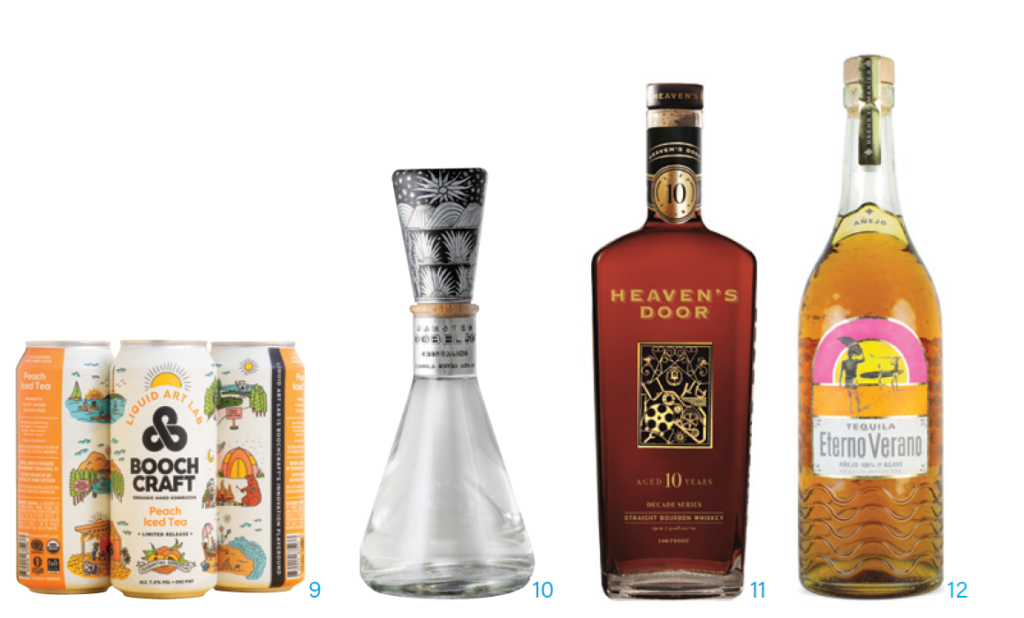 9. Boochcraft
Peach Iced Tea is the newest boozy flavor of Boochcraft organic hard kombucha. In this canned variety (7 % ABV), juicy peach notes mingle with bursts of herbal white tea and tropical guava.
SRP: $15.99 per six-pack of 12-oz cans
boochcraft.com
10. Maestro Dobel
The Mexico City-based design studio Onora, in collaboration with the third-generation artisan Pablo Pérez Martínez, has created a new limited-edition bottle for the Maestro Dobel 50 Cristalino Extra Añejo tequila. Adorned with hand-painted bottle stoppers depicting the production cycle of the agave plant in the style of amate, a Mexican folk art paper craft tracing back to the 1950s, it marks the first of three in the series.
SRP: $250 per 750-ml bottle
maestrodobel.com
11. Heaven's Door Spirits
The Decade Series, a limited-edition collection of whiskeys aged 10 years or more, is a super-premium brand extension from Heaven's Door Spirits and Bob Dylan. First up is a 100-proof, high-rye, 10-year-old straight bourbon whiskey from Tennessee. Featuring a 22 percent rye mashbill and devoid of charcoal mellowing, its palate of toffee, bitter chocolate, and leather is reminiscent of Kentucky bourbon.
SRP: $99 per 750-ml bottle
heavensdoor.com
12. Tequila Eterno Verano
Inspired by Bruce Brown's 1966 surf documentary, The Endless Summer, Grain and Barrel Spirits presents Eterno Verano, a range of ultra-premium blanco, reposado, and añejo tequilas made by master tequilero Arturo Fuentes from 100 percent Blue Weber agave. They are packaged in recycled glass bottles capped with natural cork closures that reference the bright vintage film poster.
SRP: $49.99 to $69.99 per 750-ml bottle
eternoverano.com