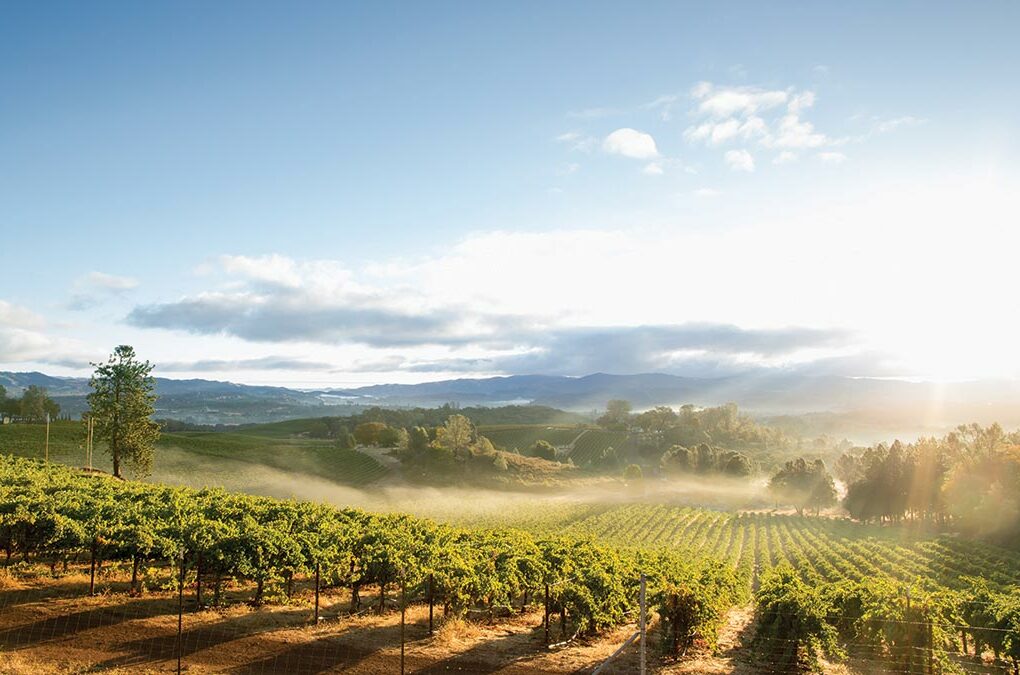 By Jonathan Feiler
Since 2004, September has been officially named California Wine Month. California is a storied region, with many of its 4,200 bonded wineries having a place not just in wine history but also in American and world history. To celebrate this yearly occasion, I wanted to combine a few of my favorite subjects: wine, history and storytelling, highlighting a California winery that is part of my story as a sommelier.
First, the numbers: California is America's largest wine-producing region, producing 81% of the country's wine and covering over 620,000 acres of dedicated land to vineyards stretching more than 800 miles from Oregon to the Mexican border. Napa alone has 43,000 acres of vineyard land. California boasts 139 American Viticultural Areas (AVAs), with Napa Valley being established first in 1981 and Upper Lake Valley being established just this year in Lake County just north of Napa. California has 5,900 grape growers who produce 3.4 million tons of wine grapes, and just under 280 million cases of wine were shipped across the United States and to export markets as of 2020. With stats like this, no wonder California wine has its own month.
Serving wine professionally has many layers. For some of us, it's all about the wine and the region; for others, it's the personal connection we have with the winery. California offers us many stories to share with each other and our guests. For me, that winery is Schramsberg Vineyards. I started my love affair with the vineyard in June 2012, when Hugh Davies, the owner of America's oldest family-owned sparkling winery, joined us for a Farm and Vine Dinner hosted at Ocean House. Hugh delighted our guests with stories and the history of the vineyard and its wines. During the meal, he sabered a bottle of his sparkling wine for our guests, gifting me the same saber, which I use almost daily.
Since the night of the dinner, we have served their Blanc de Blancs by the glass and I have been to the winery for their Camp Schramsberg. Camp Schramsberg is a three-day-long seminar on viticulture, oenology, geography and gastronomy. Hugh and his team immersed us in everything: picking grapes at one of their famed Chardonnay vineyards, learning how to hand-riddle bottles, sabering sparkling wine bottles, pairing their wines with food, and even creating a dosage and bottling our own Schramsberg Blanc de Blancs.
However, my love for the winery is more than grape skin deep: The history that surrounds the property piques the deepest, geekiest side of me. Schramsberg was established in 1862 by Jacob Schram in Napa Valley's Diamond Mountain. In 1870, he started digging Napa's first hillside caves for producing and storing wine. Robert Louis Stevenson visited the winery in 1880 and penned a novel called the "Silverado Squatters," which highlights parts of his stay. In 1957, under the ownership of the Pringle family, Schramsberg was designated a historical monument by the California Historical Society.
In 1965, the Davies family would acquire and restore the winery, with the goal of making America's most "prestigious" sparkling wine. The family's hard work and dedication led to President Richard Nixon choosing to use Schramsberg to deliver his "Toast to Peace" with China's Premier Zhou Enlai. According to a 1972 article in the Washington Post, Schramsberg only produced 5,000 bottles at that time, and Air Force One was sent to California to pick up 180 bottles that were sold for $6.49 per bottle at retail!
Since that historic moment, Schramsberg's sparkling wines have been served at official state functions by every U.S. presidential administration. When you visit the winery, they have a timeline with pictures of heads of state with their wines. In 1998, with the passing of Jack Davies, the winery was placed on the National Register of Historic Places. At the time, the winery started its "Sparkling Wine Symposium," which sought to educate the wine trade and eventually became Camp Schramsberg. Schramsberg is still innovating and making history by adding a large solar array to their winemaking facilities, making it more efficient and better for our rapidly changing climate.
While this is just one slice of California wine history, there are many more stories out there that intersect with wine and history. These stories include the owner of one of California's oldest wineries, Buena Vista, who was a renaissance man and dabbled in everything from the gold rush and growing hops to sugar and rum production — and whose life was cut tragically short by falling into an alligator-infested stream on one of his adventures. California, of course, has amazing wine and scenery, but the backstories to some of our most beloved wineries make the wines just a little bit better. During this month and in the future, I encourage you to celebrate by investigating the stories of other incredible California vineyards and wines.
Jonathan Feiler is Group Director of Wine for Ocean House Management Collection, including the Forbes Five-Star Ocean House, the award-winning Weekapaug Inn, the Watch Hill Inn and the Inn at Hastings Park, where he oversees the wine and beverage program and practices a wine philosophy centered on versatility and approachability. He also is responsible for a full program of beverage education classes for individuals and groups.