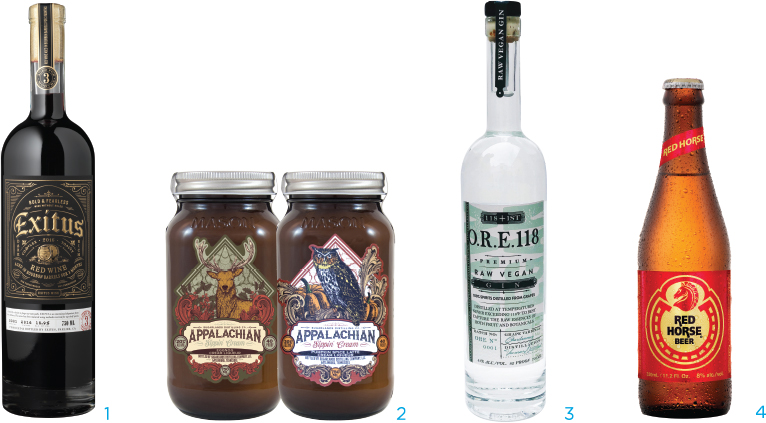 1. O'neill 'Exitus' Red Blend
O'Neill Vintners & Distillers has launched Exitus, a bourbon-barrel-aged red blend composed of Zinfandel, Petit Verdot, Cabernet Sauvignon, Petite Sirah and Merlot. Fermented in stainless steel and then aged for 3 months in Kentucky bourbon barrels, Exitus is a bold blend with a deep ruby color and aromas of blackberry, leather and dark chocolate. Bourbon barrel aging offers aromas of fire toasted oak, baking spice, caramel and tobacco. Available nationwide.
SRP: $25.99
2. Appalachian Sippin' Cream
Sugarlands Distilling Company is adding two seasonal flavors to their Appalachian Sippin' Creams—a line of rum-based cream liqueurs that can be sipped over ice, added to coffee or used to create cocktails. First, in August, came a re-release of Pumpkin Spice Latte Sippin' Cream, which includes touches of ginger, cinnamon and clove. Coming in October: Eggnog Sippin' Cream. Both are 40 proof and packaged in amber mason jars; in 24 states.
SRP: $24.99
3. o.r.e. 118 gin
O.R.E. 118 is the first spirit in the U.S. to be allowed a Raw Vegan claim on its Certificate of Label Approval. While there are other vegan gins, O.R.E. 118 is "raw" because throughout its production it is kept below 118 degrees Fahrenheit, the temperature above which many enzymes break down and foods and beverages are no longer considered raw. O.R.E. stands for "Original Raw Essence" and the letters the initials of brand founder Robert Elder's father. 80 proof.
SRP: $34.99
4. Red Horse Beer
A deeply-hued lager with distinctive hoppy impressions, Red Horse Beer offers an easy-drinking combination of flavors with an interesting Phillipine beer profile. Its smooth bitterness drives the refreshingly zesty taste, complemented by a full, slightly warm, well-rounded mouthfeel. With brewer San Miguel having garnered 40 awards from Monde Selection, Red Horse Beer has global pedigree as well. Perfect for those looking for a more accessible specialty beer. Available in 330ml bottle and a 1 pint can; ABV 8%.
SRP: $8.99 (bottle or can)
5. Rosa 22 Aperitivo
The Riboli family has expanded the Stella Rosa line with Rosa 22, an aromatic aperitivo made in Italy's Piedmont region. Balancing bitter and sweet, Rosa 22 comprises 22 natural ingredients of fruits, spices and herbs, yielding characteristics of an amaro with slightly sweet floral notes. The mixture steeps in stainless steel tanks for 60 days before undergoing cold stabilization and filtration. The end result creates a unique cross between a spirit and an aperitivo, best enjoyed neat, on the rocks, or mixed in a cocktail. 15% ABV (30 proof).
SRP: $25.99
6. Smirnoff Moscow Mule
Smirnoff Vodka claims to have invented the Original Moscow Mule back in 1941; now they have released it as a bottled cocktail. Well, most of the cocktail, that is. The product is vodka infused with ginger and lime flavors, making it easy to make a Moscow Mule at home—just add ginger ale/beer and ice. A vivid copper-colored bottle wrap references the cocktail's traditional copper mug. 60 proof; also in 50ml. Available only through September 30th.
SRP: $14.99
7. Dubonnet Rouge
The iconic aperitif Dubonnet Rouge has been repackaged and reformulated. The fortified wine keys on Cinchona bark, combined with a wine base of Muscat of Alexandria, plus herbs and spices including black currant, tea and a dollop of 100% cane sugar. It is vibrant, both in color and flavor, at once complex and refreshingly light. Inspired by a 1940s bottle, the updated packaging features the cat of Sir Dubonnet's wife. In both 750ml and 1L;
38 proof.
SRP: $17.99/750ml
8. Malfy Gin Rosa & Gin Con Arancia
Two new gins—Gin Con Arancia (Sicilian Blood Orange) and Gin Rosa (Sicilian Pink Grapefruit)—are joining Gin Con Limone (Amalfi Coast Lemon Peel) and Gin Originale (distilled with all Italian botanicals) in the Malfy range. Distilled in a family-run distillery in Moncalieri, using a stainless steel vacuum still, ideal for capturing citrus aromas and flavors. Malfy Gin is sold in over 50 countries. 82 proof. Imported and distributed by Infinium Spirits.
SRP: $30
malfygin.com | infiniumspirits.com
9. Emperador Solera Brandy
From the Philippines' largest liquor company and the world's largest brandy maker, Emperador Solera Brandy has multi-faceted appeal. Resonant aromatics include caramelized nuts, tiramisu, honey, butter and mocha. Flavors complement, with notes of latte, tres leche cake, milk chocolate, delicate spices and cola, finishing with subtle almond. Smooth on its own, Emperador can be enjoyed neat or on the rocks; its flavor complexity works well in brandy-based cocktails as well. 80 proof.
SRP: $12.99
10. Owney's Rum
Think of it as a taste of history via Brooklyn: Owney's Rum pays homage to a Prohibition rum runner, Owen "Owney" Madden, and is made in the style commonly enjoyed in NYC speakeasies. Comprised of Owney's Distiller's Reserve (the first NYC-made rum that came out in 2012) and two-year-old cask-aged Dominican rum, Owney's is the latest from The Nobel Experiment, whose founder and distiller, Bridget Firtle, who left Wall Street to open NYC's first exclusive rum distillery since Prohibition. 80 proof.
SRP: $28
11. Santi 'Ventale' Valpolicella Classico Superiore Doc
The Santi winery, under the direction of Cristian Ridolfi, has launched "Ventale," a Valpolicella Classico Superiore DOC named as a tribute to the local winds. Mostly Corvina, plus 10% each of Corvinone and Rondinella, the wine spends 18 months in 500L casks made of 70% oak plus native chestnut and cherry. The 2016 Ventale is aromatic with cherry, currant, blackberry and green pepper; juicy on the palate, with velvety tannins and a tangy aftertaste.
SRP: $14.99
12. Jägermeister 'Mini Meister' Shots-To-Go
Jägermeister is already ahead of the pack in terms of stocking stuffers, having released the new "Mini Meister," a 20ml bottle, sold in a ten-pack. The single-serve glass bottle is designed to appeal with convenience and an "on-the-go" mentality, allowing fans to still seize the moment. As a selling point, the miniature glass bottle allows the Jägermeister to quickly chill to its optimal -18°C, making for 10 "ice kühl" serves.
SRP: $10/ten-pack