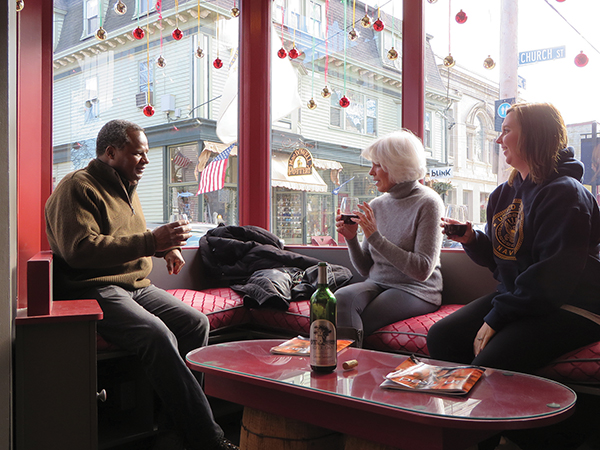 Spring Street Spirits Ltd.
137 Spring Street
Newport, Rhode Island
By Bob Sample
Years in business: More than 100 (7 under current ownership)
Size of store: 650 square feet
Owning one of the oldest package stores in a very old town can be both an opportunity and a challenge. Just ask Michael Johnson, co-owner of Spring Street Liquors in Newport, Rhode Island.
Newport draws hordes of visitors for about eight months of the year. That's the opportunity. The challenge lies in preserving a legacy: Spring Street Spirits has occupied the same location for more than 100 years. With a nod to history – and its small footprint – Spring Street focuses on serving up quality.
"I taste everything – and if it's acceptable in my mind it comes into the store," said Johnson, who purchased the store in 2008 with co-owner Nancy Andrade. "People know that if they buy a bottle here, it's going to be good, whether it's a bottle costing $10 or many times that."
About 80 percent of the store's sales are from wine, with the remainder split equally between beer and spirits. Johnson encourages customers to experiment with new wines; and to accomplish that, he hosts wine tastings at least once each week.
"The more wines you try, the more you know," Johnson said. "In addition, I think it's important not to compare one wine to another. Try to appreciate the taste of a wine on its own merits." That said, certain reds have demonstrated enduring popularity among customers. "Pinot Noirs have been hot in our store ever since the movie 'Sideways'," Johnson noted. "I expect those and similar varietals to remain popular well into the future."
Johnson traces his interest in wines and spirits to being stationed in Italy while in the U.S. Navy. He was a pianist in a Navy jazz ensemble that was often invited to play in remote villages. "To show their appreciation, the villagers would serve us these four-hour dinners," Johnson recalled. "Each course would feature wonderful, handmade wines."
Although most of its marketing consists of word of mouth, Spring Street Spirits has developed an unusual twist on the wine-tasting concept. The store has a large bay window, complete with a table and bench. "Regulars" know to reserve this popular spot well in advance for their own, private wine tastings. They, and their guests, pay for what they use, and they bring plenty of bottles home as well.
Johnson sees the beer segment growing somewhat, although it is not the store's main focus. "We have three beer doors at the store," Johnson said. "Our craft beer section is extremely busy these days. We also have a door for European beers and everyday domestic beers."
Johnson has organized the store meticulously. Besides enabling the store to accommodate more goods in a logical manner, this helps customers find what they want. "Whether they're looking to do a lot of shopping or [purchase] just one special bottle, customers know they can find it here," said Johnson.