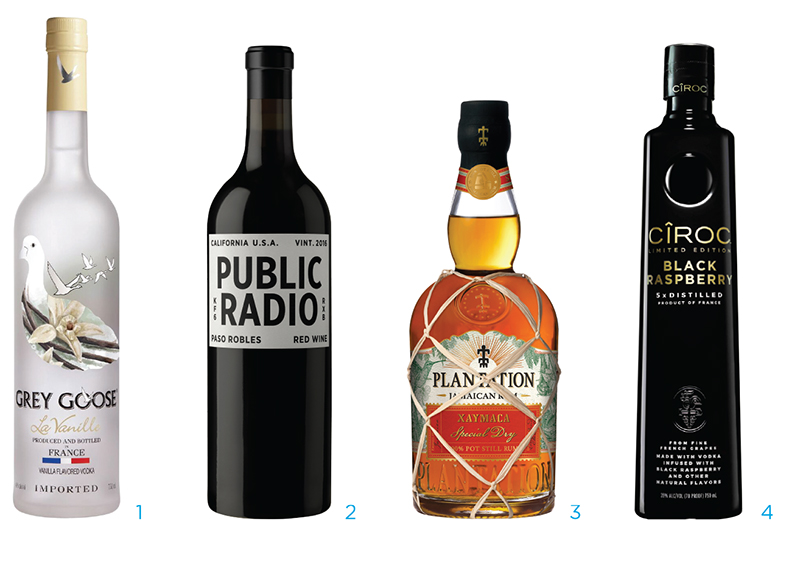 November 2018
1. Grey Goose 'La Vanille'
Leading into the holidays, Grey Goose is relaunching its vanilla flavored vodka for the first time in 15 years. The limited-edition La Vanille is made by blending Grey Goose vodka with natural Madagascan vanilla. After a successful run years ago, Grey Goose ended production to focus on core flavors. However, bartenders never stopped asking for La Vanille and it has remained a popular cult flavor, known for bold caramelized and toffee notes.
SRP: $29.99
2. Grounded Wine Co. 'Public Radio'
Founder Josh Phelps has released his fourth wine from Grounded Wine Co.,
2016 Public Radio, a Grenache-based red blend from West Paso Robles. It is comprised of 65% Grenache, 27% Syrah and 9% Petite Sirah. The 2016 growing season ensured good concentration and color density; ripe tannins and natural acidity balance out this Rhône-inspired blend. Grounded Wine Co. also produces two other red blends and a rosé.
SRP: $25
3. Plantation 'Xaymaca' Special Dry Rum
Plantation's Xaymaca expression is a rare blend of pot still rums from two legendary Jamaican distilleries—Clarendon and Long Pond—that are "married" and double-aged in ex-Cognac barrels at the Ferrand estate in Cognac. Jamaica's authentic pot still rum is famous for its character of banana and flambéed pineapple, locally called "rum funk." Rarely do you find aged pot still rum from Jamaica that has not been blended with solumn-distilled rum, let alone double-aged. 86 proof.
SRP: $24.99
plantationrum.com | maisonferrand.com
4. Cîroc Black Raspberry Vodka
Sean "Diddy" Combs and Diageo unveiled Black Raspberry as the newest addition to the successful Cîroc Vodka portfolio. The brand's five-times-distilled, grape-based vodka is infused with black raspberry and other natural flavors, giving it a deep fruit flavor and velvety finish. Designed to enjoy on the rocks or mixed with fresh ingredients such as lime or mint. Available nationally in a sleek black bottle with metallic gold lettering, for a limited time. 70 proof.
SRP: $39
5. Henriot Cuvée 'Hemera' 2005 & Vintage Brut 2008
Known for its Chardonnay-driven style, Champagne Henriot has introduced Cuvée Hemera 2005, the first prestige cuvée produced by Chef de Caves Laurent Fresnet; and Vintage Brut 2008, marking the house's bicentenary 200th vintage. Cuvée Hemera 2005, from 100% Grand Cru vineyards, pays homage to the Greek Goddess of daylight. The elegant Vintage 2008 Brut is the first vintage bottling Fresnet has overseen from harvest to release.
SRP: Cuvée Hemera $199 / Vintage 2008 $99
6. Everclear Grain Alcohol
Category leader Everclear Grain Alcohol has unveiled a new, sophisticated package, illustrating the well-known grain alcohol' simple, high-quality and versatile nature. The new look is clean and modern, while still maintaining the iconic logo, making the label easier to read in a retail environment and drawing attention to the brand name and key features. The redesign overall helps remind users that Everclear is an fertile blank canvas for creating infusions, liqueurs and bitters. 190 proof.
SRP: $19.99
7. Selective Aperitivo
Select Aperitivo has new packaging, embracing the brand's original Art Deco style, hailing its Venetian identity, introducing a new logo and flagging key attributes and usage. The front label notes the aperitif's 30 botanicals, including juniper and rhubarb root which provides bitterness for balance. The back label details the Original Venetian Spritz: 3 parts Prosecco, 2 parts Select Aperitivo, 1 part seltzer, served over ice and garnished with a skewered green olive. 35 proof.
SRP: $33/1L
8. Cannonball Eleven
The popular California brand Cannonball is taking a deep dive into Sonoma with the Cannonball Eleven label featuring four wines of under-5,000-cases production each and SRP range of $24.99-$39.99. A collaboration of founder Dennis Hill and winemaker Ondine Chattan, the wines were sourced from small parcels and are geared to the on-premise. Cannonball Eleven Dry Creek Valley Sauvignon Blanc 2017 and Sonoma Coast Chardonnay 2017 are available now; coming early 2019 are Sonoma County Merlot and Cabernet Sauvignon, both 2016.
SRP: $24.99-$39.99
9. Tequila Chamucos Extra Añejo & 'Diablo Blanco'
Palm Bay International has added an Extra Añejo and "Diablo Blanco" to the Chamucos Tequila portfolio already comprising Blanco, Reposado and Añejo. Chamucos "Diablo Blanco," bottled at 110 proof, brings back the lost tradition of drawing tequila straight from the still; ideal for enjoying neat or in a premium cocktail. Chamucos Extra Añejo is a proprietary blend of a 3-, 4- and 5-year-old tequila, bottled at cask strength (88.8 proof).
SRP: Diablo Blanco $59.99 / Extra Añejo $199
tequilachamucos.com   | palmbay.com
10. The Federalist Bourbon Barrel-Aged Red Blend
The latest in The Federalist line—created by Terlato Wines honoring notable historic Americans such as Benjamin Franklin and Alexander Hamilton—is a bourbon-barrel-aged red blend. Like the previously released "BBA" Zinfandel, this expression embraces the young and uniquely American technique of aging the wine in charred bourbon barrels. Bright Mendocino fruit (76% Merlot, 20% Cabernet Sauvignon, 4% Carignan) is framed by vanilla aromas, spice notes and a smooth, smoky finish.
SRP: $21.99
11. Seagram's Tropical Pineapple Vodka
Adding to their portfolio of five-times distilled vodka, Seagram's aims to capitalize on the popularity of fruit flavors with the launch of Tropical Pineapple. The new expression works seamlessly in tropical-leaning cocktails as well as sipped neat or over ice. This year, Seagram's Extra Smooth and Platinum Select 100 proof will receive updated and refreshed bottle labels consistent with the full Seagram's line-up. 70 proof.
SRP: $10.99
12. Benham's Barrel Finished Gin
Graton Distilling Company has released Benham's Barrel Finished Gin in 15 markets. Targeting mixologists, the new expression is derived from aging their Sonoma Dry gin in used Zinfandel barrels, which complement the gin's juniper with warm baking-spice notes. At the heart of Graton Distilling is an energy-efficient continuous micro-column still that extracts aromas and flavors from each of the 12 botanicals through vapor distillation. 96 proof.
SRP: $42.99
benhamsgin.com | gratondistillingcom