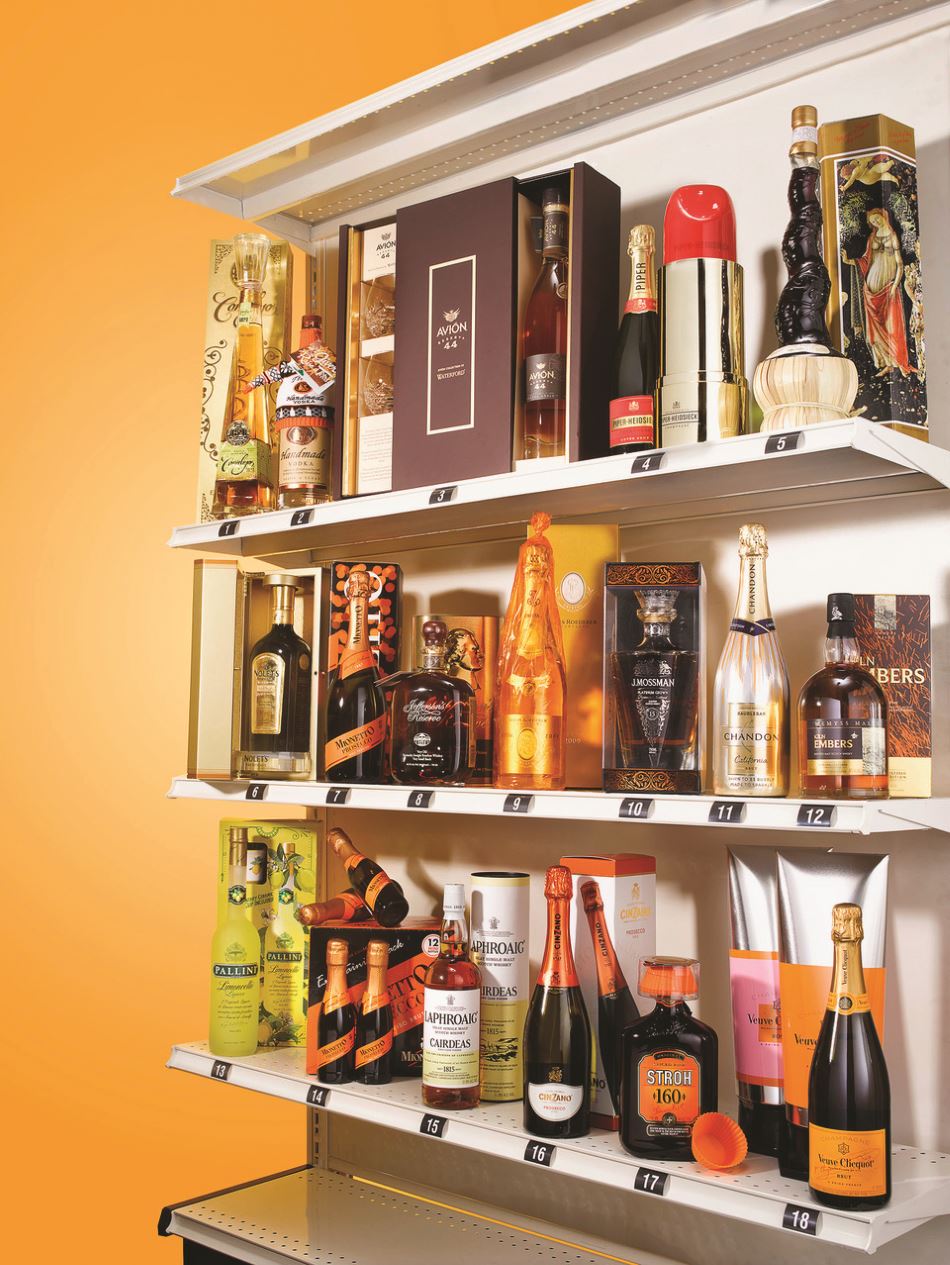 Text by W. R. Tish & Marlena Hoffman. Photographs by Samuel Bristow.
For wine and spirits merchants, the holiday season is the most wonderful time of the year. Also the most harrowing.
In November in particular, time and space collide as stores hustle to make room for season-specific merchandise. As is the case every year, suppliers have dug deep into their sacks of merchandising and marketing tricks to create gift-worthy pre-packed wines and spirits.
The idea behind Value Added Packs—aka VAPs, as they are often called—is simple: to make gift-giving even easier for shoppers. People love shortcuts. People love "extras." VAPs deliver both. Whatever their motivation, VAPs offer prepackaged routes to gifting success—a resolution to which merchants and shoppers alike aspire.
Of course, not every VAP is going to suit your current store and clientele. Be mindful of stocking new products at varied price points—for the Prosecco budget and Champagne budget, so to speak.
Here are a few tips to incorporate these seasonal special-editions into your store:
Whatever you decide to carry, make sure your staff is given the details they need to explain the "added value" item; it's not always obvious.
Avoid overkill. Huge piles of any product tend to make them look cheaper. One table or shelf section devoted to gifts will require less shifting of product and still score shoppers' attention.
Be prepared to accommodate a good-ol' bottle gift. Have gift bags available—as simple as mylar bags with yarn or as fancy as a spinning floor rack of decorative bags.
Keep small items near the cash register as impulse buys. This includes corkscrews and accessories that take up little space, as well as stocking-stuffable 50ml miniatures. This year maybe try some canned wine.
No matter how many of this season's VAPs you stock, it's important not to overlook perhaps the most important added-value of all when selling product to the public: Smile early and often!
1 Corralejo '1821' Tequila in golden box.
2 Tito's Handmade Vodka with festive bottle sweater.
3 Avión 'Reserva 44' Tequila by Waterford.
4 Champagne Piper-Heidsieck in red 'lipstick' canister.
5 Opici Toscano Twist red wine in twist-neck bottle and fiasco.
6 Nolet's Dry Gin Reserve with gold trim and signatures.
7 Mionetto Prosecco Brut in bubbly gift box.
8 Jefferson's Reserve Bourbon in tin case.
9 Louis Roederer 2009 'Cristal' Champagne, gift-boxed.
10 J. Mossman 15 Year Old Scotch in ornate bottle and box.
11 Chandon Brut 'Baublebar' limited edition.
12 Wemyss 'Kiln Embers' Blended Scotch, gift-boxed.
13 Pallini Limoncello with Deruta ceramic cup.
14 Case of 12 Mionetto Prosecco 187mls in signature box.
15 Laphroaig 'Cairdeas' Single Malt in canister.
16 Cinzano Prosecco in gift box.
17 Stroh '160' Spiced Rum with baking cups & recipes.
18 Veuve Clicquot Champagne 'cosmetic tube' canisters, in Rosé & NV Brut.
---
1 Absente Absinthe with 2 branded rocks glasses.
2 Bloom London Dry Gin in a window box.
3 The Macallan 12 Year Old Double Cask gift box.
4 Hpnotiq Liqueur with flask and recipes.
5 Casamigos Blanco Tequila with logo shaker.
6 Nicolas Feuillatte Brut Champagne in 'Wonderland' tin.
7 Riazul Silver Tequila with shaker, glass & recipe.
8 Mavem Aguardente (Aged Brandy) in window box.
9 Antica Sambuca with 2 shot glasses
10 Malfy Gin 'Con Limone' plus 2 branded glasses.
11 Bartenura Moscato in blue gift bag.
12 Martell 'Blue Swift' Cognac gift box.
13 Grey Goose Vodka (1L) in tin with magnetic letters.
14 Goslings 'Dark 'n Stormy' cocktail set with 2 cans of ginger beer.
15 Gemma di Luna Pinot Grigio in carrying canister.
16 Deep Eddy Vodka with 6-foot-long string lights.
17 Van Gogh Vodka set of 50ml minis; original plus 3 flavors.
18 Grand Mayan 'Ultra Aged' Tequila in handpainted ceramic bottle.
19 Johnnie Walker Blue Label gift box with 2 glasses.
---
1 Sobieski Vodka (1.75L) with 'Mule' recipes.
2 Piper-Heidsieck Champagne with insulated red zipper sleeve.
3 O'Mara's Irish Country Cream Liqueur with glass mug.
4 Gran Duque d'Alba Spanish Brandy with snifter & recipe.
5 Smirnoff 'Peppermint Twist' Vodka in scratch 'n sniff bottle.
6 Roscato set of 2 wines: Smooth & Dark.
7 Bollinger Brut Special Reserve in red gift box.
8 Lambay Irish Whiskey Single Malt in window box.
9 Hennessy VSOP Cognac Sazerac cocktail set.
10 Dozen Roses Wine gift pack with 3 bottles of wine. XOXO
11 Kahlúa with branded mug and 'Cider Caliente' recipe.
12 The Macallan Rare Cask Batch No. 2, gift-boxed.
13 RumChata with 2 branded shot glasses.
14 Tippy Cow Rum Cream 'Peppermint Bark' seasonal edition.
15 Bunnahabhain 12 Year Old Single Malt Scotch with 2 rocks glasses.
16 Absolut Vodka with 2 50ml minis: Lime & Grapefruit.
17 Cognac Frapin 'Extra' in red plush case.
18 Captain Morgan   Original Spiced Rum (1L) with ornament shot glass & 50ml Apple Smash.
19 Grand Marnier Liqueur with 2 branded glasses
20 The Dubliner Irish Whiskey & Honeycomb Liqueur in gift box.
---
1 Kerrygold Irish Cream with 2 branded rocks glasses.
2 The Arran 10 Year Old Single Malt Scotch and  2 nosing glasses.
3 Tanqueray & Tonic set with goblet & recipes.
4 Glenfiddich 12 Year Old with signature shape tin.
5 The Dubliner Irish Whiskey with gift box.
6 Heineken 1.5L limited-edition magnum bottle.
7 Speyburn 10 Year Old Single Malt plus 100ml Speyside-sourced water.
8 Buchanan's Deluxe 12 Year Old Blended Scotch with branded shaker.
9 Patrón Silver Tequila (1L) limited edition in gift tote.
10 Henriot 2008 Vintage Champagne gift-boxed.
11 Tomintoul 16 Year Old 'Speyside Glenlivet' Single Malt with dram glass.
12 Western Son Lime Vodka plus 3 minis (original, blueberry, watermelon).
13 Riedel Syrah/Shiraz glasses, set of 2.
14 Jameson: 3 200mls (Caskmates Stout & IPA; Original) in carrier.
15 Jameson Black Barrel Irish Whiskey in sturdy gift case.
16 Absolut Lime limited edition in sequin jacket.
---
1 Dom Pérignon 'P2' Champagne in sliding-door gift box.
2 Stemmari 'Hedonis' Riserva Sicilian red wine.
3 Casamigos Mezcal with branded shaker.
4 Maker's Mark '46' with 2 rocks glasses.
5 Brockmans Gin with jet black embossed canister.
6 Rotari 'Flavio' Trentodoc sparkling wine, gift-boxed.
7 Cooper & Thief red wine with 2 branded whiskey glasses.
8 Set of Boondocks American Whiskey & 8 Year Old Bourbon
9 Bartenura Demi-Sec sparkling wine in netted leather pouch.
10 Khortytsa 'De Luxe' Vodka in black window case.
11 Justin 'Isosceles' Meritage red blend, gift-boxed.
12 Dos Maderas Triple-Aged Rum with 2 glasses.
13 Ferrari 2009 'Perlé Nero' Trentodoc sparkling wine, gift-boxed.
14 Camus 'Extra Dark & Intense' Cognac in embossed gift box.
15 Highland Park 'Valknut' in designer gift box by Jim Lyngvild.
16 Carolans Irish Cream with branded ice cream cup.
17 Highland Park 12 Year Old 'Viking Honour.'
18 Baileys Irish Cream with 'mine' & 'yours' cups.
19 Ardbeg 'An Oa' Islay Single Malt Scotch.
20 Elijah Craig Small Batch Bourbon with ice mold and glass.
21 Champagne Bollinger R.D. 2004 Extra Brut, gift-boxed.
22 Riedel tumbler sets: 'Spey' & 'Fire.'
23 Barenjäger Honey Liqueur with beer glass & recipes.
24 Chivas Regal 12 Year Old with 2 branded glasses.
25 Zyr Russian Vodka in black pouch.
26 The Dalmore 12 Year Old Single Malt & 2 distiller's glasses.
27 Maker's Mark Bourbon holiday gift box with 50ml mini.
28 Lunetta Prosecco in chillable case (becomes an ice bucket).
29 Glenmorangie 'Signet' in matte black box with gold trim.
30 The Glenlivet 12 Year Old with 2 branded glasses.
31 Virginia Highland Cider Cask Finished Whisky, gift-boxed.
---
1 Camus VSOP 'Borderies' Cognac in carrying case.
2 The Glenrothes Single Malt 'Bourbon Cask Reserve' gift box.
3 Damrak Amsterdam Gin & Q Tonic set.
4 Cesari wood case with 2 Pinot Grigio, 1 Merlot.
5 Moët & Chandon Imperial cityscape box.
6 Hennessy XO Cognac in handsome gift box.
7 Deanston Highlands Single Malt with 2 branded rocks glasses.
8 Champagne Henriot 2005 'Cuvée Hemera' in gift box.
9 Chamucos Reposado Tequila with cut-out gift box.
10 Mezan XO Rum with 2 branded cocktail glasses.
11 Amaro Montenegro with tumbler & recipe.
12 Dom Ruinart 2007 Vintage Champagne in gift box.
13 Beefeater London Dry Gin (1.75L) in graphic London tin.
14 Bolla Pinot Grigio & Chianti wines in wood box.
15 Novo Fogo Cachaça Caipirinha kit with muddler & 2 drinking jars.
16 Ao Yun 2014 Chinese Cabernet Sauvignon in ornate wood case.
17 Amarula Cream Liqueur with 2 branded rocks glasses.
18 Glencadam 'The Remarkable' Single Malt Aged 25 Years.
---
1 Louis Roederer 2012 Rosé Champagne with 2 glasses.
2 Louis Roederer Brut Premier Champagne, deluxe gift box.
3 Absolut Grapefruit (1L) limited edition in red sequin jacket.
4 Krug Grand Cuvée Champagne in maroon gift box.
5 Crown Royal Canadian Whiskey with 2 branded glasses.
6 Alfred Gratien Brut Champagne, gift-boxed.
7 Alfred Gratien Brut Rosé Champagne, gift-boxed.
8 'Disaronno Wears Trussardi' set with 2 crystal flutes for Prosecco cocktail.
9 Bloom Jasmine & Rose Gin in decorative box.
10 Camus VS Cognac with urban nightlife decorative box.
11 Rotari Rosé sparkling wine gift set with 2 tulip flutes.
12 Clyde May's Alabama Style Whiskey with branded flask.
13 Chandon Brut Rosé 'Baublebar' limited edition.
14 Carpineto gift set with Dogajolo Bianco & Rosso wines.
15 Ruinart Brut Rosé Champagne in center-cut gift/display box.
---
1 Two bottles of Codorniu 'Anna' Blanc de Blancs Cava with branded ice bucket.
2 Jacquart 'Experience' Brut Champagne, gift-boxed.
3 Avión Silver Tequila with 2 branded glasses.
4 Martini & Rossi Asti special edition in silver gift box.
5 Johnnie Walker Black with 2 branded tumblers.
6 Ferrari Brut Trentadoc sparkling wine, gift-boxed.
7 Gozio Amaretto Liqueur with copper mug.
8 1852 Kurant 'Crystal' Vodka, gift-boxed.
9 Gift set of Artesa wines: Carneros Pinot Noir & Chardonnay.
10 Crystal Head Vodka with 2 skull shot glasses.
11 Yeni Raki Anise Liqueur with 2 branded glasses.
12 Ketel One Vodka with 2 glasses and recipes.
13 Louis Roederer NV Brut Premier Champagne in graphic gift box.
14 Frangelico Hazelnut Liqueur with 2 branded glasses.
15 Caorunn Scottish Gin with Bittermens spiced cranberry bitters.
16 RumChata holiday mug with 8 mini Chatas.
17 Roederer Estate 'L'Ermitage' Brut sparkling wine, gift-boxed.