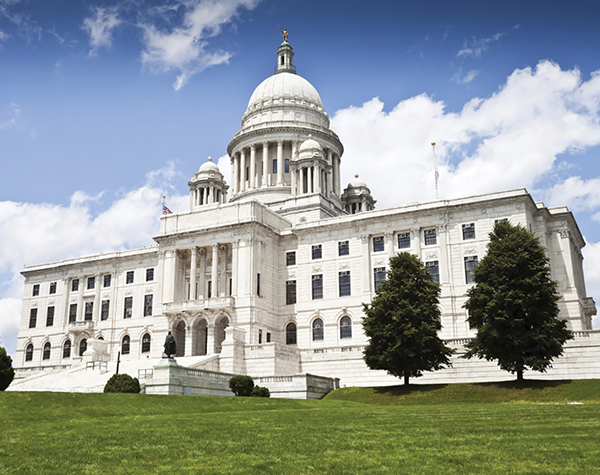 Wins include continued alcohol to-go
By Sara Capozzi
A number of industry bills and their associated operations were before the Rhode Island General Assembly this 2021 session. Much of the legislation was related to issues arising due to the COVID-19 pandemic, with scoring on-premise wins including an extension of allowing the sale of alcohol to-go and a continuation on a moratorium on zoning rules allowing outdoor dining and third-party delivery service permissions, among other legislative efforts.
House Bill No. 5105, sponsored by Reps. Baginski, Noret, Casimiro, AN ACT RELATING TO ALCOHOLIC BEVERAGES — RETAIL LICENSES, which allows venues in possession of a Class B liquor license to sell specific amounts of alcoholic beverages with take-out food orders, was signed into law by Gov. Dan McKee on July 2, 2021. Originally set to expire on Dec. 31, 2021, the bill allows venues to continue to sell to-go alcohol with food orders through March 2022. Neighboring states Connecticut and Massachusetts also passed similar legislation.
Third-party delivery services are no longer allowed to list restaurants on their sites without permission from those restaurants, according to the recently passed House Bill No. 5346 SUB A, By Craven, AN ACT RELATING TO COMMERCIAL LAW — GENERAL REGULATORY PROVISIONS. The act prohibits third-party delivery services from using any likeness or intellectual property of a merchant without written consent. The bill was signed into law by Gov. Dan McKee on July 2, 2021, and will go into effect on Sept. 30, 2021.
Another popular ordinance adopted during the pandemic, which allowed the expansion of outdoor dining, was extended through a new bill, House Bill No. 6119, AN ACT RELATING TO TOWNS AND CITIES — SMALL BUSINESSES — ZONING ORDINANCES. Former Gov. Gina M. Raimondo's executive order, which temporarily relaxed restrictions on outdoor dining, gave restaurants another lifeline during the pandemic era by allowing them to extend their outdoor seating onto municipal sidewalks, streets and parking lots, a change that was received well by restaurants and patrons. The moratorium on municipal and zoning regulations enforced by the bill is in effect until April 1, 2022.
The Rhode Island Hospitality Association (RIHA) advocated for these efforts on behalf of venues as pandemic restrictions lifted and restaurants and bars fully reopened in May, as well as launching a new tool kit amid efforts to remind consumers to "be kind" as they venture out to restaurants and bars. Public and personal safety balanced against labor shortages brought state and federal relief into focus, too.
The General Assembly passed a law allowing people who are currently enrolled in the state's Unemployment Benefits System to collect $300 weekly in federal benefits while working part time. Beginning on May 23, 2021, the Rhode Island Department of Labor and Training reinstated its requirement that all people collecting unemployment benefits must provide proof they are looking for work. The state's minimum wage will increase incrementally until it reaches $15 an hour on Jan. 1, 2025. The first wage hike will go into effect on Jan. 1, 2022, increasing from $11.50 per hour to $12.25 per hour. However, the state's tipped wage will remain at $3.89.
The Rhode Island House of Representatives Finance Committee approved the $13 billion state budget in mid-June, with some changes made to the hotly contested tax on Paycheck Protection Program (PPP) loans. Under the original version of Gov. McKee's budget, PPP loans of more than $150,000 were subject to the tax. In the final budget, only loans of $250,000 are subject to the tax. Approximately 7% of Rhode Island businesses will be taxed based on the new limit.
RIHA, which lobbied against the tax, released a statement in response to the budget's passage. "The RI Hospitality Association is disappointed in the General Assembly's decision to include the proposed tax on the Payroll Protection Program (PPP) in the state budget," Dale J. Venturini, President and CEO, RIHA, said in a statement. "The PPP was designed to help small businesses, not penalize them for remaining operational," during a global pandemic.
The General Assembly also passed legislation designed to bring breweries, wineries and distilleries "more into alignment with other liquor licenses." House Bill No. 5255 SUBSTITUTE A, AN ACT RELATING TO ALCOHOLIC BEVERAGES — MANUFACTURING AND WHOLESALE LICENSES — BREWERIES AND DISTILLERIES, requires "All manufacturer licenses conducting retail sales and/or providing samples shall be subject to compliance with alcohol server training and liquor liability insurance requirements set forth in §§ 3-7-6.1 and 3-7-29 and the regulations promulgated thereunder," effective upon passage.