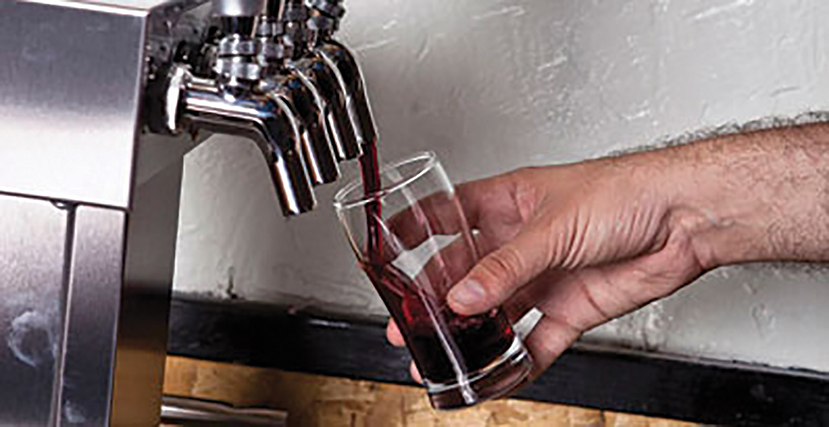 By Len Panaggio, Beverage Consultant
We are so used to hearing guests ask, "What's on tap?" Now their choices are rising beyond traditional beer options! Believe it or not, wine is now available on draught in several restaurants throughout our state.
Why have wines on draught? First and foremost, the wine stays fresher and will last longer in the keg, which is typically driven by 100% nitrogen, an inert gas that doesn't get absorbed into the wine. Once tapped, the wine will last for 90 days, a huge advantage over bottles. The kegs are 1/6s, logs if you will. They are recyclable, and just like beer, you return them to your wholesaler. There are some kegs that come in disposable containers, no deposit, no tracking.
Draught wines cannot use the same system as beer; it has to be a wine-only system because those designed for wine can withstand the higher alcohol and acid levels found in wine. Beer has yeast and sugar, far different from wine.
To the best of my knowledge, Fish in Jamestown was the first to offer wines on draught, and while it has taken some time to catch on, I think this idea may have finally hit mainstream. Recently, I have dealt with two restaurants that have installed draught wines, The Chop House in Wakefield and George's of Galilee in Narragansett. The Chop House offers Acrobat pinot gris and N x NW Chardonnay. According to management, both have been received very well by customers.
At the venerable George's in Galilee, ownership has remodeled their second floor bar and dining area and to include a 4 knob system, again with Acrobat, N x NW,  plus Liberty School chardonnay and Richer Pour dry chenin blanc, a varietal that pairs very well with raw bar items. Most guests might be somewhat skeptical about draught wine, and staff education is critical in conveying the positive attributes of draft wine to consumers.
When I look at bars that pour wine out of bottles, some out of magnums because they go through so much, one has to wonder why anyone is waiting to install this system. In the summer, pinot gris/grigio alone makes it worthwhile. By moving to a draught system, there is far less waste, less trash, fresher product, less movement by the bar staff, e.g. not going back in the cooler, sticking the frequent pours in ice, and having to open a cork-finished bottle, etc. And, another big plus, walk-in and behind-the-bar storage frees up space for other wines and beer.
Now, granted, you can't go to an all draught wine list, but identifying a few varietals that our guests frequently ask for is a great first step. Installation is not as difficult as one might think, there are free-standing keg units available for 2-8 kegs, and if you have the space, this is the most cost effective way to start off. Bottom line: take a long hard look at this dispensing system. It is cutting edge, your guests will love the novelty, your wine cost will be improved, your bartenders will appreciate the investment and our landfill will have fewer bottles.
On the horizon, draught cocktails, yes, they are coming! Once again, our guests are looking for us to find new and innovative ways to present products that are on the forefront, and I for one believe draught wine is one of those products! It's here, go for it.
Have a great summer and serve responsibly!
Len Panaggio's career in food and wine spans more than three decades as an owner and as a beverage director at some of the top restaurants in Rhode Island. Currently a hospitality consultant, Len is a graduate of the University of Rhode Island and has attended the Culinary Institute of America Master Sommelier program and the Sterling School of Service and Hospitality.