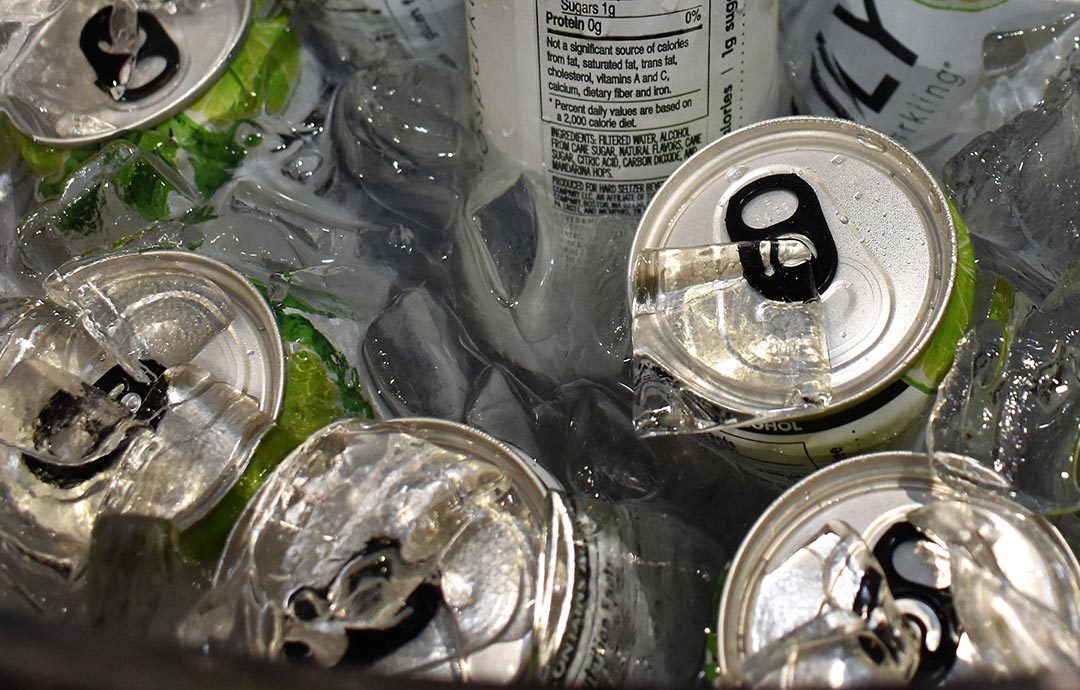 By Len Panaggio
As I am writing this, we are celebrating Memorial Day and the lifting of restrictions on our industry, despite Mother Nature putting a damper on things. At least I can return to writing about the bar business!
Something I've previously written about a lot is our guests' concerns about how our beverages are made, just like our food supply. The use of herbicides and pesticides, not being good stewards of the land, etc., began to creep into the minds of the community. I wondered if those same people are also concerned with how our products are packaged.
For centuries, beverages were primarily packaged in glass bottles. That was great for a time; after all, glass is recyclable to a certain extent. Then, in 1934, beer was put in a can. Cans were also recyclable, but they weighed less, which provided a great savings on shipping costs. Cans have been a great packaging material, and they're no longer limited to your favorite beer or soda. But consumer behavior can be fickle.
In 2004, Sofia Coppola packaged a sparkling wine in a can, called Sofia. I bought a case for Portside at 22 Bowen's in Newport to see what would happen. Sadly, nothing. The consumer at that time was not ready to embrace something as radical as wine, let alone sparkling wine, served in a can.
Canned cocktails, seltzers and wine are now prominent and there is one local company who is doing it really well and for all the right reasons. Anchor & Hope is a startup négociant in Rumford, Rhode Island. Négociants are businesses that source their products from growers and then package and sell them in the open market under different labels. I had a chance to visit with the owners and learned just how conscientious they are about the environment. All the wine they ship is grown sustainably, with some biodynamically.
They ship the fermented wine from Oregon, California and Germany in large totes, and once in the state, it is aged and packaged on-site to provide really good, upscale table wines to retailers and restaurants. They also package into bottles under screw caps, as it is still the preferred method of selling wine. But what I found more interesting is they are packaging several varietals, including those from Germany and one from Mendocino, in 250-ml aluminum cans.
Why? Well, for starters, shipping costs are dramatically reduced. They are convenient and take up less shelf space. And aluminum is the second most widely recycled material in the world behind asphalt, taking less energy to recycle than glass. Anchor & Hope isn't the only company canning wine, but I found it neat that they are a Rhode Island company, backed by the knowledge and experience of the owners' winemaking roles at vineyards in Germany and California, and are doing their business for the good of the planet.
By the way, shipping fermented juice across the country or the ocean is nothing new; it has been done for years, more for the reduced shipping costs than intertwining the additional benefits of reducing carbon emissions. They also put some varietals in the ultimate earth-friendly package, 1/6 aluminum kegs for draught. There are several other wineries shipping in kegs, such as Acrobat and Angeline, distributed by Mancini Beverage. Yes Way Rosé also offers their wine in a can, distributed by Johnson Brothers.
Now that we seem to be on the other side of the pandemic, it's the perfect opportunity to make some operating changes. I urge all to give these alternatively packaged wines serious consideration, such as introducing a draught line or cans for your "by the glass" program. There are a lot of options out there in addition to the local brand Anchor & Hope, including high-end and familiar brands. More consumers than ever are paying attention to their carbon footprint – and yours – and reducing your waste will benefit the environment and your bottom line.
Cheers to a prosperous summer!
Len Panaggio's career in food and wine spans more than three decades as an owner and as a beverage director at some of the top restaurants in Rhode Island. Currently a hospitality consultant, Len is a graduate of the University of Rhode Island and has attended the Culinary Institute of America Master Sommelier program and the Sterling School of Service and Hospitality.