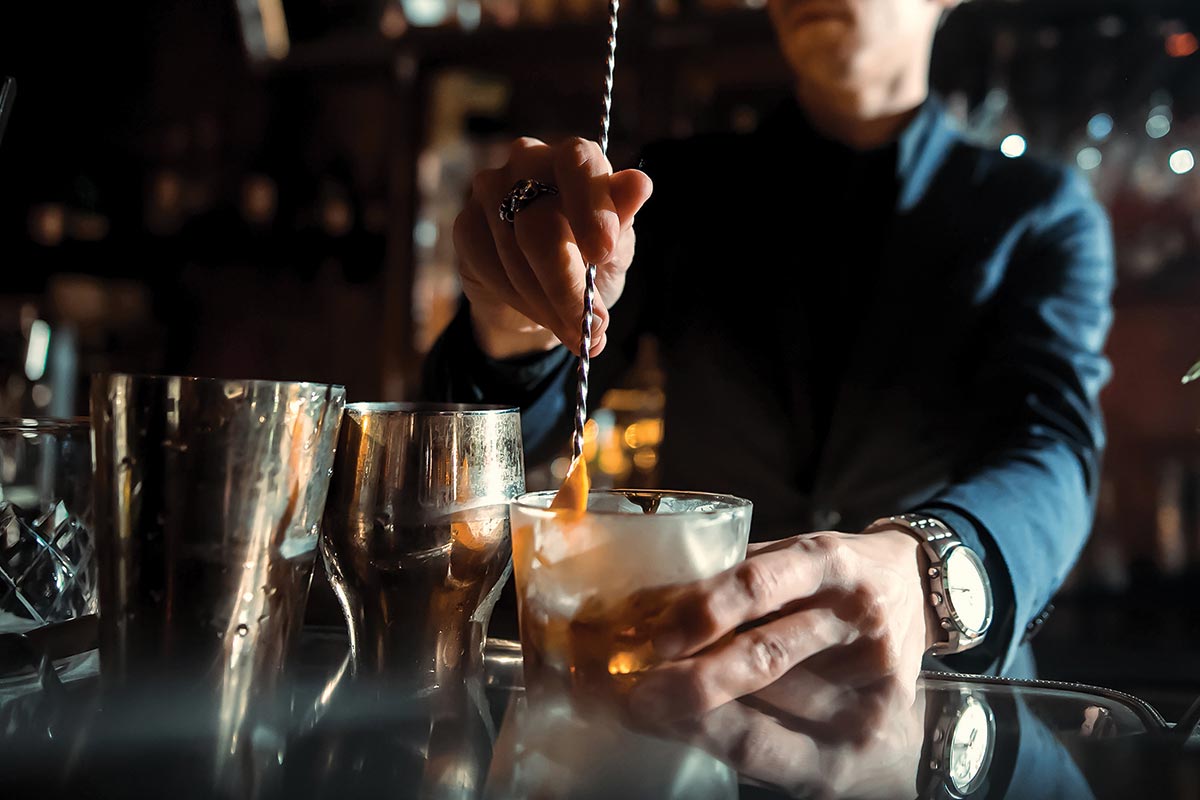 By Len Panaggio
As we enter November, our minds shift from autumn to winter and the holiday season. While we are at the end of Oktoberfest beer — and pumpkin beer still has a way to go before demand fades — now is the time to start thinking about winter beer, winter cocktails and wines for the season and how you're going to best serve the guests who gather in your restaurant or at your bar for a holiday party or an impromptu after-work drink.
Over the course of the last few months, I have wandered throughout the state enjoying many of our great restaurants and I almost always choose to sit at the bar. I enjoy the action. The bartenders who like being onstage as they mix craft cocktails, pour beers and open wines.
This is their job, providing guests at the bar an expertly made and served beverage and, hopefully, also a great meal. Unfortunately, in this climate of labor shortages, it has become necessary for bartenders to take tables on the floor as well. On one hand, that's financially good for the bartender, provided that bar guests don't get upset; on the other, service invariably suffers and it is worse for customers in the restaurant as bartenders who should be making their drinks are now waiting tables too.
But lack of staffing has additional downfalls. I've noticed that when the bar is jammed and the floor is slow, staff tend to be in groups chatting as opposed to helping their bartenders get ice, load dishwashers, get bottles, etc. To all the managers and owners, it is imperative to create a workplace that values teamwork — and helping each other! Yes, some bars staff bar backs, but, again, with college students gone, they seem to be available on weekends only.
Where do we get additional staffing? Some states are lowering the age of bar staff to 17 years old, allowing that age group to bartend, which might alleviate some of the crunch. Perhaps Rhode Island should consider changing the law. I also have noticed that the once sought-after position of bartender isn't as glamorous or enticing as it once was pre-COVID. For the life of me, I don't understand this situation. I thoroughly loved bartending; it was fun!
As a result, many establishments are hiring staff who have never bartended prior to getting behind the bar and have little knowledge of how to make drinks or make recommendations. These people are training on the job, usually scheduled during slower day shifts. Management should be watching over these rookies, training them in all the nuances of proper bartending. They need to have product knowledge and an understanding of popular and traditional drinks. Wine service will likely fall by the wayside, because what young adult knows much about wine?
I am not complaining at all; however, I am fully aware of the travails that all my restaurant and bar friends are going through. This is the time to train the next group of staff who may hopefully become proficient and tenured. I also believe in staff meetings as a way to discuss the pros and cons of the bar situation while the business is not open to the public. I always found these meetings to be quite useful, letting the staff know what is expected of them and, conversely, the staff letting management know what they expect without repercussions.
Creating an environment in which everyone can thrive is what we as managers and owners truly want: a rewarding workplace in which everyone feels empowered and enjoys their jobs. If you can achieve this, your guests will notice. Happy employees = happy guests!
Len Panaggio's career in food and wine spans more than three decades as an owner and as a beverage director at some of the top restaurants in Rhode Island. Currently a hospitality consultant, Len is a graduate of the University of Rhode Island and has attended the Culinary Institute of America Master Sommelier program and the Sterling School of Service and Hospitality.