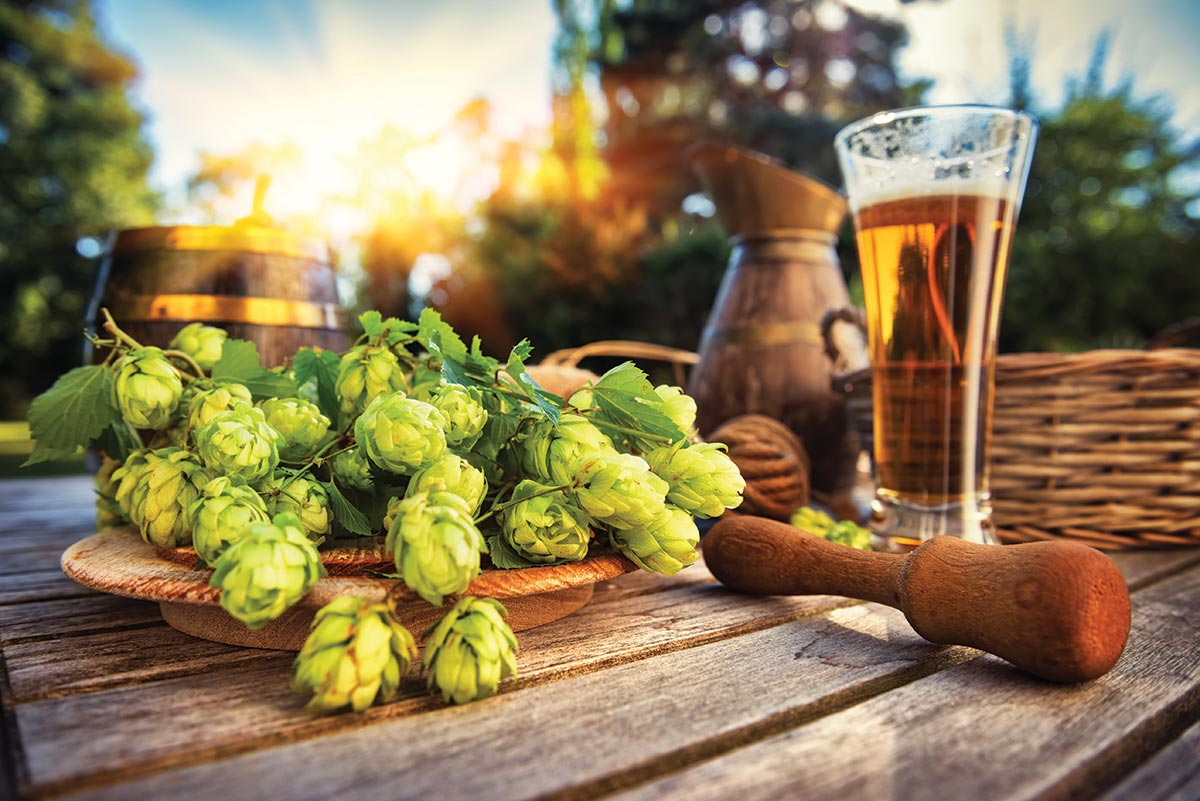 By Len Pannagio
In June of 2011, I wrote in this magazine about the slowly growing organic movement in the alcohol industry. In the 1980s, I discovered Merchant du Vin, importers of handmade beers from Europe – really, craft beers before the craft beer movement. They had an organic beer back then, the first on the planet: Pinkus Müller from the town of Münster in Northern Germany, using organically grown barley malt and whole-hop blossoms.
Back then, I thought there would be enough guests curious about organic products. I had visions of being a visionary, and while we sold enough to keep it, it really didn't catch on. But in 2012, Samuel Smith's Old Brewery of Tadcaster, Yorkshire, England, started brewing their versions of organic beer. Slowly but surely the demand for organic adult beverages was gathering momentum!
As I watched the Super Bowl ads during this year's game, one in particular piqued my interest: Michelob Ultra Pure Gold Organic Light Lager Beer. That's a mouthful – makes me thirsty just saying it. Why was I interested? Well, if the big boys are rolling out yet another line extension, but this one with a subtle message, it must have some merit.
Clearly, the farm-to-table movement has taken hold in our collective dining conscience and now the farm-to-bottle movement is jumping on the bandwagon.
As with many things in our industry, millennials are driving the demand for the perfect adult beverage that meets all their unique criteria: low in carbs, 2.3; low in calories, 85; low in alcohol, 3.8%; and organic – when possible. Enter Michelob Ultra Pure Gold! It was a feel-good ad with a mission – helping farmers grow organic grains, which, to be certified, is an expensive process.
This movement is not just in the beer industry. Years ago, I also remember the emergence of Prairie Organic Vodka, touting the fact that they use organically grown corn, also an expensive process. They are successful and growing, bolstered by the wave of this trend. Then we move to the wine industry. There has been a slow yet pervasive move toward sustainable, organic and, in some cases, biodynamic farming. Eliminating the use of herbicides and pesticides is critical in achieving these goals, as well as protecting the land given to them by Mother Nature.
Not to be cynical, but at first these were considered selling points in the open market, but through the 2000s the move to know what we eat, how it was grown and processed has had a meaningful impact on all of us. And, not to be a naysayer, but at the end of the day, we are consuming a product that was grown organically and cared for along the way to the bottle, but it still is a toxin – alcohol.
I don't think there is a perceptive change in the taste or aroma of the products, but the message here is, well, a message. Supporting good practices in the farming community has become so important to our marketplace, so much so that it is in fact a selling point, that will only intensify as we move forward.
As you look at the offerings you have at the bar and are considering changes before the busy season approaches, ask your salesperson about the nature of the beer, wine or spirit you are considering.
Your customers are looking to be a part of this movement and want these products. Avant-garde products doing good for many? I'll drink to that.
Len Panaggio's career in food and wine spans more than three decades as an owner and as a beverage director at some of the top restaurants in Rhode Island. Currently a hospitality consultant, Len is a graduate of the University of Rhode Island and has attended the Culinary Institute of America Master Sommelier program and the Sterling School of Service and Hospitality.