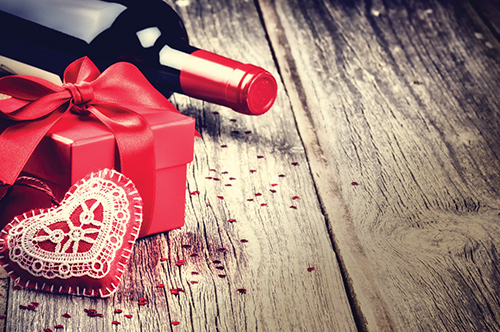 Valentine's Day, a day of love… and lovely wine
By Len Panaggio
Here we are, February. Days are getting longer, signs of spring everywhere. Having survived both the holidays and January, we have much to look forward to from a business perspective. Valentine's Day is just around the corner, and it usually means a financial shot in the arm! But alas, this year it falls on a Saturday. Nevertheless, it will bring us all an opportunity to offer a wine I mentioned in my last article — dry rosé.
I do hope that some of you attended Mohegan Sun's Sun WineFest last month. If so, you would have tasted quite a few dry rosés! I believe that this wine has finally been embraced by our consumers as evidenced by the many out-of-stocks that I witnessed over the last year. Rosé is an especially great wine for summer, but its lovely color makes it a wonderful choice for Valentine's Day. If you look at restaurant wine lists today, you will see rosés are more prevalent than ever before. Smart operators get it; the rest of us need to step up!
Rosé has been around a long time, and this wine comes at varying price points, but it doesn't top out in the stratosphere. Have your salesperson provide you with a variety of samples from around the world. The French rosés have traditionally garnered most of the attention, leading the way for the remainder of producers. Areas including Spain, Portugal and Italy compete not only in quality, but at a much more favorable price point. And, in America, rosé is also produced at a high level of quality and at great prices.
Now, back to Valentine's Day and rosé. Most restaurants will have a special Valentine's Day menu, or at least some love-inspired additions like oysters, chocolate and Champagne to assist in the mood. For those featuring such pairings for their menu additions or tasting menus, consider including a still rosé. The food pairings for this wine are endless, as it possesses the acidity of a white wine and the fruit of a red wine.
Also, take this opportunity to consider rosé as a by-the-glass option as summer gets closer. Most consumers associate rosé with summer, since its aromas of watermelon, fresh fruits and herbs evoke a sunny day. On the palate, it is light and refreshing with some minerality and good acidity. And the color, it's perfect for Valentine's Day or a summer day. As a side note, rosé gets a little challenged as a food pairing in the colder months when food styles become heavier. This isn't to say that it cannot be consumed year round, and as time goes on, I think it may just replace pinot grigio as the "go-to" aperitif wine.
As you start to hopefully integrate rosé into your operation, be mindful of how it is stored. I've seen many restaurants storing their white wines and rosés in beer coolers. Beer temperature suppresses all the goodness in not just rosé, but all our white wines and beers. Slowly, restaurants are now beginning to address this situation, but just be mindful of it.
As I have always have said, our loyal guests demand that as operators, we provide them with the best possible dining experience. It is incumbent upon us to stay ahead of the curve and right now, dry, still rosés fit the bill!
Cheers to love!
Len Panaggio's career in food and wine spans more than three decades as an owner and as a beverage director at some of the top restaurants in Rhode Island. Currently a hospitality consultant, Len is a graduate of the University of Rhode Island and has attended the Culinary Institute of America Master Sommelier program and the Sterling School of Service and Hospitality.