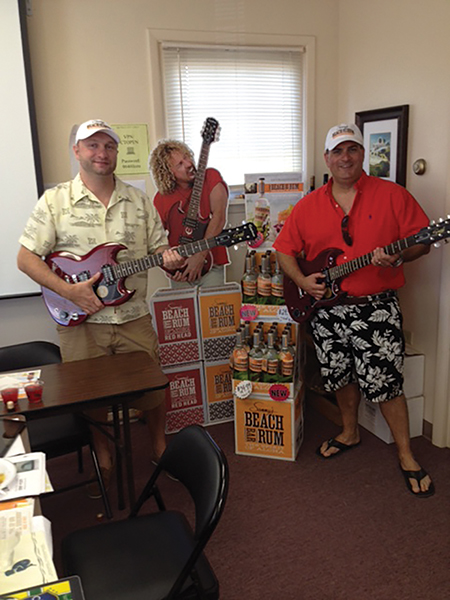 Multi-platinum rocker and member in the Rock and Roll Hall of Fame, Sammy Hagar launched his namesake premium quality silver rum, Sammy's Beach Bar Rum. The rum is made in Hawaii, where he lives part-time and owns a restaurant. Sammy's Beach Bar Rum uses first-growth and first-press sugar cane, harvested and gently pressed near the distillery. The production process includes hand-distilling the mash in small batches using unique handmade pot stills to purify the finished product while leaving the cane's distinct character. The result is "pure premium rum with a delicately delicious flavor and a hint of tropical Hawaii." Opici Family Distributing carries the product, now available in the state.
The Opici Family Distributing Connecticut management team with the real 'Red Rocker' and spirits entrepreneur, Sammy Hagar (center), during the Connecticut kickoff event for Sammy's Beach Bar Rum.
Ryan Radecki, Regional Manager, Imperial Brands and Scott Randall, General Sales Manager, Opici Family Distributing pose with the POS cutout of Sammy Hagar.