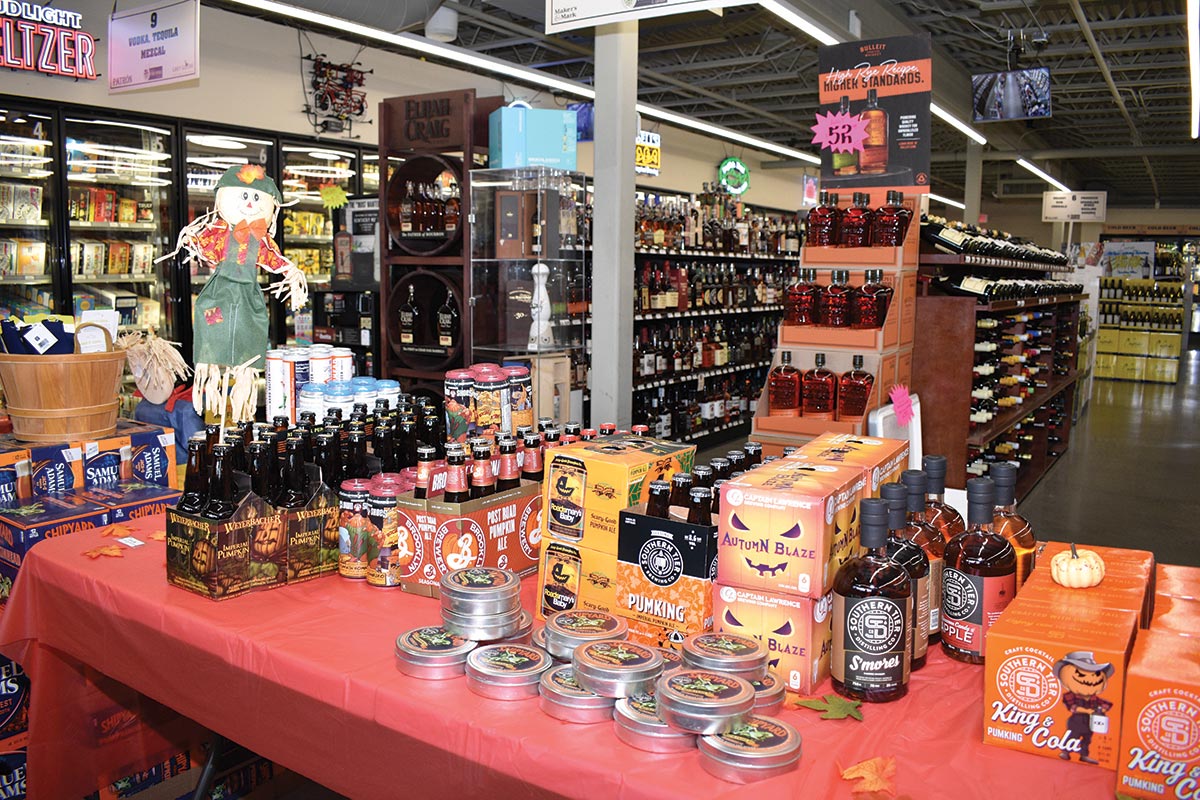 Paul's Fine Wine & Spirits
132 Mendon Road
Cumberland, RI
Square footage: 4,800
Years in operation: 10 years
By Sara Capozzi
Nayan and Niri Patel were food franchise owners when they decided to switch gears and invest in an entirely different business venture, purchasing Paul's Fine Wine & Spirits in 2011. The husband-and-wife team was familiar with the area and its customer base already, since they owned Subway franchises in Cumberland and nearby Lincoln and Taunton. "We lived locally, so we knew the town; we felt comfortable, so it was a no-brainer doing business in town," said Nayan Patel. "We knew the people, they knew us."
The Patels continued to grow their retail business and clientele, and after six years in their first location, purchased property and built a new, larger store which they moved into in December 2017. Moving from the previous 1,700-square-foot space to the new 4,800-square-foot location opened up new possibilities in the variety of beer, wine and spirits the shop could carry.
More space also gave the Patels a chance to design the Paul's layout from scratch, where customers will now find items neatly organized by product type and labeled with bright signage, making the shopping experience even simpler. "We wanted it to be an easy flow for customers, to be able to find things quickly, so we kept that in mind," Patel said. "For instance, we've put all IPA, sours and lagers together. It makes it easier for [shoppers] and for our staff."
In learning to stock a larger store, the duo used readily available resources. Patel said he took advice from suppliers and wholesalers, putting in extra time to learn about craft spirits, microbrews and fine wine varietals. The goal: "To really grow and expand and try new things and find those hidden gems that were good, we just didn't have them in the store … [and] I knew the ultimate people I should be listening to are my customers." Plenty of space in the 28-door beer cooler gives the team a chance to keep a wide and ever-evolving variety of brews cold and in stock.
Now, the Patels and their staff of eight employees have found the right mix, offering a variety of items at different price points that keep customers coming back for more. The Patels and their employees have continued to grow the store's SKUs of spirits across the board. Lately, he said, bourbons, fine wine and ready-to-drink cocktails have been at the top of the store's sales. With more new products than ever, customers are more interested in discovering the latest items, too.
"What we've noticed is, our customers come in every week and say, 'What have you got that's new?'" Patel said. "So, it keeps us on our toes, because we're constantly looking at new stuff that's coming out. We've got to make sure we're on top of it, because if we're not, our customers will let us know." Paul's promotes new items and barrel select offerings, staying top-of-mind through its Instagram page, as much as word-of-mouth.
With easy curbside and in-store pickup, as well as delivery for locals within a five-to-seven-mile radius, the Paul's team method is all about delivering customer service with convenience. The shop recently launched its own app, making ordering for pickup and delivery even easier and offers a frequent shopper rewards program. Providing a positive customer experience is paramount at Paul's, and at the Patels' latest endeavor, Cumberland Hill Liquors, purchased in March 2020.
"Our number one priority is customer service," Patel said. "We're spoiled with the customers; between Lincoln and Cumberland, we've got a great clientele of customers that make it a joy of coming to work every day."