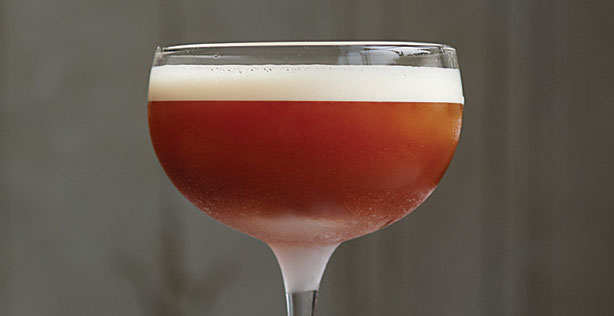 Mixologists are finding the versatile grape brandy perfect for cocktails, both new and revised.
The signature drink of Peru, the Pisco Sour, has quickly ascended from relative obscurity to summer staple in the U.S., with consumers swapping Mojitos and Margaritas for the simple and refreshing mix of Pisco, lime juice and sugar, topped with a splash of bitters.
But even as the days grow shorter and cooler autumn nights return, Naomi Levy, Bar Manager at Eastern Standard in Boston, reaches for a bottle of Peruvian Pisco, to mix her back-to-school themed cocktail, the Teacher's Pet. "The Pisco cocktails that we know, tend to be warmer-weather drinks," says Levy. But she says upon closer inspection, Peruvian Pisco is very different from other white spirits. "It's a clear spirit of great complexity that lends itself to many other flavors, making it wonderful to mix with year-round," she adds. The Teacher's Pet combines Pisco with Calvados, an apple spirit that brings out Pisco's fruitiness, while cinnamon and ginger syrups enhance the Pisco's earthy terroir, with fresh lemon added for balance.
Eamon Rockey, General Manager of Betony in midtown Manhattan, has impressed many well-traveled patrons with an authentic Pisco Sour. But his most recent Pisco epiphany comes by way of an after-dinner cocktail. "I thought, what do you drink at the end of a meal? Cognac. It's brandy, made from grapes, so with that in mind I wondered do we necessarily need the barrel age, and that led me right to Pisco," says Rockey.
Grape Connections
With the addition of cold-brewed coffee, cascara syrup (made from the fruit of the coffee plant), the bittersweet orange oils of house-made oleo saccharum and red wine, Rockey transforms his passion for Pisco into the Beat the Devil cocktail. According to Rockey, the common grape origin of Pisco and red wine works to "really tie the drink together," resulting in a seamless and full-bodied cocktail that makes an inventive addition to the Betony digestif menu.
Grapes are also a recurring theme in The Outsider, created by Michael Martensen, co-founder of Proof + Pantry in Dallas, which combines Peruvian Pisco with aged American brandy and Sherry. "I was inspired by Tiki cocktails, and those guys were mixing several types of aged and unaged rum. Here we see that idea in the fresh, unaged Macchu Pisco and the barrel-aged Germain Robin Barrel Select," says Martensen, who anchors the cocktail firmly in the fall season with the fresh juice of seasonal Rio Star Red grapefruit and the island spice of falernum syrup, balanced with small additions of lime juice and simple syrup. "It's a tiki-esque, brandy-themed drink. I like the idea of layering grape with grape with grape for a cocktail that has real pop," says Martensen.
Still Cool When It's Cold Out
Darryl D. Chan, Head Bartender at Bar Pleiades within NYC's Café Boulud, took inspiration from the classic Pisco Punch. Beginning with a formula borrowed from cocktail author David Wondrich, he devised Pachamama Punch: 1 part lemon juice, 5 parts La Diablada Pisco, 1 part Massenez Poire Eau de Vie, 2 parts Lustau Dry Oloroso Sherry and 2 parts Earl Grey tea, naming the batched drink for a goddess revered among people of the Andean mountains.
"With the popularity of Pisco Sours and Pisco Punch, people are really open to experiencing Pisco in new ways, so it is up to us as bartenders to figure out all the ways it works," says Chan, noting his punch can be served either hot or cold.This winter, he'll be serving it steaming hot, ladled into mismatched vintage punch cups and garnished with fresh-grated nutmeg.
Like Chan's punch, the classic cold-weather egg nog gets a Peruvian makeover in the hands of Torrence T. Swain at Bourbon Steak in Washington, DC. "You often see brandy and Cognac in egg nog, and this is a similar spirit from a different place," says Swain, who explains that Peruvian Pisco's great breadth of single-varietal expressions offer many options to explore. "I like Italia for this drink," explains Swain, referring to the highly perfumed aromatic single-grape Pisco. "It takes the traditional egg nog and makes it fresh and light on the palate."
Also in the nation's capital, at China Chilcano, one of the José Andrés ThinkFoodGroup restaurants, Peruvian Pisco joins with another uniquely Peruvian flavor in the Algarrobina cocktail, named for the dark carob-based syrup that lends its sweetness to the drink. For Beverage Development Manager Jasmine Chae, Pisco's unexpected ability to work in a rich, dessert drink is part of the reason she fell in love with the spirit. "With Pisco there is such diversity of styles that there really is a Pisco for every occasion. I think it's kind of a bartender's dream to have a spirit that can be so many things at once," says Chae. "From aromatic grape Piscos to those that are a little more neutral, you have a lot of tools to choose from" she says.
Summer may be over, but even with a chill set to engulf Boston, Levy advises you don't let those Peruvian Pisco bottles gather dust alongside the other white spirits. "I would say call your reps and have them taste you on every Pisco in the portfolio. You'll quickly discover just how wonderful and versatile Pisco can be."
PISCO COCKTAILS
Teacher's Pet
By Naomi Levy, Eastern Standard
1½ oz Macchu Pisco
½ oz Daron Calvados
½ oz Lemon Juice
½ oz Ginger Syrup
½ oz Cinnamon Syrup (break up cinnamon sticks and leave overnight in simple syrup before straining)
Combine all ingredients in a mixing glass. Shake and strain into a cocktail glass. Garnish with an apple chip.
Beat the Devil
By Eamon Rockey, Betony
2 oz  La Diablada Pisco
1 oz Cold-Brew Coffee
½ oz Full-Bodied Red Wine
½ oz Cascara Syrup
¼ oz Orange Oleo Saccharum*
*For Oleo Saccharum: muddle rinds of lemon, orange or other citrus with sugar and allow to set for one to 24 hours to extract the oils. Strain the extracted liquid before use.
Shake all ingredients and pour through a fine mesh strainer into a chilled cocktail glass.
Algarrobina
Courtesy of José Andrés' ThinkFoodGroup
1½ oz Macchu Pisco
½ oz Tempus Fugit Crème de Cacao
¾ oz Algarrobina Syrup, or Carob Syrup if needed
¼ oz Vanilla Syrup*
2 oz Evaporated Milk
Ground Cinnamon, for garnish
*For the Vanilla Syrup:
1 cup sugar
1 cup water
1 whole vanilla bean, cut into 4 equal pieces
Cut 1 piece of the vanilla bean in half lengthwise and remove the seeds. Reserve the remaining three pieces for later use. Add the vanilla seeds and the bean shell to the sugar and let sit overnight. For the syrup, add the water to a small saucepan and bring to a boil. Add the vanilla sugar and stir until it dissolves. Cool and strain.
Combine all of the ingredients into a cocktail shaker and fill with ice. Shake vigorously until well chilled, about 45 seconds. Double strain into a coupe glass and garnish with a pinch of cinnamon.
The Macchu Mist
By Torrence T. Swain, Bourbon Steak
1½ oz La Diablada Moscatel
½ oz Axta Vermouth
¼ oz Crème De Violette
1 oz Lime Juice
½ oz Cane Syrup
1 Egg White
3 dashes Lavender Bitters
Shake and fine strain into a coupe. Garnish with lavender flowers.
The Outsider
By Michael Martensen, Proof + Pantry
1½ oz Macchu Pisco
½ oz Germain Robin Barrel Select
1 bar spoon of Falernum
1 bar spoon of Pedro Ximenez Sherry
¾ oz Fresh Grapefruit
½ oz Fresh Lime Juice
½ oz Simple Syrup
Add all the ingredients to a cocktail shaker with ice and shake vigorously. Strain into a tall glass filled with crushed ice. Garnish with a twist of grapefruit peel and fresh grated cinnamon.
Pachamama Punch
By Darryl D. Chan, Bar Pleiades at Café Boulud
1 oz Buddha's Hand Oleo Saccharum
1 oz Lemon Juice
5 oz La Diablada Pisco
1 oz Massenez Poire Eau de Vie
2 oz Lustau Dry Oloroso Sherry
2 oz Earl Grey Tea
Combine all ingredients in a punch bowl/crock pot. Batch ahead of time to have flavors combine. Garnish with grated nutmeg.