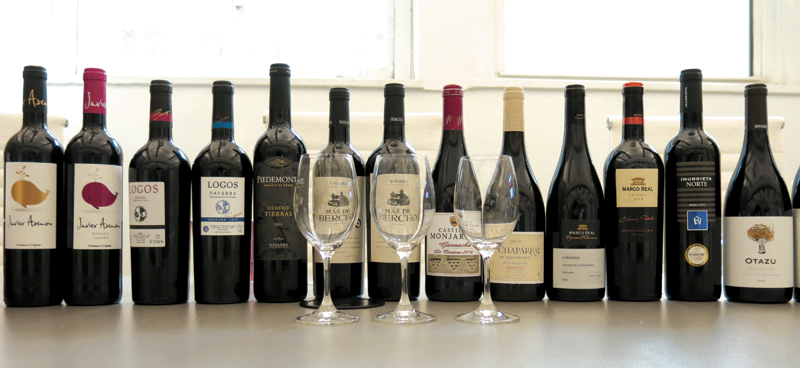 Navarra's Journey to Express Itself
Kristen Bieler
Located right between Rioja and Bordeaux, DO Navarra benefits from a very special geographical situation in northern Spain, with vineyards stretching from the foothills of the Pyrenees to the high Ebro Valley. This veteran Spanish region, with official status dating back to the 1930s, has through the decades built a strong reputation based on distinctive rosés, made mainly with Grenache and applying the selective method of saignée.
Being in the shadow of Rioja, its famous neighbor, doesn't help. Navarra also has no single signature grape or style. The decision made decades ago to focus on dry, refreshing Rosado (rosé), proved wise economically, but hasn't helped the region's reputation as a source of serious red wines.
Yet there are signs that Navarra is changing course as a new generation of winemakers is making important quality-driven changes in vineyards and cellars. "Today's winemakers are taking the lessons learned from their grandparents and combining them with innovation and a renewed respect for nature," says David Palacios, President of D.O. Navarra, adding that women now make up half of the region's winemakers and winery directors.
The Evolution Of Identity
"Every region in Spain has had to move away from massive blending and cheap wine production; when you think about what Navarra has achieved since the mid-20th century under Franco's totalitarian regime, it's magnificent," said Gil Avital, Partner/Wine Director at Tertulia in NYC's West Village, who was part of a panel that Beverage Media recently hosted to taste through a range of Navarra's wines.
Because of its particular location, Navarra has a huge asset in vinegrowing: a mosaic of terroirs with varied climate conditions, explained panelist Robin Kelley O'Connor, sommelier/writer/wine judge, who knows the region intimately: "It's rare to taste a wine and exclaim, 'Oh, this is Navarra!' which is partly a result of the geographic diversity. In cooler northern areas you see light, fresh reds with natural acidity, and in the south it's continental and hot and abuts a desert—the wines are bigger with more robust tannins."
While the presence of French varieties may confuse some, it's important to remember that these grapes are not newcomers here: "The kingdom of Navarra went from Barcelona up to Bordeaux, and had several French dynasties reigning for more than three centuries," noted Kelley O'Connor. "France gave them Cabernet and Merlot a very long time ago—one could argue these are traditional grapes here."
"If any region in Spain is going to make Cabernet, it should be here," said Charles Abbott, sommelier, NYC's Casa Mono. "Navarra has a long tradition of working with it: first plantings were done in the '70s."
Still, Garnacha is increasingly viewed as the region's most prized asset and is making a comeback. "We're going back to our roots and focusing on our native Garnacha, which gave our rosado wines such fame, to allow this indigenous varietal to express its northern personality," said Palacios.
"I believe Garnacha in Navarra can rival Châteauneuf in style and quality, at a fraction of the price," said panelist Veronica Stoler, Wine Buyer at NYC's Despaña Vinos y Más. Avital agreed: "They have amazing old vines and a history of knowing how to make great wine with this variety."
While today two-thirds of Navarra's Garnacha is dedicated to red wine production, rosado remains an important Navarra signature. "I have always believed that Navarra makes the best rosé outside of Provence," stated Kelley O'Connor.
At Tertulia, Avital finds Navarra rosado to be immensely pourable and ideally priced. "They don't need a hand-sell or a lot of discussion. A lot of people try to complicate rosé today, but with Navarra you know what you are getting." Stoler, who carries over a dozen Spanish rosados in her store, always features a handful from Navarra. "The region focused on rosé long before it was trendy, and the price points are so compelling."
Selling Value & Terroir
"When I visit Navarra and see this gorgeous landscape which is perfect for wine, I know the potential is there," Avital said. "I'm excited to see more producers focusing on specific terroirs, specific vineyards."
"It's also encouraging to see many winemakers dialing back on oak, returning to cement or clay vessels which allow terroir expression to really come through," said Kelley O'Connor. Besides, Navarra's value proposition is hard to beat. "I'll take these wines any day of the week over offerings from Bordeaux in the $18-$25 range. You're getting much more bang for your buck," he added.
Not to mention the ability to find wines with age at a store, added Stoler: "To have wines from 2009 and 2010 that sell for less than $30 a bottle—that's truly unique. Very few other regions can do that."
See more Navarra highlights here.