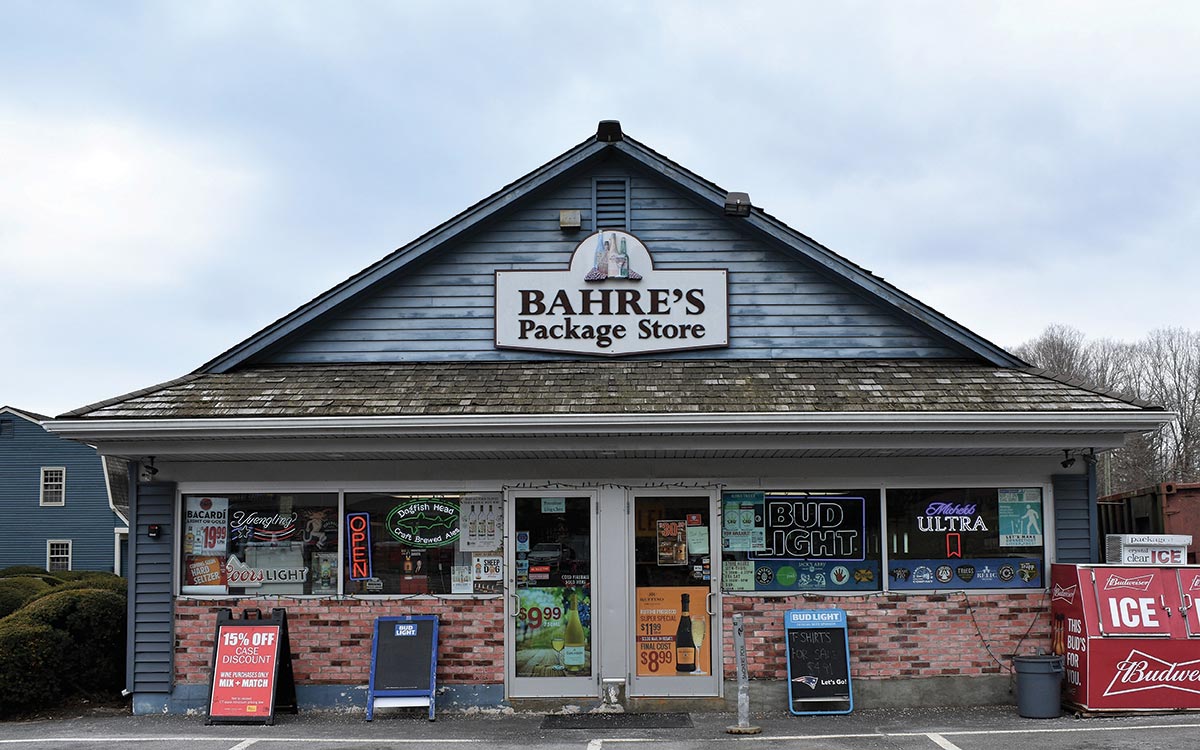 Bahre's Package Store
224 Albany Turnpike
Canton, CT
Square footage: 2,000
Years in operation: 5 years
By Sara Capozzi
Vicky Chen was a corporate accountant in Maryland, but she always had dreams of owning her own business… and retiring early. After earning her CPA license, she started looking for an opportunity and set her sights on opening a package store. A cozy Connecticut town became her launching point.
When the retail space on Albany Turnpike in Canton opened in 2016, Chen took a drive to view it and instantly loved the atmosphere of the shop as well as its location, nestled in a picturesque downtown filled with Colonial-style architecture. She opened Bahre's Package Store after relocating to Connecticut in August of that same year. The building had operated as a package store for at least 45 years prior, named after town real estate developer and landowner Henry Bahre.
The store's client base is naturally primarily made up of locals of Canton and surrounding towns. Even former customers who have moved out of town will stop in when returning to the area to visit family and friends who still reside there, Chen said. She places a strong focus on the customer experience, making sure that shoppers can find what they are looking for and making recommendations when needed.
"If a customer comes in and they don't know what they're looking for, I always approach them and ask them if they're looking for something specific and give them advice," Chen said. "Those recommendations that I give out are because I've already tried those wines before, so I listen to their requests and then make my recommendations. And then most of them come back and say they really liked the wine or really liked the bourbon. So after you've built up that customer trust and relationship, [business is] easier in the long run."
Chen is able to fit a great variety into the shop's 2,000 square feet and patrons will find a little bit of everything, from spirits and liqueurs to an array of wine brands and a selection of sakes. "Even though we're small, we have almost everything," Chen said. "If there's something we don't have, we always special order it for the customer, if we can find it in Connecticut."
Customer tastes tend to vary by the season, with whiskeys more in demand during the colder months and craft beer selling most during the summer. Cabernet is a popular varietal, as well as bourbons and vodka.
Chen enjoys supporting local brands and products from a variety of Connecticut-owned distilleries and wineries, which also line the shelves. Shoppers will find an ample stock of popular local craft beers, including selections from breweries such as Thomas Hooker, Back East Brewing, Stony Creek and Two Roads among them.
The daily duties at Bahre's keep Chen busy; she splits her time between the shop and her 5-year-old son. While her skills from her accounting degree are useful in the day-to-day work of owning the shop, including ordering, inventory management and bookkeeping, owning and operating a package store has been a more challenging endeavor than she expected.
"Before I started here, I thought this was a very easy business – products in, products out – it's that simple," she said. "But the more I learned, it's not that easy. You have staff management, you have inventory management, you want to buy at the right price so you can pass the discount on to the customer. You [also] want to make sure to buy at the right time … it's a lot of work, it's not as simple as I thought." Chen said she aligns key stock purchases with times of the year when certain items are discounted by distributors, also leveraging savings for shoppers. "We try to price as competitively as possible," Chen said. "A few of our customers have told me that our prices are better than bigger stores."