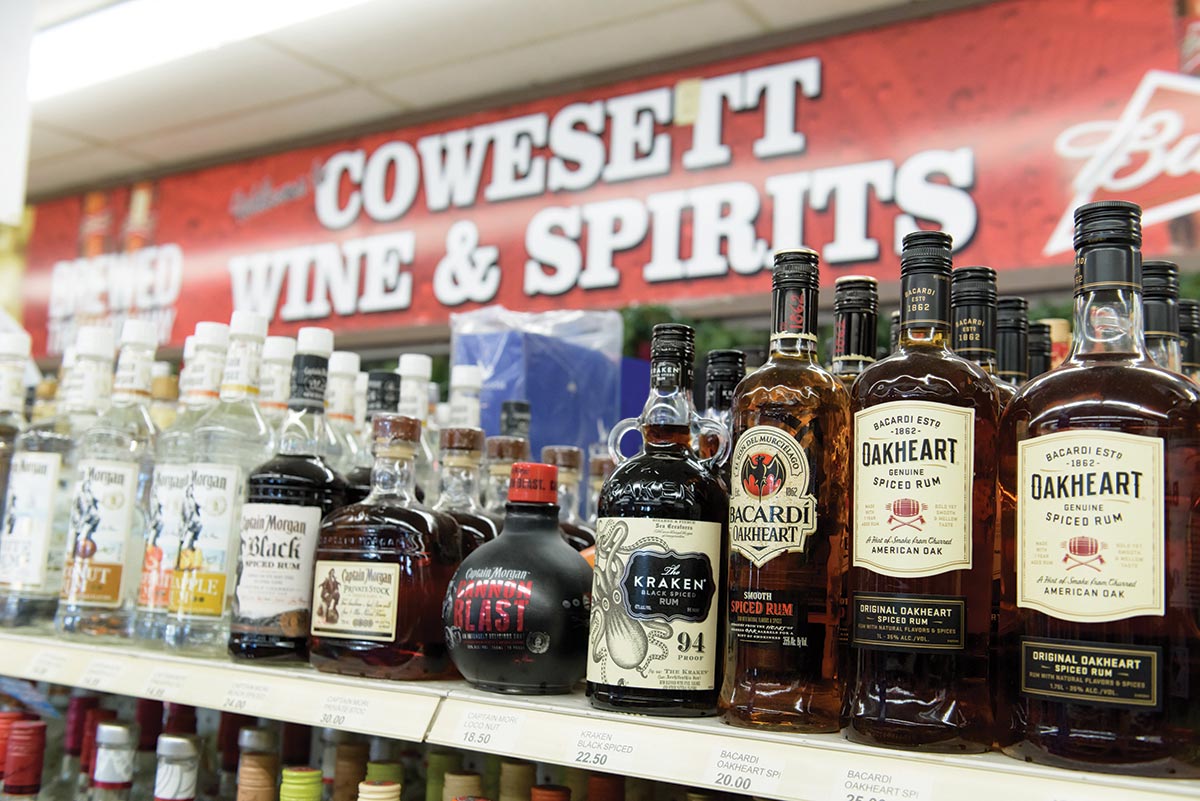 Cowesett Wine & Spirits
285 Cowesett Avenue
West Warwick, RI
Square footage: 3,000
Years in operation: 7
By Nick Caito
Owning a liquor store is a second career for Jeff Pagnozzi, but when he, along with business partner Jeff Demers, purchased Cowesett Wine & Spirits seven years ago, he wasn't a newcomer to the business.
During his college days at the University of Bridgeport in Connecticut, Pagnozzi split his free time between playing soccer and working at a local liquor store, where he gained an appreciation for the business.
"I worked for a mom and pop, a German couple," Pagnozzi said. "It was a small store, but I loved the interaction with customers coming in, talking up the day's story and getting what they needed. Got my hands dirty behind the counter, worked with customers, delivered kegs, all that fun stuff. And I said that would be a fun thing to do all day."
The interim decades were spent at the family business, Pagnozzi Plumbing in Smithfield. Seven years ago, Jeff sold his portion of the business to his brother and decided to buy a liquor store.
Cowesett Wine & Spirits had been owned by an older couple who were looking to retire after 19 years. The former 7-11 convenience store with a visible location on a busy road of West Warwick proved to be the perfect opportunity for Pagnozzi.
After buying the store, Pagnozzi had something of a listening tour. "The first thing we had to do was bring it up to speed [with] the stores around us," he said. "Hard work pays off in any business … Everybody who came through the door I said 'tell me what's wrong, I'll fix it.'"
That kind of interpersonal relationship building is something Pagnozzi says is very important for his employees as well. His thirty-year professional career has taught him what to look for: someone you can trust with your business as a whole. He taps a network of local athletic coaches to find trustworthy employees looking for a job, just like he was back in college.
Pagnozzi, whose focus remains on customer service, has six part-time employees, including Kelly McKenna, who has been with Cowesett Wine & Spirits for four years.
"The customers love [my employees] because [they're] the kind of people they would want to be friends with," he said referencing McKenna, who was manning the counter. "She knows everyone by first name; she knows their pets' names, kids' names, what they drink. [She'll] have their cigarettes out and their lottery numbers punched in before they even get in the door. That's a quality employee."
Challenges have presented themselves, from competing with big box stores in Massachusetts and expanded hours in Connecticut, but Pagnozzi says the store has had sustained growth these seven years. He added more than a thousand SKUs, now offering approximately 5,000, reorganized the aisles and added a wall of top selling wines.
Now that the business is past the five-year mark, Pagnozzi says he is looking toward major improvements to the building. The parking lot was recently repaved, and the future promises new coolers and better HVAC systems.