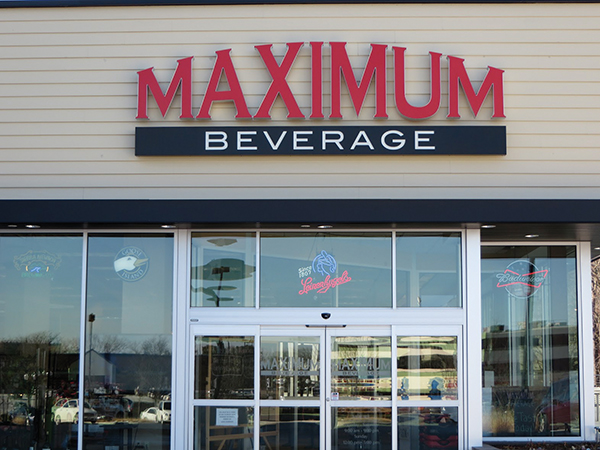 By Bob Sample
Maximum Beverage
Location: 333 North Main Street, West Hartford, CT
Square footage: 10,000
Years in operation: 10 (2 at current location)
Upscale towns can be great places to do business, but finding the right formula can be tricky. For starters, there are often plenty of competitors already in place, vying for the same well-heeled but often fickle customers.
Since 2012, Maximum Beverage has used electronics to attract customers in what has been described as one of the hippest towns in America — West Hartford, Connecticut. About 35 LED screens are arranged on end-caps, on the store's upper walls, and in other places throughout, providing details about the store's 3,000 different wines, 1,300 beers, and 1,500 varieties of spirits.
"There is no place quite like Maximum Beverage," opined co-owner Brian Whitney. That will change on March 1, when a second (and larger) Maximum Beverage opens in the next-door town of Farmington.
"In creating Maximum Beverage, we wanted to offer a high-tech experience along the lines of an Apple Store or Whole Foods Market," noted Whitney. The store's staff combines that with friendly, knowledgeable service and abundant samples.
By all measures, it has worked well. At intervals on New Year's Eve, customers were 20 deep in the checkout lines. Moreover, besides the new Farmington store, a third Maximum Beverage is on the drawing boards. The location has been selected, but Whitney is keeping mum until the deal is final.
The technology isn't just for razzle-dazzle. Pick up a bottle from one of the end-cap displays and the LED screen nearby will provide a complete rundown of its qualities — including country of origin, expert reviews, price, and suggested food pairings.
Even better, a larger LED at the front of the store — dubbed the Discovery Center —enables customers to find which wines will go with particular foods, or vice versa. Select cherries, oranges, or some other fruit and the Discovery screen will display a wealth of cocktail recipes containing that particular fruit.
Ten different wines are available at all times for sampling, thanks to the store's Cruvinet dispensers. These units can keep a bottle of wine fresh for as long as six weeks, eliminating spoilage and waste. And customers sample more than budget wines: New Year's Eve saw brisk sampling – and sales – for bottles in the $100 range. "We have plenty of craft beers on tap to sample as well," said Whitney.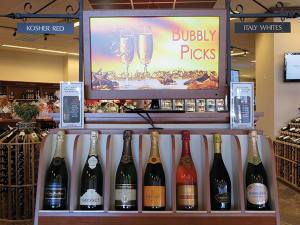 Despite the store's size, Whitney and partner Seth Goldstein have created a warm, inviting retail space. A patterned carpet runs throughout the store, and all fixtures are wood. Aisles are wide and easy to navigate. A large, glass-fronted hutch displays serving pieces for sale.
"Seventy–five percent of our customers are women," Whitney said. "We've also used electronics to track the length of time that our customers spend in the store. Right now, the average is 17 minutes. That is unheard of for a package store, which tells me we've created a place where people really like to shop."