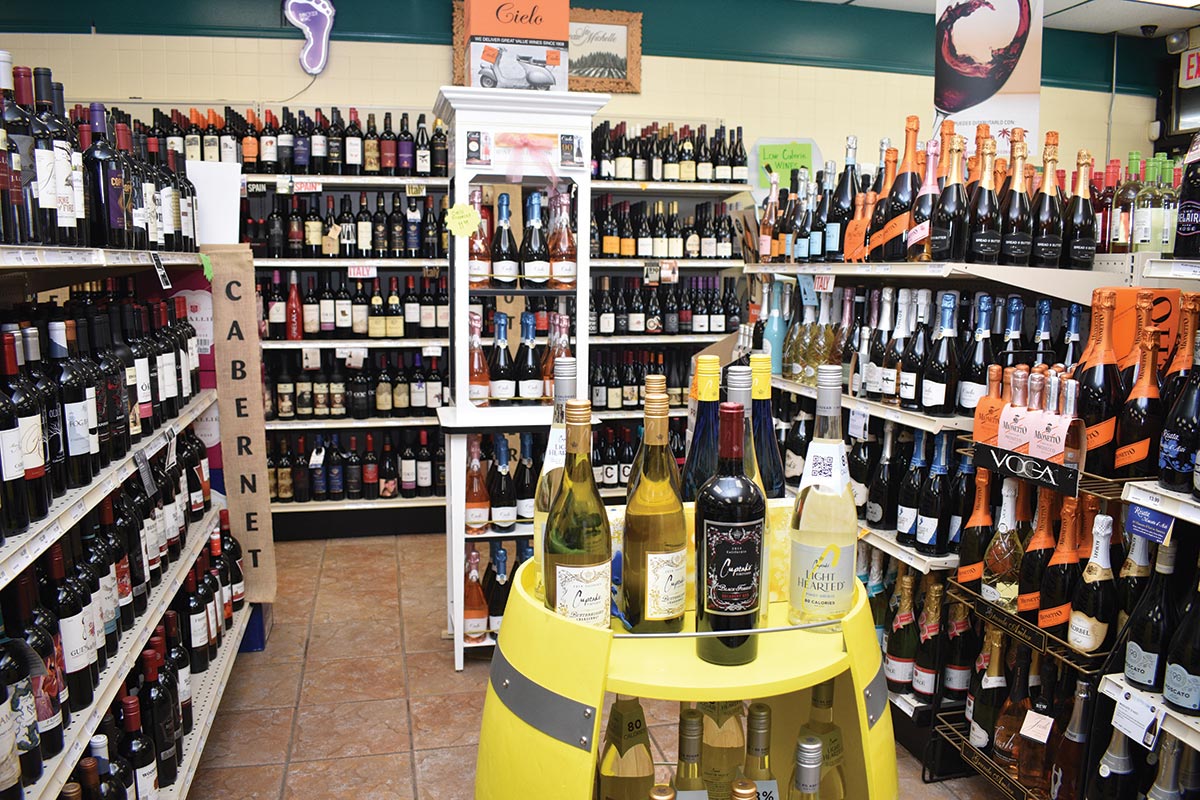 Providence Street Liquors
800 Providence Street
Woonsocket, RI
Square footage: 3,500
Years in operation: 35
By Sara Capozzi
It wasn't always Omaira Thornton's plan to be a package store owner. A kindergarten Spanish teacher during much of her career, Thornton worked part-time at Providence Street Liquors when her then-husband purchased the business in 1987. Fast-forward 35 years. Thornton has retired from teaching and is now the owner of the shop, happily running it day-to-day with her sister, Ana Ortiz-Dumas. Thornton's daughter and son also clock in part-time, along with a small team of loyal employees.
After the learning curve of her early years at the store, Thornton says she now knows the ins and outs of running her own retail outlet, crediting loyal customers and the shop's prime location on Providence Street with its continued success. Located on the western side of Woonsocket, the store is situated in a bustling neighborhood close to the border of North Smithfield, which brings in a vast clientele who are local to or passing through the area. "It's very busy. I get a lot of traffic coming in," Thornton said. "You can easily get to 146 from here, and Providence is not that far."
Customers generally hail from the towns of Woonsocket and North Smithfield, with a boost from tourism. "In the summer, you get customers from everywhere, even customers from New York who are passing by or visiting family," Thornton said. "They like to stop and get some wine or beer from Rhode Island [to] bring it back to where they're from."
The store carries an array of local products, including wines from Newport Vineyards and Greenvale Vineyards and local craft beer from Ocean State mainstays, including Whaler's Brewing, Narragansett Beer and Newport Craft Brewing & Distilling Co., satisfying both local and out-of-towners' tastes. In spirits, Thornton has witnessed that tequila has taken over in popularity over vodka sales.
Providence Street has a designated wine room, where a wide variety of bottles from different price points and regions await. From bargain brands to artisanal selections, customers can select from the latest wines to mainstay brands. Thornton also keeps customer tastes in mind when replenishing inventory. "I try to carry a little bit of everything and get feedback from customers too so I can upgrade [my selection] and if I don't have something, I can order it for them," she said.
The shop's emphasis on a positive experience keeps it competitive, Thornton said. "I do think we have really good customer service," she said. "We greet the customers; we try to learn their names … and I think that's important that they feel welcome, like they're part of the community and the store, not just a customer who comes and goes."
Thornton also enjoys interacting via Providence Street's social media accounts, where she can share news about the store's latest offerings and promote old favorites. In all, Thornton enjoys her second career, running the store day-to-day. "I miss my little kiddos," she said, now long out of the classroom. "But I do like to see different people. I talk to my customers; they tell me stories. Every day is really different from the last day. It's fun."