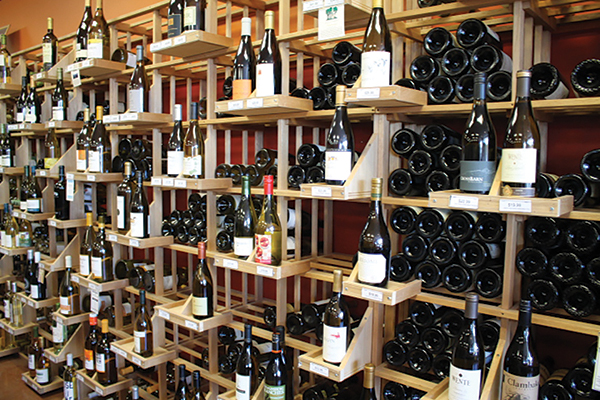 Vines Distinctive Wines and Liquors
323 Washington Ave.
North Haven, CT
Square footage: 2,800
Years in operation: 10
By Savannah Mul
Daniela Tristine was a high school English teacher prior to owning the North Haven wine shop, Vines Distinctive Wines and Liquors. When Tristine and her husband, David, had children, she took time off from teaching to take care of them. As the children got older, she began to focus on her next career move. Tristine never returned to the school classroom, but rather formed a new classroom, instead.
"My students are different [now]," Tristine said. "My customers are my students and my bottles are my subject matter." Every Friday and Saturday evening, Tristine offers in-store tastings of new products. Still, when Tristine and her family were thinking about going into business, operating a liquor store didn't come up right away.
"At first I thought about catering … I've always loved to cook." After further deliberation, her other passions surfaced. "I've always been very involved with wine and my husband loved craft beer, so that was the inception," Tristine said, as she reflected back to learning the winemaking process from her father when she was young.
Tristine staffs five employees, including herself and her husband, who is still teaching high school, and her father, who helps on a part-time basis. Tristine and her staff taste every product they bring in because she believes everyone on staff needs a solid knowledge base on each product. That makes them a better resource to help customers find exactly what they're looking for at the desired price point. "Any of these bottles can be found anywhere else, but we can't," Tristine said. "We try to make us the most marketable aspect of the store."
Tristine said she's been working with J. Christian's Restaurant in Wallingford to organize a series of wine education seminars. "It's a nice education, as well as an opportunity for people who don't have the time to come to our weekend tastings. The ultimate goal is so people won't be intimidated by a restaurant's wine list. I'm thrilled to have that alliance with them to be able to do those things."
Since owning Vines Distinctive, she has turned her customers into good friends. "I have the nicest customers … they're personal friends and we'll talk outside the store. North Haven is a great area to do business in."
Tristine also provides gift baskets for any occasion. She first asks about the customer's budget, then she will walk around the store with them to pick out the products they want to include. "It's fun; I like doing the baskets. I like the creative part."
Tristine designed her store with an idea of open space and large aisles. As a mother, she found it frustrating when stores had narrow aisles and she had little space to push a baby carriage. "I made it so two baby carriages can go by."