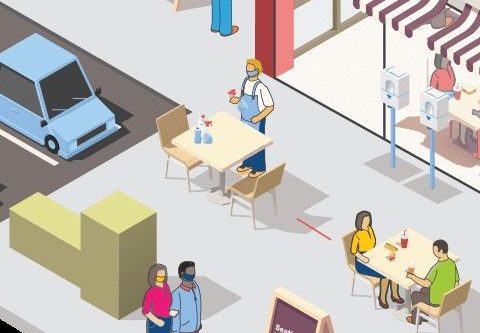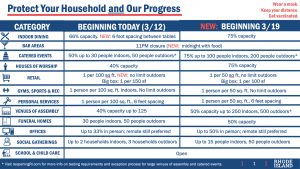 Rhode Island Gov. Dan McKee announced changes to several COVID-19-related restrictions on March 12, with some effective immediately and others set to begin on March 19.
On March 12, restaurants were given the okay to reduce spacing between tables from eight feet to six feet.
Bar patrons are allowed to be seated at bars and in bar seating until midnight, with six feet between parties. If plexiglass is installed to separate seating, spacing must be at least three feet between parties. Customers are required to order food with drinks if seated at the bar past 11:00 p.m. A "no standing" rule at bars and in bar areas remains in place.
On March 19, restaurants will be allowed to seat guests at 75% while maintaining six feet of space between tables, up from the current 66%. Catered events will be capped at 75% capacity, with no more than 100 people allowed indoors and 200 allowed at outdoor events.
The private social gathering limit will be 15 people inside and 50 people outside, up from the previous limit of guests from just two households. COVID-19 testing is still required prior to all events.
"As we approach nearly a year of COVID restrictions, the hospitality industry now sees a light at the end of the tunnel as several restaurant restrictions are eased and event capacity is increased," said Dale J. Venturini, President & CEO, RI Hospitality Association. "The RI Hospitality Association is grateful to Gov. McKee for his decisive leadership, and for his administration and Commerce RI for outlining a long-term plan which balances the restoration of our industry with sensible concern for public safety."