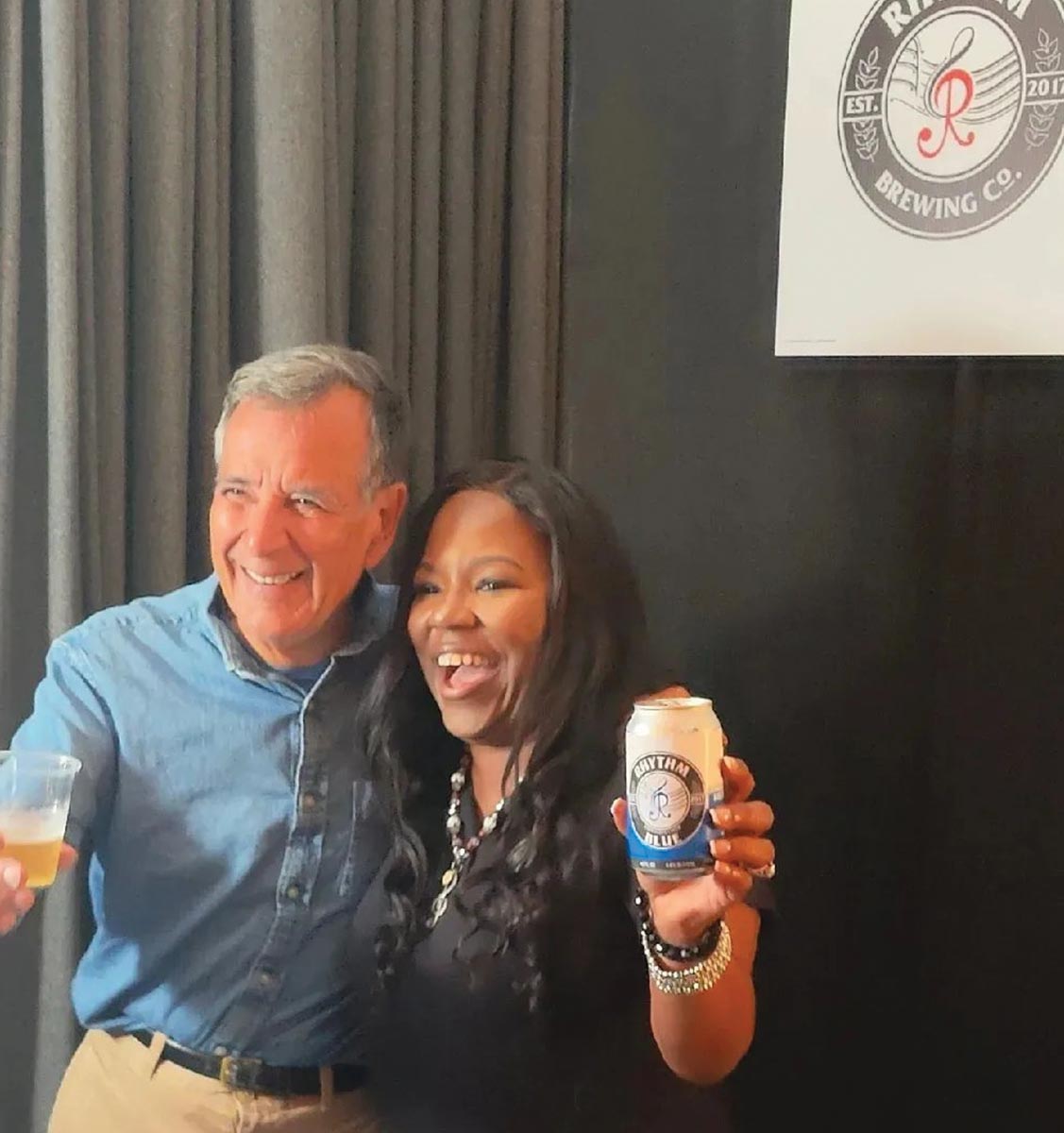 Placing in the Samuel Adams Brewer Experienceship creates high-visibility opportunity
By Staff Reports
New Haven's Rhythm Brewing Co., founded by Alisa Bowens-Mercado, was named a finalist in the Samuel Adams Brewer Experienceship in September, a mentorship program open to brewers nationwide, part of Samuel Adams' philanthropic Brewing the American Dream program.
Bowens-Mercado, who also owns Alisa's House of Salsa in New Haven, opened Rhythm Brewing Co. in 2018, making it both the first Black-owned brewery and the first Black woman-owned brewery in the state. She founded the beer brand in 2014, based on her love of lager, a notably absent category at the craft beer fests she enjoyed visiting.
"I am beyond excited for a couple of reasons," Bowens-Mercado said of advancing from semifinalist. "It's because it is going to allow a brand like ours that completely has worked Day One from grassroots family and community support to take it to the next level. And just being a semifinalist … just making it this far has been an honor, so we can only imagine what's going to happen next if we actually get in a position where they take us under their wing and see what we could do with the Experienceship."
Bowens-Mercado and the Rhythm Brewing Co. team traveled to New York City's Arlo SoHo Hotel's Courtyard on Sept. 7, held on National Beer Lover's Day, for the inaugural Crafting Dreams Beer Bash. Rhythm Brewing and the four other finalists were featured in the craft beer festival, which brings together the brewing community, beer lovers and key members of the Samuel Adams team.
Attendees then met with each craft brewing finalist, learned their stories, tasted their beers and voted on the 2022 Experienceship winner. Rhythm Brewing poured its Rhythm Blue Unfiltered Light Lager, Bowens-Mercado said, which is its latest beer brewed for a "smooth, crisp finish with fewer calories," at an ABV of 5.5%.
The winning brewery receives a one-year mentorship, where they learn more about the business side of craft brewing, working side by side with the Boston-based brewery team, plus they create a collaborative brew with Samuel Adams.
Since the Brewing the American Dream program began in 2008, Samuel Adams has supported its nonprofit lending partners by providing more than 3,600 loans totaling over $79 million to food and beverage entrepreneurs in 40 states across the country. Founder Jim Koch, who started the now-iconic Samuel Adams beer brand in his kitchen in 1984, ignites the craft beer movement, inspiring brewers and beer lovers in the decades that followed. He launched the program in the wake of his success.
The program has also provided business coaching and advising to more than 13,000 people. The businesses supported by this program have created or retained over 9,000 jobs in their local communities.
"We're passionate about the brand and we're passionate about our journey, so any time we have the opportunity to share our beer and our backstory, that's what we do as a company," Bowens-Mercado said. "To highlight diversity and inclusion, but also being the gateway of lagers into craft beer … it's a really exciting time and a fantastic opportunity."
The votes were still being tallied as of press time, with an announcement set to be made in Mic-Ocotber.