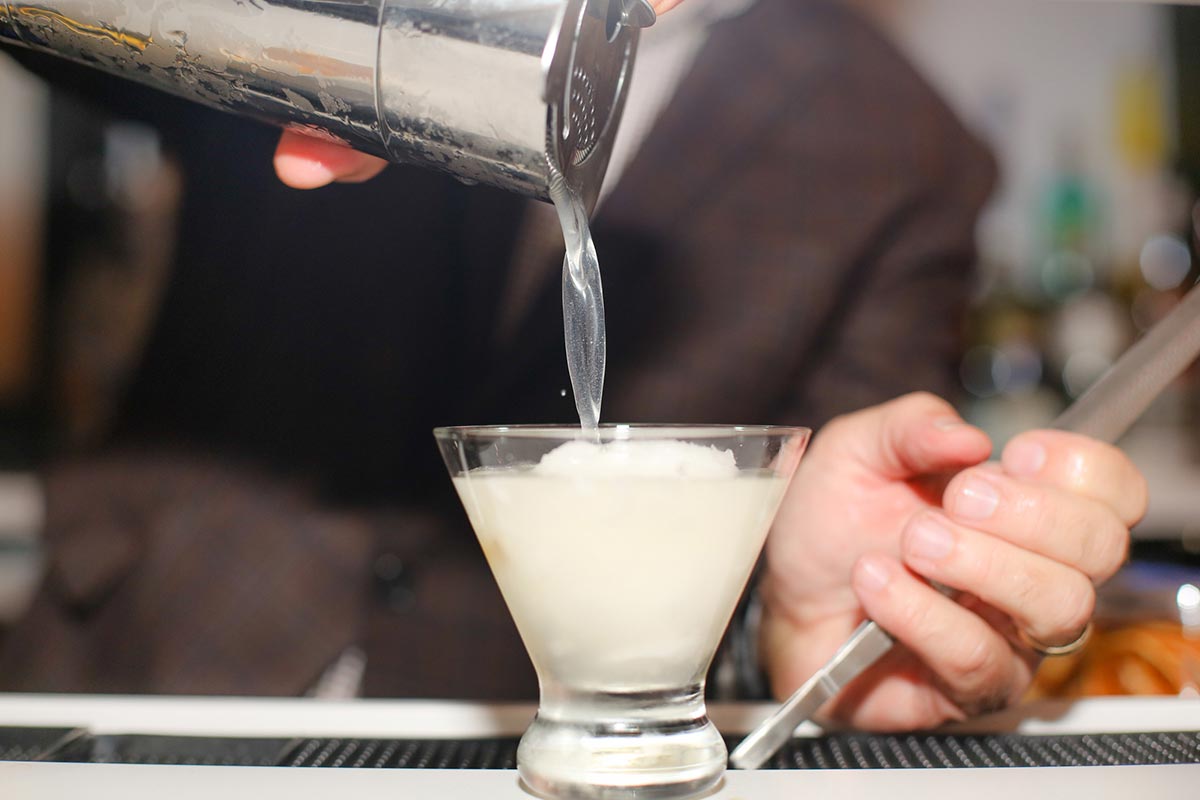 View into 2021 Takes Shape
By Sara Capozzi
It's been said before but we'll set the stage again: 2020 was a year like no other. The hospitality industry showed its creativity and agility, as professionals reimagined their operations through lockdowns, occupancy restrictions, supply chain breaks and shortages. While many businesses have sadly closed, others have emerged with new, low-contact methods, connecting with more customers via social media and by hosting virtual events and offering more takeout and delivery options. We spoke with a few business owners across the industry to hear what they're expecting in 2021.
Frank Martucci, Director of Beverage & Nightlife, Bally's Corporation, said guests will continue to seek safety as part of their guest experience, while still looking for a "wow factor" with "well-presented beverages and knowledgeable staff." Martucci sees a continued focus on healthier lifestyle choices in both food and beverage, with more guests seeking mocktails and low-ABV offerings, as well as low-carb and plant-based selections. Hospitality staff, too, will continue to place a greater emphasis on healthier lifestyle choices with "daily exercise routines, healthier eating and limited alcohol intake," he said.
Tropical and tiki beverages will continue their resurgence, as "the guest wants Instagrammable cocktails," Martucci said. As staycations remain popular, venues will continue to find better ways to present takeout cocktails, beer and wine to their guests. The rise of the home bartender will endure in 2021, as "guests continue to learn more about beverages they intake via social media and the internet," he said.
Elisa Wybraniec, Wine Director, The Coast Guard House Restaurant in Narragansett, predicts that the impacts of 2020 will continue to be felt in the new year in some positive ways for the hospitality industry. "The impact of the environment of 2020 to our everyday life will more than likely result in changes to our daily lives, some being for the better," she said.
"The hospitality industry has had to adapt as well. As managers in restaurants, we have learned about ourselves and our guests. One revelation is our guests want to feel normal and providing a dining experience that can get them to feel like a pre-COVID-19 dinner is much appreciated, despite the mask-wearing team. Another is making the most out of their dining experience, whether that is in our dining room, on our patio or in our newly launched igloos. Whoever thought we would be seating diners on our patio in December?" Wybraniec said.
Consumers have changed, too, perhaps enjoying a sense of adventure – if not in experiencing travels than through taste. "We have seen guests' beverage choices grow into ordering maybe just a bit more of an expensive bottle or treating themselves to something that they would not ordinarily consider, like a wine from a different region or grape varietals," she said. "Another unanticipated effect has been the advent of more and more bubbles being consumed, whether Prosecco, Champagne, Cava or traditional-method sparkling wines from around the world. I do see this as a continuing trend in restaurant guests, as most are not vacationing, leaving some more disposable income to use on experiences, along with supporting their local market."
Jonathan Pogash, President/Owner, The Cocktail Guru, Inc., sees tequila and whiskey – "the comfort food of drinks" – remaining popular with consumers in the new year. During the pandemic, Pogash converted many of his most popular mixology and wine education classes into a virtual format.
With more people continuing to stay close to home, Pogash expects the popularity of these virtual classes to remain in demand, along with curated cocktail kits, at-home mixers and quality craft syrups. Pogash continues to host Facebook Live events and remains a frequent guest on local television and Instagram accounts too.
Anthony Spiratos, Founder, Newport Dine Out, was witnessing the struggle of restaurants when he hit on an iteration of an existing idea. The Aquidneck Island resident and business owner developed a food takeout delivery service called Newport Dine Out.
"Third-party delivery services were price gouging the living hell out of these restaurants, charging them 15% to 20% commission on the restaurant side and then on the customer side they were inflating the menu prices and doing all sorts of different fees," Spiratos said. "It became completely obvious to me that they did not have the best interests at heart for the restaurant industry."
Unlike other third-party delivery services, he said, businesses can use Newport Dine Out with no fees or commissions, allowing restaurant operators a better margin and employing drivers as 1099 contractors who earn tips. Unemployed hospitality workers are among its drivers.
Spiratos has lived in Newport and Middletown and has friends in the hospitality industry. As an offshoot of his business No Contact Valet, he started Newport Dine Out. Available throughout Aquidneck Island, the service offers takeout from more than 25 restaurants in Newport, Middletown and Portsmouth. He anticipates that number doubling in February.
Newport Dine Out also gives 10% of its proceeds to the MLK Community Center food programs and the Potter League for Animals, both of which are based on Aquidneck Island. "Our mission is to not just be a company but also to be a movement, and our movement is we want to save the restaurant industry, not only locally, but if this model works, we can take it off-island, too, and across the state of Rhode Island and then beyond," Spiratos said.
Kristen Adamo, President and CEO, Providence Warwick Convention & Visitors Bureau, acts as a champion of the tourism industry. Since the Providence Warwick Convention Center closed in March 2020, the large-scale events usually held there – such as meetings, conventions and sporting events – have put operations on hold for almost a year now. At press time, the Convention Center had been converted into a field hospital for COVID-19 patients and the Dunkin' Donuts Center was being used as a testing site.
The closure has resulted in a loss of business for both the facility and for nearby businesses who benefit from the associated foot traffic from customers, be it a Providence Bruins game or a concert, she said. "The losses that we've incurred having to cancel events are topping $60 million in direct spending for the state of Rhode Island; that's everything from venue rental, food and beverage rental, hotel rooms, restaurants and transportation costs," Adamo said.
According to Adamo, like many businesses, the Convention Center was forced to furlough staff but was able to bring about two-thirds of them back later in 2020. The staff has been using this time to plan and reimagine how they operate and serve guests.
"We're planning for the future. What's the industry going to look like?" she said. "There's probably going to be more virtual components and there's probably going to be more things that are done online." Some projects include building a television studio in the Convention Center, so that meetings, which may have a smaller number of attendees in the future, can be broadcast to more virtual participants.
"If your 2,000-person meeting is now 500, maybe you want to be able to broadcast some of those sessions or some of those programs to people who are sitting in their living rooms, so we're looking at things like that. We're reimaging our Visitors Center. I think the days of picking up brochures are probably over, so what does the new [one] look like? We've already pivoted our restaurant-week programs to include more takeout options … so we're basically taking the lessons we learned in the pandemic and integrating them into our comeback."
Looking toward the future, the Convention Center is planning to reopen in May and events are already scheduled in the near future, which gives Adamo hope. "We have a full slate on the books ready to go in terms of meetings, conventions and sports for 2021, 2022, 2023 and 2024, so we just need to get through this to start building back," she said.
"Are we going to see those 2,000- and 3,000-people meetings in summer of next year? Probably not, but we'll get back there and we may see hopefully 500-people meetings. The industry will come back, and we have that solid foundation of events on the books that will help us build back."
As the vaccine becomes more widely available, Jonathan Feiler, Group Wine Director, Ocean House Management, predicts a rise in customer spending. "I have seen guests wanting to go out and feel normal and drink a great cocktail or glass or bottle of wine and spend a bit more to treat themselves. Additionally, I think we will see guests start expanding their palates and trying new wines and styles from around the world. I believe that we will see an increase in canned wines, cocktails and other adult beverages."
Feiler said he hopes to see the removal of 25% tariffs on imported wines and spirits in the coming year, along with the passage of the federal Restaurant Relief Bill and the continuance of legislation that allows to-go cocktails and wine sales with food.
As socially distanced dining will continue into the year, he also expects "the hospitality industry as a whole continuing to find new innovative ways to serve our guests, with gondolas, igloos and by shutting down streets for tables."
Wineries, breweries and distilleries offered more options of contactless pickup and delivery while continuing to operate their tasting rooms in ways that serve customers safely.
"We're faring well, all things considered, and are very grateful for that," said John Nunes, Owner, Newport Vineyards. "Wine sales have kept stable, while a few of our top brands, Great White and our new Great White Rosé, saw an increase. Our off-premise wholesale has experienced an increase beyond what we expected. On-premise, we're fortunate enough to have ample space, both outdoors and inside, to maintain proper distancing and to get creative with the use of our spaces. Programs like our preorder and pickup for wine and beer have been well received, as well as the use of reservations, which allow us to plan operations and marketing more specifically. Some of these programs have opened our eyes to new ways of operating, new tools, new markets that may carry over into the future and help us optimize better. Certainly, looking for the silver linings, there are some to be found."
Gary Richardson, Executive Director, Rhode Island Brewers Guild, had good news regarding the more than 30 breweries across the state. "Industry statistics indicate that roughly one-third of U.S. breweries will close, most likely for good, as a result of the pandemic," he said. "Rhode Island seems to be bucking the trend, so far, with only one brewery closing and 10 more either opening in 2020 or in process to open in 2021."
Breweries have still struggled as the occupancy restrictions and lack of consumer confidence brought on by the pandemic have resulted in "dramatically fewer" tasting room customers, and breweries have shifted to more takeout and delivery of their beers. "Can sales seem to be the saving grace for many of our brewers," Richardson said. "With a limit on the number of people who can enjoy a few pours or tastings, as well as a requirement to be at least six to eight feet apart, and, get this, everyone at a table must be from the same household! 'Yes, all 25 of us live in a van down by the river.'"
According to Richardson, Take It Outside grants from the RI Commerce Corp., which funded outdoor heaters, blankets, tents and warm clothing for staff, did help extend the outdoor season a bit and those items will be useful in the early spring.
The future of larger events and festivals remains uncertain in the coming year. "The question on everyone's mind is 'When will we be able to organize another beer festival?''' he said. "That's going to depend on the success of the vaccines, which are slowly making their way to the people of Rhode Island, and the hopefully reduced number of COVID-19 cases or deaths in 2021 … It's quite possible we'll never see another festival as we've known them in the past."
Richardson said he thinks these larger-scale events may be reimagined in 2021 or the near future, with "people sitting at tables, not walking around. Maybe more sessions, but shorter in length. The key is going to be creating something that the customers will enjoy and be willing to do."
The mandated shutdowns of tasting rooms at breweries, wineries and distilleries resulted in a substantial loss of business for many.
Kara Larson, Co-owner, Rhode Island Spirits, who along with wife and business partner Cathy Plourde launched the Rhodium spirits line in 2019, said since the distillery's once-bustling tasting room has been closed to the public, the company has seen a 50% decrease of its business. A bright spot for the distillery has been retail sales of its award-winning craft spirits and a growing interest by more retailers and customers to support local products and businesses. "We have slightly grown our distribution through package stores this year and that was a complete surprise," Larson said.
"It's really been a great vote of confidence for us that people are asking for us at their stores, retailers are looking to really highlight local stuff. That's really been in some ways the saving grace of our company in 2020 and I have every reason to think that it will continue into 2021. That we can continue to work with people who are concerned about local products, about local small businesses, about making sure that where they can, they're spending in ways that support their community. And we've benefited greatly from that and we're insanely grateful. It's really the reason why we're still here."
Larson said she doesn't expect tasting room sales to pick up until the second half of the year. "It isn't going to be a robust part of our business for at least six more months, and we look at how that translates on-premise to bars and restaurants; that's not going to be a healthy part of our distribution business for the same sort of time frame," she said.
Larson and Plourde hope to reopen the RI Spirits tasting room in mid- to late April, with plans to build a deck onto their building for al fresco seating. "We're in the same position as a lot of bars that have taken a hiatus for the next couple of months," Larson said. "We don't feel that we can safely host people indoors and the weather is not accommodating for people to be sitting outdoors, so it's better to sit and regroup for a while and come back strong when we can come back."