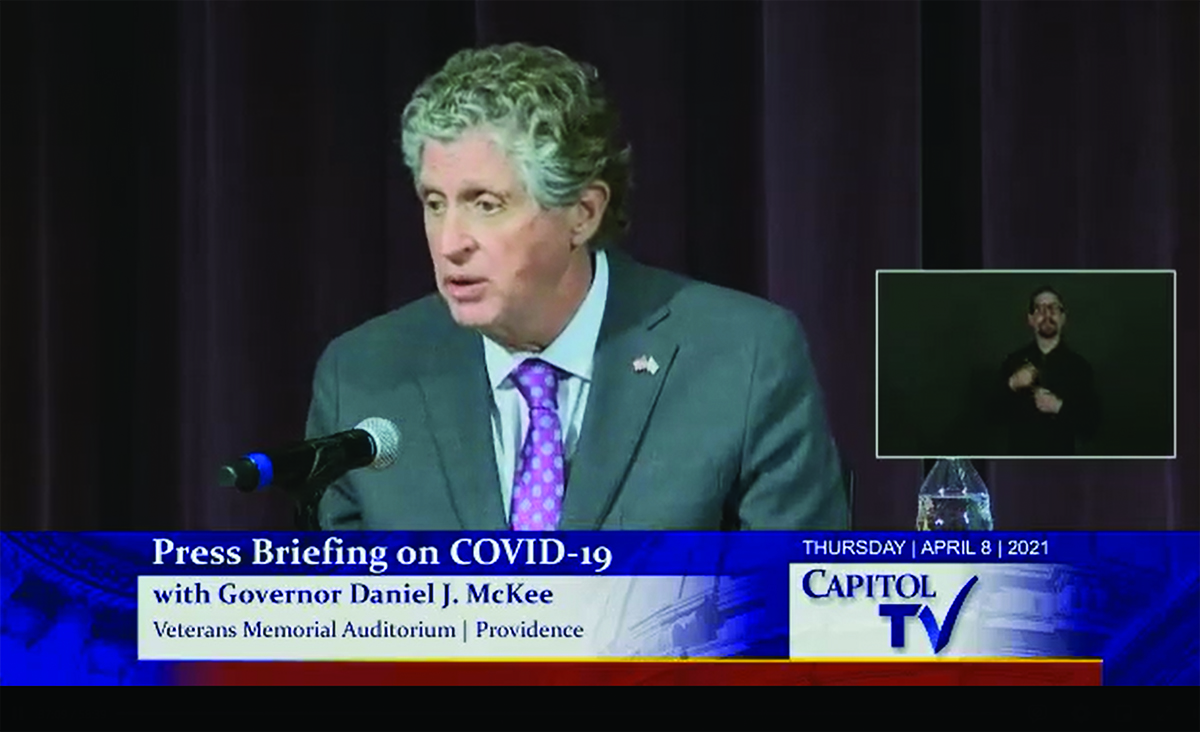 This story has been updated from the May print issue to reflect recent guideline announcements.
Spring ushers in new guidelines, fresh funding efforts
By Sara Capozzi
Restrictions on Rhode Island hospitality businesses continued to loosen as more Rhode Island residents had received COVID-19 vaccines and the case positivity rate remained steady, averaging between 2% and 3% at press time. Rhode Island Gov. Dan McKee announced changes to several pandemic-related guidelines for restaurants, catering and entertainment venues to be carried out in phases throughout the spring.
In mid-March, restaurants were given the green light to reduce spacing between tables from eight feet to six feet and allowed to seat guests at 75% capacity while maintaining six feet of space between tables, up from the previous limit of 66%.
Bar patrons were allowed to be seated at bars and in bar seating until 12 a.m., with six feet between parties. With plexiglass barriers installed to separate seating, spacing must be at least three feet between parties. Customers were required to order food with drinks if seated at the bar past 11 p.m., and a "no standing" rule at bars and in bar areas remains in place.
On April 22, McKee and the Rhode Island Department of Health announced a two-phase plan to lift the majority of pandemic restrictions on businesses in the state. Beginning on May 7, establishments including restaurants, will be allowed to increase their indoor capacity to 80%. Venues will be allowed to seat guests at full capacity outdoors. Both inside and outside, there will be no limit on the number of people per table and required spacing between tables will decrease to 3 feet apart. More restrictions will end in time for Memorial Day weekend, when businesses will be allowed to accommodate guests at 100% capacity. Bars and bar areas will also be allowed to resume standing service, with no plexiglass required. During both phases, mask mandates will remain in place for indoor spaces and outdoors when there is less than 3 feet of space between individuals.
Attendance at catered events was capped at 150 people allowed indoors and 250 outdoors, beginning on May 15, increasing to 200 indoors and 500 outdoors on May 7. Beginning on May 28, indoor catered events are allowed to increase to up to 500 people. On that date, outdoor catered events can accommodate 100% capacity. Events with no food, such as graduation ceremonies, were allowed to accommodate 250 guests indoors and 500 outdoors through May 15. After that date, the limits are extended to 500 people inside and 1,000 outside. The COVID-19 testing requirement will be dropped for the majority of events beginning on May 7.
Organizers of large-scale events at entertainment venues were given the green light to accommodate up to 500 guests indoors with no limit outdoors, starting May 7. On May 28, there will be no capacity limit for indoor and outdoor events, but organizers planning events with more than 2,500 guests must apply to the RI Department of Business Regulation (DBR) for permission.
Some municipalities relaxed restrictions for outdoor dining in March, making it easier for restaurants to set up temporary outdoor seating or expand their al fresco space. In Cranston, Mayor Ken Hopkins signed an emergency declaration on March 28 to expand outdoor dining at restaurants in the city without worrying about inspection or permit requirements. Cumberland Town Councilor Lisa Beaulieu made a similar declaration as March came to a close. On Federal Hill in Providence, the restaurant section of Atwells Avenue will close to vehicle traffic for the second annual "Al Fresco on the Hill." At least 22 restaurants are expected to take part in the initiative, which runs May 14 through Labor Day.
Proposed legislation to extend relaxed restrictions on outdoor dining for all of Rhode Island for a one-year period was before the House Small Business Committee in April. House Bill 6119, "AN ACT RELATING TO TOWNS AND CITIES–SMALL BUSINESSES–ZONING ORDINANCES," would impose a one-year moratorium on enforcement of municipal ordinances or zoning requirements that penalize owners of food service establishments and bars for modifications or alterations to their premises in response to an emergency declaration.
Collaborative artistic effort aids industry
Continued creativity among the business community begat a new initiative with a goal in mind. Members of the Providence Warwick Convention & Visitors Bureau (PWCVB) – in collaboration with the Rhode Island Foundation, Rhode Island Hospitality Association (RIHA) and Frog & Toad gift shop in Providence – worked together to create a new line of "Buy Local RI" T-shirts to benefit the RI Hospitality Employee Relief Fund, which gives financial assistance to workers hard-hit by job losses or shutdowns in the bar and food service, lodging and tourism industries. The Buy Local RI project donates 25% of each shirt sold to the fund.
Two Rhode Island artists, Maret Bondorew and Michael Ezzell, were invited to create their own renditions of the "Buy Local RI" rooster logo, originally launched by the Rhode Island Foundation in 2020. Frog & Toad, co-owned by Asher Schofield and Erin Piorek Schofield, screen-printed all three of the designs onto cotton polyblend tees in its studio and prepared them for sale.
Kristen Adamo, President & CEO, PWCVB, said the idea came about when she posted a photo of herself wearing an original Buy Local RI T-shirt on social media and received a great response from people asking where they could buy one too. She reached out to the foundation and the idea came about to help hospitality employees, forging a concept that would create positive exposure and make an impact. "It really was this collaboration among the four groups to put the program together; everyone gave a little bit of what they can do and contributed to the idea," she said.
By April, Adamo said there had already been a great response to the shirts via social media at #buylocalri – and the interest continues to grow. "I think one of the silver linings coming out of the pandemic is people being really creative and collaborative and I feel that this is a great example of that," Adamo said. "The Buy Local RI T-shirts are a partnership really between RIHA, the PWCVB, the Rhode Island Foundation – which actually owns the logo – and Frog & Toad. This is a great way of showing how disparate organizations can come together and do something really fun and uplifting that helps people."
"The sun is shining, people are looking toward springtime … putting on a brand-new T-shirt is always a good feeling, no matter who you are," said Heather Singleton, Chief Operating Officer, RIHA and the RI Hospitality Education Foundation. "I feel like it's a positive thing and I think we're going to be able to generate some more money for people who are in need, so overall I've got my fingers crossed that it takes off and that it's going to be a real impact on the community." All three shirts can be purchased via Frog & Toad's website.
More grant funding announced
New local and national grant funding for businesses impacted by the pandemic became available this spring. A rent relief program, called Rent Relief RI, launched in March. Administered by RI Housing, eligible renters with financial hardships will receive assistance in paying back rent or utility bills to avoid evictions and utility shutoffs.
Nationally, the application portal for Shuttered Venue Operators Grants (SVOG) opened on April 8, 2021. SVOGs are available for operators or promoters of live venues, performance venues, museums, motion picture theaters and theatrical producers who were forced to shut down their operations due to COVID-19. Administered through the U.S. Small Business Association (SBA), $16 billion in funding is available. Those who are eligible may qualify for grants equal to 45% of their gross earned revenue, for a maximum loan amount of $10 million.
The Restaurant Revitalization Fund (RRF) grant program, available through the American Rescue Plan Act, began accepting grant applications in April 2021. Businesses who qualify will receive tax-free grants equal to the amount of loss they experienced in their gross revenue in 2020 compared to their gross revenue in 2019. If businesses received any Payroll Protection Program (PPP) loan funding in 2020 or 2021, that amount will be deducted from their RRF grant amount. The grants will be administered by the SBA.
Proposed PPP loan tax draws criticism
The Rhode Island House of Representatives Finance Committee heard testimony regarding a proposal in Gov. McKee's budget that would tax loans of $150,000 or more during a hearing on April 7. Created under the CARES Act in March 2020, PPP loans granted to businesses for financial relief from losses incurred during the pandemic provided a lifeline to help them pay business expenses and employee salaries and benefits.
Under the CARES Act, the forgivable loans were not subject to income tax. When the Consolidated Appropriations Act was passed by Congress in December 2020, Congress changed the law, allowing all PPP loans totaling more than $150,000 to be taxed. Each state is allowed to override the taxation
and keep all of the loans as untaxable income.
If PPP loans over $150,000 are taxed, it will affect 2,250 businesses in Rhode Island, or 13% of the businesses who received the loans, and result in $68 million in revenue for the state of Rhode Island. RIHA has urged officials to reject the budget proposal, who, along with others, spoke in opposition of the bill during the hearing on April 7.
"The governor is asking 2,200 small businesses to pay a tax on the Paycheck Protection Program, which was a lifeline for these small businesses, to pay utilities, rent and keep people employed … it just seems that we're hammering them after they've endured a pandemic," Rep. Deborah L. Ruggiero, D-Jamestown, said during the hearing. There was no resolution to the issue at press time. The next fiscal year begins July 1, 2021. Lawmakers began holding hearings on Gov. McKee's plan in March, with the final budget bill expected to pass by June.