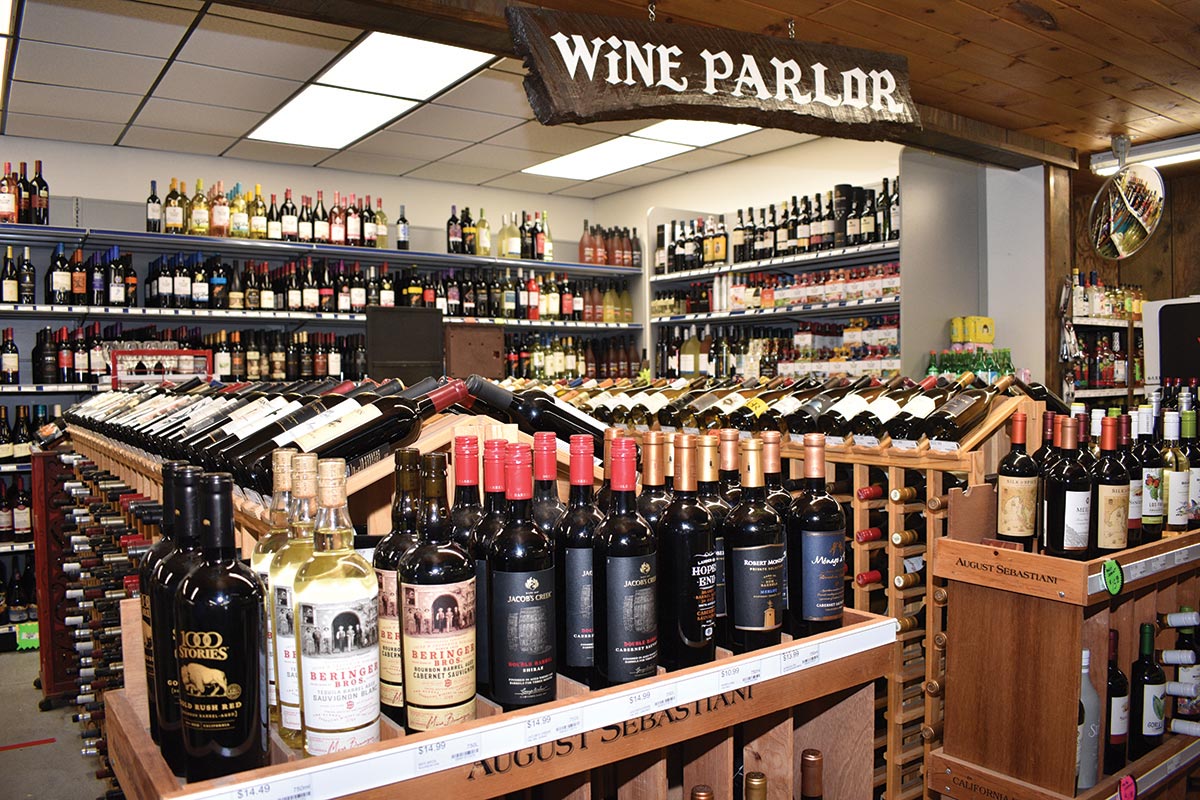 RJ's Hill Liquors
820 Cumberland Hill Rd.
Woonsocket, RI
Square footage: 2,400
Years in operation: 43
By Sara Capozzi
Nearing 9,200 SKUs, a plentiful selection awaits shoppers at RJ's Hill Liquors. "We squeeze more into this space than most places," said Manager Dave Hebert. "We have a big variety."
With its wide range of products and competitive prices, the store appeals to a variety of shoppers from Woonsocket and neighboring Cumberland, as well as from over state lines, both who are looking for deals and seeking out higher-end items.
Like most retailers in the industry right now, Hebert and Owner Kristine Lambert, known to friends and regulars as Gigi, said that sales at RJ's went up during the start of the pandemic and remain high. The demand for aged spirits has increased during the last few months, especially for Cognacs, bourbons and Scotches, Hebert said. An uptick in sales of "prestige bourbons" and high-end tequilas shows more customers willing to spend top dollar on bottles that retail for more than $100, selling more Don Julio 1942 and Clase Azul for example.
Hard seltzers are also in demand, according to Hebert, along with craft beer. "[Customers] do like our craft beer section," said Lambert. "Dave rotates the crafts all the time," with shoppers noticing they've "always got something new."
Shoppers also enjoy a wide selection of 50-ml bottles, which are displayed in rows behind the counter and easily accessible in bins in front of the register. "I'd say we're the biggest nips store in the state," Hebert said, noting RJ's sells 250,000 50-ml bottles per year. "People come in and they say, 'Ooh, it's like penny candy,'" said Lambert.
Originally opened in the late 1970s, RJ's Hill Liquors was originally owned by Lambert's father, Raymond Lambert, and his brother. Lambert credits a lot of the store's current success with the excellence of the store's seven employees, including her six part-time workers who customers have told her are "the nicest kids," she said. "They're super polite and they know their customers."
Hebert, who has managed the store for nine years, is an asset to RJ's as well. "Thanks to Dave we're where we are today," Lambert said. When Hebert came on board nine years ago, he organized inventory, set up a pricing structure and began advertising, she said. "Dave is very conscientious – he treats [the store] like it's his own."
To keep customers safe during the coronavirus pandemic, RJ's has offered pickup and delivery services to its regulars upon request. Most customers have opted to continue to stop in, according to Hebert, and they will find social-distancing and sanitation measures in place. Both customers and staff are required to wear masks and all entryway and exit doors are touch free.
"There's always a bargain to be had," Lambert said. Hebert is known for always being on the lookout for closeouts and contacting customers who may be interested in buying specially priced or discontinued vintages.