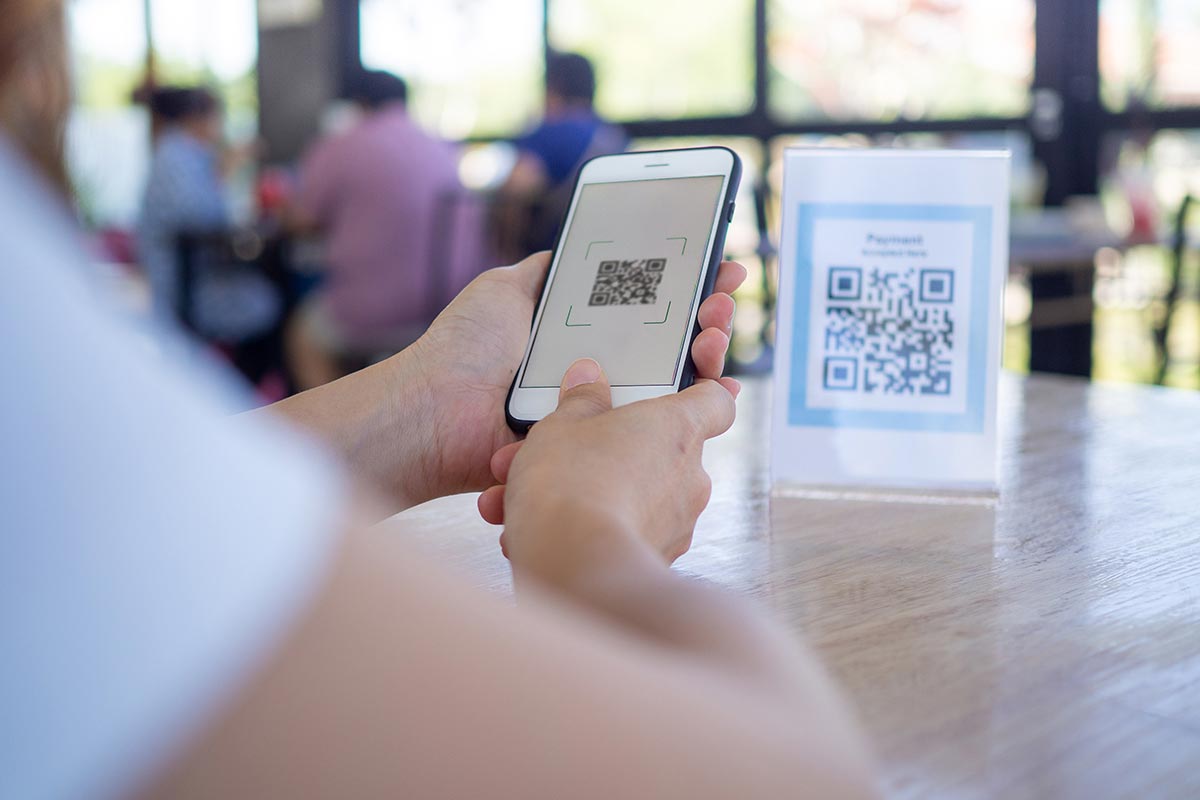 QR codes make a comeback for ordering and payment
By Sara Capozzi
In a pandemic where keeping one's distance and minimizing the touching of shared surfaces is part of staying safe, an older piece of tech programming is enjoying a newfound popularity.
As restaurants across the country seek out new ways to simplify ordering while giving customers touch-free options for payment, the use of QR codes is back on the table. The bar codes, which are easily scannable with a smartphone, give customers an easy, contactless way to place food and drink orders in lieu of using traditional menus.
Restaurants have been displaying the codes in easily accessible areas such as by the host station, near their venue's entryways or on plastic-covered tabletop sign holders. Upon scanning a QR code, guests are able to download the venue's menu, place orders and pay all on their smartphones.
Even before the pandemic, the use of QR codes gave consumers an easy, convenient option for a variety of marketing tactics, but also for ordering from busy restaurants when bar areas were crowded or servers were busy. While it wasn't always embraced by guests in the pre-COVID era, the method for ordering is ever more welcome from guests.
Jillian Carey, Account Development Manager, Brescome Barton, noticed an increase in the popularity of QR codes when restaurants in the state began reopening for outdoor dining after the state-mandated shutdown. "As soon as the outside dining started, that's when it was a huge thing for us," Carey said. "Because people were really concerned about the menus because a lot of menus are table to table."
When weighing options between printing huge numbers of disposable menus and buying wipeable menus per required health guidelines, QR codes are seen as a more cost-effective and simpler alternative, enabling the code to take the visitor directly to the venue's information.
"That's why QR codes were kind of the best bet," Carey said. "It's perfect. We get them printed and laminate them. If you laminate them and put them on tables, people just use their phone to get access to the restaurant's website or menu."
Aaron Sarwar of West Hartford's Shish Kebab House of Afghanistan uses a free app for QR codes that he displays on tables at the LaSalle Road restaurant. Scanning the QR code brings guests right to a PDF of the restaurant's menu.
"It was super easy to set up," Sarwar said. "I just went online, loaded the PDF menu and it spit out a QR code for us and we basically affix it to the tables and it's completely free."
While the restaurant is also printing out its own menus for guests who aren't as tech savvy, the majority of customers have embraced the use of digital menus. "We were at first hesitant … but it was actually pretty neat how many people knew exactly what to do," Sarwar said. "It's become the norm in a way. Nobody hesitates to scan the QR code, they just do it."
The town of West Hartford recently closed LaSalle Road in order to allow restaurants in West Hartford Center to expand their patios into the street, giving them more space for socially distanced outdoor seating. The Shish Kebab House of Afghanistan has also been using a POS terminal on its patio, which gives servers a convenient way to put in orders instead of running back inside to the bar area or server station. "It just saves so much time in terms of service," Sarwar said.
Keeping things digital makes changing up the menu easier as well, giving restaurants more freedom to run temporary specials or remove items when food shortages arise. "Right now, it's so easy for us to try something out or put a new recipe out and just give it a whirl for a night," Sarwar said.
Joseph Hamboussi, Director of Operations at New Haven's Prime 16 Gourmet Burgers + Tap House, has been using the Swipeby app that allows customers to order and pay. Customers can access the app through the restaurant's website and arrange for contactless delivery or curbside pickup. Patrons are able to tip directly on the app as well. The app also has a feature where it alerts the restaurant when a guest is within a one-block radius, which is helpful for staff.
Prime 16 is also using QR codes, through the Bar Pay app, as another option for touch-free service. The scannable codes are placed at tables and on a sandwich board in front of the restaurant so customers are able to view the restaurant's menu from the street.
"It's the first thing you see when you're walking in and sitting at the tables, so we just wanted to make sure people knew we're paying attention to the situation." When guests arrive, "the first thing we do is we seat them and let them know there's a contactless menu that they can use with their phone camera and if they'd like we have printed out [single-use] menus that we can give to them," Hamboussi said.
Half of all tables at Prime 16 don't even request handheld menus now; they just use their phones. "Surprisingly they've taken a liking to it and they've adapted pretty quickly, I guess out of necessity too," Hamboussi said. "If we weren't doing it during these times, I think [the QR codes] would be a lot harder to sell."
Interestingly, pre-COVID, Prime 16 had a wine list available via a QR code but it wasn't popular with customers, so the restaurant stopped using it. "Now is the right time for this to be successful. We had it and we got rid of it, and now it's back and it looks like it's back to stay," he said.
Hamboussi has also started posting menus for upcoming specials and events and found that having the option to post these menus has been beneficial for keeping guests engaged.
"It's not just our menu but it's also marketing for other things," Hamboussi said. "We're starting a brunch in August and people have already started asking about it … It gives us something to talk about and invite the guests back. We've found it very useful."