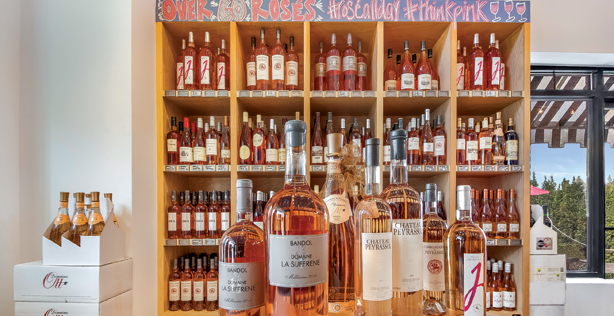 By W. Blake Gray
Rosé is having its moment right now. How far has it reached and how long can it last?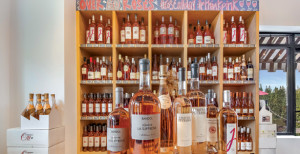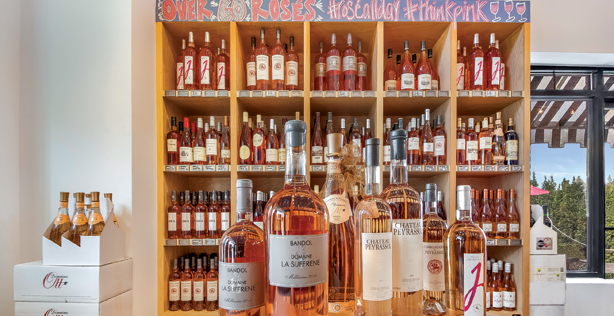 Ten years ago, on a steamy July afternoon, I had lunch at the bar in a Napa Valley restaurant with a fine international wine list. It was almost 100 degrees outside and I ordered a glass of rosé made from Sonoma County Pinot Noir.
Shortly after the sommelier came out to see who had placed such an oddball order. "I love that wine, but you can't get people to drink rosé even with a gun to their heads," he said.
Now it's 2016. I'm in New York on a raw Friday night in March, temperatures dropping into the 30s. I stop into a wine shop, in part to warm up. Browsing, I hear a guy telling his friends, "You'll love this, it has a great story." Naturally I turn: a great story, right? It's a 20-something professional-looking man, with a similar entourage.
The wine is Miraval, the Provence chateau owned by Brad Pitt and Angelina Jolie. Of course it is. But then I notice something else: this shop's front cooler is more than half full of rosés. It's not Hamptons season yet; it's not even baseball season yet.
Rosé, until recently the most seasonal of wines, has invaded late winter/early spring. These are not cheap wines either. Rosés over $11 were by far the hottest category of wine last year, growing nearly 60% by both volume and value (Nielsen). Not only that, the rosés in this category had an average bottle price of $15.86—the second-highest average price just behind Oregon Pinot Noir.
French Connection
Provence has been a huge driver of this trend. In 2008 only 32 Provence wineries exported to the U.S. This year, 120 do. The big dog is Whispering Angel. The rosé from Château d'Esclans breached first arrived in 2006 with 500 cases. Last year, more than 100,000 cases were gone before the end of summer, and not before spot shortages in the Hamptons caused a rosé ruckus.
The new 2015 vintage of Whispering Angel arrived on our shores in February this year—months earlier than traditional rosé season kicks off. France makes 30% of the rosé in the world, but fortunately Provence is far from the only high-end rosé supplier. Languedoc is in on the game, and it has a strong argument: the region uses similar grapes and has similar terroir. Aggressive on/off-premise promotions and tastings have helped make the case that Languedoc delivers classic Provence style at more approachable prices.
California has taken notice of Coppola's success with Sofia and there are now a raft of new rosés, many of them dry. Unlike in southern France, where most quality rosés are based on Cinsault and other Rhône grapes, top California rosés tend to be made from Pinot Noir, which gives them double trendiness appeal.
The rosé category is inspiring serious winemakers around the globe. In Chile, the Undurraga family, having sold their eponymous brand in 2006, is making a rosé at Viña Koyle that says on the label "Single Vineyard Dry Farming Wine." Back in France, Domaines Paul Mas just launched Astélia Rosé, a blend of Rhône varities sourced from top vineyards across 12 Languedoc estates; the varietals are vinified separately then blended and aged on the lees for up to 40 days.
Next Man Up
A huge factor and part of the reason rosé is becoming a multi-season product, is the gender of consumers. A decade ago, newspapers would print articles reassuring men that they could drink pink and nobody would suggest testosterone supplements.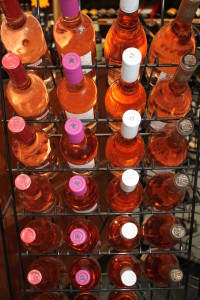 Today, "brosé"—rosé for bros—is a functional term; men pound it after their afternoon rugby matches. Or happy hour after work. The numbers bear this out: an OIV survey showed that rosés are consumed exactly equally by men and women in the U.S.
This is unusual worldwide: only in the U.S., Brazil, Australia and Russia do men drink as much rosé as women. This balance suggests merchants may want to revisit the way they promote rosé in the stores. Rosé for football season—why not? A decade ago it would have been laughable to suggest a rosé for the Ravens-Steelers game. Try it this year, and see if anybody laughs.
Moment or Movement?
Have we already hit Peak Pink? Jon Bonné, of The New California Wine renown, wrote in the online magazine Punch that "40 years of fetishization, then a final shove from the rosé craze, have pushed Provence into cliché territory."
Ouch! Chances are, most pink wine drinkers are not reading articles about pink wine. If they are reading about rosé, it's more likely on a shelf talker or in email blast. One recent email from NJ-based Englewood Wine Merchants offered up "Pink Crack" in the subject line (it was referring to a $28.95 Liquid Farm Rosé from Santa Barbara). And $28.95 for a lipsmacking dry rosé doesn't sound all that crazy when Lord & Taylor is selling a Rosé All Day sweatshirt for $79.
So, with all signs pointing to this American summer being the pinkest yet, we checked in with a few retailers to see how they are preparing, and what they are expecting longer term.
At Super Cellars in Ridgewood, NJ, Joe Ringwood says he will be carrying more SKUs; bringing them in earlier; and increasing his initial buys by 15-18%. He believes that with a few exceptions—notably Whispering Angel and Miraval—people are not as familiar with rosé brands, and are quite open to suggestions.
In Westport, CT, Castle Wines Manager Tim Slater confirms that his clientele is up to speed in terms of "realizing it's dry not sweet," and that their tastes lean upscale (he adds Domaine Ott as a call brand). Instead of a rosé display, Castle devotes plenty of floor space to rosés. And as for rosé being an all-year wine yet, he figures: "If not 12 months of the year, probably 10."
Beach Liquors has several locations in the Florida panhandle, where rosés are "booming," according to proprietor Mike Kelley, thanks in part to end-cap displays and in-store tastings every Friday. Demand is seasonal: "Our guests are looking for fruit-forward refreshing styles during the warmer summer months," he says, "but the demand will drop more then 70% in the fall and winter." He adds that the sales are surging within the category: "I don't see it cannibalizing any other varietals."
In Boulder, CO, buyer Suzy Bergman says rosé is not ready for year-round status, but it is definitely "April through Thanksgiving." Last year was the first time she had a dedicated rosé section in the store; for 2016 she has tripled it.
Variety is the Spice of Pink
At Lush Wine & Spirits, with two locations in Chicago, owner Mitch Einhorn says selecting distinctive inventory is a key for an independent store. "Our main goal is making sure we have a wide variety," he says. "We typically carry about 15 different rosés that you can't find at any big box store."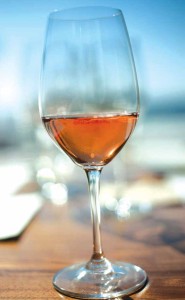 Einhorn sees less brand-loyalty with rosé: "There's something about them that make people feel more comfortable and more adventurous; and people tend to like more styles than just one."
If any place in America is bracing for the Great Pink-Out 2016, it's the Hamptons. A California native now living on Long Island's East End for 11 years, Chimene Visser Macnaughton traces her rosé roots to the San Francisco on-premise scene in the 1990s—Domaine Tempier Bandol and Robert Sinskey Vin Gris of Pinot Noir being two examples that "still inform my retail assortment today."
As GM/Sommelier at Wainscott Main since it opened in 2014, she helped the store become a Hamptons rosé destination from day one. They offered 50 rosés in 2014, 60 last summer. This is clearly serious pink drink country.
"The dry/sweet thing just isn't a question," Visser Macnaughton says. "We actually don't carry ANY 'blush' or white Zinfandel, so the message is clear." Customers know what they are getting into: "We were able to start seeing buying patterns 'beyond Provence,' including lots of interest in specific varieties—Cabernet Franc and Pinot Noir were hot."
Wainscott Main has a feature area in the front of the store housing the rosé program for 6-7 months of the year, including two display tables. "We saw huge growth in the category last year, so we are buying deep, taking allocated and hard-to-find labels first, and setting the store for summer a couple weeks earlier than last year," Visser Macnaughton says.
They are also bringing in their first private label Provençal Rosé, a 2015 under screwcap, priced at $19.99. What does it taste like? The future, probably.