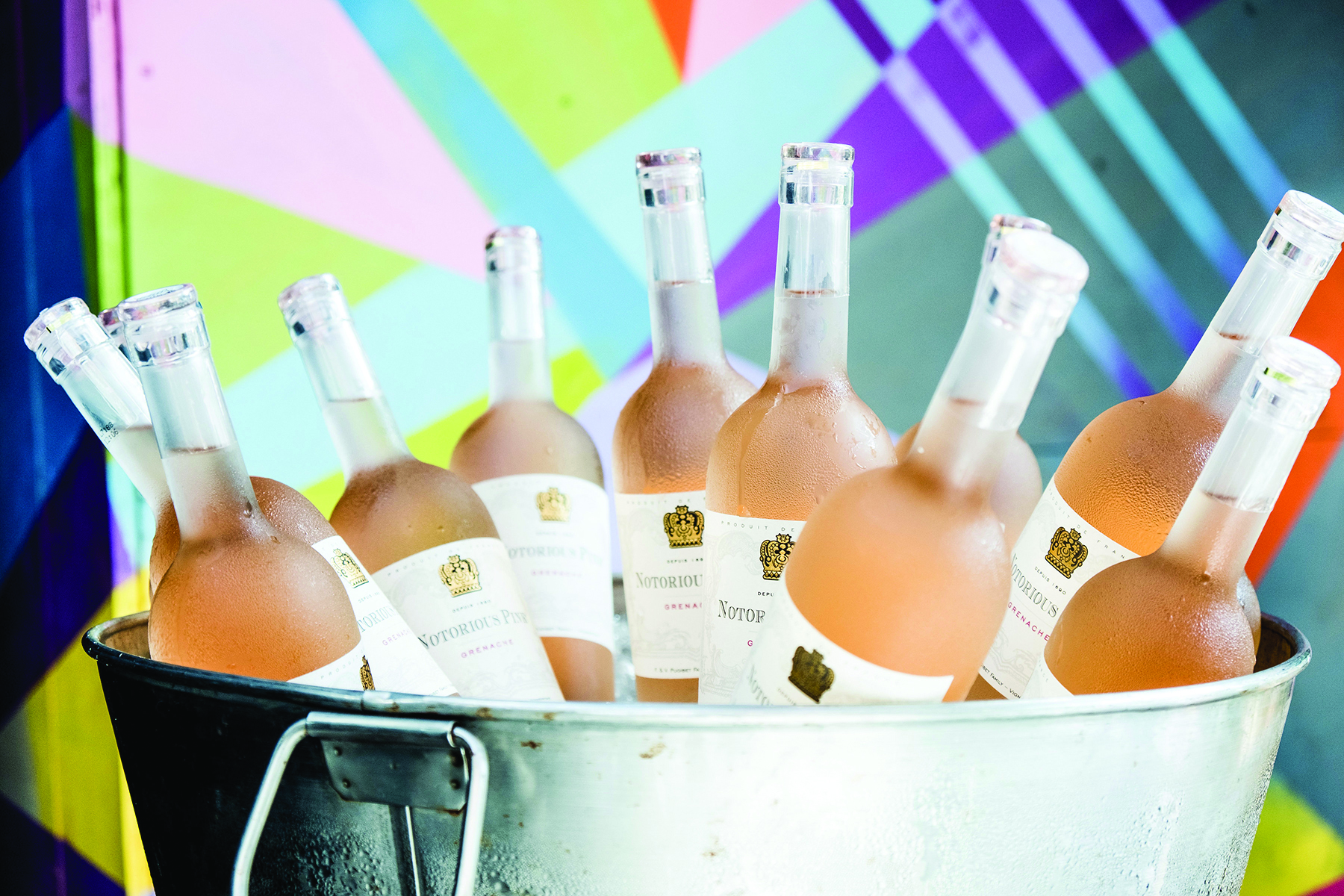 How to Leverage Rosé's Flexibility and Diversity to Maximize Sales
By W. R. Tish
As many retailers enter the 2020 rosé season handcuffed by some form of shutdown, now is a good time to remember how broad and flexible the pink category has become. Innovative packaging and selling points offer opportunity up and down the price spectrum.
EVERY FORMAT UNDER THE SUN
Whether you are lining up your rosés on a "Think Pink" table or in an email newsletter, remind customers that quality pink wine can now be found in a wide range of packaging options: single-serves, magnums, half-bottles, bag-in-box, Tetra Paks and eye-catching sleeves.
ROSÉS BLEND RIGHT IN
Winemakers are combining varieties to make rosés like never before, inspired by by not limited to the classic Provence combination of Rhône grapes. For instance, Flat Top Hills, serves up a juicy mix of Grenache, Carignan, and Dolcetto.  Interesting blends from Italy might be driven by Sangiovese or Aglianico; Spanish examples often embrace Tempranillo.
CONCEPTS ARE COOL
Pink wine is less tradition-bound than other categories, lending itself to flaunting its personality. No wonder celebrity rosés abound. Sara Jessica Parker's SJP X Invivo bottling from New Zealand is new this season, joining the likes of Drew Barrymore, John Legend (LVE), Jon Bon Jovi (Hampton Water), Lisa Vanderpump, and of course Brad and Angelina (Miraval). Other creative pink concepts include low-alcohol Pure Sparkling Rosé (7% ABV); art bottles (like Minuty and Wolffer); and playful wines from Pink Flamingo to Magic Marker to Notorious Pink.
PRESTIGE BOTTLES DELIVER
The luxury end of the rosé market is expanding. There are terroir-driven examples from Provence (Garrus by Chateau D'Esclans), and boutique California offerings such as Robert Sinskey Vin Gris and Etude Rosé of Pinot Noir, both from Carneros; and, budget permitting, rosé Champagne reliably delivers both quality and prestige.
PROSECCO JOINS THE PARTY
This summer, Prosecco Rosé  will officially be permitted under DOC regulations (with the tine provided by Pinot Noir). Some of the Veneto's top Prosecco producers are already making tasty dry pink bubblies in big volumes—let customers know and be ahead of the curve. Meanwhile, refreshing rosatos are being made in Italy from Alto Adige to Sicily using indigenous grapes.
RELISH THE RAINBOW
From pale salmon to gem-tones that are just shy of red, the rosé color spectrum is a veritable rainbow of shades. The colors beg to be noticed—and grab attention in social media. While color alone does not dictate style, making sure customers understand that they are ALL rosés is vital to maintaining the category. 
COCKTAILS? WHY NOT
Mezzacorona and its U.S. importer Prestige Wine Imports are focused heavily on social media as many across the country are hyper-tuned into this medium during stay-at-home orders. Their approach includes pushing a new way to enjoy rosé: cocktails created by author Colleen Jeffers featuring Mezza di Mezzacorona.
ROSÉ MAKES FOR A GOOD CAUSE
Not suprisingly, some rosés are attaching to a cause. After the 2017 California wildfires, Napa Valley's Cakebread Cellars and Waugh Cellars both bottled rosés to raise relief funds. One ongoing cause-connected wine is the Italian sparkling wine Living Coral, which for every bottle sold makes a contribution to preserve and restore endangered coral reefs. Fittingly, the wine's vivid color might well be described as "coral pink."
THE CURVIEST WINE ON THE SHELF
The shape most frequently associated with Provence rosé, known as flûte à corset, was created by the Côtes de Provence in 1960. Tall and curvy, it was also amusingly nicknamed the "Mae West" bottle. Only members of the Côtes de Provence appellation are entitled to use the signature shape, but over the decades some producers have taken creative license in adapting it, while others have developed their own distinctive bottles.