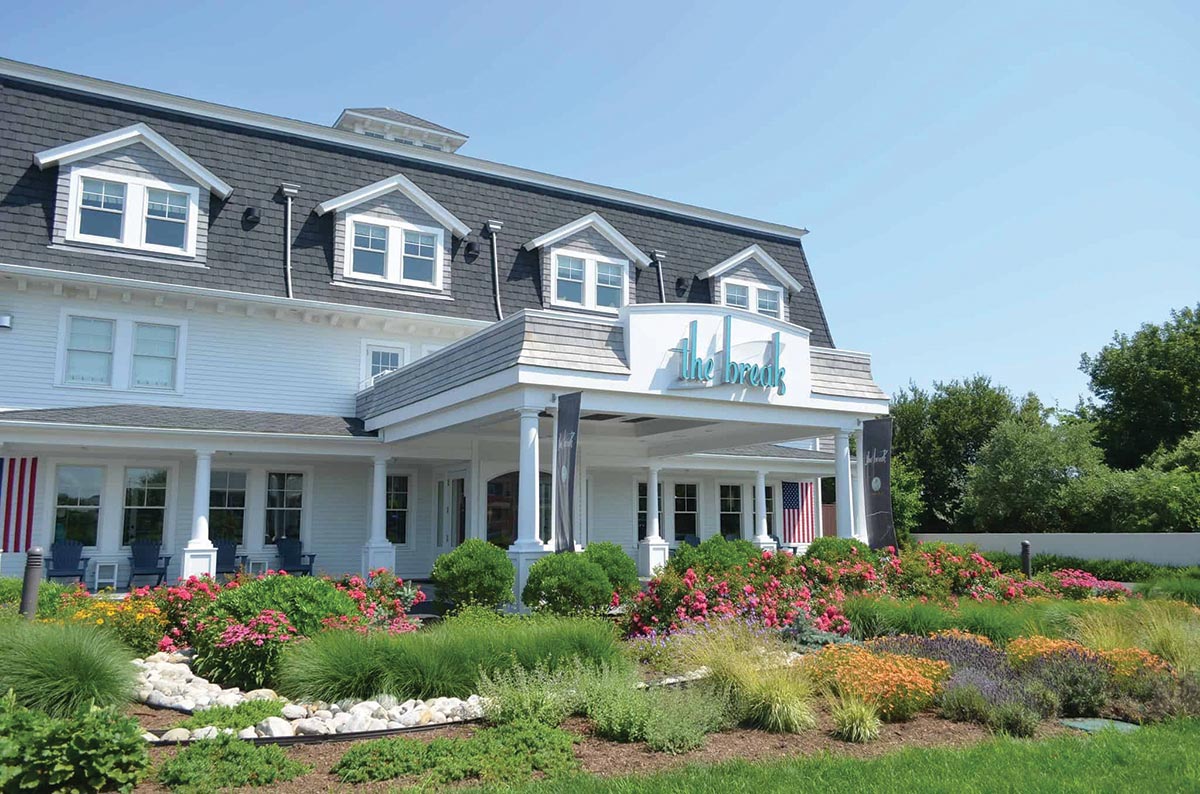 Gradual plans for reopening bring hope
By Sara Capozzi
The Rhode Island hospitality industry continued to cope with mandated closures and restrictions placed on businesses in April due to the coronavirus crisis, while also preparing for a gradual phased reopening during the month of May.
Gov. Gina Raimondo lifted the state's stay-at-home order on May 9, beginning the first phase of the reopening of Rhode Island businesses, with a focus on "getting back to work, while protecting health and safety." During this phase, expected to last two weeks as of press time, nonessential shops were permitted to open to customers with occupancy restrictions.
Restaurants remained able to offer curbside pickup and takeout, with the more recent permission to sell bottled beer and wine, along with newly allowed sealed to-go draft beer and cocktails.
Efforts take center stage during closure
Wholesalers, restaurants and individuals in the hospitality industry continued to find new ways to help industry workers, many of whom became unemployed or furloughed during the mandated closures of on-premise business in bars and restaurants in the state, which began on March 17.
Pawtucket-based wholesaler Wine Wizards announced a charitable partnership with Spanish and Portuguese wine importer Olé & Obrigado, whose effort, the Restaurant Relief Pack, is a national initiative. Olé & Obrigado is donating 50% of its profits from the sale of select wines to the Restaurant Workers' Community Foundation, an advocacy nonprofit benefiting restaurant workers across the country, which raised more than $22,000 by the end of April, with a total goal of $50,000.
"We are participating in their Restaurant Relief Pack, which sees 50% of their profits from sales of a group of wines donated to the Restaurant Workers' Community Foundation and, locally, the Rhode Island Hospitality Association fund," said Kristin Zeiser of Wine Wizards. "They've already sold out of some of the wines, so momentum is shifting to a new model this week, but all of the wines are due back in early May. The program will continue to run through the end of May, if not beyond."
French bistro Pot au Feu in Providence has been donating meals to frontline workers and others impacted by the coronavirus pandemic with the help of a charitable partner three nights per week. The French bistro has also continued its Friday Jazz Nights throughout the shutdown, delivering music livestreamed to guests via Zoom.
A May event, featuring Paris-based jazz singer Dahlia Dumont, was livestreamed from Dumont's apartment in Paris and viewed from countries all over the world. Pot au Feu Owner Bob Burke said the event raised approximately $25,000, which will benefit frontline caregivers, restaurant workers and out-of-work artists. Pot au Feu encouraged guests viewing in other locales to enjoy takeout while viewing the show, helping to support those restaurant operations.
Burke said many guests dressed up and set their tables as if they were dining at Pot au Feu. "We're trying to create an experience that is much like what people had here at the restaurant," Burke said.
"We've done a dinner jazz series for years, so we were able to call upon some of our best performers and bring them in to do this. By creating an experience like that where people felt like they were seeing other people and applauding together, it was really cool and it was very moving. Every one of them, there have been people in the audience just sobbing because the performers have been really, really great."
Pot au Feu has adapted its menu for curbside pickup, where now guests can order from the restaurant's website off of a modified menu that is updated daily. Burke said he has no immediate plans to reopen the restaurant for on-premise dining due to health and safety concerns that remain with COVID-19. "I'm having a lot of trouble seeing how we allay the situation as restaurateurs," he said. "I think science has to take a step forward before the restaurants take a step forward; meaning that there needs to be some treatment for the disease which makes it less severe.
"We've worked a very, very long time to gain people's trust and there's no short-term dollar that's worth getting if it means losing the trust of the people that we serve. Whenever we come back, they'll come back – if they trust us. We can't lose the good faith of our customers because they think we came back for the dollars," said Burke.
Banding together for action
Providence-based bartender Leishla Maldonado, of the Eddy and Dolores, created a GoFundMe campaign, the COVID-19 Rhode Island Hospitality Relief Fund, to benefit members of the local bar, restaurant and hospitality communities. The initiative raised more than $27,000 to help out-of-work industry trade members who were laid off and furloughed from their jobs.
Maldonado created the campaign early on when restaurants and bars were ordered to close to on-premise guests in mid-March. While she has run into some challenges with withdrawing the funds to give due to "red tape" with the digital payment platforms, Maldonado has been able to distribute $4,500 per week from the fund. Each person who applied for relief was able to receive some, with a $300 cap for each individual. She plans to give $4,500 to individuals who have applied for assistance each week until the money runs out.
As far as restaurants and bars reopening, Maldonado said she was working to assemble a team of small business owners to work together with community leaders as they navigate the reopening of neighborhood venues. "I don't know what it looks like as far as reopening right now, I just know that it's not just so easy as saying, 'May 8 we should open for outside service,' for Providence at least," Maldonado said. "I don't know the answer to that, but I think there's a better way to go about it. I hope we find some type of middle ground that makes everybody happy and people are able to make money again and go back to work again."
Maldonado wants to make sure all community business owners are represented in reopening plans.
"When it comes down to it, there are businesses that are representing the hospitality industry and we're forgetting about all of the smaller businesses that don't have the fine-dining thing going or smaller businesses that aren't represented and weren't represented in all of these things that have been going on, including the Hispanic-owned businesses, the black-owned businesses and restaurants," she said. "There's not many people of color who are talking from that standpoint, so we're hoping to get more people of color in those spaces."
Local bartender and industry representative Ben Terry, who serves in the United States Bartenders' Guild Rhode Island (USBG RI) chapter, helped bring together companies in aid of out-of-work bar and restaurant workers after global brand supplier, Pernod Ricard, reached out. Partnering to provide family meals offered an immediate and effective connecting point. "The goal of family meals is twofold," Terry said. "It's to feed out-of-work hospitality professionals, bartenders, servers and back of the house, and also to support the restaurants and give them some business right now too."
The now-weekly collaboration between Pernod Ricard and Mancini Beverage has funded meals through Troop, The Pub on 1 and Dolores among venues in April and May. The Reef in Newport, which began its own Family Meal Fridays program in April for hospitality workers on Aquidneck Island, also has featured fare for pickup to the bartending community through the partnership. Horizon Beverage Co. and Bully Boy Distillers also began a series of sponsored "Staff Meals" working with venues such as Diego's and Pizza J for weekly takeout available to hospitality workers.
"The goal of family meals is twofold," Terry said. "It's to feed out-of-work hospitality professionals, bartenders, servers and back of the house, and also to support the restaurants and give them some business right now too."
Terry said the team was looking to expand the effort beyond the Providence and Newport areas to the East Bay area and South County. A similar effort in collaboration with supplier Brown-Forman is also in the works.
"We're looking to expand these initiatives statewide," he said. "We're open to working with any brands large or small to help get assistance to hospitality professionals who are struggling right now, who are out of work and trying to figure out what comes next."
Going virtual for a good cause
What happens to a showcase event when participants can't gather? One annual charitable event faced a challenge as its date approached. Providence's Best Bloody Mary cocktail competition is a fundraiser benefiting the New England Hemophilia Association in collaboration with Rhode Island Food Fights, many local bars and bar teams, hosted at Roger Williams Park Casino.
The 2020 event, the association's third annual, had 15 Providence-based bars committed to compete with presold tickets already accounted for and it had no choice but to do a rethink versus canceling, according to New England Hemophilia Association Executive Director Rich Pezzillo. "We were caught with the question as to do we cancel the event, or do we try to make it virtual," Pezzillo said. The organization opted to take the event online via Zoom.
Hosted by Providence-based drag performer Haley Star with special guest TV journalist David Briggs, the New England Hemophilia Association's first-ever virtual Bloody Mary Extravaganza raised more than $6,000 to benefit the organization, whose mission is to improve the quality of life of people with bleeding disorders and their families through education, support and advocacy. The event was "a huge success," Pezzillo said, with combined ticket sales and donations.
It became "a fun awareness platform that talked about supporting locally," Pezzillo said, who also serves as president of the Downtown Providence Neighborhood Association. His additional local role makes him advocate for area businesses, citing the current negative impact closures have had on past event bar participants, encouraging purchasing restaurant gift cards and takeout.
"The question becomes what can we do for local restaurants," he said. "The success of our in-person event depends on the bars. We couldn't do it without them. I'm curious to see what this event looks like next year … I hope that it can continue."
State wineries alter offerings
While wineries have been hurt financially because they aren't able to hold the events that usually bring in revenue such as tastings, live music, themed dinners, weddings, fundraisers and sip-and-paint nights, among them, operators have found ways to reach customers through pickup, delivery and virtual presence.
Newport Vineyards has adapted to the current environment by offering contactless curbside pickup of its wine, which is still sold in retail, and beer from its on-site brewery, Taproot Brewing Co. Dinner, brunch and other assorted bites are available curbside several days a week through the vineyard's Brix Restaurant, according to Kendra Carlisle, Marketing Account Manager at Newport Vineyards.
"We are making the best of it with our drive-thru pickup option, and our team enjoys seeing familiar faces, at a distance," Carlisle said. "Great beverages and delicious food sure help during these times, so we're happy to have our Executive Chef Andy Teixeira providing some comfort with food to go to pair with our wines and beers." To keep in touch with customers virtually, Newport Vineyards is in the process of creating wine tasting and vineyard tour videos.
Nancy Parker Wilson of Greenvale Vineyards, a historic farm and vineyard located on Aquidneck Island, said the vineyard is currently offering case discounts as they prepare for the vineyard's next vintages, with wines available to customers through both curbside pickup and delivery.
With the vineyard closed for its usual tours, tastings and events, the business has taken "a huge hit from a financial point of view," Wilson said.
During the last few months, Wilson said she has noticed more curiosity from locals about the vineyard, which has been open to the public since 1997, seeing an influx of both old and new faces taking visits to see the vineyard while picking up wines to go. "People are very loyal to us and I think they're very loyal to smaller businesses in general," Wilson said.
By this time of year, the vineyard already would have seen at least 2,500 guests, with revenue from tastings and its live jazz nights every Saturday. Luckily, she said, Greenvale Vineyards was granted a Paycheck Protection Program loan through the disaster loan program, which has helped it continue to operate and retain its four to five full-time staff members.
Looking ahead to the future and the possibility that some health restrictions will be lifted during the summer, Wilson said when the tasting room is allowed to reopen safely again, social-distancing measures could include scheduling small-scale, private tastings to keep guest numbers at recommended capacity and holding gatherings outside.
Summer-season outlook
The hotel industry is another hard-hit sector. With traveling at a standstill and all large gatherings including festivals and graduations canceled or postponed well into the summer months, venues that offer summer solace are in need of their own.
Many of the state's most well-known lodging institutions were temporarily shuttered to guests, including The Attwater, Gurney's Newport, Ocean House, The Chanler at Cliff Walk and Hotel Viking. Hotels that remained open downscaled their operations to accommodate fewer guests, many of these operating as havens for first responders, health care workers or patients in quarantine.
Gov. Raimondo's Executive Order to cancel events of 50 people or more in the summer, which range from music festivals to private events like weddings, "basically closed the door on our whole tourist season," said Peg Fradette, Chamber Operations Manager, Narragansett Chamber of Commerce.
"Everything that's special about Newport, Narragansett, Block Island, Charlestown and Westerly just got the door closed on us. I'm very concerned about communities like ours that are very tourist- [and] hospitality-driven because our businesses really do rely on the influx of sheer numbers of people that we get," Fradette said.
While Narragansett's hotels, motels and Airbnb properties have seen large-scale cancellations, Fradette said she had spoken with hotel managers who were still receiving inquiries from interested travelers hoping to vacation but concerned about booking in advance.
"They're ready to hit the send button; they just want to hear if they will be able to go to the beach," Fradette said. "People are ready, they just want to know, can they get out? When they come here, can they go out and about? And we're not going to know that, I don't think."
Marc Grandmaison, General Manager at The Break Hotel, a 16-unit boutique hotel in Narragansett, was expecting a group of first responders to be his first round of newly hosted guests. During the spring when occupancy was at or near zero due to travel restrictions and pandemic-related factors, The Break continued to offer takeout food, along with beer and wine, to non-lodging customers through its restaurant, Chair 5.
The hotel is now ready for guests with "state-of-the-art sanitation practices," which have been stepped up even more in the last few months. "We're ramping up for the season to break; I hope it does," Grandmaison said. "We're looking toward the future, we're all positive."
Grandmaison is seeing more people calling now to book rooms for the summer. "We've had a lot of reservations in advance for June and July," he said. "We're starting to fill up. We're almost at capacity on some weeks, Fourth of July weekend, etc. Once they open the beaches, I think it'll make a difference, because people will be able to get out."
While oceanfront venues would normally be gearing up for the season, many have remained closed until further notice in compliance with the mandated closures of restaurants and bars. The Andrea Seaside Restaurant and Beach Bar, located on Misquamicut Beach, along with Ocean Mist and The Pub, located on Matunuck Beach in Wakefield, remained closed until further notice at press time. Ocean Mist's sister restaurant, Matunuck Pizza Pie Co., remained open for curbside pickup and delivery.
Some venues have begun to hire staff and prepare for the season. Paddy's Beach Club announced via its Facebook page it was hiring for an anticipated busy summer season through virtual interviews, from security to barbacks.
On May 11, after this article was complete, Gov. Raimondo announced that restaurants will be allowed to reopen for on-premise outdoor dining on Monday, May 18 under specific conditions and guidelines for service.
Follow-up stories will look at reopening in our next issue.