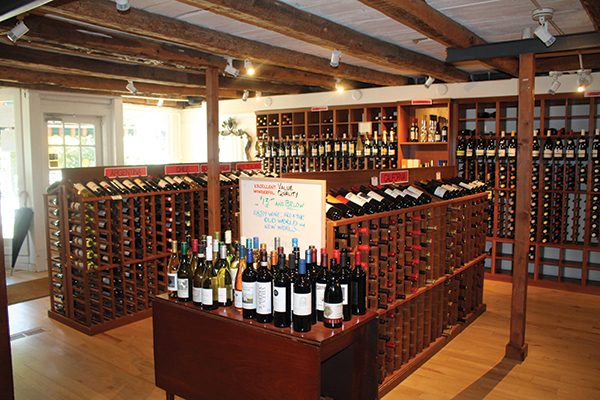 Salisbury Wines
19 Main Street
Salisbury, CT
Square footage: Approximately 2,500-3,000
Year is in operation: 8 years
By Savannah Mul
Salisbury Wines boasts a charming shopping experience for the customer. Upon walking into the store, bright lights shine above the store's offerings and a faint smell of wood emerges from the wine racks and exposed beams to greet the shopper.
The building dates back to the 1880s. Owner Warren Carter said the past use of the space included a liquor store, surely, but it also hosted many different retail sectors in its 130-plus year history. How Carter came into the business and this historic location began indirectly about 15 years ago.
Carter moved to Norwalk, Connecticut from New York City, leaving a career in banking for work at a private school in the area. He soon realized he was ready for another career change, one that mirrored his personal tastes. "This was a whole new venture for me. [It was] a love of wine and a long time interest in wine, which triggered the move."
Today, Carter sees it as part of his mission to educate the consumer as much as he can. About 90 to 95 percent of the wines he stocks are estate wines, meaning they are produced and bottled entirely on the property in every phase of their production, starting with the grapes. He said not many customers understand the formal designation. "We like the idea of someone tending to the fields, and clearly that's not the case in all SKUs, but at the same time we're looking for well-made products with balance," he said.
Salisbury Wines stocks approximately 200 SKUs of wine, 75 SKUs of spirits and 30 SKUs of beer. On top of helping customers with recommendations and general questions, Salisbury Wines hosts wine tastings and classes where a trade professional presents selected wines.
"It's a way of introducing people to what we're doing here," Carter said. "It's all about the service. Now they come here, and they can trust us and get something that is put together properly … that model has been our source of revenue growth."
When tasting wines to stock in the store, he looks for "character and distinction" in the wine, rather than what may sell as "a palate pleaser." Carter distributes a weekly email to share information about in-store tastings, new and seasonal products, wine classes and special offers.
Separate from the beverage retail business, there is an art gallery, Joie de Livres Gallery, within Salisbury Wines, located in the back of the store. It serves as an area to conduct in-store product tastings and wine classes, as well as hosts local artists and their exhibitions. The gallery also features rare books on display.