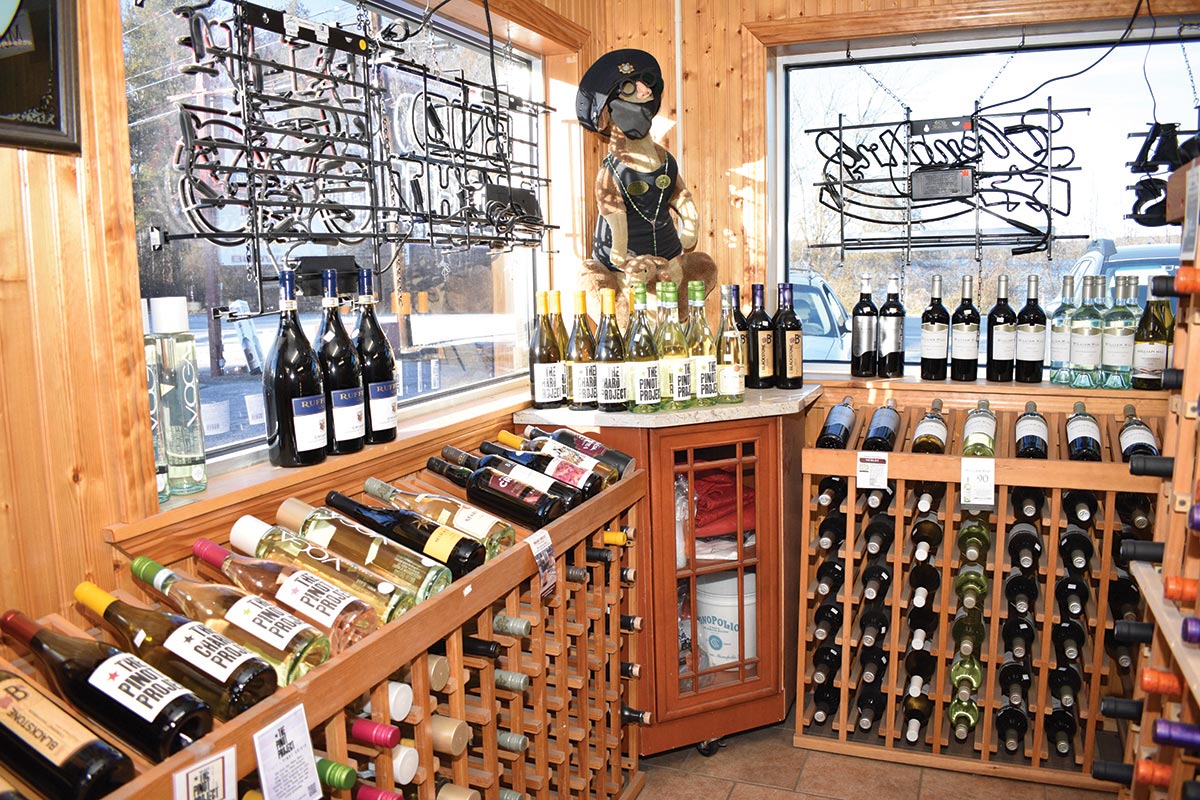 Scituate Liquor Shoppe
30 Hartford Pike
North Scituate, RI
Square footage: 1,600
Years in operation: 12 years
By Sara Capozzi
Friends and co-workers John Angell and Phil Viens worked together for two and a half decades at the Johnston Police Department: Angell as a Major and Viens as an Officer in the Canine Unit. When they started thinking about retiring from the police force, they decided to try a new business venture as liquor store owners, purchasing Scituate Liquor Shoppe in 2008 from friends Tony and Al Abruzzi.
Angell and Viens already co-owned real estate and a tile and hardwood business called Pally Wally Tile based out of Greenville, so they knew they could be business partners. They also both had prior industry experience to boot: Viens had driven a delivery truck for McLaughlin & Moran, Inc., and Angell had worked at a package store before joining the police force.
"When this store came up, it was perfect for us because it was close by and we knew the people that owned it," Angell said. "We live in the general vicinity; [Viens] lives in Greenville and I live in Coventry."
From the beginning, Scituate Liquor Shoppe was a family affair for Angell and Viens, who co-own the store building on Hartford Pike, while their wives, Donna Viens and Kim Angell, own the liquor license and also work in the shop. Viens' two sons, who are now also police officers, worked in the store as teenagers and Angell's daughter and son helped out at the store when they were older. Other family members including in-laws and cousins have all worked the floor or counter.
When they bought Scituate Liquor Shoppe, the store had very little inventory and was in need of an update. Viens and Angell renovated the entire inside with new flooring, wine racks and coolers, as well as a new heating and electrical system. Built more than 50 years ago, the shop's original owner was also a retired state trooper. It's known by locals for its sign that reads, "Last Stop Before the Cape." While this is no longer true since Interstate Highways 295 and 95 were constructed, "It's been there so long that people use it as a landmark now," Angell said.
The team stocks a variety of top-selling name-brand wines and an array of spirits alongside domestic and imported beer, with craft beer and ciders leading locally in popularity. "The craft beer, we have a good following, with people coming in for certain craft beers that other places don't have," Angell said. "We get all the weird stuff. People like that. We get all the locals, so whatever the locals wanted, over the years, we'd bring in … we basically carry what our general population wants."
Like many retailers during the COVID-19 pandemic, Viens and Angell have noticed an increase in foot traffic and sales. "This year, it's been crazy with COVID … the numbers are up 30%, if not 40%," Angell said.
Along with the selection, the friendly, upbeat atmosphere keeps customers coming back. "This is not your typical liquor store," Viens said. "It's one of those family things. Everybody knows us and we know them by name.
"It's crazy because he's not my brother; we just became friendly at work. He always went for rank because he was the smart one," Viens said of Angell during their shared time on the police force. "I didn't want rank. I just wanted to do the canine stuff. It works," he said of the duo's partnership. "Opposites attract I guess."