AS220
115 Empire Street
Providence, RI 02903
AS220 is a hip, non-profit community arts space in downtown known for their artists' live-in studios, live music, vegetarian menu and locally-grown fare. Their mission "is to provide an un-juried and uncensored forum for the arts. We are part Incubator and part Bazaar." The Bar offers over two dozen brands of beer, wine and spirits sourced from New England.
Bar Manager: Noah Anacleto
Drink Name: "Redemption of the Lawn Gnome"
Recipe: Muddle three to four big, fresh basil leaves with five to six ice cubes and a splash of Redemption Rye Whiskey. Transfer to a highball glass, fill with ice, and combine two parts Redemption Rye Whiskey, one part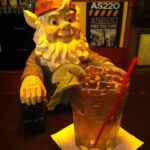 Barritt's Ginger Beer and two dashes Angostura Bitters. Garnish with fresh basil leaf and lime slice.
"It combines the vibrant spiciness of Redemption Rye Whiskey with the gingery bite of Barritt's Ginger beer and the lush, homegrown essence of fresh basil," Anacleto said.