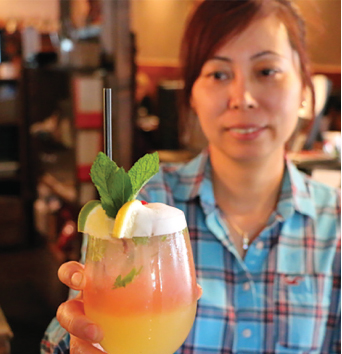 Thai Palace
18 Wintonbury Mall
Bloomfield, CT
From mango shrimp to basil duck, Thai Palace serves up the exotic and unique. Whether ordering dishes spicy, medium or mild, the cocktail selections from martinis to mojitos complement the cuisine perfectly.
Bartender: Linda Lin
Drink Name: Watermelon Mojito
Recipe: Muddle 3 fresh mint leaves. Mix
• 1.5 oz. Bacardi Grand Melon Watermelon Rum
• 2 oz. lime juice
• 2 oz. sour mix
• 2 oz. pineapple juice
• 2 oz. cranberry juice
Shake first three ingredients. Pour into glass over ice. Pour juice in last. Top with club soda. Garnish with lemon wedge, lime wedge, fresh mint leaves and a cherry.
"It's a refreshing drink that has a slight sour taste with a hint of mint," said Lin.