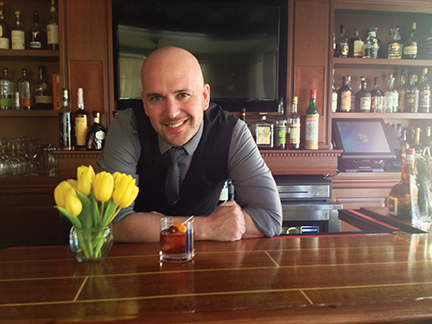 The Revolving Door
509 Thames St., Newport, R.I.
The name of the restaurant is aptly chosen, as the Revolving Door's unique mission is to provide a venue for guest chefs and bartenders to showcase his or her talent. Located on the Newport Harbor, the restaurant offers indoor and outdoor seating. Its extensive drink menu includes 24 types of beer, separate wine, rum and single malt scotch menus and innovative cocktails overseen by award-winning bar manager, Jason Kindess.
Bar Manager: Jason Kindess
Drink Name: The Malt Whitman
Recipe:
•  2.5 oz. Buffalo Trace bourbon
•  3/4 oz. Cherry Heering liqueur
•  1/4 oz. maple syrup
•  3 dashes Fee Brothers Black Walnut Bitters
Stir and strain with one large ice cube in a rocks glass. Serve with a brandied cherry and flamed orange peel.
"It's got a burnt orange nose, with a warm cherry bourbon flavor and notes of black walnut" said Kindess.